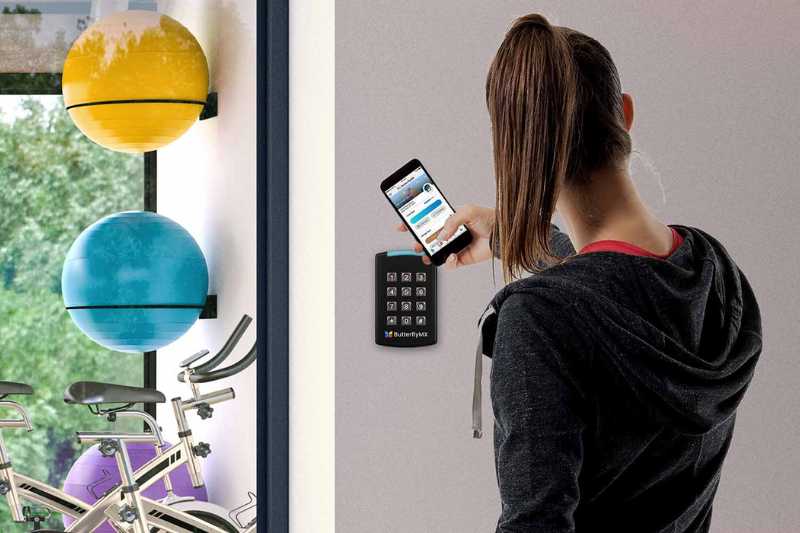 Key takeaways
The best door access control system is ButterflyMX.
When considering a door access control system, some things to keep in mind include installation requirements, maintenance, weatherproofing, and a mobile app.
Door access control is a system used to manage who's able to access an area.
On-site access control uses a server located on the property, whereas cloud-based access control uses the cloud to operate.
Access control utilizes four major components: an access control panel, credential, reader, and door release.
Some benefits of door access control include reduced fire risks, enhanced visitor management, and seamless integrations with other proptech products.
Keeping your property safe and secure requires a lot of foresight. However, adding a door access control system simplifies the process. The proper access control system enhances security and adds convenience for both your tenants and property staff.
So, this blog will detail everything you need to know about the best access control system on the market. Additionally, you'll discover what a door access control system is, how it works, and what to consider when choosing a solution for your property.
This post covers:
What is the best access control system?
Now that you know what to look for in a door access control system, it's time to choose the best solution: ButterflyMX.
ButterflyMX was established in 2014, when we introduced the smart video intercom. Since then, the company has expanded to include a property-wide access control system for apartments, offices, commercial buildings, industrial facilities, and more.
Our access control devices include a mullion card reader and a keypad, both of which work with the ButterflyMX mobile app so tenants can also use their smartphones to open any door or gate.
The ButterflyMX mullion reader and keypad offer the following perks:
Mobile access. All ButterflyMX readers allow for smartphone access. Using the ButterflyMX mobile app, tenants can gain entry to areas they're permitted to with a simple swipe on their phones.
Accept multiple credentials. Unlike traditional door access control systems, ButterflyMX readers accept multiple credentials. For instance, the mullion reader accepts key cards, fobs, and smartphones, the ButterflyMX keypad accepts the aforementioned credentials and a PIN code, and the video intercom has RFID, which are compatible with RFID devices.
Work in tandem with ButterflyMX products. The mullion reader and keypad work with all other ButterflyMX products, from elevator controls to the video intercom. That means you won't have to use different systems to manage access. Instead, it's all managed through a single OS.
Remote management and access. Because the readers are managed through the ButterflyMX OS, you or your staff can remotely manage users. Rather than going on-site to update credentials, you can add, remove, or update credentials from anywhere in the world. On the other hand, tenants can let in guests, delivery drivers, or maintenance workers without being home.
Audit trail. One of the most vital features of the ButterflyMX readers is the audit trail. Anytime a user accesses a part of the property, the system logs that information — name, date, time, and which door was accessed. That way, you can identify security breaches in your property. Further, the ButterflyMX video intercom is equipped with a 156º wide-camera that ensures you don't miss an inch of front door activity.
Visual and audible confirmation. Lastly, both readers provide a visual cue in the form of colored light and an audible cue in the form of a beep when access is granted.
How do I choose the best access control system?
Invest in a robust door access control system if you want to keep your tenants, staff, and property safe. While there are many access control solutions to choose from, not all will check every box.
For example, properties with auxiliary and service entrances will benefit from a keypad or mullion reader. Meanwhile, the main entrance of an apartment or office building will benefit from a video intercom with a user-friendly interface for tenants and visitors alike.
The best door access control systems encompass the following qualities:
Mobile app: Nowadays, your smartphone is all you want to carry. These devices act as our wallets, car keys, and even transit cards. So you'll want a door entry system with a powerful mobile app that offers multiple ways to open the door: swipe, tap, or voice control.
Delivery management: Both commercial and residential tenants receive many packages and food deliveries on a daily basis. Choose a door access system that doubles as a package delivery system. That way, couriers can enter the building using a PIN code to securely place the item inside the building or even in a designated delivery room.
Easy installation and maintenance: Door entry systems are meant to save you and your tenants time. So, the installation and maintenance process should also save you time and money. Choose a system that's easy to install and maintain.
Weatherproofing: Pick a door access solution with extensive weatherproofing, especially when installed outdoors. It's critical your hardware is protected from all types of weather, no matter the climate.
Scalable: As your property grows, your access control solution should too. So, seek out an access control system that can easily add any number of users you may need. Moreover, your system needs to be flexible, giving you the option to add and remove users at any time with ease.
Learn how the ButterflyMX access control platform works:
What is a door access control system?
A door access control system is a method of controlling who can open a door. This access-controlled door can be anywhere within the building — the main entrance, service or back doors, individual units, and so on. Essentially, you can install a door access control system at one or multiple entryways where you want only authorized people to enter.
Whether you manage or own a multifamily building or commercial property, a door access control system is essential in keeping your tenants, staff, and assets safe. All door entry systems share the common goal of keeping doors locked for security purposes while providing a simple way for authorized people to access those spaces.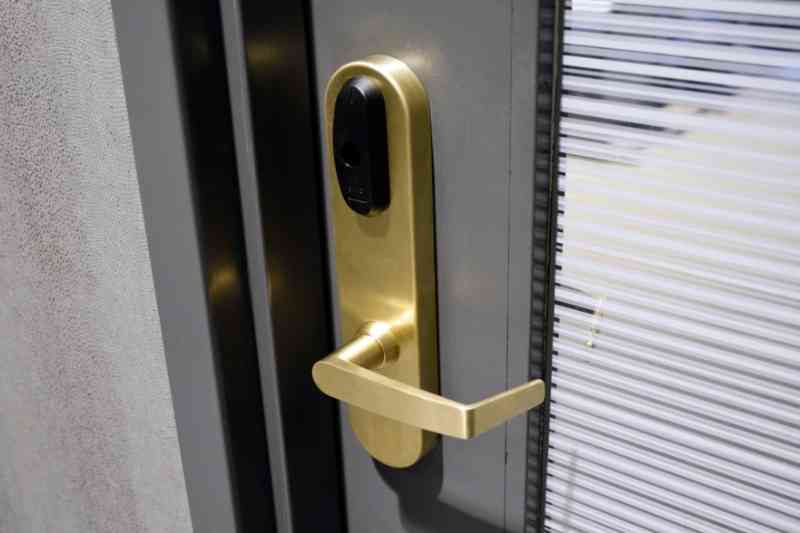 Types of door access control systems
There is a wide range of door entry systems. They can be as simple as the traditional lock and key method or as technologically advanced as a cloud-based intercom system. The type of door access control system you should choose depends on your building's unique needs and infrastructure.
Common types of door access systems include:
Manual door access control: Often in the form of doormen or security guards, manual access control involves humans monitoring door entry activities. The person guarding the door checks the credentials of whoever is requesting access before letting them in.
Mechanical door access: The traditional lock and key method is undoubtedly the most common mechanical door access method. But since a key can be easily stolen or misplaced, this puts your building at risk.
Electronic door access systems: Electronic systems consist of an electronic controller and usually come in the form of a key fob system, keypad, or intercom. Today, given the ubiquity of the Internet of Things (IoT) — it powers our smartphones, TVs, watches, and even some cars — choosing a mobile door access control system is best.
Mechatronic door access: Mechatronic door access control is commonly used in high-security commercial buildings. These systems combine mechanical and electronic access control. For example, before using a key to open the door, you must first scan a key card or key fob.
What is the difference between smart locks and access control?
Smart locks are different from access control in that they only manage access to a single area, such as an amenity space or apartment. On the other hand, access control is deployed throughout an entire property, encompassing multiple entryways via various hardware.
Of course, smart locks and access control differ in other ways:
| Smart Locks | Access Control |
| --- | --- |
| Designed for a single room or area. | Takes a comprehensive approach to secure an entire property. |
| Rarely integrate with other property systems. | Integrate with software and hardware. |
| Best used for apartments, houses, amenities, or interior spaces. | Can be used for any exterior or interior areas: main entryways, gates, offices, amenities, etc. |
| Typically used on their own. | May use smart locks to enable access control throughout a property. |
What is an access control door controller?
An access control door controller is the mechanism that tells the door lock to release after the person's credentials are verified. The door controller connects to the reader, which can be in the form of electronic keypads, RFID readers, or another type of system that uses WiFi, near-field connection (NFC), or Bluetooth connectivity.
On-site vs. cloud-based door control systems
A major consideration when choosing an access control system is whether to choose an on-site or cloud-based solution. These types of systems operate essentially the same but widely vary in terms of convenience and costs.
On-site access control, also known as legacy systems, requires on-premise servers. These servers take up a lot of space and require dedicated areas for regular maintenance. Unfortunately, maintenance must be performed by a skilled technician, or it may not function properly.
Furthermore, the server is directly wired to the access control hardware throughout the building. As a result, installation is extremely costly. Not to mention, scaling a legacy system as your property grows is difficult. In fact, as the system grows, you'll need to allocate more space to the server and install more wiring.
On the other hand, cloud-based access platforms use the internet to operate. Plus, cloud-based systems receive updates and new features remotely, extending their life long after they're installed. Speaking of installation, cloud-based platforms require less wiring, lowering costs.
For instance, the best smart access control systems don't require in-unit hardware anymore. Instead, they utilize residents' smartphones, enabling mobile credentials. In fact, the best systems support a wide range of credentials: mobile phones, key cards, fobs, and PIN codes.
How does door access control work?
The way that door access control works depends on the type of system you choose. If you go with an electronic or mechatronic door access system, you're on your way to future-proofing your property. Even more, you can rest assured knowing the building's security system is robust.
The specifics of how a door access control system works differ a bit between systems. Nonetheless, there are foundational components of almost every electronic door access system.
The four main components of a door access control system are:
Access control panel
The access control panel – or access control door controller – is the brain of the system. It comes in either the form of a physical device or cloud-based software that can be managed wirelessly from anywhere with internet access.
The access control panel contains tenant and staff information configured by the property owner or manager. If the access credentials match the information in the database, then the access control panel signals the door to open.
Access credentials
Access credentials are linked to every user and contain information about each person's access permissions. They can come in one or more forms depending on the level of security you want in your building.
Common types of door access credentials are:
Key cards or fobs
Mobile app
Credential reader
The credential reader receives an encrypted tag number when a person scans their credentials. Then, the door access card reader system sends that information to the access control panel to decode. The access control panel compares it to the information in the system database. If the information matches up, then the system signals the door release to activate.
Door release mechanism
After the control panel authenticates the credentials, it signals the door to unlock. This happens automatically through either an electronic or magnetic door lock release mechanism.
5 benefits of door access control systems
All types of buildings benefit from door access control systems. If your property isn't a public space, then you'll want to control access into and within it.
The top five benefits of door access control are: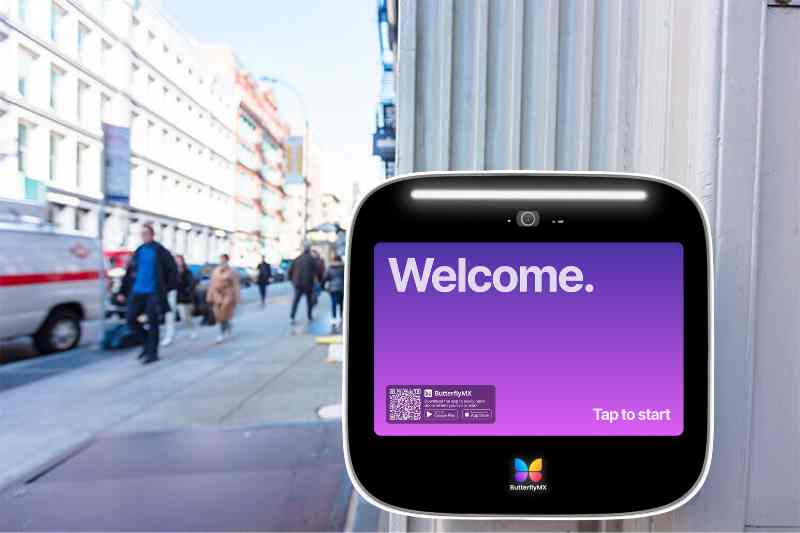 1. Audit trails of every entry event
Cloud-based door entry systems let you review entry logs from anywhere, anytime, without the hassle of mechanical or manual systems. With date- and time-stamped records of every door entry event, your property will always be secure. Additionally, audit trails in a video access control system include photos of every person who enters.
2. Reduce fire risk
Most, if not all, door access control systems have emergency protocols in place.
For example, if the sprinkler system or fire alarm is triggered, the system will automatically unlock all the doors. As such, door access control systems may allow first responders, such as firefighters or emergency medical teams, to quickly access your entire building in case of an emergency.
3. Prevents crimes and theft
An effective door access control system prevents burglaries, package theft, vandalism, and other crime. All entrance doors will be locked while still allowing access for authorized tenants, staff, and visitors. What's more, many systems come with an alarm management platform to alert you of break-ins.
4. Enhanced visitor management
With a video door access system, tenants can visually verify a guest's identity before letting them in without going down to the lobby to retrieve them. If the system is also cloud-based, tenants can open the door for guests from anywhere with internet access. Some systems even have features like virtual keys that allow authorized guests to let themselves into the building using a PIN or QR code.
5. Seamless integrations with proptech
Cloud-based access systems can integrate with existing proptech devices in your building. Integrating all of your building automation systems provides tenants with maximum convenience and a seamless property access experience.
For example, some door access control systems integrate with property management software. Integrating these systems will automatically give door access to existing and new tenants and revoke access from those who move out.