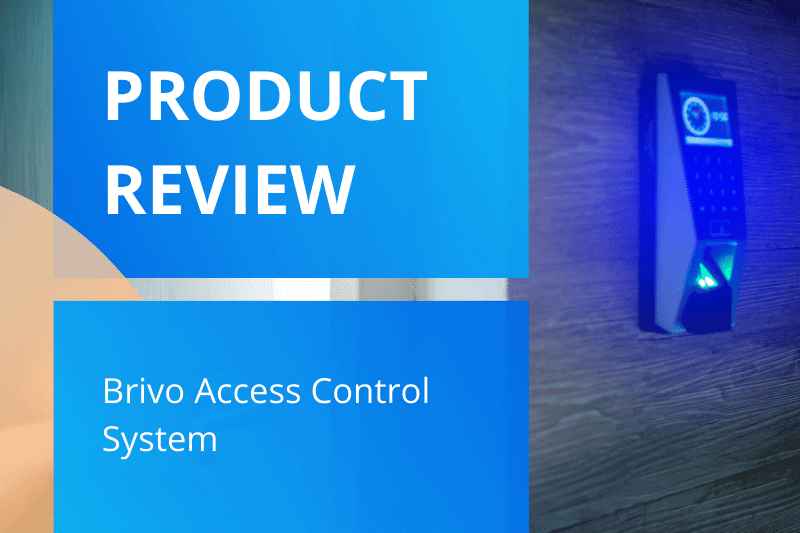 Are you deciding which cloud-based access control system is right for your property? During your research, you've likely come across Brivo. As one of many access control providers, Brivo is a solid system to consider. But is it the right solution for your building's needs?
In this article, we'll discuss how Brivo works and review its features and cost. This will help you decide if it's the right access control system for your building.
This post covers: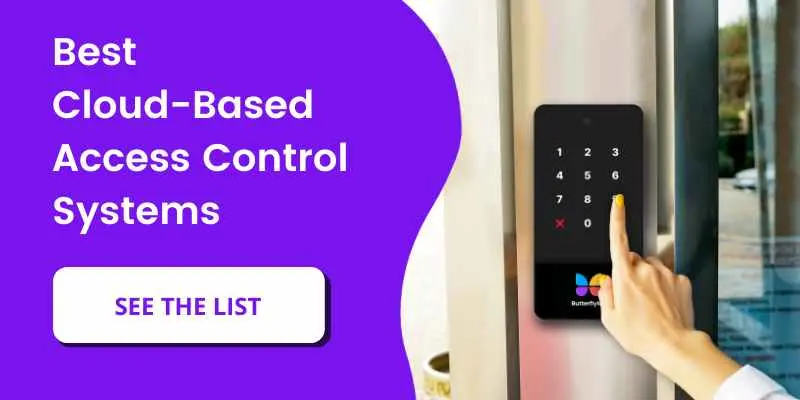 About Brivo
Brivo was founded in 1999 and entered the building security and access control market in 2002 when it introduced its access control software-as-a-service (SaaS) platform.
The company offers a wide selection of products that have helped it entrench itself as a prominent leader in cloud-based access control. Brivo continues to refine its offerings and has enhanced them over the years. Today, its hardware and cloud-based software are used in millions of buildings around the world.
How Brivo works
Brivo's cloud-based access security system is designed to provide visibility, insight, and control to remotely manage access for tenants, visitors, delivery carriers, and staff. The company's hardware offerings include card readers, control panels, and security cameras, which are all powered by its cloud-based software.
Its smart readers are compatible with a broad selection of key cards and fobs, and Brivo integrates with several smart locks. Software packages are sold at three tiers: Standard, Professional, and Enterprise. To access all the features Brivo's software offers, you may need to pay extra for the Enterprise package. Ultimately, the entire system is designed to be customizable and flexible to meet your building's needs.
Here's a breakdown of Brivo's hardware products:
Video surveillance: Brivo's Access Cam provides HD video playback and real-time visual recordings of who enters the building. The property staff can review video footage and access events in the Brivo Access software.
Readers: Readers come in various forms, such as a PIN code, RFID, and HID scanners. They also offer Smart Readers, which use Bluetooth to connect to smartphones. Most Brivo readers can unlock a door with your physical credential or smartphone and work effortlessly with the Brivo Access platform.
Control panels: The control panels allow your locks, readers, and sensors to communicate with each other. They also facilitate integrations between Brivo access control products and other property technology solutions.
Smart locks: The Brivo Access Platform partners with four smart lock providers: Alegion, ASSA ABLOY's Aperio, Z-Wave, and Salto. Smart locks provide greater security than traditional, mechanical locks.
Watch how ButterflyMX works:
Brivo review
When choosing which access control system is right for your commercial, mixed-use, or multifamily building, you should first consider its features, costs, and pros and cons. In this section, we'll go over those factors for Brivo.
Features
Cloud-based software: Concerns about losing data or the system failing can be mitigated since all information is stored on the cloud. Brivo's cloud-based platform can be available anytime and anywhere, from any device.
Smart home automation: Brivo's smart home automation integrations may make life easier for both residents and property staff. They provide easy access throughout the building and empower residents to manage smart home devices like lights, locks, and thermostats from one mobile app.
Scalability: No matter the building size, Brivo probably has an option for you. Their products accommodate buildings of all sizes.
Seamless integrations: Brivo has an open API that enables integrations with other proptech products, such as video cameras, smart locks, and property management software.
Mobile management: Residents and staff can unlock doors from anywhere by using their smartphones. The Brivo mobile app is available on the Apple App Store and Google Play.
Multiple ways to verify access credentials: Users can open doors using a variety of access credentials, including smartphones, key cards, PINs, and fobs.
Multi-site management: You can manage multiple doors from a cloud-based online dashboard.
Brivo pricing
Brivo access control system pricing may start at:
$13.50/door for the first two doors
$7.50/door for the next 8 doors
$3.50/door for all doors after that
However, the actual cost of a Brivo access control system varies. Pricing depends primarily on the number of doors to which you need controlled access. Additionally, pricing depends on the hardware you opt for, such as door locks, cameras, and control panels. So, you must contact its sales team to request a quote for your building.
Software pricing also may vary depending on the package you select. As mentioned above, there are three plans — Standard, Professional, and Enterprise — based on the size of your building.
Another consideration: The quote you receive from Brivo may not include installation costs. You may have to contact a third-party installer for a separate installation quote.
Pros & cons
Pros:
Brivo has been a consistent leader in the industry.
Systems are completely customizable to meet the needs of any sized business.
There's a considerable selection of control panels and access credentials.
The property staff may use the open API for proptech integrations.
Its user-friendly platform comes with visual patterns and an easy-to-use interface.
Cons:
Prices may significantly increase if you'd like all the extra features.
Despite the fact Brivo offers plenty of integration options, it may lack proprietary functionality, creating troubleshooting barriers.
Cameras are not usually included on its access control devices.
Brivo may not offer any intercom products or access control devices to manage visitor access.
Should you get Brivo?
Brivo has established itself as a leading provider in the access control industry by offering a wide range of products and solutions. And Brivo's powerful cloud-based software may make it easy to manage property access from any device, anywhere.
In general, Brivo's hardware is durable and scalable, serving as an effective access control solution for buildings of all sizes. In its nearly 20 years, the company has become a popular option.
However, you must consider many determining factors before purchasing Brivo products or services. For instance, Brivo may not offer any visitor access features, so only staff and authorized users can utilize the system. If you need to manage visitor access, you may have to consider other systems.
Alternatives to Brivo
With the variety of access control products and systems on the market today, choosing the right one may seem daunting. However, if you're searching for a system that offers visitor management and video access control, the best alternative to Brivo may be ButterflyMX.
Unlike other access control systems, ButterflyMX provides a way for visitors, tenants, and building staff members to conveniently gain property access.
ButterflyMX is a stylish and durable entry solution that empowers your tenants and building staff to open doors, gates, and elevators through a smartphone app. What's more, its Delivery Pass and virtual key features ensure tenants never miss a visitor or delivery. Through the ButterflyMX mobile app, residents can unlock the door for themselves and their guests, even when they're not home.
Additionally, ButterflyMX extends access control throughout an entire building beyond just the front door. You can use ButterflyMX keypads to control access within the building, such as apartment amenity spaces and private offices. Tenants can unlock keypad-controlled doors with a PIN code or the ButterflyMX mobile app.
Lastly, all ButterflyMX intercoms and keypads have built-in cameras, enhancing the security of your building. Video calling allows residents to verify a guest's identity before granting them access. Also, the keypads and intercoms take a photo of every entry event, creating a digital audit trail for property staff and tenants to review at any time.
Brivo vs. ButterflyMX
Although Brivo offers a compelling access control system, ButterflyMX may be more robust and rich with features, offering solutions visitor management solutions for all kinds of buildings.
| Feature | ButterflyMX | Brivo |
| --- | --- | --- |
| Visitor access | Yes | No |
| Video calling | Yes | No |
| Smartphone-based access | Yes | Yes |
| Built-in camera | Yes | No |
| Integrations with other systems | Yes | Yes |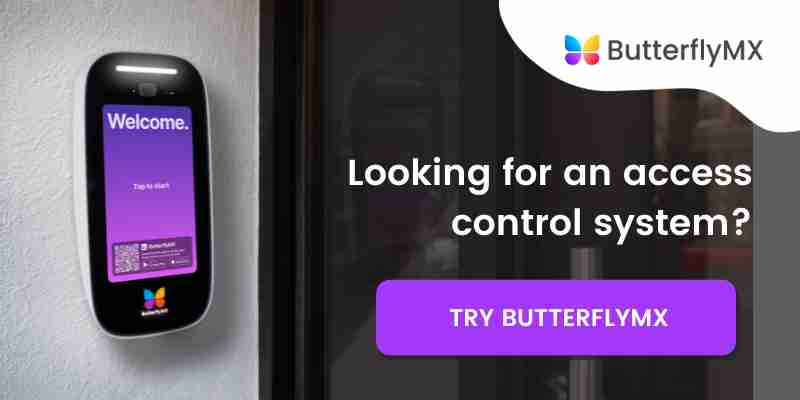 Disclaimer: ButterflyMX provides these blog posts to help our customers and potential customers make the right business decisions for them. Our blog posts are based on the information we have available to us at the time of writing.