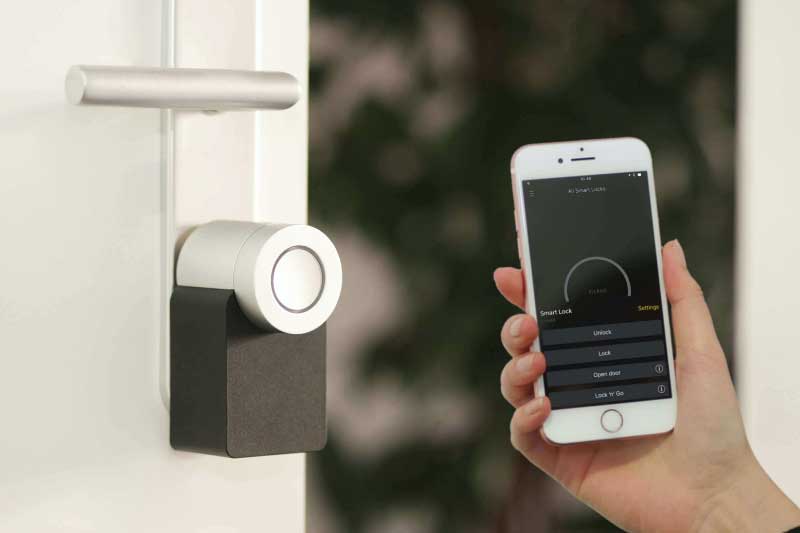 Believe it or not, physical keys will soon be a thing of the past. Step aside, traditional locks and keys, and make way for the best new amenity: smart locks. A smart lock enables a resident to unlock their apartment door using a PIN code or their smartphone, eliminating the need for metal keys.
If you're considering investing in smart locks, it's important to do your research and determine which model will work best for your apartment building. Read on to learn more about the benefits of smart locks and which models we recommend for buildings like yours.
In this post, we'll cover:
How do smart locks work?
Smart locks are designed to replace traditional locks that require a physical key. If you've ever locked yourself out, lost your keys, or fumbled to find keys in your bag, you'll benefit from a smart lock.
When you install a smart lock, you can unlock your door without using a key.
Instead, you can unlock the door with:
A mobile app on your smartphone
A PIN code you enter on the smart lock's keypad
That said, some smart lock models still have a keyhole that allows you to use a traditional key.
While some smart locks attach to your existing deadbolt, others replace your deadbolt entirely. If you're planning to install smart locks on every door in your apartment building, we recommend speaking with a professional installer who can advise you on which system is best.
Regardless of which type you choose, your smart lock will require a wireless connection like Bluetooth or WiFi.
Watch how ButterflyMX works:
Here are the 10 best smart locks for apartment buildings in 2022: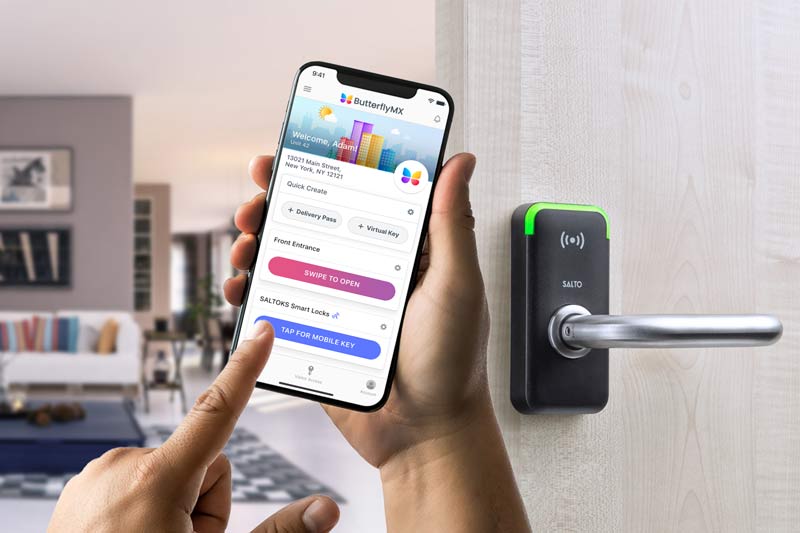 1. SALTO KS XS4
Since 2001, SALTO has been dedicated to developing access control systems designed with efficiency and user experience in mind.
SALTO KS is one of the company's robust and flexible access control solutions for multifamily and commercial properties. Through the web or a mobile app, building managers can assign roles and manage permissions for tenants, service providers, property staff, and any other users. You can even track door activities with a 24/7 feed and send mobile keys to guests.
As for the actual hardware, SALTO's XS4 smart lock is a simple yet secure solution. Because it doesn't require hard wiring, the XS4 can be installed quickly on almost any type of door — including doors with narrow frames. In the U.S., the XS4 smart lock comes in three models: the original, a keypad model, and the XS4 mini for cylindrical latches.
The best part: SALTO KS integrates with ButterflyMX to create the most seamless property access experience possible.
Read the full SALTO KS smart lock review »
2. Schlage Encode Smart WiFi Deadbolt
Schlage is a giant in the lock industry. Its ability to innovate and adapt to industry changes is likely why it has been around for 90 years.
Simple to install, the Schlage Deadbolt comes with built-in WiFi and gives both residents and property managers total access from anywhere. The system also integrates with dozens of cloud-based access control companies like Brivo and Vanderbilt. When paired with a video intercom like ButterflyMX, you'll enjoy a completely seamless building entry.
This system also pairs with Alexa, Google Assistant, and Siri voice commands. Customized access codes allow you to provide friends and family with easy access to your apartment, and you'll be alerted when anyone accesses your lock.
An added bonus: There are a few different styles to choose from, so you can likely find one that matches your building's aesthetic.
Read the full Schlage Encode smart lock review »
3. August WiFi Smart Lock
The August WiFi Smart Lock is small and discreet, WiFi-enabled, and easy to install, making it another viable option.
Unlike many other smart locks on the market, the August WiFi Smart Lock only requires you to change the part of your deadbolt that's inside your apartment. This means your tenants can still keep their original keys if they choose.
The smart lock also comes with a sensor that can tell the lock if your door is closed, which then enables auto-lock and unlock via WiFi or Bluetooth. August can automatically lock when your door is shut, or unlock when you approach the door. Additionally, you can create temporary virtual keys through the mobile app.
Installing this smart lock takes only about 15 minutes.
Read the full August WiFi smart lock review »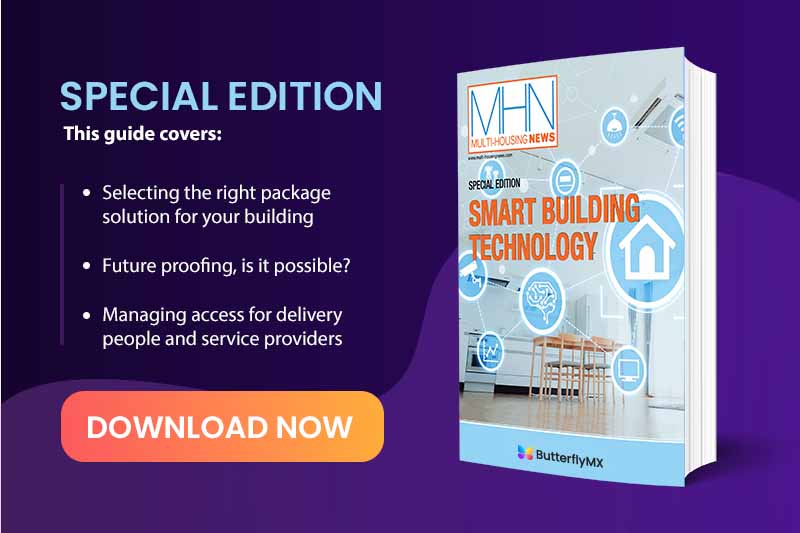 4. Nest X Yale Lock with Nest Connect
Designed to work with the Nest app, the Nest X Yale Lock with Nest Connect allows you to lock and unlock your door with a tap of your finger, no matter where you are. Residents can create up to 20 passcodes so that house cleaners, dog walkers, and other service providers can access the unit while no one is home.
This smart lock comes with some additional features, like an automated reminder so that tenants never have to worry if they've left the door unlocked. The Nest X is easy to install with just a screwdriver, and the setup appears to be fairly intuitive.
A unique feature that we like in this smart lock is that it has a small speaker on the right side and two terminals on the bottom in case the lock's batteries die.
As of now, this smart lock may only support voice commands through Google Assistant.
Read the full Nest X Yale smart lock review »
5. Halo WiFi-Enabled Smart Door Lock
The Halo Smart Door Lock works with the Kwikset app to let you lock and unlock your door and monitor door activity remotely. Both property managers and residents can create codes for anyone who needs to access the apartment. And Halo makes it easy to restrict those codes by date or time.
This lock connects to Bluetooth so you can enter using your smartphone. It also connects to Amazon Alexa and Google Assistant so you can lock or unlock the door with just your voice.
A drawback to this smart lock is that the battery life may be short — users have reported that it often lasts less than six months.
Read the full Halo smart lock review »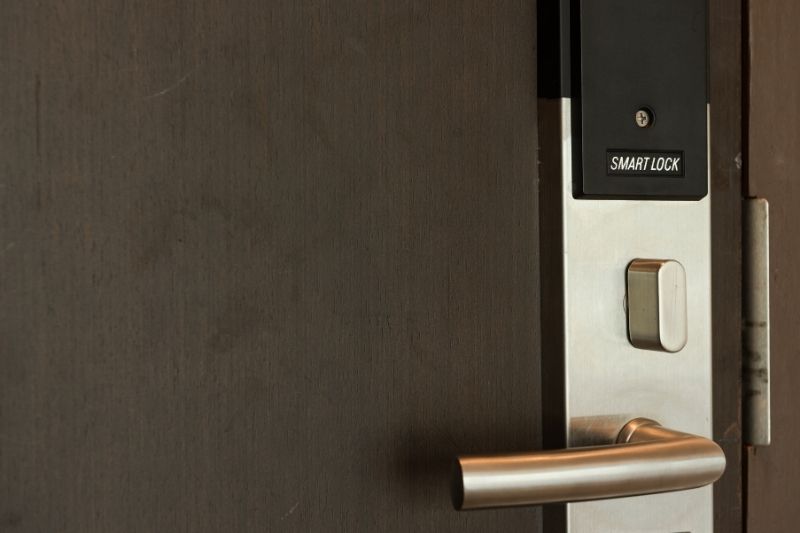 6. Schlage Connect Smart Deadbolt
The Schlage Connect Smart Deadbolt is user-friendly and easy to install. This dependable lock is ANSI/BHMA Grade 1, giving it the highest home security rating. The touchscreen is fingerprint-resistant and has loud built-in alarm sensors.
When your tenants are away, they can turn on vacation mode to disable all codes and allow entry with the key only. The lock connects with Zigbee-certified home automation systems, so if your tenants have smart lights, they can set the lights to turn on when the door is unlocked or turn off when they leave.
One caveat: This lock may be a bit larger than most other smart locks, so if you're seeking a more minimalist option, this may not be the best choice for you.
Read the full Schlage Connect smart lock review »
7. Obsidian Keywayless Electronic Touchscreen Smart Deadbolt
The Obsidian Keywayless Electronic Touchscreen Smart Deadbolt by Kwikset keeps it simple, offering just a touchscreen keypad. Since this lock lacks a Bluetooth or WiFi connection, you may only be able to unlock the door when you're physically in front of it. Further, residents may only generate access codes from the keypad itself, meaning they may not be able to grant access to guests remotely.
That said, this Obsidian smart deadbolt is easy to use and offers impressive security features. It boasts a technology that prevents code detection from marks on the touchscreen as well as an alarm that rings after three failed attempts to enter the code. Plus, its auto-lock feature locks the door after 30 seconds.
Read the full Obsidian smart lock review »
8. Lockly Secure Series
Lockly Secure Smart Locks are available in latch and deadbolt models, with added fingerprint security in the Secure Pro and Secure Plus series. With Lockly smart locks, residents can lock and unlock their doors and monitor access from anywhere in the world. Lockly also allows you to create access codes for tenants and visitors.
Read the full Lockly smart lock review »
9. August Smart Lock + Connect
The August Smart Lock + Connect is quick to install because it simply attaches to the existing deadbolt on the inside of the door. The outside door lock remains the same, so existing keys still work.
This smart lock connects to Bluetooth and is WiFi-enabled, which means you can lock and unlock your door from anywhere. Additionally, the door can unlock automatically when you approach with your smartphone. You can also provide guest access for visitors.
One caveat: The August Smart Lock only controls your deadbolt. If your tenants like using additional locks as well, this might not be your best option.
Read the full August Smart Lock + Connect review »
10. Wyze Lock
The Wyze Lock may be a great option for smaller budgets, as it is a relatively affordable smart lock on the market. That said, it may lack some of the bells and whistles that other smart locks offer. Notably, it does not connect to smart assistants and requires a gateway to connect to WiFi.
For the price, however, this smart lock does offer solid security features. It alerts you if you ever leave your door unlocked, and the app also supports two-factor authentication.
Read the full Wyze smart lock review »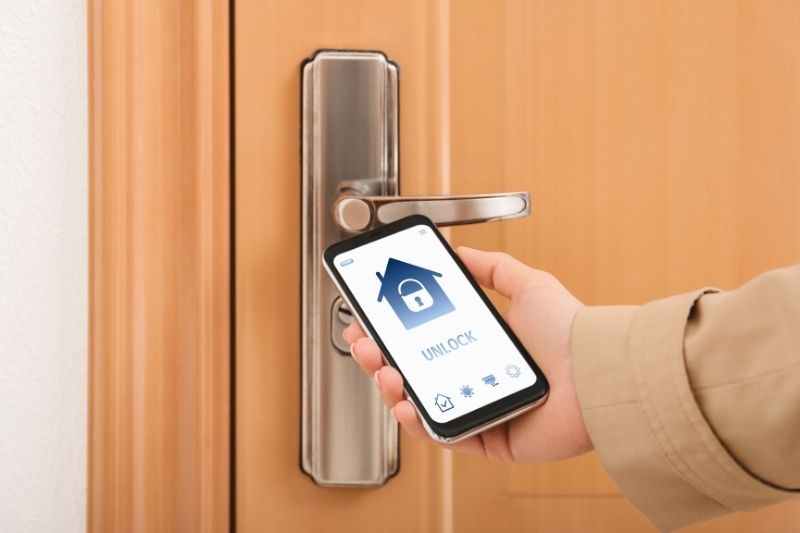 Why you should invest in smart locks
Apartment amenities have always been a way to attract and retain residents. But a lot of property managers wonder which amenities will actually pay off.
These days, modern renters of all ages seek technology-powered amenities like smart video intercoms and smart door locks. This goes to show that your residents prioritize convenient, seamless property access.
According to a study conducted by Entrata, keyless entry is the second most desired smart apartment amenity. In fact, 45% of renters believe that physical door keys will be obsolete within the decade.
Delighting residents is key to your bottom line. Investing in smart locks is a simple way to boost resident retention and reduce turnover.
Integrating smart locks with other proptech
An added benefit of smart locks is their ability to integrate with other smart home technologies.
For the ultimate property access experience, integrate a smart lock solution with a cloud-based video intercom. Together, these two proptech solutions enable completely keyless entry from the building's front door to your residents' apartments.
Disclaimer: ButterflyMX provides these blog posts to help our customers and potential customers make the right business decisions for them. Our blog posts are based on the information we have available to us at the time of writing.