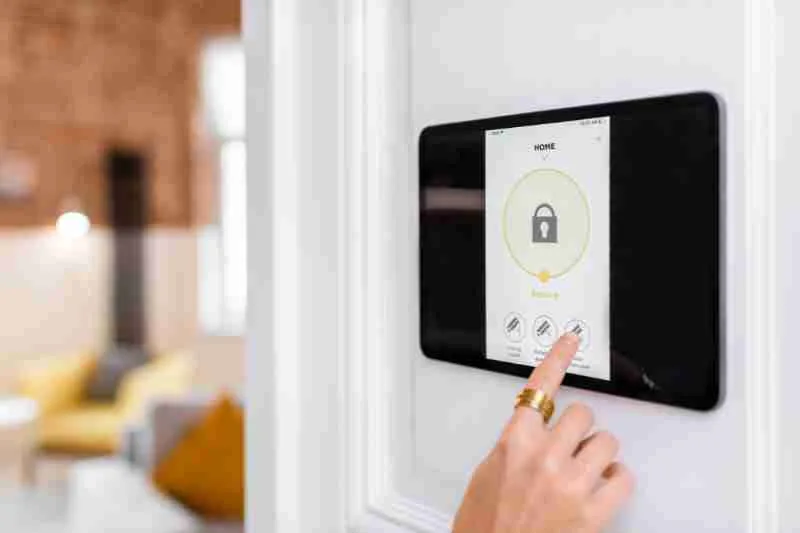 Remote unlocking isn't just for cars anymore! Instead, with the help of smart locks, residential and commercial properties alike can now let their tenants unlock doors from afar. So, how can remote control door locks help your property?
In this post, we explain what a remote control door lock is and how they work. Then, we go over their benefits.
This post covers:
What is a remote control door lock?
A remote control door lock is an electronic lock that you can trigger to lock and unlock with wireless signals. You can trigger the lock even if you aren't nearby. Remote control door locks might use Bluetooth, WiFi, or RFID to exchange signals with their remotes.
As far as remotes go, they range from credentials like fobs to an app tenants can install on their smartphones. And in many cases, there isn't another person on the other end of the remote. In fact, many remote control door locks lock and unlock at the direction of a controller. This controller is an access control hub that you can preprogram with certain instructions.
Wireless remote control door lock systems are made up of these parts:
Remote control. Tenants use remote controls to send out a wireless signal.
Credential reader. A credential reader receives signals and forwards data to the controller.
Access controller. The controller compares the data it's received to an internal database. If there's a match, the controller signals the actual door lock.
Locking mechanism. The lock physically disengages to allow the tenant to open the door.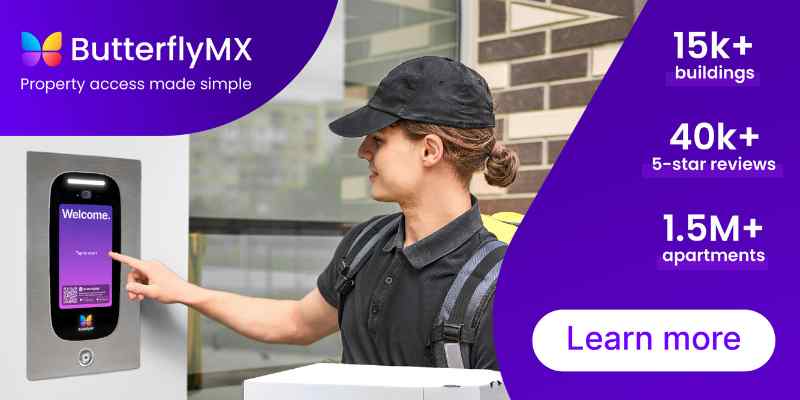 Can you lock a door remotely?
Yes, you can lock a door remotely if the door has an internet-connected smart lock. A remote controllable smart lock connects to WiFi so that you can lock and unlock it from a device like your smartphone or tablet.
Are remote door locks safe?
Yes, remote door locks are safe. In fact, remote-control door locks may be safer than traditional locks because it's easier for someone to pick a traditional keyhole lock than to guess the access code for your smart lock.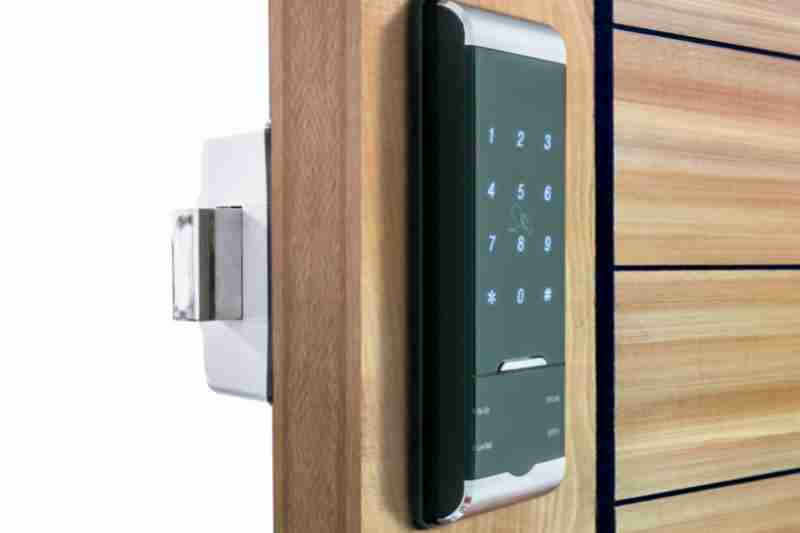 How does a remote control door lock work?
A remote control door lock works by receiving wireless signals from the remote control, such as a smartphone or clicker. Since remote control door locks connect to the internet, they can receive wireless signals. Upon receiving these signals, the lock unlocks or locks accordingly.
While there are many ways for a remote control door lock to work, two steps are always constant.
Every remote access door lock must:
1. Receive & verify a wireless signal
The type of network you choose for your remote lock determines the range at which tenants will be able to open the door.
For example, a tenant can open a WiFi-enabled door lock from anywhere, as long as they have an internet connection. But other wireless signals, like NFC, only work when the credential is a few centimeters away from the sensor.
You have the best knowledge of your unique property and your tenants' needs. So, do your own research to pick a network for your remote locks based on range and features.
2. Open & close the locking mechanism
You can choose between many types of locking mechanisms depending on the type of area you're securing. For example, remote deadbolts extend into the strike plate on a door frame and then retreat back into the door to allow someone entry.
There are two main types of locks to choose from: a magnetic door lock for easy access or an electric strike for security.
The most important difference between maglocks and electric strikes is how they work during a blackout. Because magnetic locks unlock when there's no power, they're perfect for high-traffic areas people need access to in a blackout. Electric strikes are the opposite — they lock in an outage, ensuring the safety of critical areas.
Learn more about electric strikes vs. magnetic locks here:
Are remote smart door locks worth it?
Yes, remote smart door locks are worth it because of the multiple benefits they give your tenants.
The benefits of remote smart door locks include:
Easier deliveries. Online deliveries are more common than ever before. In fact, USPS handles more than 20 million packages every single day. So, it's important for tenants to receive their packages without issues. With the right smart lock features, couriers can enter the property on their own terms with delivery passes. That way, tenants can receive the packages without being present and without worrying about delays.
More convenience. A smart lock with a mobile app only adds to tenant convenience because it can grant access remotely to guests and even service providers, such as dog walkers or housekeepers. As a result, tenants don't have to be at the property to control access to the property.
Helpful integrations. Remote control door locks are already set up with powerful wireless technology, allowing them to integrate with other physical security hardware, such as elevators, garage openers, and even gates. In turn, tenants have a seamless experience throughout the property.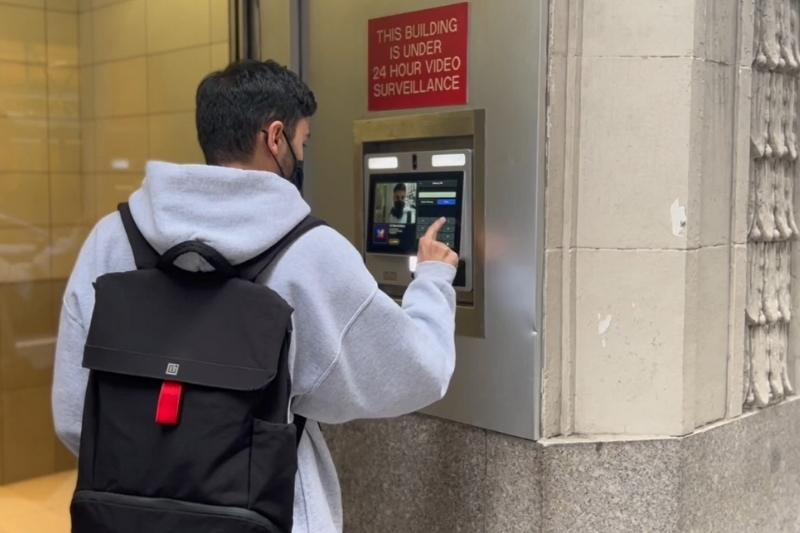 5 best remote control door locks
When you're looking to upgrade your property's physical security, remote control door locks are a great choice. However, selecting the right locks for the job can be overwhelming when so many options are available. Fortunately, you'll find our list of the best remote smart locks below.
The best remote control door locks are:
1. Yale Assure Lock 2
The Yale Assure Lock 2 is a sleek keypad smart lock that's customizable to your preferences and more affordable than many other options on the market. It's available in both WiFi and Bluetooth variations.
The Yale Assure Lock 2 comes in a touchscreen or keypad variety, as well as a key-free or keyed option. So, if you're not fully committed to going to keyless, you can still use a traditional metal key. Not to mention, this smart lock works alongside Alexa, Google Home, and HomeKit, allowing you to control it from your smartphone or voice assistant.
Pros:
Modern and sleek design
Highly customizable
Works with Apple Watch
WiFi and Bluetooth options
Supports Alexa, Google Home, and HomeKit
Cons:
Must tap the Yale logo with every use
Z-Wave and WiFi models cost more
Poor battery life on the WiFi model
Integrations can be slow
Cost: The Yale Assure Lock 2 with the Bluetooth model and keypad design starts at $159.99. The touchscreen and WiFi models are available at higher prices.
2. August WiFi Smart Lock
The August WiFi Smart Lock is considered one of the best remote control door locks available, especially for renters. Overall, the installation process is easy. No drilling or screwing is necessary, as the August lock covers the existing deadbolt. The August smart lock doesn't require a bridge either because WiFi is built in. As a result, you can get it up and running quickly.
Furthermore, the easy-to-use August smart lock app allows tenants to control their locks from anywhere. The auto-unlock and -lock features help ensure your property stays secure. It even provides details on the status of the door, such as if it was left open. Letting in guests or family members is a breeze, as tenants can provide them with a guest key that grants them temporary access.
Pros:
Renter-friendly
Easy installation
Built-in WiFi
Small size
Works with Alexa, Google Assistant, Siri, and more
Cons:
Keypad is sold separately ($60)
On the higher end when it comes to pricing
Cost: The August WiFi Smart Lock is $229.99. Conversely, the smart lock and keypad are available for a $269.99 bundle.
3. Ultraloq U-Bolt Pro WiFi Smart Lock
If you're fully committed to ditching metal keys, the Ultraloq U-Bolt Pro WiFi Smart Lock is a good choice. This small yet robust smart lock solution packs a lot of features that your tenants will love. Tenants can gain access to their units using a variety of credentials, such as a mobile app, fingerprint, PIN code, Bluetooth, and more.
The Ultraloq mobile app allows tenants to share keys with friends and family when they aren't home. Within the same app, tenants can manage users, allowing them to easily grant and revoke access at any time. Most importantly, the app features a log record to view every past entry for your safety.
Pros:
Built-in WiFi
IP56-rated
Multiple credential options
Integrates with Google Assistant, Alexa, Z-Wave, etc.
Cons:
Doesn't support Apple HomeKit
Cost: The Ultraloq U-Bolt Pro starts at $159.99. Additional models and features are available.
4. Schlage Encode Plus
This traditional-style door lock comes in various styles and finishes, matching Schlage's door sets. The Encode Plus is easy to install and encompasses many features tenants want, including remote unlocking, voice control, auto-locking, and even shareable PIN codes. Plus, tenants can still access their units with traditional keys as the Encode Plus doesn't outright eliminate them.
The Schlage Encode Plus includes built-in WiFi, making it perfect for Apple users. The Schlage Encode Plus is a smart WiFi deadbolt that integrates with Apple's wide range of products, such as watches, iPhones, and HomeKit. Above all, the unique feature of the Encode Plus is the built-in alarm, alerting you of any forced entry or tampering.
Pros:
Built-in WiFi
Built-in alarm
Supports traditional keys
Integrates with Alexa, Google Assistant, and HomeKit
Pairs well with other Schlage hardware
Cons:
Poor app experience
Bulky design
No auto-unlock feature
Uses AA batteries
Costs more than many other smart locks
Cost: The Schlage Encode Plus smart lock is available at $289.
5. Eufy Smart Lock Touch
The Eufy Smart Lock Touch combines the security of a smart lock with the safety of a video doorbell in a single device. This smart video lock features a three-in-one solution, incorporating a 2K HD camera, doorbell, and smart lock. When it comes to the camera, your Eufy Smart Lock Touch will pick up a 160-degree field of view with a crystal clear picture at all times of the day.
Tenants may access their unit using five different credentials the Eufy Smart Lock Touch supports: fingerprint, PIN code, mobile app, voice command, and a physical key. If you're unsure of the accuracy of fingerprint credentials, Eufy has implemented self-learning AI into its smart lock to improve and more accurately recognize tenants.
Pros:
Built-in video doorbell
Eufy security mobile app
Multiple credentials supported
Motion sensors
Cons:
Expensive
No built-in WiFi or Bluetooth
Limited integrations
Cost: The Eufy Smart Lock Touch is $349.99.
Takeaways
Remote control door locks are locks that you can control (lock and unlock) from afar.
Remote control door locks work by receiving a wireless signal from a network like Bluetooth, WiFi, or RFID.
The benefits of a remote door lock include making it easier for tenants to receive deliveries, adding convenience for tenants and staff, and integrating with other technology on your property.
The best remote control door locks are the Yale Assure Lock 2, August WiFi Smart Lock, Ultraloq U-Bolt Pro WiFi Smart Lock, Schlage Encode Plus, and Eufy Smart Lock Touch.