Technology has changed almost every aspect of our lives — including building security. Innovations such as the apartment building smart lock put residents, property managers, and owners in control of their premises no matter where they are. For property staff looking to modernize their building's physical security and access control, an August Wi-Fi smart lock is one option.
Read on for an overview of August and the range of smart locks it offers, as well as a closer look at the August Wi-Fi Smart Lock.
This post covers:
About August
August is a San Francisco-based home automation company founded in 2012. The company's goal is to make life simpler and more secure by giving property owners, managers, and tenants more control over their front doors.
ASSA ABLOY acquired August in 2017. Along with sister company Yale Home, August continues to deliver access solutions backed by almost two centuries of locking and security experience.
August offers a range of products — including smart locks, keypads, and door hardware — that enable you to seamlessly control access into and within your property.
About August smart locks
When purchasing August locks, you have three options to choose from. All of them pair with the August app for smartphone-based remote management.
August's three smart lock offerings include:
Smart Lock + Connect: The most basic smart lock available, The August Smart Lock + Connect allows residents to remotely lock/unlock the door, grant access, and see who has come and gone — all from a smartphone.
Smart Lock Pro: The August Smart Lock Pro comes with additional features, including a Z-Wave Plus integration and HomeKit compatibility (which lets you unlock the door with Siri).
Wi-Fi Smart Lock: The August Wi-Fi Smart Lock offers easy connectivity (no extra hardware needed to connect to WiFi), plus features like auto-lock/unlock.
Ranging in price from $150 to $230, all August smart locks are reliable and well-designed. If you're unsure which lock is right for your building, consider your budget and which features are most important to you. Below, we take a closer look at the August Wi-Fi Smart Lock.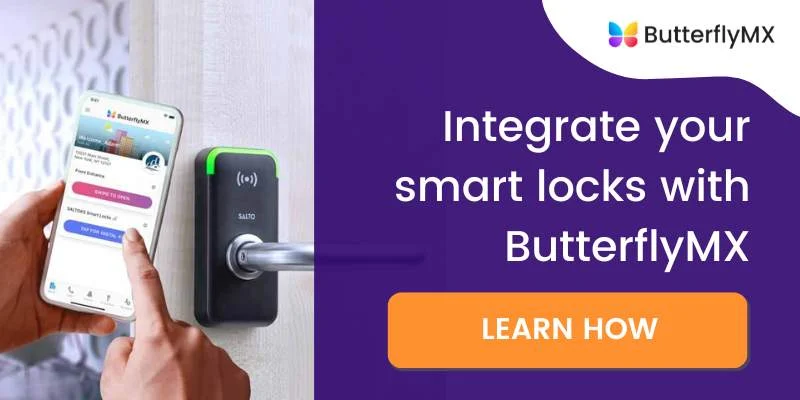 Can you unlock an August smart lock from far away?
Yes, you can unlock any August smart lock from far away using the August app. August's wireless locks feature WiFi capability and allow remote access. With the tap of a button within the mobile app, you can lock or unlock your door.
Can you open an August lock without a phone?
Yes, you can open an August lock without a phone. Instead of your phone, you can use an Apple Watch or a physical key to unlock the door.
Review of August Wi-Fi Smart Lock
The Wi-Fi Smart Lock is August's most robust (and, consequently, most expensive) smart lock. It's wireless, easy to install, and fits on most doors. Read on to learn more about its features, cost, and pros and cons.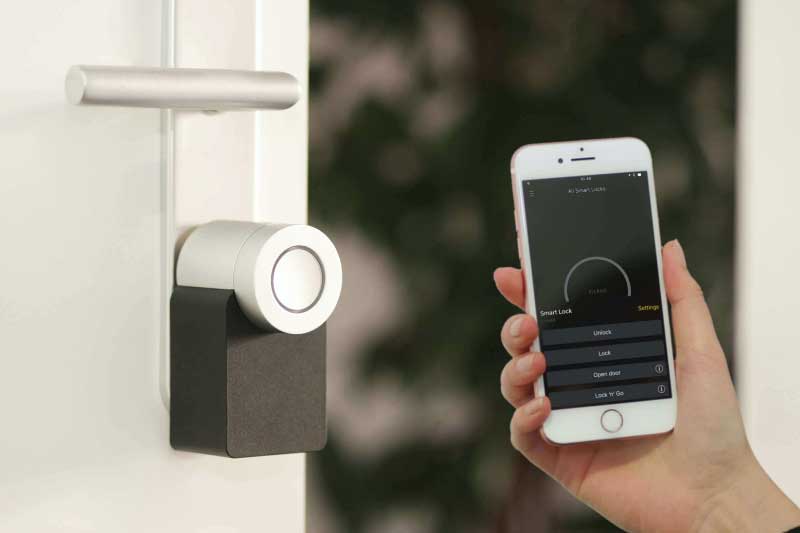 Features
Built-in WiFi: Unlike August's other smart locks, you won't need a separate WiFi bridge to connect to the internet. This means complete remote access and voice commands are enabled immediately without purchasing the August Connect Wi-Fi Bridge.
Retrofit compatible: The August Wi-Fi Smart Lock is easy to install because you can attach it to an existing deadbolt. It usually takes 10 to 15 minutes to install and requires only a screwdriver.
Auto-lock: This functionality automatically locks the door according to the configurations you set. For example, you can set the door to automatically lock right after it's closed or after a specified amount of time.
Auto-unlock: Using geo-fencing technology, the WiFi lock recognizes when an authorized resident or staff member is near and automatically unlocks. So, you won't even have to take out your phone to open the door.
Mobile app management: Residents and property staff can lock/unlock the door, create guest access credentials, and review who has come and gone right from the August mobile app.
August app: The August Home app is the gateway to controlling your August Wi-Fi smart lock from your smartphone. Tenants download the app to manage the lock remotely, get smart alerts, grant virtual guest keys, and more.
Virtual guest keys: Through the August app, residents can create and send virtual guest keys to their friends, family, and service providers for easy yet secure access.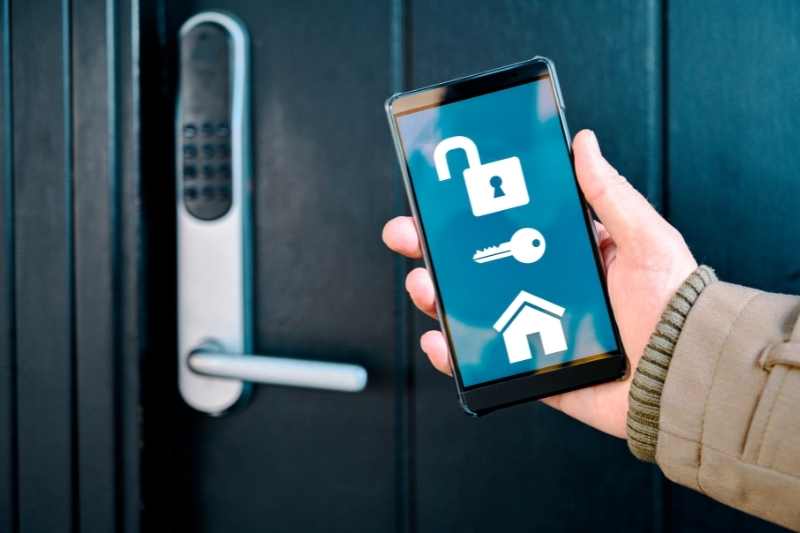 How long does August Wi-Fi lock battery last?
The battery life of the Wi-Fi Smart Lock is expected to be three to six months.
What's more, you can enable the Amazon voice assistant to detect when the batteries are low and order them automatically.
Do you need a Wi-Fi bridge with August smart locks?
You don't need a Wi-Fi bridge with the August Wi-Fi smart lock. However, you do need a Wi-Fi bridge with the August Smart Lock Pro and the August Smart Lock + Connect.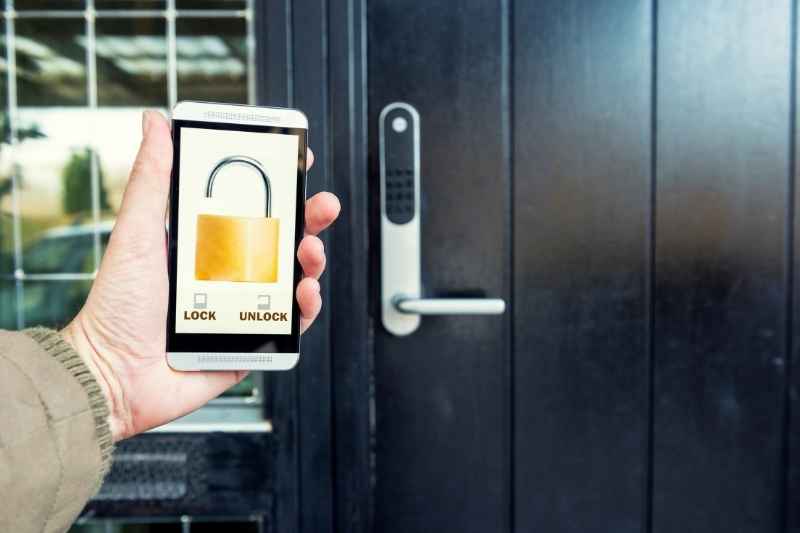 August Wi-Fi Smart Lock pricing
The August Wi-Fi Smart Lock costs $229.99 when you buy directly from August. You can also opt to purchase an extended warranty for $26 or $70.
Pros & cons
Pros:
Smart design: Its compact size and sleek design work well for any building. Plus, it comes in two finishes: silver and matte black.
Compatible with smart home devices: The lock connects with Amazon Alexa, Google Nest, and many other smart home devices.
Automatic lock/unlock: August's auto-lock and auto-unlock technology offers security and convenience.
Easy installation: The August Wi-Fi Smart Lock is easy and quick to install — you might not even need to hire an installation professional.
Keep your keys: Since the lock can be retrofitted over your existing deadbolt, you can keep your original keys.
Built-in WiFi: Since this August smart lock has WiFi built-in, you won't need a WiFi bridge or gateway.
Cons:
Cost: At $229.99 per lock, the Wi-Fi Smart Lock is August's most expensive option.
Short battery life: Like most smart locks, this August lock is battery-powered. The Wi-Fi Smart Lock's battery life is three to six months. You'll have to install replacement batteries whenever the old ones die. Thankfully, the lock provides app notifications when its batteries are running low.
Watch how ButterflyMX works:
Should you get the August Wi-Fi Smart Lock?
The August Wi-Fi lock is a popular choice among property managers and tenants alike.
For property managers, its simple installation is a huge plus. Installing the locks is a quick and painless process, so you can convert every lock in your building in no time. However, the lock's short battery life could cause headaches and require frequent maintenance.
Another significant benefit of the August Wi-Fi smart lock is its built-in WiFi. That means you don't have to purchase and install any separate hardware to enable the lock's internet connection. However, if your building has spotty WiFi, you could encounter connectivity issues.
For residents, an August smart lock adds much-appreciated security and convenience. Tenants enjoy having the ability to lock and unlock their apartment doors remotely. It's especially effective at preventing lockouts and ensuring seamless access for visitors and service providers since residents can unlock their apartment doors from anywhere.
Overall, its ease of installation and use, built-in WiFi, and convenient features make the August Wi-Fi Smart Lock a great choice for property owners and managers.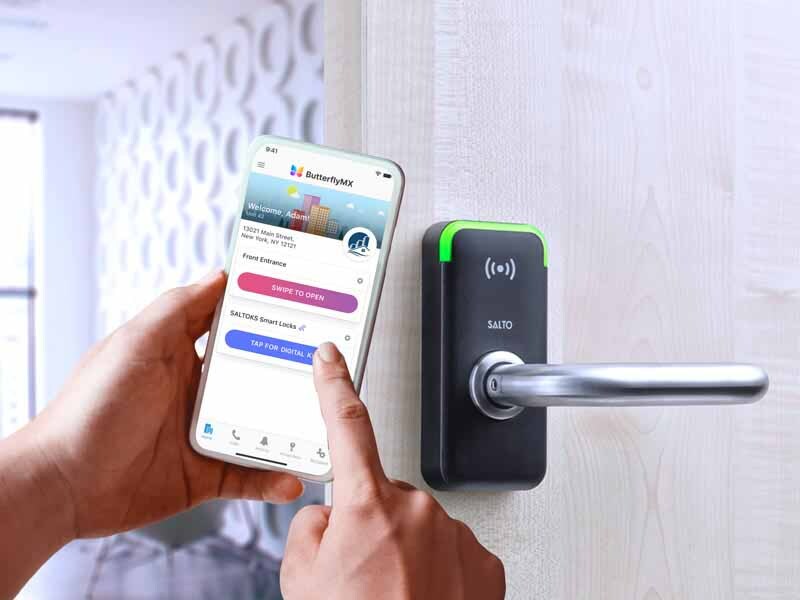 Alternatives to August Wi-Fi Smart Locks
An August smart lock isn't your only option — there are several smart locks available depending on the required price range and features.
The Nest x Yale Smart Lock is one popular option. Pricing for the Nest x Yale starts at $250, but it boasts a robust integration with the Google Nest ecosystem. The Nest x Yale also has low-battery alerts so you can replace batteries before they die.
If you're seeking an alternative to the August Wi-Fi Smart Lock, you should also consider the Schlage Encode smart lock. With built-in WiFi and easy installation, it's an attractive 'plug-and-play' option. Its downsides are that it has lock scheduling limitations and a short battery life similar to August.
Disclaimer: ButterflyMX provides these blog posts to help our customers and potential customers make the right business decisions for them. Our blog posts are based on the information we have available to us at the time of writing.