As demand for smartphone-based property access continues to increase, many industry providers are now producing apartment smart locks. So deciding on the right smart lock for your apartment building can seem overwhelming. During your research, you may have stumbled upon the Halo lock by Kwikset.
Before making your purchase you need to know whether it's user-friendly, secure, and convenient. In this post, we review the Halo WiFi smart lock and the features it offers. Then, we help you decide whether this Kwikset lock is right for your apartment building.
This post covers:
About Kwikset
Kwikset was founded in California in 1946 by Adolf Schoepe and Karl Rhinehart. The pair transformed the residential lock design by developing a tubular lock. They named their company "Kwikset", to highlight their lock's quick installation. With its clever name and a focus on residential locks, Kwikset hit the ground running.
Kwikset quickly became ubiquitous in the residential market growing to the number one manufacturer of residential locksets in the United States — a title it still holds today. Producing door levers, doorknobs, deadbolts, handle sets, and keyless entry devices, Kwikset offers a wide variety of door locking systems.
Kwikset is a staple in lock and lockset manufacturing for 75 years with plans to remain in the forefront by providing smart locks.
About Kwikset smart locks
Kwikset designs and manufactures a broad selection of smart locks that work in all types of multi-tenant buildings. In residential and commercial buildings, Kwikset smart locks create a seamless, keyless entry experience. Tenants and staff can open doors through the Kwikset app. They also have the option of using alternatives such as PINs or a physical key.
Each of Kwikset's smart locks serves a different purpose, so choosing the right locks depends on your needs. For example, you may want third-party integrations such as voice assistants or smart home integrations. What's more, your property may utilize Zigbee or Z-wave technology. Knowing these wants and needs will help you select the correct smart lock.
Some of Kwikset's most popular smart lock offer:

Review of the Kwikset Halo
The Halo smart lock combines the reliability Kwikset is known for with a slew of smart features and options to enhance property access. Read on for an in-depth look at the Halo lock, its features, pricing, and some pros and cons.
Features
Kwikset Halo Pricing
The Halo lock costs between $200 and $229. Regardless of the style you choose, both the contemporary and traditional locks are priced in that range. The price does not include installation, which may cost up to $100 if you're unable to do it yourself.
Pros & cons
Pros:
Cons:
Watch how ButterflyMX works:
Should you get the Kwikset Halo?
If you're in the market for a simple apartment access solution that carries a familiar name, the Halo smart lock may be an option. By selecting a Halo smart lock, you're choosing something dependable and well-versed — as well as unique in design.
Some of the perks of investing in a Halo smart lock are improved accessibility and
security. The Halo lock makes it convenient, safe, and easy for your apartment residents or office tenants to open doors with their smartphone, a PIN code, or a key. Your tenants will appreciate the multiple options offered to them as well as the ability to lock and unlock doors remotely.
Alternatives to the Kwikset Halo
If you're looking for an alternative to the Kwikset Halo, consider the Schlage Encode. This smart WiFi deadbolt costs a bit more than the Halo but offers simple installation, multiple third-party integrations, and a well-rated mobile app.
Perhaps the greatest feature of the Halo lock is that you can integrate it with other access control solutions. To create the most convenient and secure access experience at your property, pair a smart lock like the Halo with a video intercom like ButterflyMX. That way, your tenants will enjoy seamless, smartphone-based entry at both the front door and their unit door.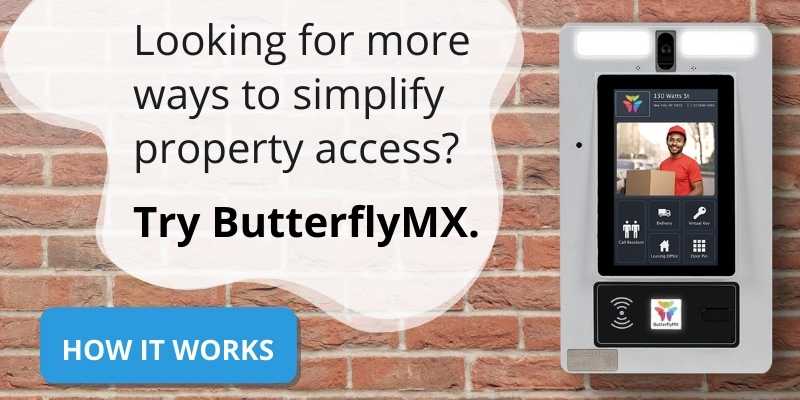 Disclaimer: ButterflyMX provides these blog posts to help our customers and potential customers make the right business decisions for them. Our blog posts are based on the information we have available to us at the time of writing.