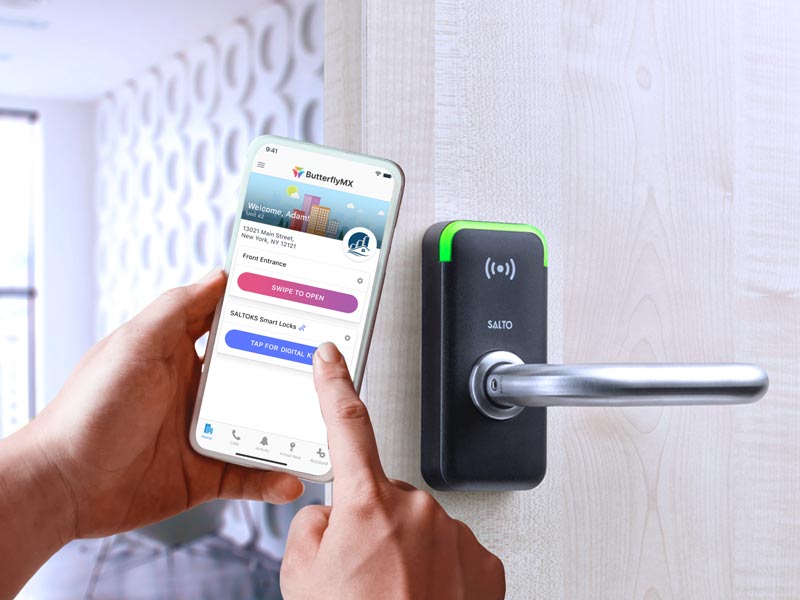 Technology has totally changed how we live and work in buildings — and how we access them. One game-changing technology gaining popularity is the smart lock. The best apartment smart locks empower residents to open doors from their smartphones and property staff to manage access into and within their buildings from anywhere. If you're interested in adding smart locks to your apartment building, you may be considering SALTO locks.
But are SALTO smart locks your best option? Read on to find out. First, we'll explore SALTO KS and its lineup of smart lock products. Then, we'll take a closer look at one SALTO smart lock, the XS4.
This post covers: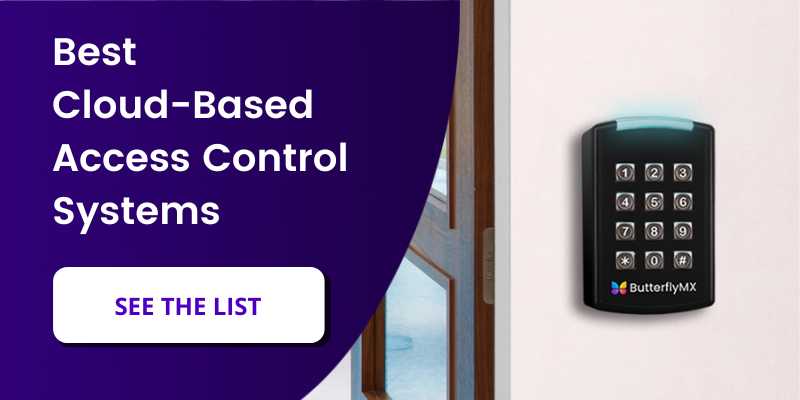 About SALTO KS
In 2012, a company called Clay entered the market. Based in Amsterdam, Clay sold a wireless, cloud-based access control solution. Then, in 2012, Clay partnered with SALTO Systems. Together, they introduced their product Clay by SALTO, a revolutionary digital locking platform.
By 2017, the brand was ready for a refresh, so it renamed the product from Clay by SALTO to SALTO Keys as a Service (SALTO KS). The company also released its new mobile app in January that year under new name.
Shortly after, in June 2017, SALTO Systems acquired its remainder shares in Clay. SALTO became the sole owner of the company and further expanded its focus on cloud-based technology.
Since then, SALTO KS has refined its hardware and software offerings to deliver outstanding cloud access control for buildings in the multifamily, commercial, retail, and hospitality industries. SALTO KS empowers building tenants and staff to unlock doors from anywhere, any time.
SALTO KS's hardware offerings may include:
Smart locks
Tags (traditional fob devices)
SALTO IQ, the brains of the access system that connects wireless smart locks to the cloud
SALTO Repeater, which is an optional extender in case the signal can't cover the distance between IQ and your locks
About SALTO KS smart locks
Though SALTO KS develops cutting-edge software and boasts the KS Connect API for powerful integrations, the company is probably best known for its hardware. When you think of SALTO, you probably think of its smart locks, which you can manage and unlock from a smartphone.
SALTO KS smart lock options include:
XS4 electronic escutcheons (original and mini models): The classic, wireless electronic smart lock that fits most doors and is compatible with ANSI mortise locks and tubular latches (which are used in the US)
Neo Cylinder: A compact electronic cylinder designed for doors where electronic escutcheons can't be installed.
XS4 wall reader: A wall-mounted device with or without a keypad that works on doors where stand-alone electronic locks can't be installed (such as sliding doors, electronic gates, etc.)
Watch how ButterflyMX works:
Review of SALTO KS XS4
The SALTO KS XS4 may be a powerful, stand-alone smart lock that's both easy to use and install. It fits most doors, including fire doors and emergency exits, and you can use them indoors or outdoors. The XS4 is completely wireless and can be retrofitted onto most ANSI locks.
Since the XS4 is SALTO's most popular smart lock, let's take a closer look at this product. Read on to learn more about its features, cost, and pros and cons.
Features
Easy installation — you'll only need two screws when installing it on new or existing ANSI locks.
Concealed screws to improve appearance and security.
Signals access authorization or denial with a green or red light. An audio signal is optional.
Anti-drill protection makes it durable, resistant, and secure.
Since this smart lock is quick and easy to install, it may be perfect for retrofits.
Comes in many finishes.
Can be integrated with other access control systems and smart home solutions.
Pricing
Unfortunately, SALTO doesn't list pricing on its website. You must request a quote to get an estimate for the cost of SALTO smart locks.
Pros & cons
Pros:
Smartphone-based access. SALTO KS empowers building tenants to unlock doors from their smartphones, which is more convenient than using fobs or keycards.
User-friendly mobile app. The SALTO KS mobile app is easy for tenants to download and use.
Integrations. SALTO KS integrates with many other proptech and access control solutions. For example, SALTO integrates with ButterflyMX. This integration empowers tenants in a building with a ButterflyMX video intercom and SALTO smart locks to open the front door and their unit door from the same app.
Digital keys. Staff and tenants can send digital keys to visitors so they can unlock SALTO locks even without the mobile app.
Cons:
Limited customer support. SALTO has a helpful resource of how-to's and FAQs on its website. However, SALTO is a global company, which may make it trickier to find US-based customer support. SALTO's website doesn't list a US phone number or email address to contact; instead, you might need to fill out a support request form online.
Lack of upfront pricing. Since SALTO KS doesn't list pricing on its website, it's difficult to know the cost of a SALTO smart lock.
Should I get SALTO smart locks?
SALTO locks may be a great choice for a wide range of properties. Whether you manage an apartment building or an office building, SALTO's smart locks can help you simplify access.
Smart locks enable keyless entry, which is a valuable apartment amenity for residents. In fact, residents are willing to pay, on average, 20% more for apartments with smart technology. In commercial buildings, smart locks are effective tools to control access into conference rooms, private offices, and property-staff-only spaces that are off-limits to employees.
If you're set on investing in smart locks, SALTO KS may be one of the best choices because its locks are reliable and easy to use. Your tenants and staff would appreciate the convenience of keyless entry and remote access.
Best of all, SALTO locks integrate with other smart access solutions, like video intercom systems, to create seamless access from the front door throughout the building. If you already have an access control or intercom system, check to see if it integrates with SALTO KS.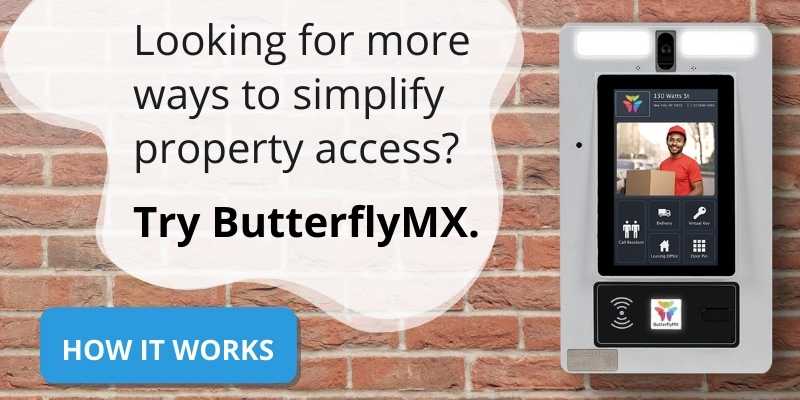 Disclaimer: ButterflyMX provides these blog posts to help our customers and potential customers make the right business decisions for them. Our blog posts are based on the information we have available to us at the time of writing.