Today's access control providers offer apartment smart locks that empower you to unlock doors from your smartphone. If you're planning on purchasing smart locks for your multifamily property, you have a lot of options. You might have come across Schlage smart locks in your research.
Are you wondering how Schlage locks fare against the competition? Keep reading to find out. In this post, we'll take a look at some Schlage smart lock offerings. Then, we'll dive deeper and review the Schlage Encode Smart WiFi Deadbolt.
This post covers:
About Schlage
The Schlage Manufacturing Company was founded in San Francisco in 1920. Schlage's founder, Walter Schlage, was an inventor. Schlage invented the bored cylindrical lock, a method of door access that is still used today.
As Schlage grew, the Swedish manufacturer Ingersoll Rand acquired it in 1974. Ingersoll was then acquired by the security company Allegion in 2013.
While Schlage currently offers a variety of door entry hardware, Walter Schlage's legacy of innovation continues to shape the company. Schlage's more traditional offerings include knobs, handle sets, and deadbolts. In fact, many Schlage doorknobs and locks don't have any smart capabilities. However, Schlage has expanded into the next generation of door entry technology by introducing a line of smart locks and keypad locksets.
About Schlage smart locks
Schlage offers a variety of smart locks for both commercial and residential use. All of the company's smart locks can be managed and unlocked with the Schlage Home mobile app. Others — known as Schlage keypad locksets — include a keypad so users can open the door by entering a code.
Each of Schlage's smart locks offers different capabilities and functions, so you should choose locks depending on your needs. For example, your choice might be informed by whether you want to use voice assistants or smart home integrations alongside your Schlage lock, and if you'd like to be able to lock and unlock your home remotely.
Some of Schlage's most popular smart lock offerings are:
Schlage Encode WiFi Deadbolt: Pair your Encode with home automation systems to easily control your lock remotely.
Connected Keypads: A great entry point for a smart home ecosystem. Provides security and features with affordability in mind.
Schlage Sense Smart Deadbolt: Bluetooth- and WiFi-compatible deadbolt that you can manage using an app.
Schlage Connect Smart Deadbolt: Keyless entry system with Alexa compatibility.
Review of the Schlage Encode WiFi Deadbolt
The Schlage Encode Smart WiFi Deadbolt is a powerful lockset that offers convenience and security, no matter where you install it. Read on for an in-depth look at the Encode's features, pricing, and pros and cons.
Features
A PIN system that allows residents to distribute entry codes to friends and family, and delivery PINs that expire or only work at recurring times for more general use.
Smartphone notifications. Whenever a Schlage keypad locks or unlocks, residents get notifications automatically.
App notification alerts whenever a code you provide is used.
Encode can lock automatically after a customizable amount of time.
An alarm that sounds when the Encode detects a break-in attempt.
Use of the Schlage mobile app to lock and unlock doors and send lock codes.
Schlage Encode price
The price of the Schlage Encode WiFi Deadbolt is between $249 and $300.  This depends on the outside casing you choose for your Encode. The price does not include installation, which may cost up to $100 if you can't do it yourself.
Pros & cons
Pros:
Versatility. One of the Encode's most versatile features is its PIN system. You can give out PINs that only grant entry at certain times and expire after certain dates.
Remote locking and unlocking. The Encode is WiFi connected and can be locked and unlocked via the Schlage app. In other words, wherever you have an internet connection, you can release your door — even if you're halfway across the country.
Easy to install. All you need to install a Schlage Encode smart lock is a Phillips screwdriver. It's just like installing a traditional deadbolt, except that the Encode's easy-to-assemble internal hardware makes the process even easier.
Integrations. Got a smart assistant such as Alexa? Connecting your Schlage Encode to your smart home assistant opens up a whole new world. The biggest benefit: You'll be able to unlock doors with just your voice.
Cons:
Power usage. The Encode has a lot of features, but the fact that it has to stay connected to WiFi means its battery might drain at a faster rate than other smart locks.
Confusing setup. While connecting your Schlage Encode to Amazon's Alexa or Google Assistant can unlock a new level of convenience, some users might not find this easy. Some even report that they need to install two apps — the Schlage app and Amazon Key — to get maximum functionality from their smart locks.
Locking limitations. If you're looking to configure your Encode to only lock at certain times, you'll need to do that through Google Assistant or Alexa instead of through Schlage.
Watch how ButterflyMX works:
Should you get Schlage smart locks?
If you're looking for a tech-forward access solution, Schlage smart locks are a fantastic choice. By selecting a Schlage smart lock, you're choosing something feature-rich and dependable — and not to mention stylish!
The greatest benefits of investing in Schlage smart locks are improved convenience and security. Schlage makes it easy for your apartment residents or office tenants to send entry PINs to visitors for simplified access. Your tenants will also appreciate the ability to lock and unlock their door remotely, right from their smartphones.
Don't forget that Schlage smart locks can integrate with other access systems. If you're looking to create a comprehensive ecosystem for residents, property access companies like ButterflyMX provide smart solutions that complement the features of locks like Schlage's. Residents who already use their smartphones to lock and unlock a Schlage Encode will jump at the chance to use a ButterflyMX intercom that lets them use smartphones to grant access and video chat with guests.
Together, access companies like Schlage and ButterflyMX can turn your property into a smart building that's safe and convenient — ensuring your staff, residents, and visitors can get into your building, amenity spaces, and apartment units all from their smartphone.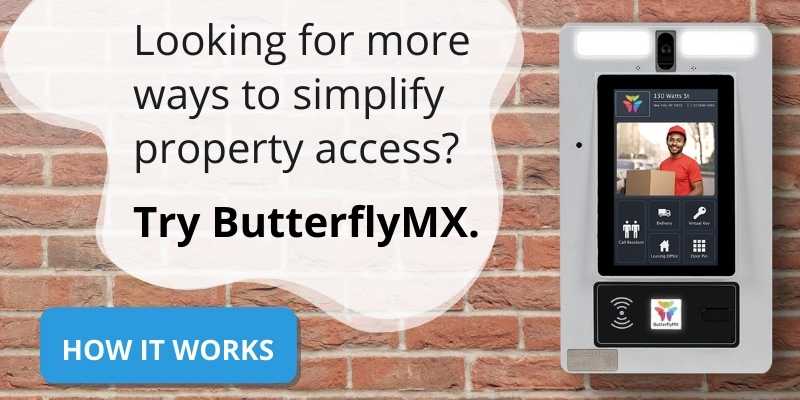 Disclaimer: ButterflyMX provides these blog posts to help our customers and potential customers make the right business decisions for them. Our blog posts are based on the information we have available to us at the time of writing.