There are dozens of smart locks for apartments to choose from, which can make it difficult to find the best one. One provider you may be considering is Wyze.
Wyze offers just one smart lock within its catalog of smart building products. But is this lock good enough to earn a spot in your building? In this review, we take a closer look at the Wyze Lock and discuss its features, pros and cons, and price.
This post covers:
About Wyze
Wyze was founded in 2017 by CEO Yun Zhang, chief product officer Dongsheng Song, COO Elana Fishman, and head of marketing Dave Crosby. As former Amazon employees, the Wyze founders have dedicated their careers to innovation and technology. Wyze's goal is to make quality technology accessible to everyone. As a result, it focuses on offering affordable and effective products.
Wyze's flagship product was its smart camera: the WyzeCam. Thanks to its unique blend of quality and affordability, the company built a name for itself. From there, the company started developing more smart building technology products.
Today, Wyze offers a wide range of products, including:
Home monitoring sensors
Indoor and outdoor smart cameras
Light strips
Smart vacuums
Smart thermostat
Scales
Noise-canceling headphones
Smart light bulbs
Review of the Wyze Lock
Representing a new market for Wyze, the Wyze Lock is the company's only smart lock and one of its first steps into the proptech industry. If you're looking for a quality smart lock that's simple and straightforward, the Wyze Lock could be a great pick. Read on to learn more about it and discover its features, pricing, and pros & cons.
About Wyze's smart lock
The Wyze Lock is a flat-faced lock that installs on top of your deadbolt and works with most single-cylinder deadbolts. Installation takes about 15 minutes, making it simple for property managers and owners to install quickly. Additionally, since it fits onto existing deadbolts, you can keep the keys you already have to save money.
Once it's installed, the Wyze Lock is easy to use. It offers automatic locking and unlocking, which works with Bluetooth. As a resident approaches the door, the lock detects a signal and unlocks for them. When a resident leaves their unit, the Wyze Lock also detects a departure and locks automatically behind them.
Property managers and residents will also appreciate the Wyze Lock's remote access feature. This allows you to download the proprietary Wyze app, then lock or unlock your door from anywhere in the world. The lock comes with a built-in WiFi signal receptor, as well as compatibility with existing smart home systems.
To complement its smart lock, Wyze also offers the Wyze Lock Keypad. Sold separately, the keypad is weatherproof, wireless, and backlit. It serves as a secondary form of entry — residents can enter a PIN code to unlock the door. They can also send guest codes to their visitors for easy entry.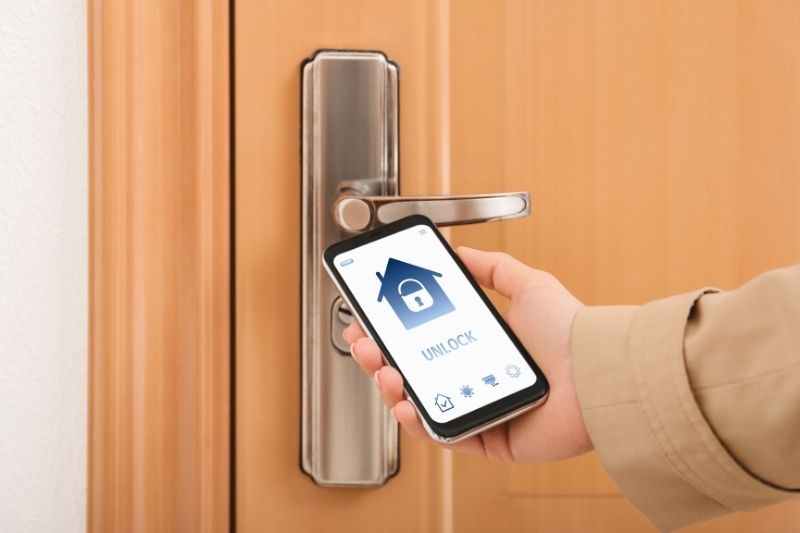 Features
Mobile app: The lock can be controlled through Wyze's proprietary mobile app.
Auto-lock and unlock: When a resident arrives or departs their unit, this Wyze smart lock automatically locks or unlocks.
Remote access: Users can lock or unlock the door within the Wyze app from anywhere in the world.
Voice controls: Control the lock hands-free through Amazon Alexa.
Lock history: Review a log of lock usage events.
Door position detector: The Wyze smart lock can detect when the door is open and sends users a notification.
Encryption: The Wyze Lock has AES 128-bit encryption and hardware encryption for ultimate safety.
Two-factor authentication: This ensures that only authorized users can unlock the door from within the Wyze app.
Wyze Lock cost
The Wyze Lock is priced low compared to other smart locks, such as August and Yale locks.
Wyze Lock pricing is as follows:
Lock alone: $107.98
Wyze Lock Keypad: $24.98
Watch how ButterflyMX works:
Pros & cons
Pros:
Quick installation: The lock can be installed in 15 minutes.
Strong signal range: Wyze Lock offers a good signal range and stability.
Voice commands: Wyze integrates with Amazon Alexa for hands-free access.
Guest access: Wyze makes it easy for residents to share lock access with friends and family. And if you have the Wyze keypad, residents can send guest access codes to visitors.
Secure: With two forms of encryption and two-factor authentication, the Wyze Lock is reliably secure.
Cons:
App-based access only: Unless you purchase the Wyze Lock Keypad, the smart lock offers only one form of entry through the mobile app.
Battery-powered: Since the Wyze smart lock is battery-powered, you risk the batteries dying at an inopportune time. You might also have to purchase and replace the batteries often.
Unreliable auto-locking feature: Although the auto-locking feature offers convenience, some users have stated that it's unreliable and doesn't always work properly.
Low durability: Compared to other smart locks on the market, the Wyze Lock is cheaper and might be less durable.
Should you get a Wyze smart lock?
Ultimately, the Wyze Lock is a solid smart lock from a technology company that doesn't have a lot of experience in this market yet. Although Wyze lacks the big-brand recognition of other players — like August and Schlage — its smart lock generally holds its own amongst the competition.
That said, you get what you pay for. The Wyze smart lock is about $100 less than most other popular smart locks. However, what you gain in affordability, you lose in reliability and durability. The Wyze Lock is less durable and long-lasting than other locks. It also offers fewer bells and whistles and fewer entry methods (unless you purchase and install the keypad separately).
Of course, if budget is your primary concern, the Wyze Lock might be perfect for you. Its affordable hardware and easy installation make it ideal for small multifamily buildings, condos, and HOAs.
Disclaimer: ButterflyMX provides these blog posts to help our customers and potential customers make the right business decisions for them. Our blog posts are based on the information we have available to us at the time of writing.