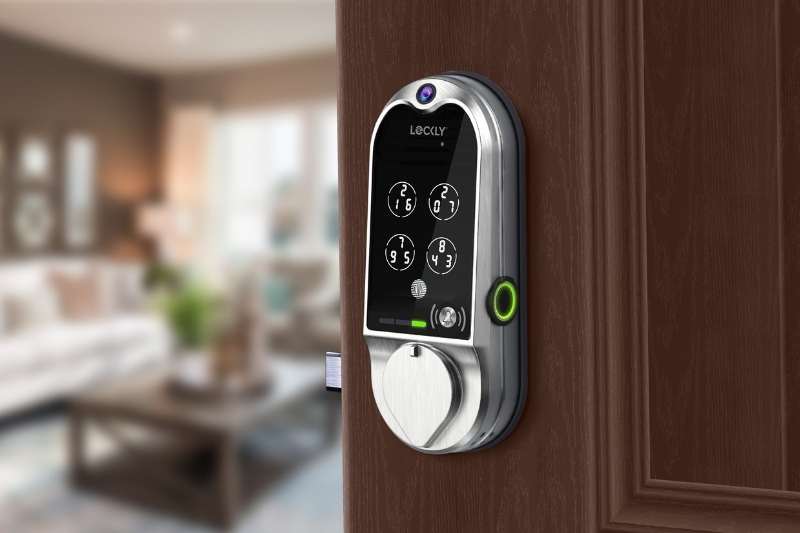 Photo Credit: Lockly
Building security and convenience are every property manager's priorities. And smart locks are one of the best ways to add both to your property. But it can be tough to choose the best smart lock for your apartment or office building.
Lockly is one provider to consider. Its flagship line of smart locks — the Secure series — has several locks to choose from. In this post, we break down the Lockly Secure Series smart locks to help you determine whether they're a good fit for your property.
This post covers:
About Lockly
Lockly is a property technology company and smart lock provider that focuses on merging sturdy lock designs with modern wireless technologies. Founded by a University of California Berkeley graduate, Lockly is currently based in Silicon Valley.
Backed by years of manufacturing and development experience, the company offers an innovative product portfolio with unique features, like its patented PIN Genie technology and 3D biometric fingerprint scanner.
About Lockly smart locks
Generally, Lockly smart locks are well regarded for several key reasons. First, every smart lock produced by Lockly is secured with 128-bit encryption, which is one of the most secure encryption methods available with modern IoT devices. Additionally, every Lockly smart lock can be controlled with a proprietary app.
The Lockly mobile app allows you to:
Lock or unlock your door remotely
Send guests access codes so they can enter your home while you aren't there
Monitor the door status (i.e. is the door closed or open?)
Issue temporary keys
Create and manage access codes
Set custom lock durations
All Lockly smart locks use Lockly's patented "PIN Genie" technology. This technology scrambles the digital keypad display every time someone approaches the door. So, it can prevent someone from guessing your door lock passcode by seeing where your finger hovers over the keypad.
Finally, Lockly offers a two-year electronics warranty and a limited lifetime mechanical and finish warranty on its smart locks.
With that said, let's take a closer look at the Lockly Secure Series and what it actually offers.
Watch how ButterflyMX works:
Review of Lockly Secure smart locks
The Lockly Secure series of smart locks includes three lines: Standard, Plus, and Pro. Each line offers both deadbolt and latch varieties. And all three lines offer Bluetooth technology.
The Standard line may be the most affordable and the simplest. The Plus line includes everything that the Standard line offers, but it incorporates a side-mounted fingerprint sensor. Its fingerprint sensor is connected to an internal database that can store up to 99 fingerprints at once.
Lastly, the Pro line offers Bluetooth, a fingerprint sensor, and WiFi connectivity. Lockly's WiFi hub is included with the purchase of a Secure Pro lock. The WiFi hub may allows to manage smart locks from afar and lets you integrate your Lockly smart locks with your smart home network.
With this addition, you can gain greater control over the entire system, plus get access to enhanced functionality. The WiFi smart lock is slightly faster and more accurate, and you can control your doors with voice commands.
Ultimately, these three lines of smart locks are fairly similar to one another. Each line adds one additional feature, which may result in a higher price but greater functionality.
Features
Three finishes to choose from: Satin Nickel, Venetian Bronze, and Matte Black
Two models: latch or deadbolt
Bluetooth connectivity is standard for all Secure series locks
Fingerprint reader available on Lockly Secure Plus and Pro locks
WiFi connectivity available in Pro locks
Grant temporary eKeys and one-time access codes
Offline Access Code™ feature, which allows users to send access codes remotely without an internet connection
Scrambling keypad
Proprietary mobile app
Lockly pricing
The cost of Lockly smart locks depends on which line of the Secure series you choose. Additionally, its latch locks are more expensive than deadbolt locks.
Lockly smart lock pricing is as follows:
Standard Latch: $209.99
Standard Deadbolt: $179.99
Plus Latch: $249.99
Plus Deadbolt: $229.99
Pro Latch: $299.99
Pro Deadbolt: $279.99
Pros & cons
Pros:
Compatible with existing smart home technology
Offers a visitor access solution, including eKeys and offline access codes
Good security features, especially the scrambling keypad
The Secure line offers one lock under $200
Durable, reliable, and able to withstand inclement weather
Lockly's WiFi hub is compatible with Alexa and Google Assistant
Cons:
Users have reported issues with the fingerprint sensor
The WiFi connectivity may not be foolproof and can be spotty from time to time
The Secure Pro line is may be pricey to some
The Lockly app allegedly has some language translation issues
Should you get Lockly smart locks?
In terms of functionality and security, Lockly is a leading provider with reliable products.
Overall, Lockly's Secure series of smart locks is an excellent collection because it offers three lines to accommodate various buildings. If cost is your priority and you don't mind foregoing extra features, the Standard line could be a good fit. But if WiFi connectivity is important, it might be worth splurging for the Pro line.
For property owners and managers who want to improve security and add convenience to their building's access experience, Lockly smart locks are might be a great choice. Lockly's unique self-scrambling keypad can add an additional layer of security.
And when you combine Lockly with ButterflyMX's video intercom system, your building staff and residents will enjoy the convenience of using a mobile app to open doors, grant access to visitors, and ensure you never miss another delivery
Disclaimer: ButterflyMX provides these blog posts to help our customers and potential customers make the right business decisions for them. Our blog posts are based on the information we have available to us at the time of writing.