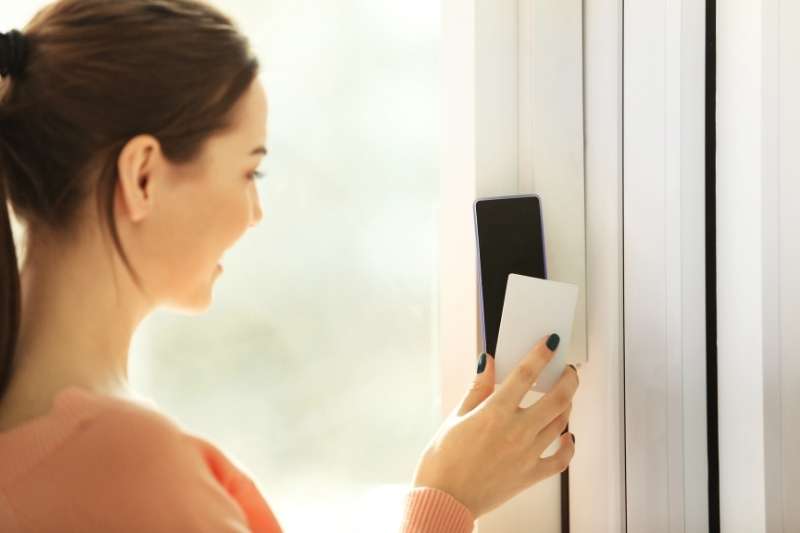 Key Takeaways
RFID access control uses RFID technology to verify a resident's credentials.
RFID access control uses a system of tags, readers, and computer servers to allow access to verified users.
The pros of RFID entry systems are ease of use, easy replacement, and practicality for doors, gates, vehicles, and elevators.
The cons of RFID door access control systems are they're not secure, credentials have to be replaced often, and there's no visit management.
The four best RFID access control systems are ButterflyMX, SALTO systems, AXEM Technology, and RFIDentikit.
Are you in the market for an access control system? Whether you manage a commercial or residential property, security, safety, and ease of access are paramount. The right access control system can be the difference between a tenant choosing your property over another. So, you need to be sure you've put your best foot forward.
RFID access control systems are a popular door entry solution that manage access into and throughout buildings. In this post, we'll go over what an RFID access system is and how it works. Then, we'll help you decide if RFID access is right for your property.
This post covers:
What is an RFID access control system?
An RFID access control system is a type of key card or fob system that uses RFID technology to verify a resident's credentials.
RFID stands for Radio Frequency Identification. At its core, RFID enables wireless communication between a reader and an RFID tag.
When RFID was invented in the 70s, RFID tags were costly and bulky. However, advances in technology mean today's RFID tags are tiny and inexpensive. Many industries have found countless uses for RFID technology, from shipping to library cataloging and now access control.
RFID technology, as applied to access control, is found across a variety of buildings. RFID access systems are used in residential apartments and industrial facilities, and commercial RFID door lock systems for office complexes are popular as well.
Important note: You may have heard the term "Wiegand RFID reader" elsewhere. Wiegand systems operate with magnets, not radio waves, and are entirely separate from RFID.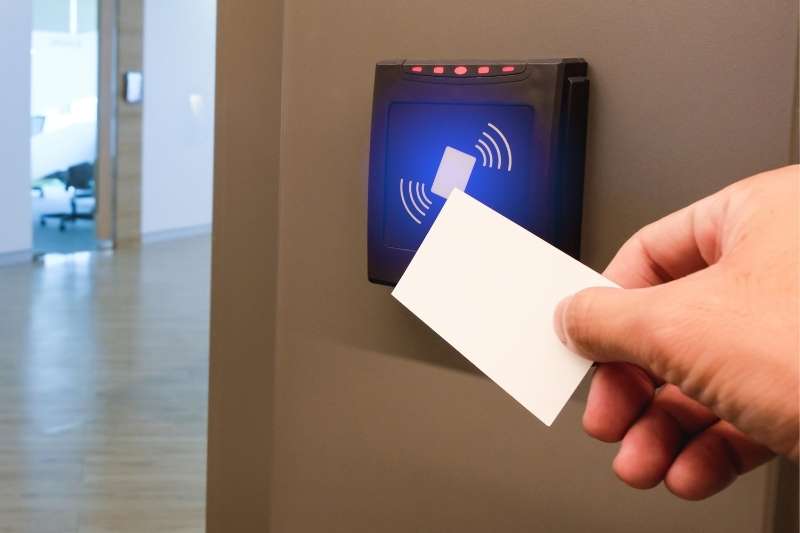 Components of RFID access control systems
RFID access control systems have four parts:
RFID tag. An RFID tag is installed in a door key card or gate fob, which residents use to gain access to the building.
RFID reader. Readers are installed near the door to which they manage access. They contain antennas, which receive data transmitted by RFID tags. Depending on whether the RFID system is active or passive, it may also emit an electromagnetic field that powers the RFID tag.
Control panel. The control panel is a computer server that reads and interprets the data passed along by the RFID reader.
Electric door release mechanism. If the control panel verifies a resident's credentials, it sends instructions to the building's electric door strike. These instructions unlock the door and allow the resident to enter.
How does an RFID access control system work?
RFID access control uses a system of tags, readers, and computer servers to allow door access to registered residents who present the correct credentials. This system works similarly to NFC-enabled devices. However, the biggest difference is that RFID works with devices farther in range.
To use an RFID system, residents hold their credentials — usually a key fob or card — up to the reader. Then, the system uses one of several radio frequencies to establish a connection between the reader and tags.
Low-frequency RFID systems are more expensive but can establish a connection between a reader and a tag from greater distances. RFID gate openers, for example, use low-frequency RFID to power long-range readers suited for commercial and residential gate access control.
Furthermore, high-frequency systems are also a popular choice for RFID access control because they're cheaper. However, they only activate up close and are best suited for indoor use.
In addition, there are two types of RFID access control systems: active and passive.
How does ButterflyMX work:
Active vs. passive RFID access control systems
Active and passive RFID access control systems have different methods of establishing a connection between an RFID tag and a reader. However, the overall process of using both systems remains the same.
Active RFID tags use batteries, while passive RFID technology doesn't. This means active RFID tags power themselves when they interact with a reader, while passive tags must harvest power from the reader's electromagnetic field.
Some active readers are powerful enough to activate without even having to physically come in contact with a reader, making active readers a popular choice for RFID touchless entry system providers. On the other hand, while passive tags don't need to be replaced as often, they have a shorter range and aren't as powerful.
Here's what happens when a resident uses an RFID card or fob:
The resident holds their RFID access card up to the reader. This allows the reader and the RFID tag to communicate over a wireless connection.
The reader's antenna establishes a connection to the RFID tag. The RFID tag uses this connection to send data to the reader. Then, the reader forwards that data to the control panel.
The control panel verifies the resident's credentials. When the control panel receives the number encoded into the signals sent by the RFID tag, it checks that number against a database stored either locally or in the cloud.
The control panel instructs the door to open. After the control panel verifies the credentials, it sends signals to the RFID door opener, and the door's electric strike unlocks.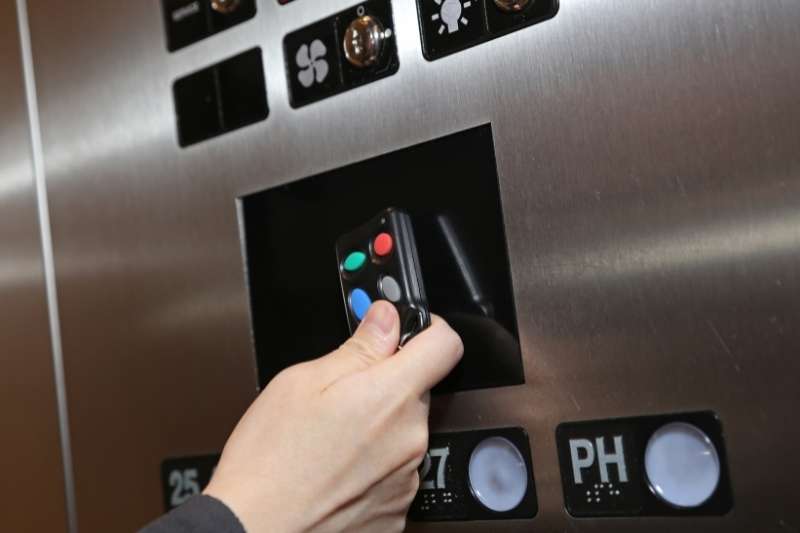 RFID access pros and cons
Now that you know what RFID door access is and how it works, we can go over some of the systems' benefits and drawbacks.
Benefits of RFID access control systems
Ease of use for tenants. Tapping a key card or badge credential against a reader is simple and intuitive.
Easy to replace. Should a resident misplace a card, you'll be able to disable access for that card using the control panel and issue a new one.
Effective for elevators. Elevator RFID access control allows you to regulate and control access to certain floors easily.
Practical for vehicles. Vehicle RFID access control offers convenient, hands-free access to vehicles at your property. So, vehicle access control is usually an essential component of RFID gate entry systems.
Great for doors and gates. An RFID door entry system automatically unlocks doors when a valid card or fob is scanned. Additionally, an RFID gate system empowers tenants to open gates easily for convenient property-wide access.
RFID access limitations
Key fobs have to be replaced often. Even your most detail-minded tenants are prone to slip-ups. When you have to deal with replacing lost key fobs in addition to assigning new ones to new residents, those costs add up.
Potential safety pitfalls. While RFID tags are more secure than traditional keys, they're capable of being cloned with the right skills and equipment. With that said, if a resident loses their key fob, someone with malicious intentions could try to use it to access the property.
No way to manage visitor entry. Residents aren't the only ones who need to access your building. Visitors and delivery couriers need access, too. Unfortunately, an RFID system offers no way to grant access to visitors remotely.
4 Best RFID access control systems
Looking to enable convenient access at your property with an RFID access control system?
Here are the best RFID access control systems on the market:
1. ButterflyMX
ButterflyMX is a modern alternative to RFID access control systems. With more than 20,000 5-star reviews, ButterflyMX has reinvented what a modern access control system can do.
Here's why ButterflyMX is more than just an access control system:
Mobile-first approach. ButterflyMX offers a top-rated mobile app that empowers tenants to open gates, doors, and other access points with their smartphones — eliminating the need for physical keys. Of course, ButterflyMX supports other types of credentials such as key cards, fobs, and PIN codes.
Cloud-based system. ButterflyMX is a cloud-based system that offers remote access management. So it's easy to manage access permissions remotely and in real-time. What's more, you can grant or revoke access from anywhere, providing flexibility without needing to be on site.
Video intercom. The ButterflyMX video intercom allows tenants to visually verify visitors before letting them in. Additionally, it takes time- and date-stamped photos of everyone who enters the building, which you can access online or through a mobile app.
Digital keys for visitors. Temporary digital keys offer seamless visitor management for guests and service providers. So visitors, dog walkers, house cleaners, and service providers can access your property securely without a tenant needing to be present.
Elevator controls. ButterflyMX offers elevator RFID access control that empowers you to control access to certain floors.
Vehicle access control. Vehicle access control enables convenient, property-wide access for cars, service trucks, and more.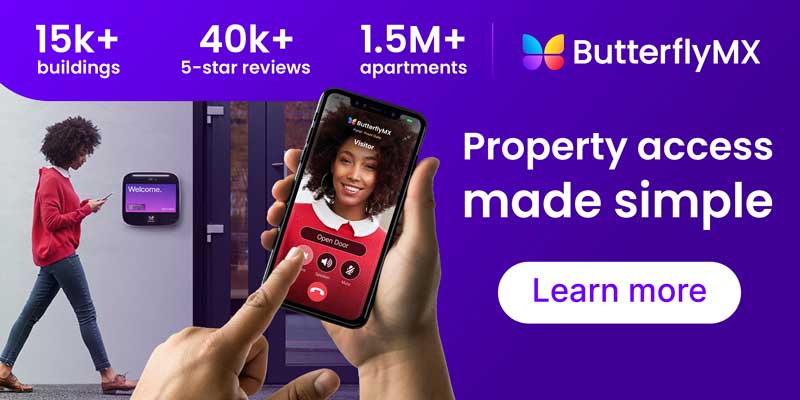 2. SALTO Systems
SALTO enables contactless and flexible access with RFID cards and fobs.
Here are some key features of SALTO Systems:
Flexible credential options. SALTO offers a range of credential options, including RFID cards, key fobs, wristbands, and more — offering flexible and adaptable entry.
User-friendly interface. SALTO is convenient and user-friendly. So, it's easy for individuals to present their credentials to the reader for quick and efficient access.
Integrations. SALTO RFID technology integrates with other building management systems, like CCTV, security systems, alarms, and time-tracking systems.
3. AXEM Technology
AXEM Technology enhances security and transforms identification systems with RFID technology. So, it's a leading solution for industrial buildings.
AXEM Technology offers:
Secure RFID identifiers. AXEM Technology has customizable RFID identifiers for either multiple or single uses.
Flexible RFID reader options. AXEM Technology offers a range of readers, including mobile, desktop, and industrial readers.
Contactless solutions. AXEM Technology offers both RFID access cards and fobs to secure access to your sites and buildings.
4. RFIDentikit
RFIDentikit provides secure access and data management for events of all sizes.
Here are some key features of RFIDentikit:
Convenient accreditation. RFIDentikit provides a convenient one-stop shop for creating and managing badges live on-site.
RFID access control. RFIDentikit offers multilayered access control throughout your event space with a simple scan of a pass.
Adaptable APIS. If you have a preferred data management software, RFIDentikit empowers you to create a custom API that will work with your existing workflow.