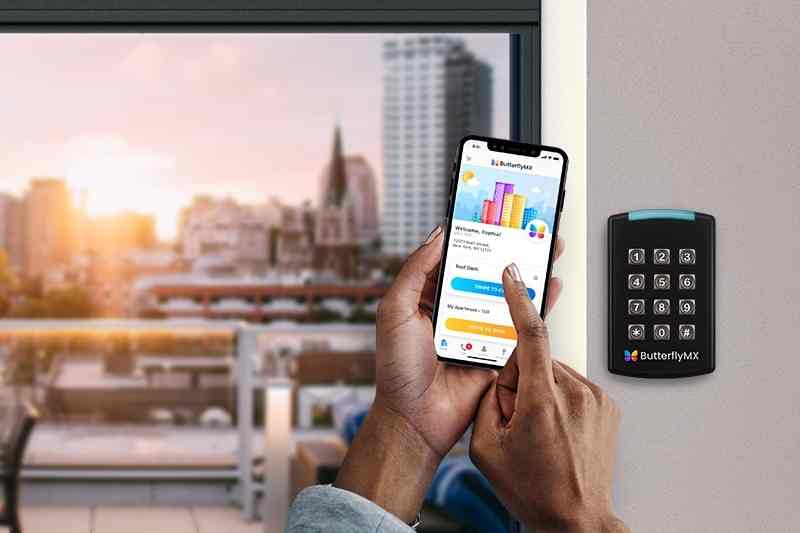 Building security and resident satisfaction are top priorities for any apartment owner or manager. And the type of apartment access control you install significantly impacts your building operations, security, and the resident experience. So, it's essential that you choose the right one!
In this guide, we review what an apartment access control system is and how it works. Then, we discuss the benefits of apartment access control and how to choose the best system for your apartment building.
Navigate this guide:
What is apartment access control?
Apartment access control is a method of automating property access for authorized residents, staff, and visitors. While there are many different types of apartment building access control systems, they all share the common goal of simplifying building access for authorized tenants and visitors. Controlled access apartments enjoy greater convenience and security — which renters actively seek out when apartment hunting.
Apartment access control systems are installed at entryways where only authorized people can pass through. They allow building owners and operators to keep doors locked for security while providing a simple way for approved people — residents, guests, and staff — to gain access.
What are controlled access apartments?
A controlled access apartment is a residence that requires a credential to gain entry. So, users must present a credential in order for the door to open.
Watch how ButterflyMX works:
5 common types of apartment access control
Although apartment access control systems come in various shapes and sizes, some work better than others. So, an essential step for choosing the right system for your controlled access apartment building is educating yourself on the different types of available solutions.
The five types of apartment access control systems commonly used today:
1. Key cards and key fobs
If you've ever stayed in a hotel, you probably used a key card to get into your room. Key card and key fob systems for apartments were among the first to replace the traditional key.
Here's how key card and fob systems are used in apartment buildings:
Each resident and building staff member receives a physical key card or fob.
At the building entrance, residents hold up their fob or card to the access reader, which then scans the credential and verifies their identity. Most fob entry systems use RFID technology to scan credentials.
After the resident is verified, the access reader instructs the electric or magnetic door lock to unlock so the resident can enter.
Key card and fob systems are often used beyond the front door, too. You'll often find them controlling access to elevators. Fob systems allow building managers to restrict access to certain floors and prevent unauthorized visitors from accessing certain areas of the building.
2. Cloud-based access control
A cloud-based access control system operates and stores data in the cloud. Today, the Internet of Things (IoT) powers nearly all of our electronic devices – from smartphones to laptops and even refrigerators. The "things" in IoT – essentially every device that's connected to the internet – communicate with each other through the cloud.
With cloud-based access control, residents and building staff can open doors for themselves or guests with any device that's connected to the internet and from anywhere. Additionally, property managers can update the resident directory, manage access permissions, and review entry logs remotely without having to be on-site.
3. Mobile access control
Mobile access control systems enable you to use mobile devices – such as smartphones, tablets, and smart devices – as access credentials to enter buildings and the rooms within. The access card reader on the door communicates with residents' mobile devices to verify their credentials. A mobile access control system enhances the resident experience, but also saves time and money for building staff.
Mobile access control systems use one of three types of technology:
WiFi
Bluetooth Low Energy (BLE)
Near field communication (NFC)
4. Apartment intercom systems with door release
An apartment intercom system with door release controls access at a building's front door or gate. Residents use the intercom to open doors for themselves and grant access to their guests. When someone is granted access via the intercom, it triggers the door release mechanism to unlock the door.
When visitors come to the property, they look up a resident in the intercom's directory and press the corresponding button to call them. Then, the resident answers the call either on an in-unit device or on their cell phone. Finally, the resident presses a 'door open' button to activate the door release.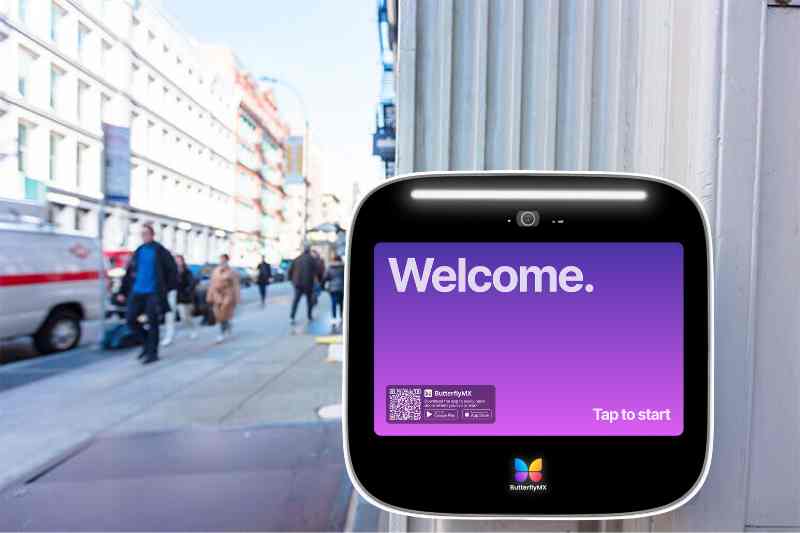 5. Keypads
Keypad access control systems are commonly used to manage access to rooms within an apartment building, such as amenity spaces like gyms and rooftops. But unlike key card or fob systems, residents don't need to carry a physical device to use keypads.
Choose keypads that offer the following entry methods:
PIN code: Residents enter their unique PIN codes or use virtual keys to open the door.
Mobile app entry: Residents swipe to open the door from the system's mobile app on their smartphones.

How does apartment access control work?
All apartments with access control have the same goal: monitoring who accesses the building and certain rooms within. Access control provides residents with a safe, reliable, and convenient door entry system for apartments to let themselves and guests into the building.
Every multifamily access control system requires four basic components. Although these components may come in different forms, they're the foundations of any access control system.
Four main components of apartment access control:
1. Access control panel
The access control panel – or access controller – is the core of the system. It stores the resident authorization information configured by the property owner or manager. The control panel comes in the form of either a physical device – that's usually tucked away in a mechanic's closet – or cloud-based software that can be managed anywhere with internet access.
The control panel receives an encrypted tag number from the reader when a person scans their credentials. Then, the control panel decodes the number and compares it to the information in the system database. If the information matches up, then the system signals the door release to activate.
2. Access card reader
The access card reader is installed at one or both sides of the apartment access controlled entry. However, the inner side of the door is more likely to have a "request to exit" button or sensor to activate when exiting a room or building. The card reader scans a user's access credential, then sends the encrypted information to the access control panel.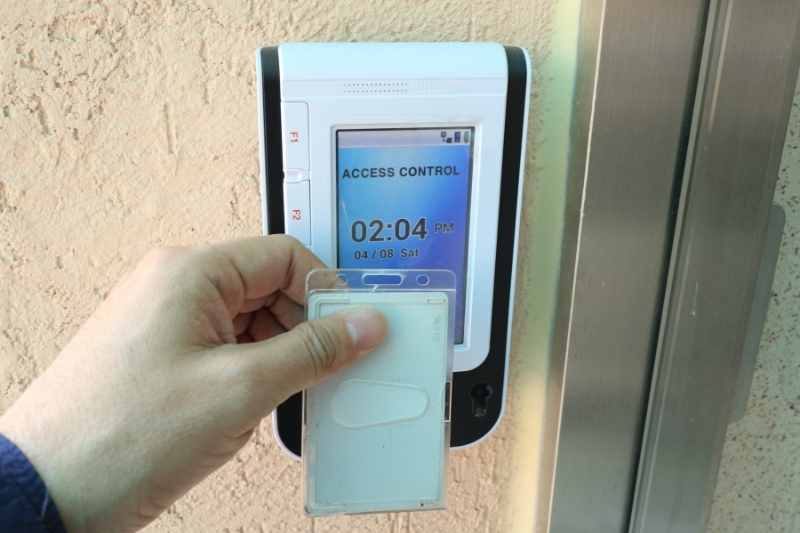 3. Access credentials
Depending on the specific access control system installed at the apartment, resident access credentials can come in one or more forms. But the important thing is that these access credentials contain resident or staff identification information and access permissions.
Common types of access credentials include:
Key card or fob
Mobile app
Fingerprint scan
4. Door release mechanism
The control panel operates the electrical door lock—if a person is permitted to enter, the door will automatically unlock. The door release mechanism is either an electronic or magnetic lock.
Benefits of apartment access control
An apartment access control system benefits everyone in the community: residents, visitors, property managers, and staff.
The top four benefits of apartment access control are:
1. Audit trails of every entry event
With date- and time-stamped logs of every door entry event, you'll have peace of mind that your property is always secure. Modern, cloud-based systems let you review the logs from anywhere, anytime, without the hassle of traditional lock and key systems.
What's more, if you invest in a video access control system, your audit trail will include photos of every person who enters. Additionally, residents can visually verify a guest's identity before letting them in.
2. Convenient property access for residents
Keys are quickly becoming an artifact of the past. Nowadays, we do virtually everything from our smartphones — including opening doors.
The last thing residents want is to carry around physical keys. So, this is more of a reason you should get an access control system with a mobile app. That way, residents can swipe, tap, or use a voice command on their phones to open the door.
See the different ways to open the door with ButterflyMX:
3. Enhanced visitor management
Whenever a resident has a visitor – friend, family member, or delivery people – they can quickly grant access from their phone rather than go to the lobby to open the door for them.
The best access control systems let residents give one-time delivery passes to food or package couriers so they'll never miss a delivery. And authorized guests can also use virtual keys to let themselves in even if the resident isn't home.
4. Seamless integrations with existing proptech
Installing a cloud-based apartment access control system empowers you to integrate existing property management and proptech systems. These integrations can improve building efficiency and automation.
For example, connecting your property management system (PMS) with your access control system will automatically give new residents access permissions and revoke access to those who move out.
Return on investment of apartment access control
Installing a residential access control system can increase your property's net operating income. Numerous factors go into the ROI of access control systems in multifamily properties.
The following are among the top variables in determining ROI:
Charging of rent premiums: Apartment Guide reports that residents will pay upwards of $33.52 to add new amenities, like a video intercom system.
No cost for rekeying locks: When a resident's key is lost or stolen, not only do you have to replace their key, but you may also have to rekey the locks for security reasons. This means distributing new keys to each resident — and the whole process can cost thousands of dollars.
Eliminating the third shift: Having an access control system frees your property staff from late-night and third shifts. As a result, you'll reduce your property's operating expenses. So during the day, your team can allocate their time to addressing more urgent requests from residents, which keeps them happy.
Lower turnover rates: As a property manager or owner, you know that it costs more to find new residents than to retain current ones. So, installing a robust access control system will increase resident satisfaction by improving their quality of living. As a result, they'll likely renew their leases year after year, lowering your property's turnover rates.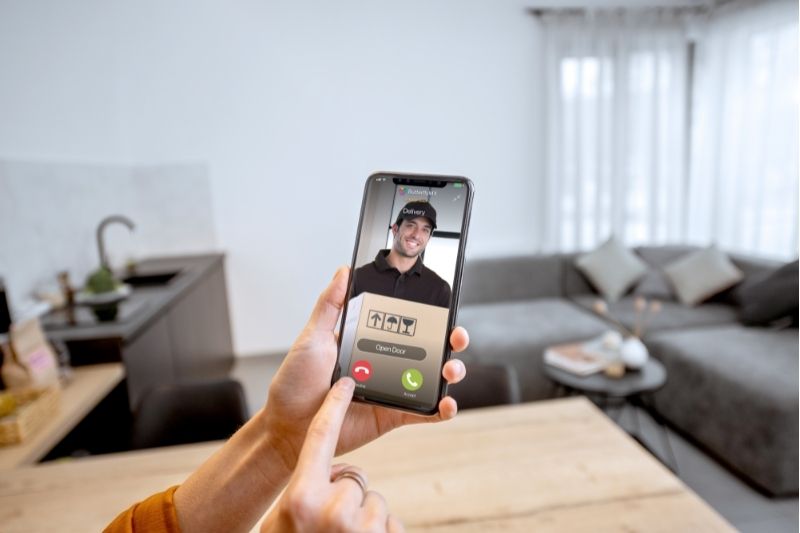 Choosing the best apartment access control system
A good access control system that checks all the boxes is hard to come by. But with ButterflyMX, you know you're getting a premium system with robust features that fulfill all your residents' needs.
The ButterflyMX intercom is the ultimate apartment access control system because it's powered by a smartphone app. Through the highly-rated app, residents can open doors, send one-time delivery passes to couriers, and assign virtual keys to visitors.
In addition, the intercom runs on the ButterflyMX OS, which is a powerful cloud-based software. This software empowers building staff to remotely update tenant information, manage access privileges, and review each door entry event.