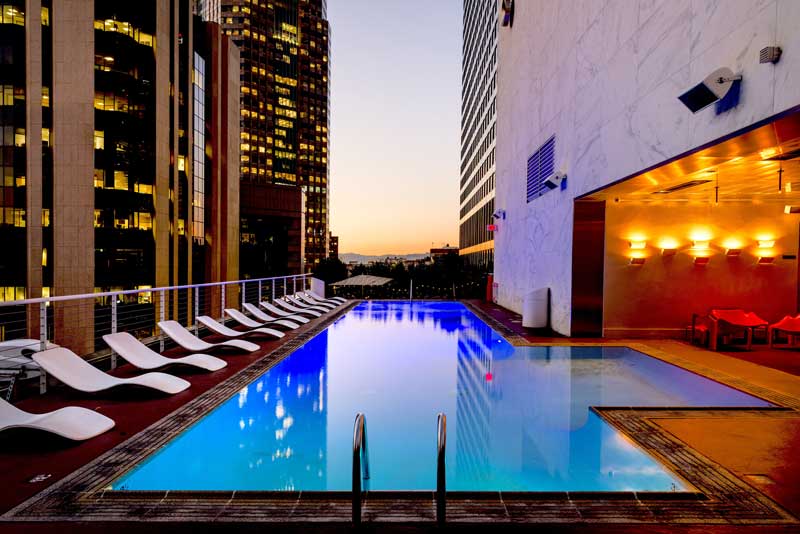 Apartment amenities have long been the primary reason residents sign and renew their leases. Residents will always seek apartment buildings with the best amenities. But how do you know which ones are worth the investment?
In this guide, we'll explore the apartment building amenities residents actually want, and how they can help you retain residents. We'll also cover how to choose the right ones for your unique building, as well as the role of technology as a modern amenity in apartments.
This guide covers:
What are apartment amenities?
Apartment amenities are the nonessential features or services provided to the residents of an apartment building. Examples in an apartment include gyms, pools, parking garages, laundry rooms, playgrounds, and dog parks.
Amenities are commonly cited as the reason prospective residents sign or renew a lease. They're also what separates one apartment building from another, which enables owners and property managers to charge a premium for their units.
But it's important to realize that not all apartment amenities are created equal, and some are more valuable to renters than others. When deciding on which to include in your multifamily building, you should consider the behaviors, preferences, and demographics of the renters in your target market.
Remember: Amenities that improve your resident experience are key to finding and retaining new renters.
Are amenities free?
Amenities may be free for residents (included in rent), or the building may charge residents an amenity fee.
You may charge amenity fees on a monthly or annual basis. Alternatively, you could charge one flat-rate fee upfront when a new resident moves in.
Buildings that don't charge an amenity fee may be able to charge slightly higher rent. So, if you do plan to charge an amenity fee, make sure your rental rates remain competitive with neighboring buildings. Otherwise, prospects may balk at the extra fees and choose a different building.
Learn the 8 best apartment amenities for your multifamily building:
Types of apartment amenities
There are two types of apartment amenities:
Community amenities
Community amenities are shared by all the property's residents. They're located in communal spaces that all residents can access. They can also be added to gated communities.
Most of the time, community amenities are only available to residents and possibly their guests. In some cases, property management limits their usage to certain hours of the day.
Examples of building amenities include:
Outdoor apartment (e.g, swimming pools, dog parks, rooftop decks, gardens, patios, playgrounds, barbecues, etc.)
Gyms
Movie theaters/media rooms
Secured parking garages/assigned parking
Bike storage areas
Laundry facilities
Package rooms and package lockers
Online rent payment and maintenance requests
In-unit amenities
In-unit amenities are placed within an apartment unit for only that resident to use.
These amenities are designed to create a more comfortable and appealing living environment. Generally, the more in-unit of them you offer, the higher the value of the unit and the more you can charge for it.
Examples of in-unit amenities include:
In-unit laundry
Air conditioning or central air
Pet-friendly units
Dishwashers
Patios and balconies
Fireplaces
Smart thermostats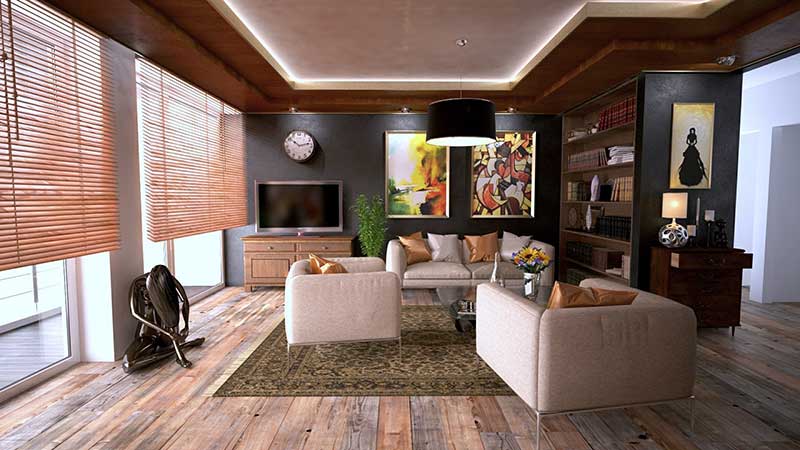 Amenity categories
Both in-unit and community amenities can be further classified into categories based on the type of service or benefit they offer. They may fall into one or multiple categories.
The four amenity categories are:
Safety/security
Convenience
Luxury
When choosing the right ones for your building, consider adding ones that fall into all four categories to meet all of your residents' needs.
Best apartment amenities
Your ability to provide sought-after amenities will not only differentiate your property during lease-up but also ensure your tenant retention rates remain high.
So what are the best apartment amenities?
Generally speaking, renters are most attracted by those that offer safety and convenience.
The NAA and NMHC both report that renters are most interested in security-related amenities, while National Real Estate Investor says the "number-one item on most renters' wish lists is technology focused on convenience."
The 8 best apartment amenities are:
1. Outdoor space
Now that remote work is the new normal, many people are spending more time at home than ever before. As a result, more people seek outdoor spaces at their apartments where they can relax and enjoy fresh air.
Many residents will seek private balconies or patios, but shared outdoor amenities are a huge plus, too.
Consider adding these desirable outdoor amenities:
Outdoor kitchens with grills and picnic tables
Rooftop decks with lounge chairs
Community gardens
Playgrounds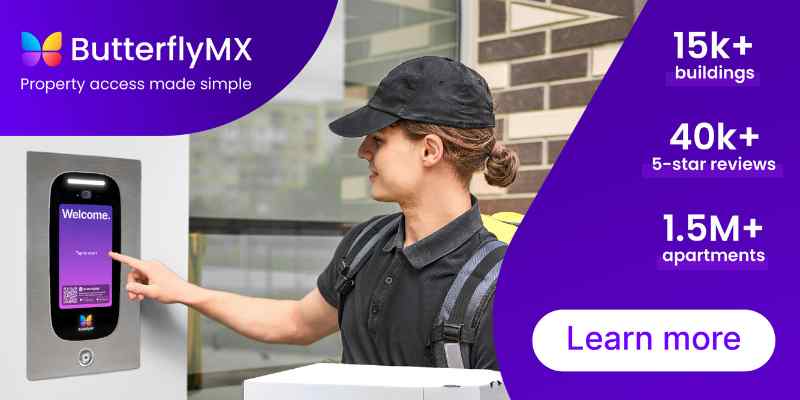 2. Smart locks
Physical keys may soon be obsolete! Smart locks are all the rage because they create a keyless entry experience.
No one likes to get locked out. Every apartment resident has experienced the frustration of forgetting or losing their key, leaving them stranded outside the building or their unit.
By installing smart locks on all unit doors, you'll empower residents to lock and unlock their doors with their smartphones. You can also install smart locks on doors to shared amenity spaces.
Residents love smart locks because:
They can ditch physical keys
They'll never get locked out
Many smart locks offer a digital key feature, which allows residents to send digital access codes to their visitors
3. Smart thermostats
The smart thermostat is one example of an ingenious solution to a common problem: controlling the temperature in your apartment when you're not home.
Smart thermostats are a win-win for both residents and property staff.
Residents love smart thermostats because they:
Help them save money by reducing energy consumption.
Empower residents to maintain a comfortable temperature for pets while they're out of the house.
Let residents turn on the AC or heating before they get home, ensuring the home is at the perfect temperature when they arrive.
Can be controlled remotely, right from a smartphone.
Property managers benefit from smart thermostats, too.
With a smart thermostat in every unit, you can reduce energy consumption in vacancies to save money. Plus, you'll attract more prospective residents and sign leases faster by delivering an in-unit amenity your prospects actually want.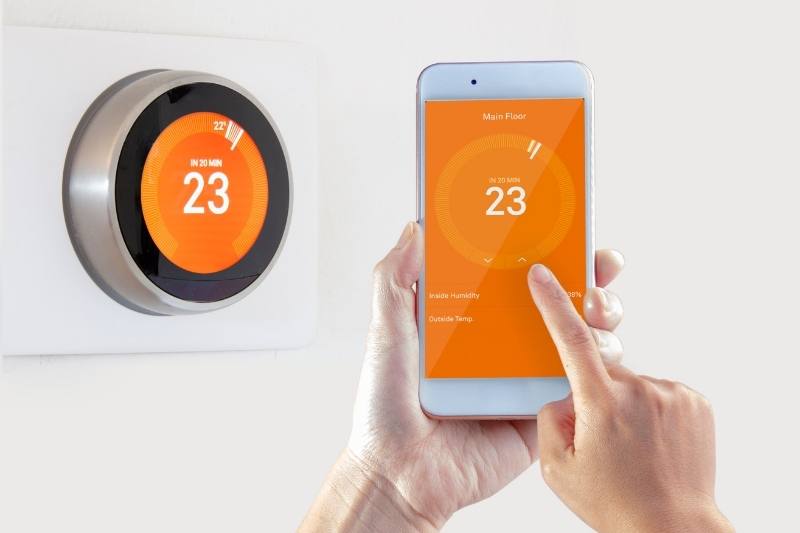 4. Pet amenities
As the rate of remote work continues to skyrocket, so does the rate of pet ownership.
As a result, the demand for pet-friendly units is higher than ever. So, adding pet amenities could be extremely lucrative.
Examples of the best pet amenities include:
Dog park or dog run
Pet washing stations
Pet concierge services
5. Smart access control
Upgrading your building's access control system is one of the simplest yet most effective ways to add luxury to the resident experience.
Think about it.
Residents of luxury high-rise apartments and mobile home parks aren't that different! Regardless of your residents' demographics, lifestyles, and community types, they all have one thing in common: They want a simple way to let themselves and their visitors into their building.
Installing a smart access control system is the best way to heighten both convenience and security at your property — which are residents' two highest priorities!
For best results, consider an access control system that includes:
Smartphone-based video intercom: With a smart video intercom at the property's entrance, residents can unlock the door or gate from a mobile app on their smartphones. They won't have to carry keys, and you won't have to program and distribute annoying fobs. Plus, residents can remotely grant access for their visitors and monitor who's requesting property access.
Keypads: Beyond your property's front entrance, you may also want to control access to shared spaces like amenity rooms. So, use smart keypads that empower residents to gain access with a PIN code or their smartphones.
Pro tip: Choose an access control system that integrates with other proptech you already use, like your property management software and your unit smart locks.
Watch how ButterflyMX works:
6. Package delivery system
Today, people shop online more than ever before. And residents want 24/7 access to pick up their packages. In fact, the NAA says that 31% of renters would pay up to $10 extra per month if it were easier to retrieve packages.
To spare your staff the hassle of accepting package deliveries, organizing parcels, and distributing them to residents, invest in a tech-powered package delivery system.
Package lockers are one option, but a package room is the best solution to manage deliveries.
With a package room, you'll:
Ensure that couriers can always access the property to complete deliveries successfully.
Prevent package theft and missed deliveries.
Empower residents to pick up their packages at any time.
Automate notifications to alert residents when they've received a package.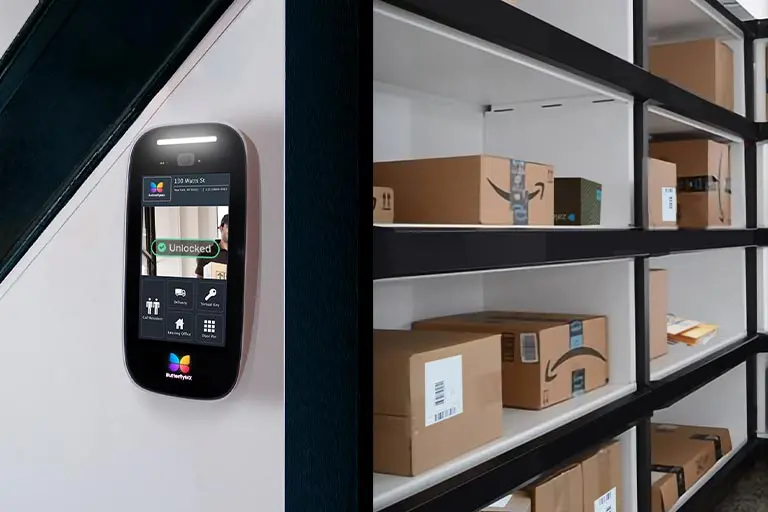 7. Parking and transportation amenities
Regardless of your building's location and your residents' lifestyles, parking and transportation are a huge plus.
Of course, an amenity like reserved parking is most desirable to residents in suburban areas who are likely to own cars and those in neighborhoods where parking is limited.
But that said, there are plenty of other transportation amenities that will appeal to a wide range of residents.
These include:
Reserved resident parking
Visitor parking spaces
Bike storage and locks
Car-sharing or bike-sharing programs
Designated rideshare pick-up areas
Consider your property's location and your residents' transportation needs before choosing which ones to add. You may even consider surveying current residents to gauge interest first.
8. Co-working space
Since working from home is commonplace now, it's in your best interest to cater to the population of remote workers. So, consider offering co-working space as an amenity.
Here's how to set up a co-working space in your building:
Add mostly single-person desks for independent work, but include a few larger tables for collaboration
Include a few armchairs and sofas in the room
Offer free WiFi
Set up a coffee station
Provide a few office essentials, like a printer or paper and pens
Use a desk reservation system to prevent overcrowding
You can even generate a new stream of revenue by charging a small fee for residents to reserve a desk in the co-working space. Many residents who work from home will be willing to pay a fee to access a quiet space that's conducive to getting work done.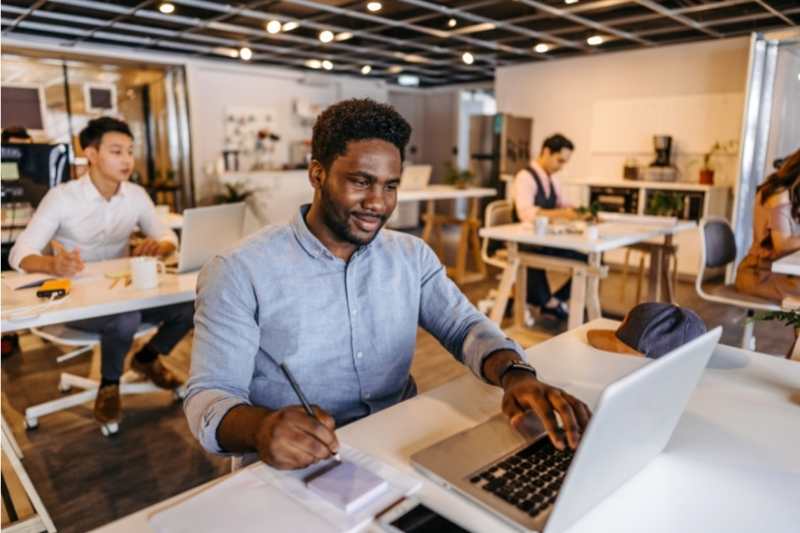 How to choose the right amenities
The best way to choose which ones to include in your multifamily building is to consider your residents' demographics.
Are most of the residents in your building senior couples or young professionals? Growing families or single college students? Demographics affect a resident's amenity preferences. When in doubt, keep in mind that millennials are America's largest demographic by age.
Of course, don't ignore other demographic groups. That's especially true if your property draws from a range of age groups. Residents' income levels also play a role, especially with luxury apartments.
And finally, the location of the property plays a pivotal role in determining which amenities to add. The National Apartment Association reports that 60% of survey respondents would pay more every month for a reserved parking spot — but that's only in areas where residents struggle with parking. Student housing properties in large cities, for example, may not need resident parking at all!
According to a report by the National Multifamily Housing Council, renters in 59 of 70 major metropolitan areas aren't getting the amenities they really want — or are living in apartments with amenities they aren't interested in.
With this in mind, make sure your amenities actually add value to your building.
When choosing amenities, consider that:
86% of millennial apartment renters are willing to pay more for smart apartments, compared to 65% of baby boomers.
Millennials gravitate toward conveniences that make their lives easier, like smart locks, in-unit laundry, food-delivery options, and electronic payment systems.
Many senior renters say they favor safety-focused amenities, like security systems.
You may not rent to many Gen Zers yet, but their presence in the rental market is growing. So, consider adding ones that appeal to them, like outdoor lounges and coworking spaces.
Watch how ButterflyMX improves the resident experience:
Modern renters crave connection
In a survey by NMHC/Kingsley Apartment Renter Preferences Report, 60% of people, from large families to single Gen Zers, say their living space reflects their identity.
In other words: Today's renters seek a home they feel connected to.
So, by providing your residents with unique apartment luxuries that reflect their preferences and values, you can help build this connection and decrease the likelihood they'll turnover.
However, remember that "traditional" comforts such as dishwashers, washer/dryers, air conditioning, and high-speed internet are now par for the course. Amenities also shouldn't be considered a synonym for bells and whistles — they should offer true value to your residents.
Technology as an amenity
There's no disputing the importance of including technology as an apartment amenity.
According to a Multifamily Executive report, 57% of residents say they would agree to a monthly rent increase of at least $20 for smart home features such as apartment video intercom systems, smart thermostats, smart lighting, motion sensor lights, and smart door locks. In fact, 45% of renters believe that physical door keys will be obsolete within the decade.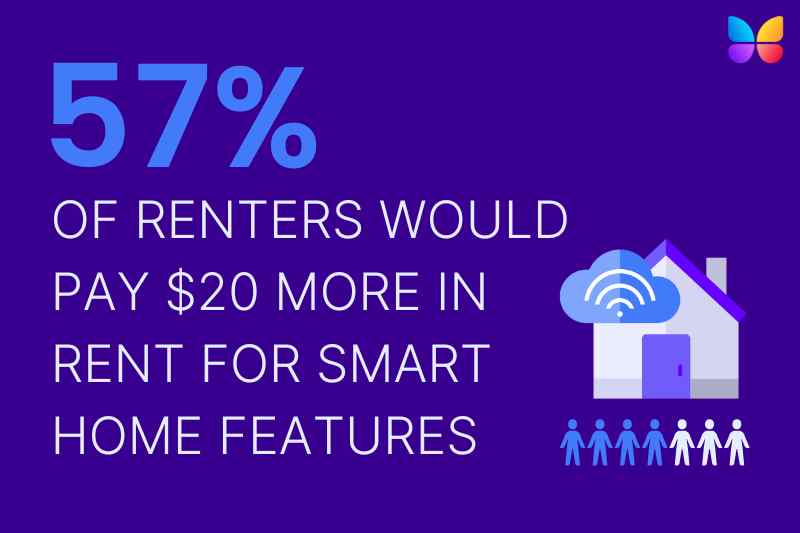 Smart home technologies, formerly restricted to single family homes, are now coming to multifamily buildings and dorms. Internet of Things (IoT) devices will create a seismic shift in multifamily and campus communities and create new opportunities."

– Felicite Moorman, cofounder and CEO of StratIS
Benefits of technology amenities
Property technology has become an apartment amenity trend that will only continue gaining traction as providers innovate new products and services.
There are many benefits of adding technology to your multifamily building, including:
Improved security through the use of cameras, sensors, and smart locks.
Reduced energy costs — think smart thermostats that automatically lower the temperature when no one is home.
Heightened convenience — for example, smart access control systems empower residents to unlock doors with their smartphones instead of carrying keys.
Helpful for property management since technology can help staff monitor and respond to maintenance needs, operations, and security issues.
Bottom line: Incorporating property technology makes apartment buildings more valuable and attractive to residents.
Also, remember that properties in development now won't be occupied for several months or years. Given the rate of technological advancement, if developers and property managers aren't thinking on the cutting edge of today's tech when planning their properties, their buildings will be behind the competition almost as soon as they're complete.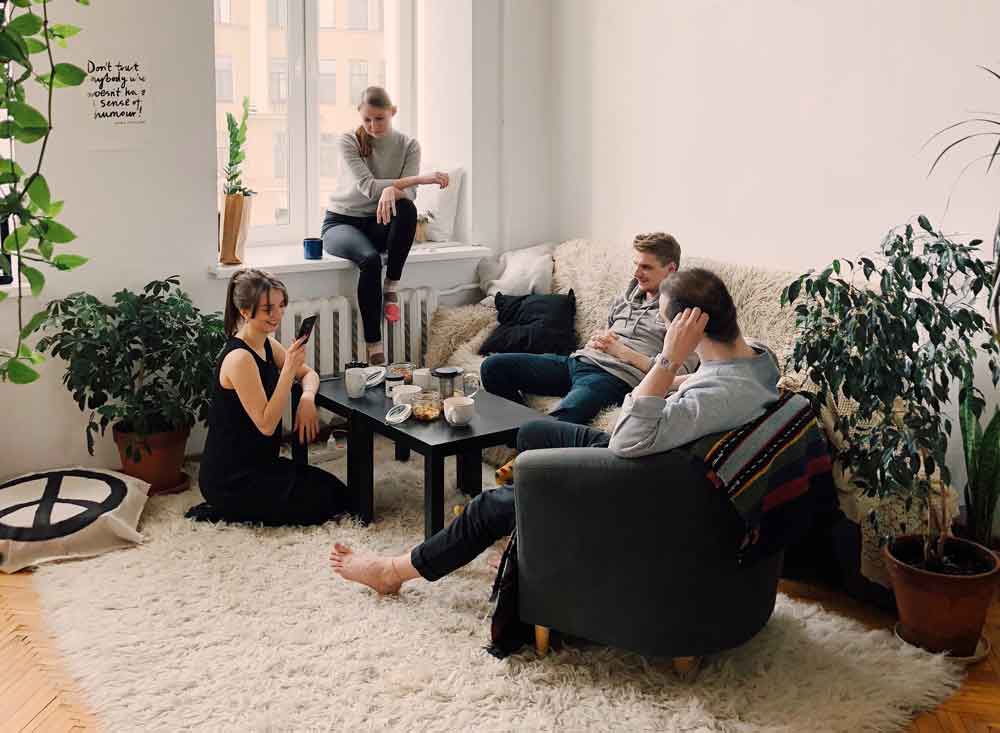 Takeaways
The 8 best apartment amenities are outdoor spaces, smart locks, smart thermostats, smart access control systems, package delivery solutions, parking and transportation, and co-working spaces.
Consider your residents' demographics and your property's location when choosing which to offer.
Remember that amenities alone aren't enough to keep residents happy. You also need to make sure they are in good working order.
Property technology is one of the most lucrative benefits you can add to your building because it enhances both convenience and security.
The sooner you integrate smart technology in your building and rental units, the sooner you'll outpace the competition, reduce vacancies, and increase tenant retention rates.