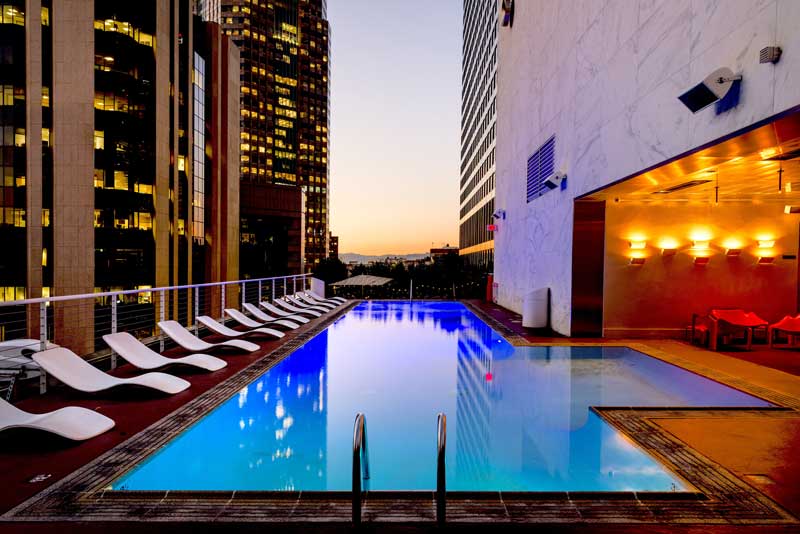 (Last updated: 2/15/2021)
Apartment amenities have long been the primary reason residents sign and renew their lease. And while 2020 may have changed multifamily in the short term, residents will continue to seek apartment buildings with the best amenities. But how do you know which amenities are worth the investment?
In this guide, we'll explore the amenities residents actually want, and how those amenities can help you retain residents. We'll also cover the role of technology as a modern amenity in apartments.
This guide covers:
What are apartment amenities?
Apartment amenities are the nonessential features or services provided to the residents of an apartment building. Typical apartment amenities include gyms, pools, parking garages, laundry rooms, playgrounds, and dog parks. Amenities may be free for residents, or the building may charge residents an amenity fee.
Amenities are commonly cited as the reason prospective residents sign or renew a lease. They are also what separate one apartment building from another, enabling owners and property managers to charge a premium for their available apartment units.
It's important to realize that not all apartment amenities are created equal and some amenities are more valuable to renters than others.  When deciding on which amenities to include in your multifamily building, you should consider the behaviors, preferences, and demographics of the renters in your target market. Amenities that improve your resident experience are key to finding and retaining new renters.
How renters' changing demographics and priorities affect apartment amenities
Today's property managers are looking at a new market with new realities when it comes to filling their buildings with tenants.
For one thing, 36.6% of U.S. households currently rent — a higher percentage than at any other time since 1965. For another, nearly 80% of Gen X and millennial renters aren't currently planning to buy homes. And while the "American Dream" of individual homeownership appears to be alive for the time being, unaffordable housing still deters most people from buying a home — especially millennials.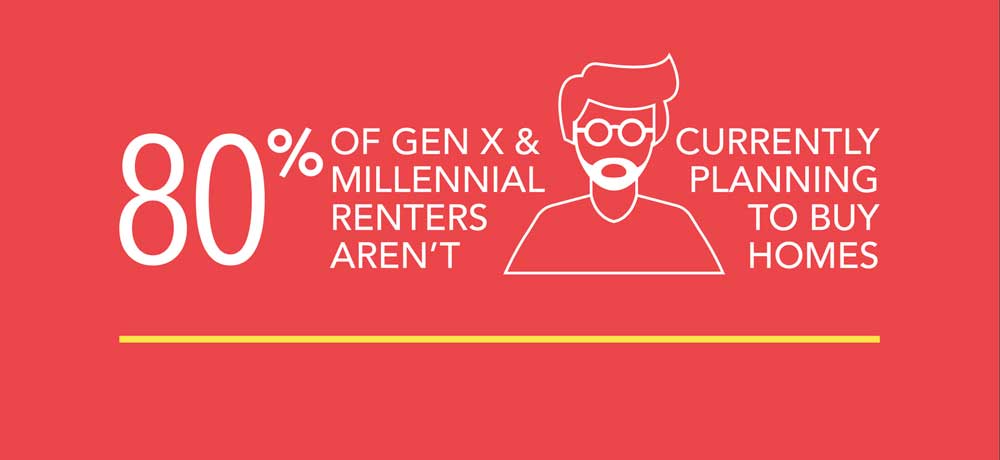 Appealing to millennial renters
With more than 75 million people born between 1981 and 1996, millennials are America's largest demographic by age.
Homeownership rates for millennials are eight percentage points lower than Gen Xers and baby boomers at the same age. Millennials now spend more on rent as a percentage of their income than any other generation. Because of this, they want to get as much value from their rentals as possible.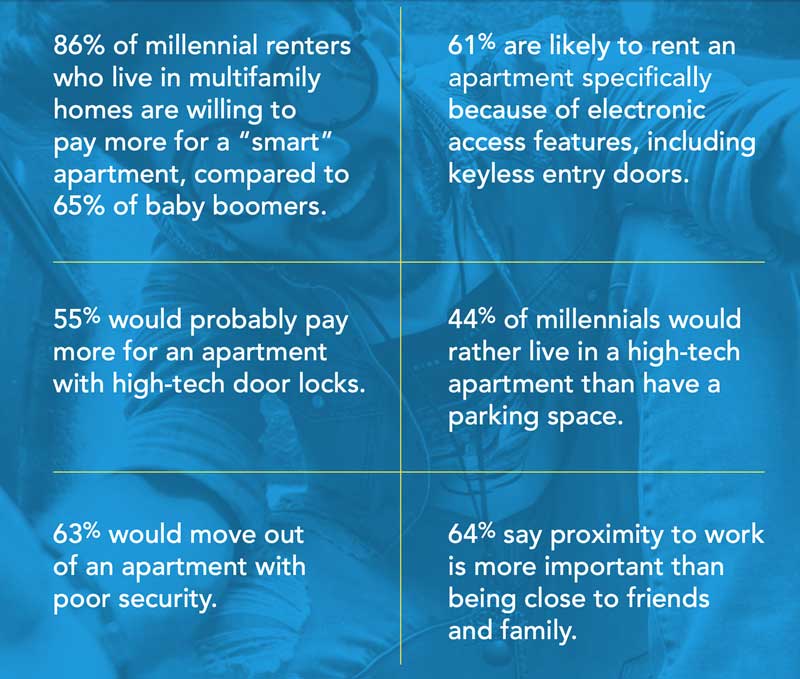 Conversely, millennials renting for the first time say they want in-unit laundry, food-delivery options, the ability to pay rent electronically, and common areas. Meanwhile, senior renters say they favor smart appliances and high-tech security systems.
Why apartment amenities are key to retaining residents in 2021
We've established that millennials aren't buying homes — meaning the market is rich with prospective renters. This large supply of renters is a boon for property managers hoping to lease up their buildings quickly.
However, if you recall from our ebook, "A Property Manager's Guide to Tenant Retention," nearly half of all renters will turn over their lease within one year of moving in. This turnover can result in a $150,000+ hit to the annual gross operating income of the typical 200-unit property.
So, how do you keep residents from leaving your building? Apartment amenities may be the answer.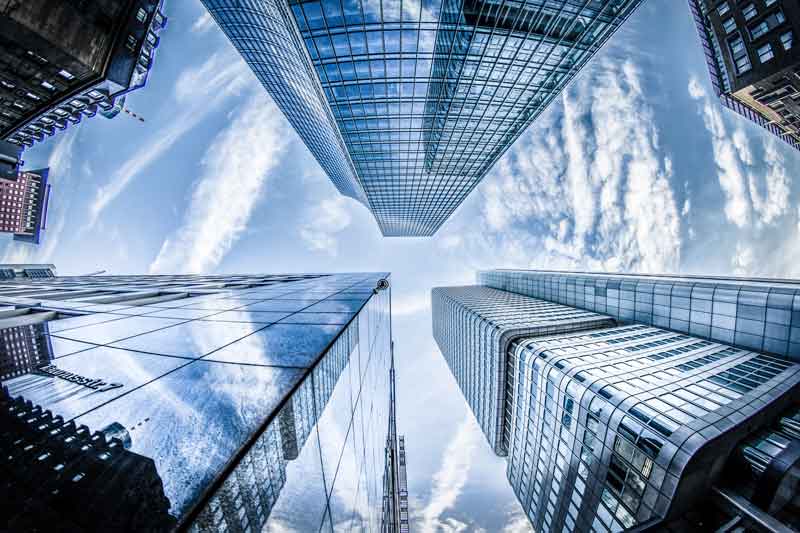 Modern renters crave connection
In a survey by NMHC/Kingsley Apartment Renter Preferences Report, 60% of people say their living space reflects their identity.
Meaning: today's renters are seeking a home they feel connected to. So, by providing your residents with amenities that reflect their preferences and values, you can help build this connection and decrease the likelihood they will turnover.
However, it's important to remember that "traditional" amenities such as dishwashers, washer/dryers, air conditioning, and high-speed internet are now par for the course. Amenities also shouldn't be considered a synonym for bells and whistles — they should offer true value to your residents.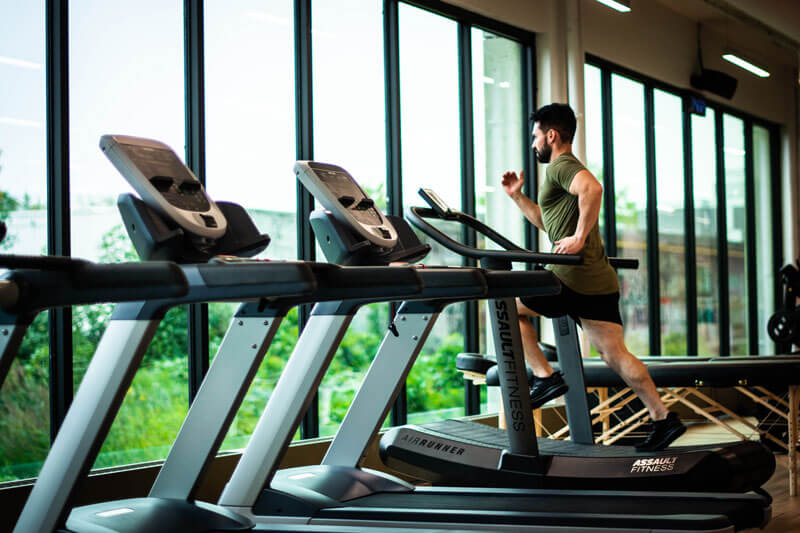 Types of apartment amenities
There are two types of apartment amenities:
Community amenities
Community amenities are shared by all the property's residents. They're located in communal spaces that all residents can access. These kinds of amenities can also be added to gated communities.
Most of the time, community amenities are only available to residents and their guests. In some cases, the property management team limits the usage of community amenities to certain hours of the day.
Popular building amenities include:
Outdoor amenities (e.g, swimming pools, dog parks, rooftop decks, gardens, patios, playgrounds, barbecues, etc.)
Gyms
Movie theaters/media rooms
Secured parking garages/assigned parking
Bike storage areas
Laundry facilities
Online rent payment and maintenance requests
In-unit amenities
In-unit amenities are placed within an apartment unit for only that resident to use. These amenities are designed to create a more comfortable and appealing living environment. Generally, the more in-unit amenities you offer, the higher the value of the unit and the more you can charge for it.
Popular in-unit amenities include:
In-unit laundry
Air conditioning or central air
Pet-friendly units
Dishwashers
Patios and balconies
Fireplaces
Smart thermostats
Amenity categories
Both in-unit and community amenities can be further classified into categories based on the type of service or benefit they offer. Amenities can fall into one or multiple categories.
The four amenity categories are:
Safety/security
Convenience
Luxury
Wellness
When it comes to amenities, renters prefer anything that makes life easier through technology. And technology influences all four categories of amenities.
Technology as an amenity
There's no disputing the importance of including technology within a living space.
According to research by Gartner for property management company RentVest, smart devices will be standard in most homes by 2022. Additionally, 57% of residents in a Multifamily Executive report say they would agree to a monthly rent increase of at least $20 for smart home features such as apartment video intercom systems, smart thermostats, smart lighting, motion sensor lights, and smart door locks. In fact, 45% of renters believe that physical door keys will be obsolete within the decade.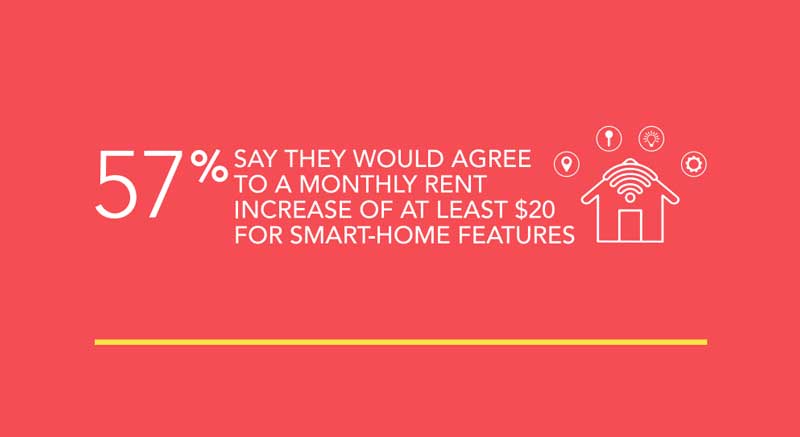 Smart home technologies, formerly restricted to single family homes, are now coming to multifamily buildings and dorms. Internet of Things (IoT) devices will create a seismic shift in multifamily and campus communities and create new opportunities."

– Felicite Moorman, cofounder and CEO of StratIS
Pros & cons of smart home technology
Technology has become an apartment amenity trend that will only continue gaining traction as providers innovate new products and services.
There are many benefits of adding smart home technology to your multifamily building, including:
Improved security through the use of cameras, sensors, and smart locks
Reduced energy costs — think smart thermostats that automatically lower the temperature when no one is home
But there are also challenges, including upfront costs, dependence on inconsistent Wi-Fi signals, and privacy concerns. Internet security and privacy breaches can have negative personal and professional consequences. That means property managers should take strong precautions when deploying all smart home technologies.
Creative ways to incorporate technology amenities in apartment buildings
If you want to incorporate technology as an apartment amenity in your building, you might not know where to start.
Forward-looking property managers with convertible space to spare — such as common areas, clubroom space, and large lobbies — should consider creating shared co-working spaces in the mold of WeWork, Regus, and iLoftSpace. As more employees and freelancers work remotely, the demand for these workspaces will likely increase, creating a potential revenue stream while also attracting tenants engaged in the gig economy.
Another thing to consider is that smart home technologies that monitor and respond to maintenance, operations, and security issues offer significant benefits to property managers.
Bottom line: Incorporating smart home technology makes apartment buildings more valuable and attractive to residents.
How to select the right amenities
While it may make good business sense to focus on the millennial generation's wants and needs, don't ignore the other demographic groups. That's especially true if your property draws from a range of age groups. Do these other age groups favor common areas and in-unit washer/dryers, or are they more interested in smart appliances and security systems? Their income level also plays a role, especially with luxury amenities.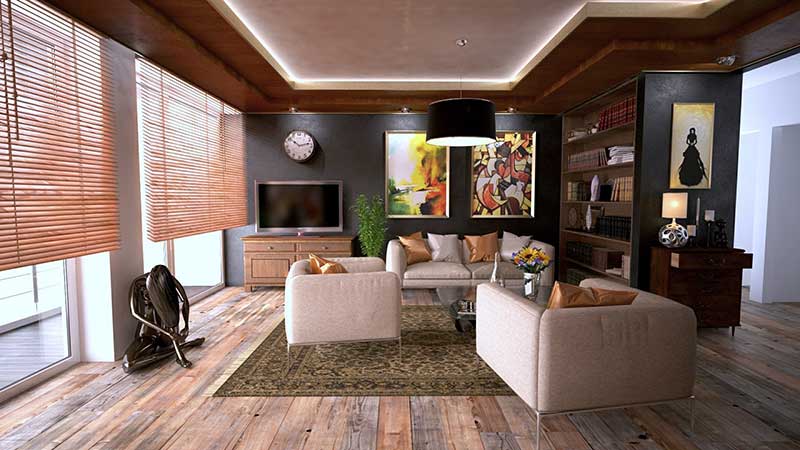 The location of the property also plays a pivotal role in determining which amenities to add. The National Apartment Association reports that 60% of survey respondents would pay more every month for a reserved parking spot — but that's only in areas where residents struggle with parking. According to a report by the National Multifamily Housing Council, renters in 59 of 70 major metropolitan areas are not getting the amenities they really want — or are living in apartments with amenities they aren't interested in.
The aforementioned NMHC report also includes two other surprising facts to consider:
Approximately 53% of renters want in-unit washer/ dryers, but only 13% of surveyed properties offer it.
Allowing dogs and cats is the most "oversupplied" amenity being offered in rental properties.
Best apartment amenities in 2021
Your ability to provide sought-after amenities will not only differentiate your property during lease-up but also ensure your tenant retention rates remain high. So what are the best apartment amenities in 2021?
Generally speaking, renters are most attracted by amenities that offer safety and convenience.
The NAA and NMHC both report that renters are most interested in security-related amenities, while National Real Estate Investor says the "No. 1 item on most renters' wish lists is technology focused on convenience." And the NAA says that 31% of renters would pay up to $10 extra per month if it were easier to retrieve packages.
Residents "want to live in a smart, connected environment with modern amenities," according to Entrata, the property management software vendor.
The top 5 apartment amenities that residents want in 2021 are: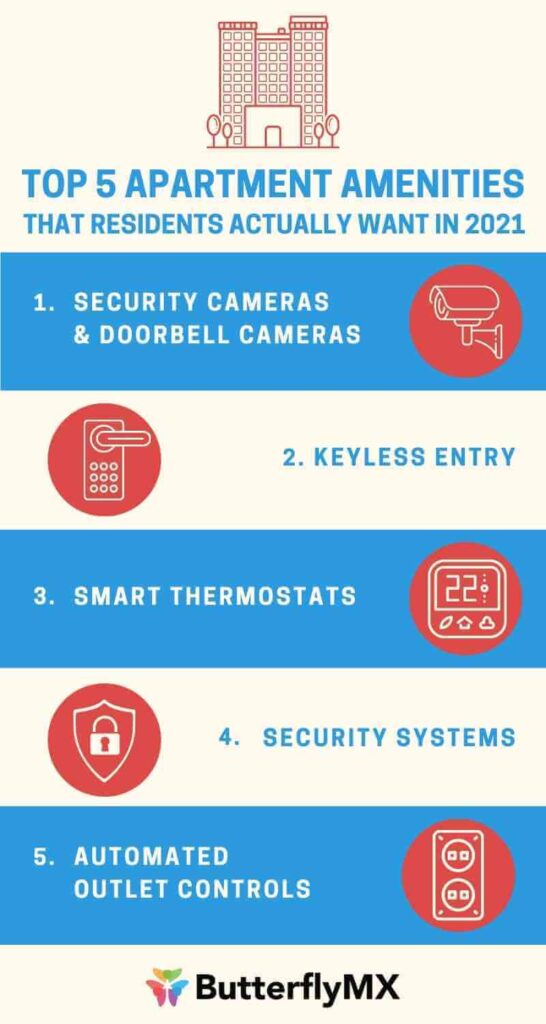 1. Security cameras/doorbell cameras
Everyone deserves to feel safe at home. Security cameras throughout your property and doorbell cameras on each unit door add a much-desired layer of security.
Residents enjoy the peace of mind knowing their building is surveilled by security cameras. They also appreciate having the power to monitor their front door — both when they're inside the unit and out of their home.
As an added bonus, both security cameras and doorbell cameras can also prevent package theft. Would-be porch pirates are unlikely to steal when they know they're being watched.
2. Keyless entry including smart locks
Physical keys may soon be obsolete. Keyless entry solutions are all the rage because no one likes to get locked out. Every apartment resident has experienced the frustration of forgetting or losing their key, leaving them stranded outside the building or their unit.
You can achieve keyless entry by installing a video intercom at your apartment building's front entrance and smart locks on each unit door. Smart video intercoms and smart locks allow residents to use their smartphones or unique PIN codes to unlock doors. As such, residents never need to have a physical key to access the building or their apartment.
Many video intercoms and smart locks also provide a safe and convenient solution for guest access. Residents can send their guests a single-use or recurring virtual key for easy access. Keyless entry for guests spares residents the hassle of coming all the way downstairs to open the door. It also empowers them to let guests in when they aren't home — the perfect solution for dog walkers and other service providers.
3. Smart thermostats
Proptech has the power to make magic happen. The smart thermostat is one example of an ingenious solution to a common problem: controlling the temperature in your apartment when you're not home.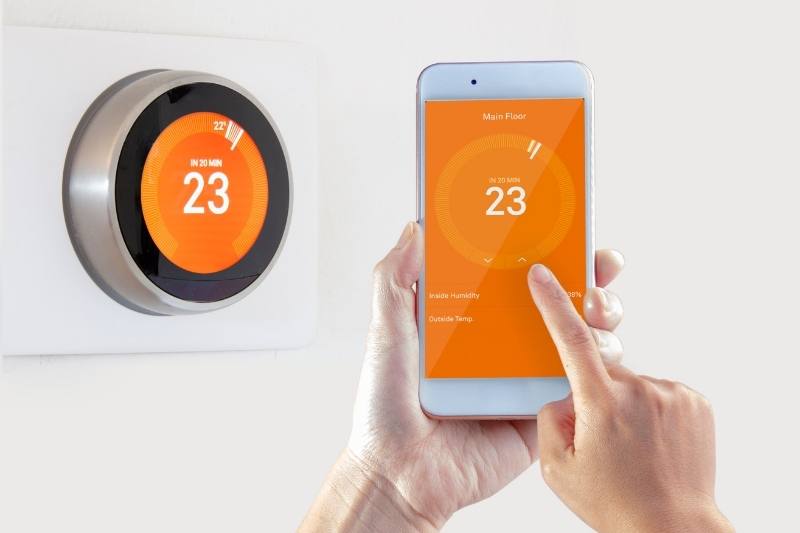 Smart thermostats are a win-win for both residents and property staff.
Residents love smart thermostats because they:
Help them save money by reducing energy consumption
Empower residents to maintain a comfortable temperature for pets while they're out of the house
Let residents turn on the AC or heating before they get home, ensuring the home is at the perfect temperature when they arrive
Can be controlled remotely, right from a smartphone
Property managers benefit from smart thermostats, too. With a smart thermostat in every unit, you can reduce energy consumption in vacancies to save money. Plus, you'll attract more prospective residents and sign leases faster by delivering an amenity your prospects actually want.
4. Security systems
We've established that residents prioritize security. So what better way to deliver what they want than by installing a robust security system?
A security system may include:
A video intercom: Having a video intercom at the front door means that residents can always see who they're letting in. Choose an intercom that takes a photo every time someone accesses the property so that you have an audit trail to review if needed.
Security cameras: One of the top five apartment amenities, security cameras are best when integrated with a complete security system. Security cameras provide 24/7 surveillance. If you employ security guards, they can monitor feeds in real-time. Or, you can simply refer back to security camera footage as needed.
Motion sensor lights: Install motion-sensing lights in areas like parking garages, courtyards, and other common spaces. These lights deter crime and provide peace of mind for residents.
Blue light emergency phones: Common on college campuses and in student housing, blue light emergency phone stations are easy to locate and use in an emergency. Place these phones in large common areas like your parking garage or courtyard.
5. Automated outlet controls
Automated outlet controls let residents control plugged-in appliances and lights from anywhere. Why do residents love them? Because smart outlets let them turn devices on or off whether they're in a different room or on the other side of town. Many outlet controllers also offer features like voice controls, energy usage alerts, and programmable schedules.
Above all, remember that amenities alone aren't enough to keep residents happy. A survey conducted by Multifamily Executive of more than 84,000 renters indicates that property managers need to make sure the amenities actually work. There's nothing more frustrating to your residents than a laundry facility that's always out of order or gym equipment that's always broken.
Property technology as an apartment amenity
The emerging property technology (or proptech) space is a relatively recent amenity that is becoming increasingly popular with residents and property managers alike. It combines convenience, luxury, and safety while fulfilling the wishes of modern renters across all demographic groups.
There are many types of proptech amenities — such as smart video intercom systems — that allow building tenants and managers to open and manage doors from anywhere via their smartphones. These systems also include two-way video and audio as well as text messaging, all without requiring any additional wiring or in-unit hardware. What's more, they offer time-stamped entry photos, virtual keys, delivery PINs, and they can even integrate with property management software for simple tenant management.
With a smart video intercom, it's easy to manage property access for service providers, couriers, and guests. It provides better security for tenants and makes it easier for property managers to manage tenant turnover.
Watch how ButterflyMX works:
Think about adding amenities now
The sooner property managers integrate smart technology in rental units, the sooner they can outpace the competition, reduce vacancies, and increase tenant retention rates.
Also, remember that properties in development now won't be occupied for several months or years. Given the rate of technological advancement, if developers and property managers aren't thinking on the cutting-edge of today's tech when planning their properties, their buildings will be behind the competition almost as soon as they are complete.