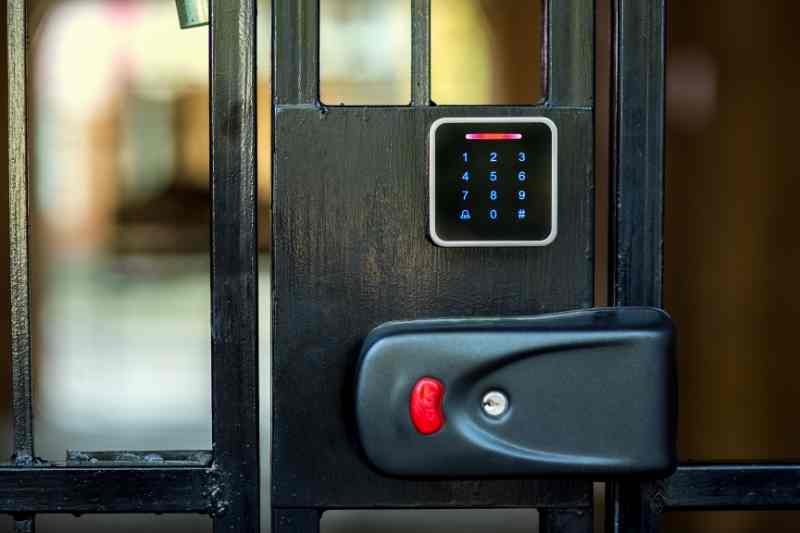 Are you looking to simplify entry to your gated community or commercial building? A keyless gate lock is a practical way to modernize property access. A keyless gate entry system offers a smart access solution for all kinds of gated entrances, from parking garages to gated swimming pools.
Read on to learn what a keyless gate lock is and how to install one. Then, discover our picks for the five best keyless gate locks. Finally, learn about a more robust keyless gate entry solution.
In this post, we cover: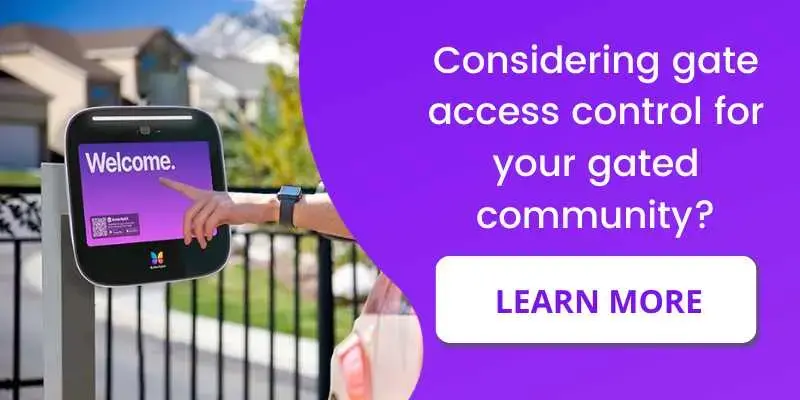 What is a keyless gate lock?
A keyless gate lock is a mechanical or digital lock that doesn't require a physical key for entry. Instead of a physical credential, keyless gate locks typically require a numerical PIN code to grant users access. As a result, this eliminates the need for property managers to replace physical keys that may be lost or stolen.
What's more, some keyless gate locks utilize a credential that most residents and staff members already have — a smartphone. Smart keyless locks pair with a mobile app, empowering users to unlock the gate from within the app. This provides an even more seamless way to enter the property.
Watch how to control gate access with ButterflyMX:
How do you install a keyless gate lock?
You can install an exterior keyless gate lock yourself or hire a certified locksmith.
Have you ever fitted a lock to a gate before? If not, you should hire a qualified installer to set up the lock to avoid any damage.
With this in mind, keyless gate lock installation usually costs between $150-$500, depending on the complexity and type of gate.
How secure are keyless gate locks?
Keyless gate locks are more secure than traditional locks because users use a numerical PIN code to gain entry. PIN codes can be protected easily, while physical keys can be lost, misplaced, or stolen. So, keyless gate locks are a more secure option for multifamily and commercial buildings.
Further, outdoor keyless gate locks are made of heavy-duty materials like zinc-plated steel that are difficult to break into. Outdoor keyless gate locks are also designed to be weatherproof. In other words, they're built to last and withstand extreme weather conditions throughout the seasons.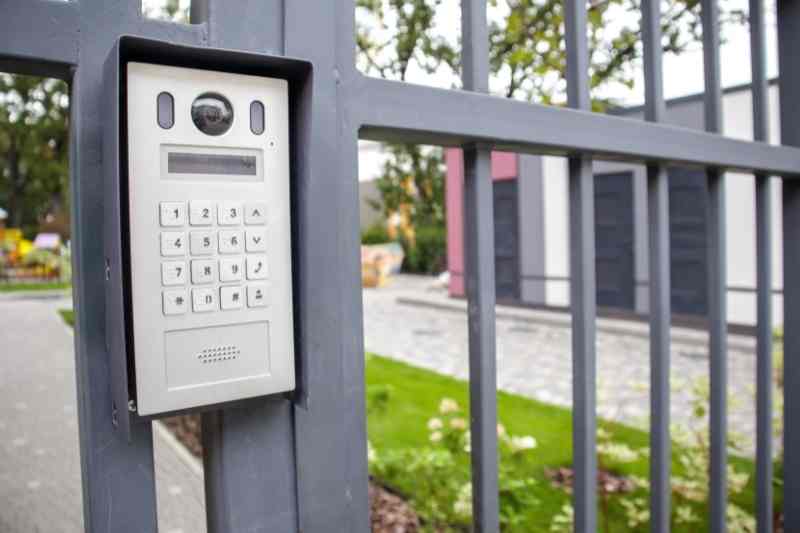 Benefits of keyless gate locks
Versatility. Keyless gate locks can be installed virtually anywhere with gated entry. That includes main property entrances, gated swimming pools, parking garages, yards, and other access points.
Security. Keyless gate locks are more secure than conventional locks since they don't require physical keys.
Convenience. Using a keyless lock for your gate is convenient since residents and staff can use a PIN code instead of a physical key, which is faster and easier. As a result, keyless gate locks may help reduce wait times at gated communities.
Drawbacks of keyless gate locks
Potentially expensive. Keyless locks that use a keypad can cost as much as $500 per lock. And models that use RFID, biometric, or Z-wave technology may cost even more.
Potential power failures. Power failures or outages can impact the efficacy of keyless locks that rely on WiFi.
Forgetting your code. Residents and staff may forget their code, which is inconvenient if a PIN code is their only access credential.
Only one code per user. Keyless gate locks don't generate unique access codes, so residents may have to give their codes to unauthorized users.
No visitor management features. Unfortunately, keyless gate locks lack any way for visitors to contact tenants and request access. So if you install one at your property's front gate, tenants won't be able to remotely unlock the gate for their visitors.
Security concerns. While keyless entry gate locks are meant to be more secure, like any technology, they can be hacked.
Watch how ButterflyMX works:
Top 5 keyless gate locks
There are tons of keyless gate locks to choose from, so how do you make a decision? The first step is to evaluate your property's needs, then compare them to the most popular keyless gate locks on the market.
Here's our round-up of the best outdoor keyless gate locks:
1. Lockey SUMO GL2DC gate lock
Google rating: 4.5/5
Pros:
Has a secure lockout function that prevents use when activated.
Auto-locking.
Option to choose between a single or double combination for additional security.
Features anti-tampering technology.
Is a weatherproof keyless gate lock.
Suitable for wooden fences, aluminum, and vinyl.
Cons: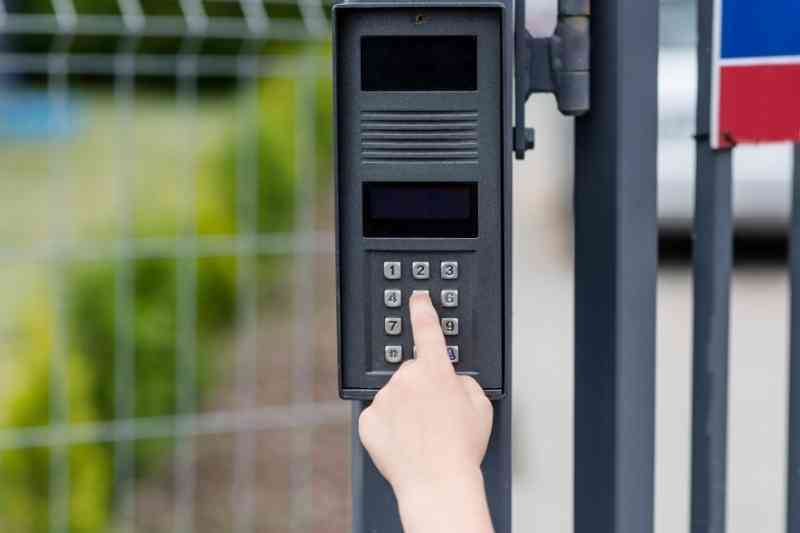 2. YARDLOCK keyless gate lock
Google rating: 5/5
Pros:
Affordable at $57.99.
10,000 possible combinations.
Weather resistant.
Multifunctional – it can also be used as a lock box.
Easy to install.
Cons:
Not ideal for large multifamily buildings.
Not as durable as other options on the market.
3. C120SN surface-mount slide bar lock
Google rating: 5/5
Pros:
Affordable at $99.44.
Easy to program.
Convenient push-button lock.
Cons:
Not ideal for large buildings.
May not be as durable as other options on the market.
4. Locinox Vinci surface-mounted mechanical lock
Google rating: 4.8/5
Pros:
100% mechanical with a deadbolt.
Battery-free.
Great for chain and metal swing gates.
Cons:
5. Locinox LOKQ-Y2L Valentino surface-mounted gate lock
Google rating: 4.6/5
Pros:
Double combination lock.
Weatherproof.
Durable and tamper-resistant.
Energy-efficient.
Cons: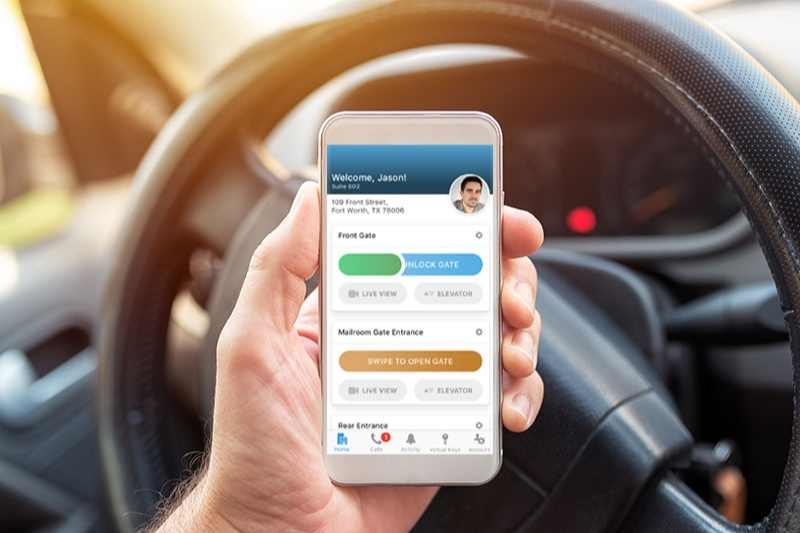 A modern alternative to keyless gate locks
Instead of settling for a keyless gate lock, consider the ButterflyMX gate intercom.
The ButterflyMX gate intercom system is a seamless access control solution for gated entrances. What's more, the ButterflyMX mobile app empowers residents and staff to use their smartphones as their access credentials.
Additionally, property managers can monitor usage, administer access permissions, and manage gates remotely from the ButterflyMX OS. Further, the ButterflyMX gate intercom also allows residents and staff to launch two-way video calls with visitors. That way, they can verify who they're letting in.
A smart video intercom system is the ideal gate access solution for multifamily apartments, gated communities, commercial offices, university properties, and any building with a gated entrance.
Takeaways
Keyless gate locks offer a flexible alternative to traditional gate locks since they don't require physical keys for access.
The best keyless gate locks are weatherproof with auto-locking technology that can be installed at any gate at your property.
While keyless gate locks are versatile and convenient, they can also be expensive, are easy to break into, and may stop working as a result of power outages.
A ButterflyMX gate intercom system is the best solution for cohesive access control at your property's gated entrances.