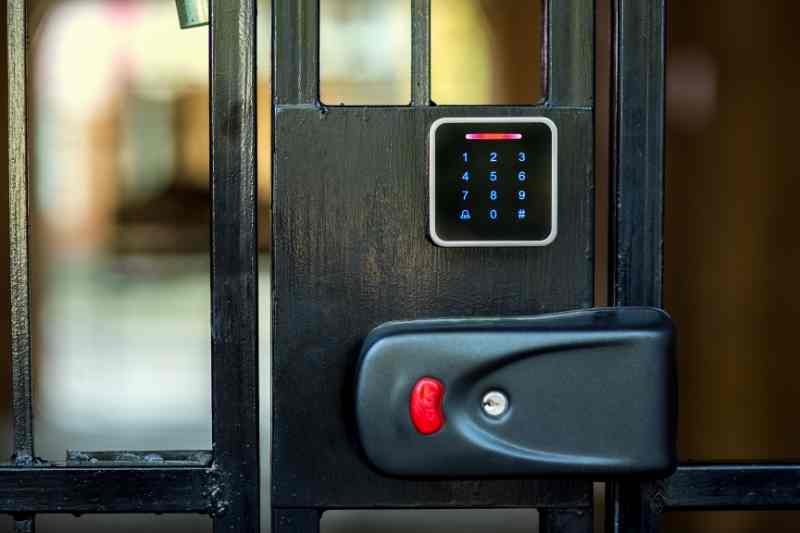 Are you looking to simplify entry to your gated community, commercial building, or industrial facility? A keyless gate lock is a practical way to modernize property access. After all, keyless gate entry systems offer smart access solutions for all kinds of gated entrances, from parking garages to swimming pools.
Read on to discover the best keyless gate locks and how gate intercoms are a better alternative. Additionally, you'll find what keyless locks for gates are, how to install them, and the pros and cons of using such locks.
In this post, we cover:
5 best keyless gate locks
There are tons of keyless gate locks to choose from, so how do you make a decision?
Well, the first step is to evaluate your property's needs. Then, compare your needs to what the most popular keyless gate locks on the market offer.
Here's our round-up of the best keyless locks for gates:
Learn how the ButterflyMX gate intercom system works:
1. Lockey SUMO GL2
Google rating: 4.5/5
The Lockey SUMO GL2 is the perfect weather-resistant solution for securing your gated areas, such as a pool or parking lot. Suitable for ornamental, aluminum, vinyl, and wood gates, the SUMO GL2 gate is easy to install because it doesn't require any welding. Instead, everything you need is included in the mounting kit. Overall, the SUMO GL2 is the most ideal keyless solution.
Pros:
Secure lockout function that prevents use when activated.
Auto-locking mechanism.
Features anti-tampering technology.
Weatherproof gate lock.
No welding necessary.
Suitable for a variety of gate materials (aluminum, vinyl, wood, and chainlink with adapter).
Cons:
Expensive.
Only supports a single code.
Cost: $601.80
2. YARDLOCK gate lock
Google rating: 5/5
The YARDLOCK solution is a simple four-dial combination gate lock. It's built to last in all types of conditions, as its weatherproof design prevents freezing and rust. This battery-free solution is simple to install for wood and vinyl gates. Unfortunately, its simplicity and lack of features may not make it suitable for larger properties looking for a robust solution.
Pros:
Affordable.
10,000 possible combinations.
Weather resistant.
Multifunctional – it can also be used as a lock box.
Easy to install.
Cons:
Not ideal for large multifamily buildings.
Not as durable as other options on the market.
Only supports wood or vinyl gates.
Cost: $79.99
3. Lockey MS-40
Google rating: 5/5
As the simplest option on this list, the Lockey MS-40 combination slide bolt is perfect for smaller gated properties. The MS-40 supports a four-digit combination lock that is easily installed using the six screws included. While the Lockey MS-40 keyless gate lock is designed to be used outside, it is severely lacking weather resistance. So, you may experience rusting or freezing of the dials in severe weather conditions.
Pros:
Cheapest option on this list.
Supports horizontal or vertical mounting.
Suitable for indoor or outdoor use.
Easy installation.
Cons:
Not weather-resistant.
Not suitable for larger, high-traffic properties.
Cost: $33.00
4. Locinox Vinci
Google rating: 4.8/5
The Locinox Vinci surface-mounted mechanical code lock is encased in an aluminum housing and features a stainless steel mechanism, making it a durable solution. Thanks to its mechanical design, no batteries or electricity are necessary, meaning installation is simple. Moreover, the anti-code detection feature ensures your gate code remains secure from outsiders.
Pros:
100% mechanical with a deadbolt.
Battery-free.
Great for chain and metal swing gates.
Code panel on both sides.
Supports entry and exit codes.
Interchangeable with all Locinox locks.
Cons:
Pricey.
No third-party integrations.
Cost: $629.06
5. Locinox Valentino
Google rating: 4.6/5
Similar to the Locinox Vinci, the Valentino is the more advanced, electric version. Its battery-powered design is housed in an aluminum housing, giving it the edge when standing up against inclement weather. Not to mention, the Locinox Valentino keyless gate lock includes tamper-proof technology to stop potential intruders in their tracks.
Pros:
Double combination lock.
IP68 rating.
Weather-resistant.
Durable and tamper-resistant.
Energy-efficient.
Low battery warning light.
Battery pack included.
Up to 150,000 open and close cycles on one battery.
Cons:
Expensive.
Relies on a battery to function.
Cost: $689.51
Better alternative to keyless gate locks
A better alternative to keyless gate locks is the ButterflyMX video intercom system.
The ButterflyMX gate intercom system is a seamless access control solution for gated entrances. What's more, the ButterflyMX mobile app empowers residents and staff to use their smartphones as their access credentials.
Additionally, property managers can monitor usage, administer access permissions, and manage gates remotely from the ButterflyMX OS. What's more, the ButterflyMX gate intercom also allows residents and staff to launch two-way video calls with visitors. That way, they can verify who they're letting in.
Of course, ButterflyMX is more than just a video intercom system. It's a platform! When looking to control gate access to amenity spaces such as pools, pair the video intercom system with ButterflyMX access control in the form of keypads or readers. These devices provide amenity access to your tenants with a simple PIN code, key card, or smartphone via the mobile app.
Overall, ButterflyMX has the solutions you need to control gate access to your property and amenities. For a comprehensive solution, consider pairing the ButterflyMX video intercom with the access control solution. That way, you can protect all areas of your gated property.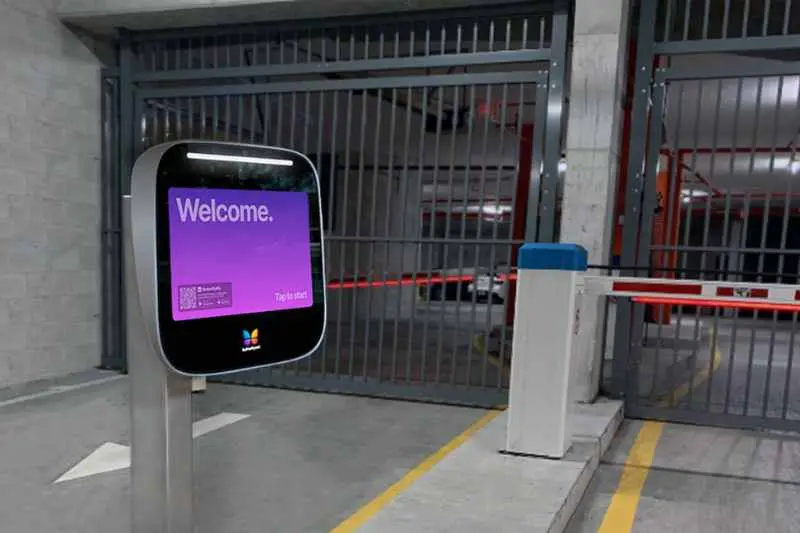 What is a keyless gate lock?
A keyless gate lock is a mechanical or digital lock that doesn't require a physical key. Instead of a physical credential, keyless entry requires a numerical PIN code to grant users access. As a result, this eliminates the need for property managers to replace physical keys that may be lost or stolen.
What's more, some keyless gate locks utilize a credential that most residents and staff members already have — a smartphone. Smart keyless locks pair with a mobile app, empowering users to unlock the gate from within the app. This provides an even more seamless way to enter the property.
How do you install a keyless gate lock?
You can install an exterior keyless gate lock yourself or hire a certified locksmith.
Have you ever fitted a lock to a gate before? If not, you should hire a qualified installer to set up the lock to avoid any damage.
With this in mind, installing a keyless lock for a gate usually costs between $150-$500, depending on the complexity and type of gate.
How secure are keyless gate locks?
Keyless gate locks are more secure than traditional locks because users use a numerical PIN code to gain entry. PIN codes can be protected easily, while physical keys can be lost, misplaced, or stolen. So, keyless gate locks are a more secure option for multifamily and commercial buildings.
Furthermore, outdoor keyless locks for gates are made of heavy-duty materials like zinc-plated steel that are difficult to break into. Plus, outdoor outdoor gate locks are designed to withstand serious weather conditions. In other words, they're built to last!
Can keyless locks be broken into?
Keyless locks offer enhanced security and reduce the risk of unauthorized key duplication. However, they're not exempt from hacking attempts. So, it's important to invest in a keyless gate lock or a similar alternative from a reputable brand and work with a certified installer to ensure the system is installed correctly.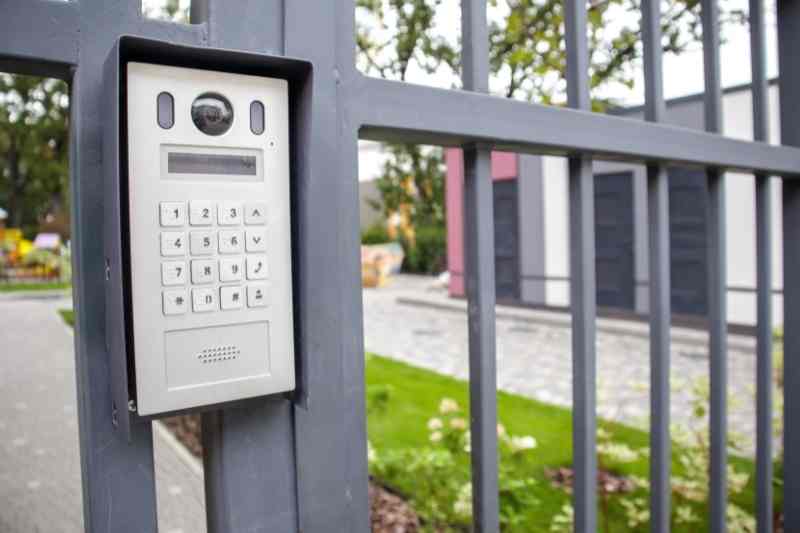 Advantages and disadvantages of outdoor keyless gate locks
Keyless locks for gates are becoming increasingly popular because of their many advantages. However, these types of locks also have their drawbacks you should keep in mind.
What are the advantages of keyless door locks?
Versatility. Keyless gate locks can be installed virtually anywhere with gated entry. That includes main property entrances, gated swimming pools, parking garages, yards, and other access points.
Security. Gate locks without keys are more secure than conventional locks since they don't require physical keys.
Convenience. Using a keyless lock for your gate is convenient since residents and staff can use a PIN code instead of a physical key, which is faster and easier. As a result, keyless locks for gates may help reduce wait times at gated communities.
What are the disadvantages of keyless door locks?
Potentially expensive. Keyless locks that use a keypad can cost as much as $500 per lock. Not to mention, models that use RFID, biometric, or Z-wave technology may cost even more.
Potential power failures. Locks that rely on batteries or WiFi can experience downtime from power outages.
Forgetting your code. Residents and staff may forget their code, which is inconvenient if a PIN code is their only access credential.
Only one code per user. Keyless gate locks don't generate unique access codes, so residents may have to give their codes to unauthorized users.
No visitor management features. Unfortunately, keyless locks for gates lack any way for visitors to contact tenants and request access. So, if you install one at your property's front gate, tenants won't be able to remotely unlock the gate for their visitors.
Security concerns. While keyless entry gate locks are designed to be more secure, they aren't without their faults, such as the capability to be tampered with.