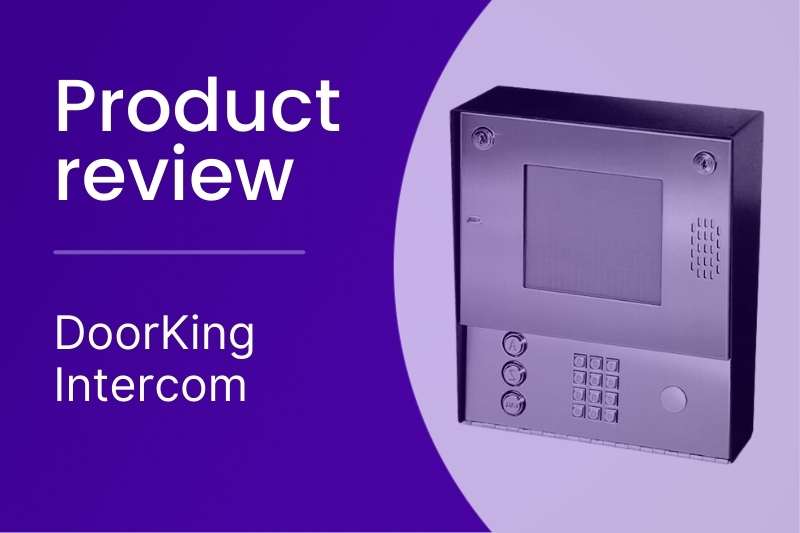 If you're looking for a reliable apartment video intercom system for your apartment building, gated community, or commercial building, you might be wondering if you should install a Doorking intercom system. So, we've done the research for you. Read on to learn more about one Doorking intercom, the 1837.
In this post we cover: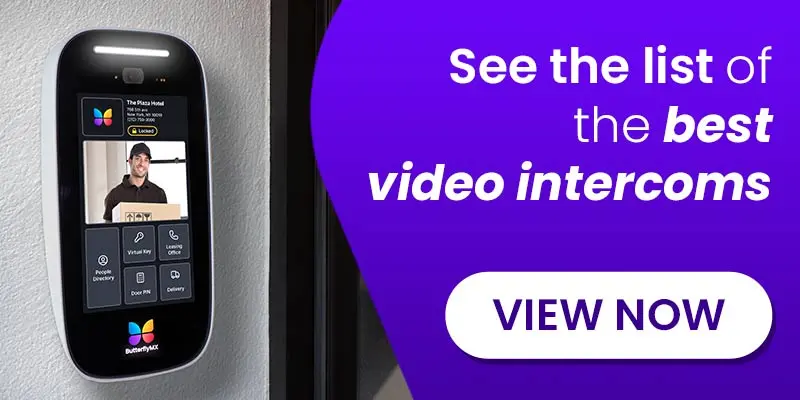 About Doorking
Founded in 1948, Doorking (also known as DKS) has been a manufacturer in the access control industry for decades. Based in Southern California, Doorking makes and sells a wide range of products, including but not limited to telephone entry systems, gate intercom systems, access control systems, and parking control products. The company strives to offer not just products, but solutions with excellent design, technical support, and training resources.
About the Doorking 1837 intercom
Though Doorking's product catalog is exhaustive, the telephone entry system is one of its products in the residential space. Doorking intercoms are known for their durable and rugged design.
There are two series of the Doorking 1837: the classic 80 and the new 90 series. Both models are installed on regular telephone lines — thus, they require traditional telephone wiring. If you want to upgrade to cellular, you'll have to purchase the DKS Cellular Connection Box, which is sold separately from the intercom itself.
Both models function in the same way: Residents receive calls from visitors via an in-unit device or their own telephone. They can press a button on the device to open the door remotely for their visitor.
Watch how ButterflyMX works:
Features
LED directory — displays eight lines of 20 characters
Elevator control module with floor restriction capability
Stores 8000 device codes; 3000 names and phone numbers
PC programmable (includes programming software)
Offers access control with card readers, keypads, and RF controls
These are features common to both the 80 and the 90 series.
The newer 90 series model also includes:
Dual locks and tamper alert switch
Enhanced weather sealing
Doorking pricing
Based on Doorking's pricing schedule, a DKS 1837 intercom costs $7,040. This is the cost of a Doorking 1837 80 and 90 series intercom.
However, these prices are for the telephone entry system itself and may not include installation or accessories. You may be able to purchase additional accessories — such as the DKS Cellular Connection Box and separate name directories — at an extra cost.
Pros & cons
Pros:
American-made hardware: DKS intercoms are engineered and manufactured in the U.S. Like most outdoor-rated intercoms, they are weather- and tamper-resistant.
Decades of experience: Doorking has been around for decades, so it is a well-known provider in the industry.
Cons:
No mobile app for residents: Residents may not be able to open doors from a smartphone, which could cause an issue when tenants aren't in their apartments.
No camera: The DKS 1837 doesn't have a built-in camera, which means residents can't video chat with visitors or see who's at the door without adding a separate camera.
Lacks cloud-based access control: The Doorking 1837 intercom may not have cloud connectivity.
No touchscreen hardware: The Doorking 1837 doesn't have touchscreen hardware and instead uses a keypad.
Watch a live customer review of ButterflyMX:
Comparison of Doorking 1837 with other DKS intercoms
Doorking offers more than a dozen telephone-based access and entry systems. As of February 2022, the 1837 is the latest telephone entry system in its repertoire, offering certain built-in features and optional add-ons.
The 1837 may be the only DKS entry system with an eight-line directory display. Earlier models appear to have either a one-line display or no digital display at all. As such, the 1837 is an option for anyone seeking an intercom with a built-in directory and larger display.
Of course, if budget is your greatest concern, you might want to consider a lower-end model. One step down, the 1835 90 series clocks in at $4656, nearly $2000 less. Other DKS telephone entry systems appear to range in price from $1292 to $3274.
Doorking 1837 vs. ButterflyMX
If you're installing a new intercom, which should you choose: the Doorking 1837 or the ButterflyMX smart video intercom?
Ultimately, the DKS 1837 is an option for properties seeking what may be a basic entry solution. The hardware may be durable and using the intercom is likely intuitive. However, the 1837 could be over your budget given the intercom's price and the potentially high installation cost.
The ButterflyMX smart video intercom is an especially tenant- and property-manager-friendly entry solution. Because it offers residents smartphone-based access with a mobile app (available on both iOS and Android), ButterflyMX's smart intercom is a more modernized building entry system.
With a built-in camera, ButterflyMX lets residents view and video chat with visitors before opening the door for them right from their smartphones. Residents and property staff alike can grant remote access to guests, even if they aren't home or on-site. Additionally, ButterflyMX offers ongoing support and training for both tenants and property admins.
ButterflyMX vs. Doorking
| Feature | ButterflyMX | Doorking |
| --- | --- | --- |
| Built-in camera | Yes | No |
| Mobile app & smartphone-based access | Yes | No |
| Cloud-based access management | Yes | No |
| Weather- and tamper-resistant | Yes | Yes |
| Property management software integrations | Yes | No |
| Touchscreen | Yes | No |
| Elevator controls | Yes | Yes |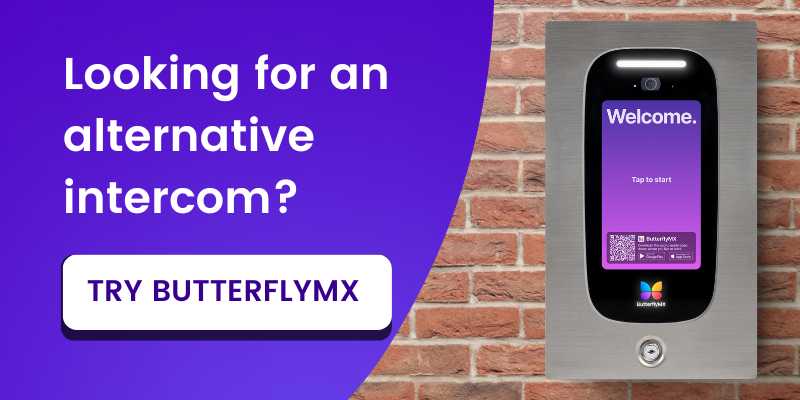 Disclaimer: ButterflyMX provides these blog posts to help our customers and potential customers make the right business decisions for them. Our blog posts are based on the information we have available to us at the time of writing.