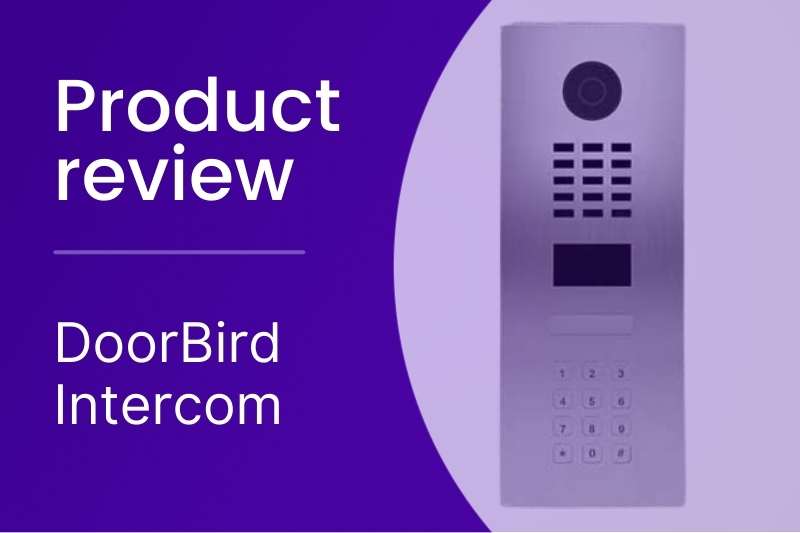 Design, price, ease of installation, and quality – all are key decision-making components when selecting a video intercom system for your apartment building. The market is flush with options, requiring savvy multi-tenant owners and operators to consider carefully which system best fits the needs of their individual properties.
To help make the process a little easier, we've reviewed several apartment intercom systems on the market, including the DoorBird D21DKH. Keep reading to learn about DoorBird intercoms, how they work, what they offer, and whether they're the right intercom for your building.
This review includes: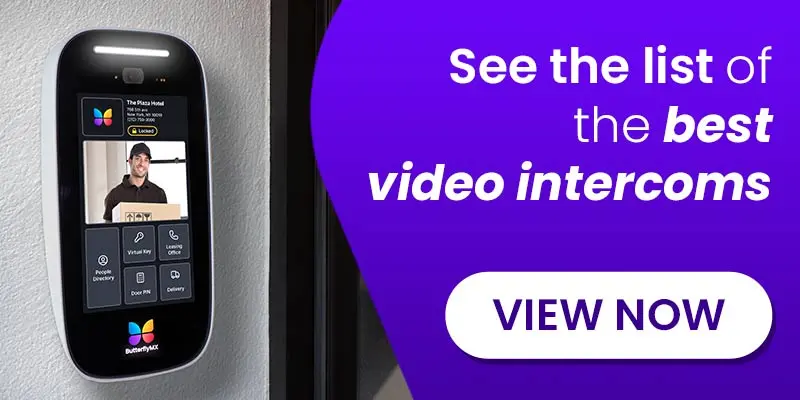 About DoorBird
Bird Home Automation Group, the creator of the DoorBird brand, was founded in Berlin, Germany in 2004. In 2009, the company launched its first smartphone-enabled intercom system, and in 2014, it launched the DoorBird product line after previously marketing intercoms under the brand names "1000eyes" and "myintercom." Then, in 2015, Bird Home Automation Group opened a U.S. office in San Francisco.
DoorBird designs and sells a variety of IP intercom systems, many of which are simple video doorbells. You may be able to use existing doorbell wiring to install a DoorBird IP video doorbell.
About DoorBird intercoms
The DoorBird intercom product line features a series of IP video intercoms designed for single-family homes, multifamily communities, healthcare facilities, schools, and commercial buildings. DoorBird's open API and its proprietary "DoorBird Connect" feature allow the system to be integrated with other IoT technology, including smart locks, lighting, and more.
Most DoorBird intercoms are actually video doorbells designed for single-family homes. They allow visitors to alert residents of their arrival and empower residents to see who's at the door or gate.
That said, the DoorBird D21DKH is one of the few DoorBird intercoms designed for multi-tenant buildings. It can be used at either multifamily apartments or commercial buildings.
How DoorBird works
DoorBird video doorbells replace the traditional doorbell and allow residents to manage access from mobile devices. Similarly, DoorBird's multi-tenant video intercoms eliminate the need for a doorbell camera on each unit, instead providing a way for visitors to request access directly from residents using one IP video door station installed at the property's entrance.
Here's how DoorBird intercoms work:
Tenants press the doorbell button (for a single-family home) or select a visitor from the intercom's directory (for multi-tenant properties) to request access.
Residents receive a push notification on their smartphones. They can use the DoorBird app to remotely unlock the door for their visitor.
If a resident grants access to a visitor, they press a button on their phones. Then, the system instructs the electric door opener to unlock the door or gate.
Does DoorBird work without internet?
No, DoorBird intercoms and the mobile app do not work without internet. The only way to use DoorBird intercoms without the internet is by installing an indoor station in each unit and connecting them to the outdoor video door station. 
Features
Various entry panel options: Customers can select from flush-mounted or recess-mounted intercoms in various finishes. All housings are constructed of metal. Clients with specific configuration requirements can customize a design with DoorBird's online configurator.
Access history: Choose from two cloud recording options. The free recording option includes images of the last 50 visitors. Unfortunately, you may have to pay for a premium version if you want unlimited video recording of visitors — and even that may be limited to only seven days' worth of footage.
Cloud-based software: DoorBird offers browser-based software, called the DoorBird WebAdmin, to enable remote system management and cloud storage.
Mobile app: Tenants can use the DoorBird app on their smartphones and tablets to receive notifications and open the door.
RFID reader: Includes an RFID reader for touchless entry when used with compatible key card systems. Can manage up to 100 cards.
Camera: The camera on each DoorBIrd IP video door station allows residents to see who's requesting property access. DoorBird intercom cameras may also record video of entry events and motion sensor activity.
DoorBird pricing
DoorBird intercom pricing ranges from $770 – $5,000 for hardware.
Pricing for DoorBird intercoms starts at about $772 for a very basic two-unit intercom and ranges up to about $5,000 for an IP video intercom. You can purchase in-unit hardware and other accessories separately directly through the DoorBird website.
According to the company's website, DoorBird intercom pricing is as follows:
D1102V: $772.19
D2102V: $1110.54
D2103V: $1181.81
D2104V: $1709.30
D2105V: $1780.57
D2106V: $1851.85
D2102KV: $1488.98
D2102FV: $2096.40
D21DKV: $3956.70
D21DKH: $3956.70
In-unit stations: DoorBird offers one indoor station (in black and in white): the DoorBird IP Video Indoor Station A1101. Each in-unit device costs $578.34. You can also purchase an optional table stand for an additional $118.43
Housings, hoods, and other accessories are also available through the company website.
Note: The above DoorBird costs are for hardware only. Installation, activation, or monthly fees for software may be charged in addition to any fees listed above.
Pros & cons
Pros:
Camera: 780p image quality and a 180-degree wide-angle field of view.
Open API: DoorBird may be able to integrate with some security and smart home systems.
Geofencing capability: Some DoorBird intercoms enable geofencing, which means the system automatically opens gates and locks when residents enter the geofenced area.
Cons:
PIN code limit: The keypad system may be able to manage a maximum of 100 PINs and hold a maximum of 100 entries in its directory. So, this may be a limiting factor for larger communities.
May be unreliable: DoorBird hardware has been reported as unreliable and prone to malfunction by some online users.
No touchscreen: DoorBird intercom systems may lack the modern touchscreen and visual appeal of other video intercoms. This may make DoorBird intercoms look more like traditional apartment buzzers than some of its competitors.
End-user support may be limited: End-user support information on the company website is limited to an online form with no published phone support option publicly available.
Headquartered in Germany: Because DoorBird is based in Germany, customer support in the US could be limited.
Pay extra for unlimited cloud recording: DoorBird records doorbell events and detected motion but only stores data of the 50 most recent visitors. If you want to review every entry, you'll have to pay more 

Best alternative to DoorBird intercoms
DoorBird intercoms may be passable for single-family homes but could lack the features and functionality that multifamily property owners and managers demand. So, the best alternative to DoorBird is ButterflyMX. ButterflyMX is a smart solution for simple property access that has several decided advantages over DoorBird, making it a better choice for multifamily properties.
The ability to support both small and large apartment communities makes ButterflyMX a preferred choice for multifamily owners and operators.
Residents love ButterflyMX, too. While DoorBird intercoms allow residents to see who's requesting access, they may not be able to launch a two-way video call with them. But with ButterflyMX, they can. ButterflyMX users can also take advantage of convenient guest access solutions like Delivery Passes and virtual keys.
What's more, ButterflyMX is more than just a video intercom — it offers a full suite of access control products designed to provide a unified access experience.
With ButterflyMX, you get not only a video intercom but also:
Package room: Residents will never miss a delivery or lose a package again.
Access control system: ButterflyMX offers keypads and fob readers for secondary entrances and amenity spaces, as well as vehicle readers and stickers for vehicle entry gates.
Elevator controls: 
Smart lock integrations: Control smart locks from several brands through the ButterflyMX mobile app for a streamlined experience.
Self-guided tour platform: With ButterflyMX's self-guided tour platform, prospects can book a self-guided tour and automatically receive secure building access credentials.
Watch a live customer review of ButterflyMX:
ButterflyMX vs. DoorBird
DoorBird intercoms will get residents through the front door, but they may leave a lot to be desired in terms of design, features, and functionality. Without two-way video calling and a touchscreen for easy use, this DoorBird intercom may not deliver the exceptional experience that other intercoms offer. Plus, some users have reported DoorBird intercoms and IP video door stations to be unreliable on various review platforms.
In contrast, ButterflyMX's video intercom boasts an easy-to-use interface, which simplifies access for residents, visitors, delivery carriers, and building staff alike.
| Feature | ButterflyMX | DoorBird |
| --- | --- | --- |
| Built-in camera | Yes | Yes |
| Mobile app & smartphone-based access | Yes | Yes |
| U.S.-based live support | Yes | No |
| Weather- and tamper-resistant | Yes | Yes |
| Property management software integrations | Yes | No |
| Touchscreen | Yes | No |
| Elevator controls | Yes | No |
| Based in the USA | Yes | No |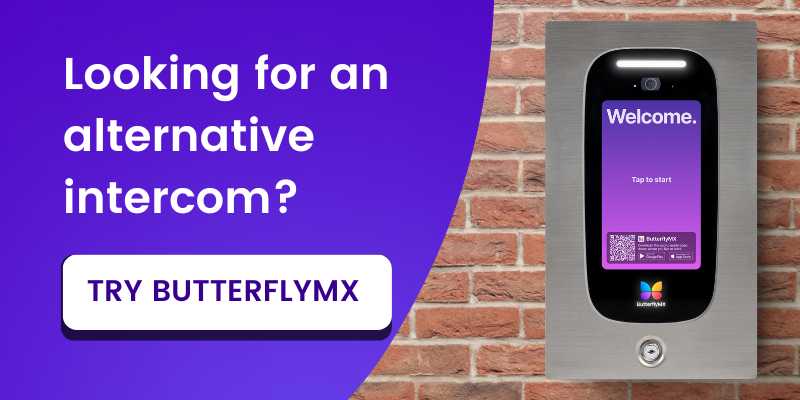 Disclaimer: ButterflyMX provides these blog posts to help our customers and potential customers make the right business decisions for them. Our blog posts are based on the information we have available to us at the time of writing.