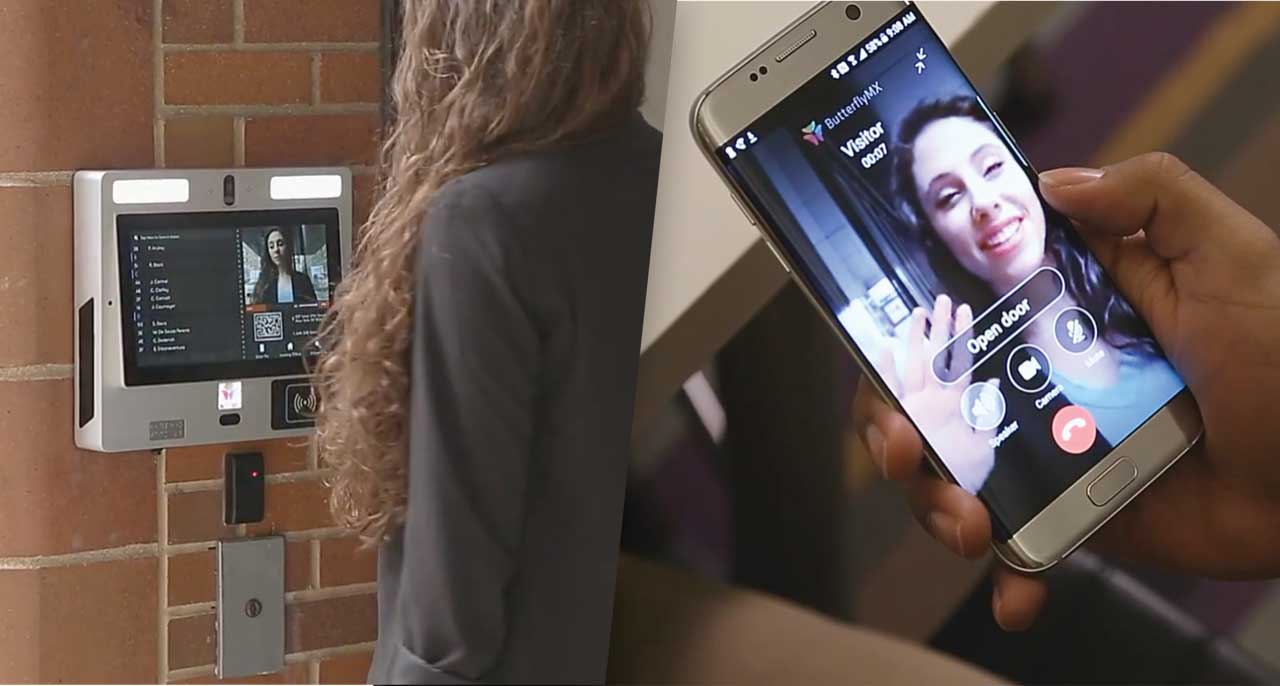 (Last updated: 1/4/2021)
We've reviewed the 12 best video intercom systems for apartment buildings in 2021 to help you pick the right one.
Introduction
Whether you're installing an apartment intercom system in a new development or retrofitting a system in your existing building, you want to make sure you choose a system that meets you and your tenants' needs. But with so many video intercoms on the market, how are you supposed to choose one system?
We've created this handy, all-in-one guide to choosing the best video intercom system for your apartment, office, commercial building, gated community, or another type of property.
This guide will cover:
Questions to Ask Before Choosing a Video Intercom System
Here are some important questions to ask yourself before buying an intercom for your apartment, office, or gated community:
What's your budget?
We all know that every decision ultimately comes down to budget. Before researching video intercom systems for your apartment, set a realistic budget. Having a range in mind will help you rule out systems that are over your budget. You can even rule out under-budget systems that are too simplistic for your needs.
Should you get a wired or a wireless video intercom system?
Wiring is an important consideration when choosing a video intercom system.
Intercom systems can be wired or wireless. Wired systems require wiring from the outdoor device to indoor devices in every unit. Wireless systems do not require wiring between outdoor and indoor devices.
Generally, wired intercoms are more challenging and expensive to install. Wireless intercoms offer a less intensive — and therefore more affordable — installation process.
Should you get a video intercom system?
Video intercoms offer an added layer of security and convenience. They give tenants the power to see who is requesting building access before letting guests in. Think about whether this feature is important to you
If you do want an apartment video intercom, you'll have to ask yourself if you want one- or two-way video capabilities.
Do you want one-way or two-way video?
Some video intercoms offer one-way video calling, where the tenant can see a visitor, but the visitor cannot see the tenant. Others offer two-way video calling, which lets the tenant and the visitor see each other. Two-way video requires a secondary device for the tenant, which could be an in-unit device or the tenant's own smartphone.
The benefit of leveraging the tenant's smartphone to receive video calls rather than in-unit hardware is two-fold:
Cost savings. You do not need to run wiring or install hardware within each tenant's apartment unit to receive the video call. The purchase and installation cost of the necessary wiring and hardware can quickly add up to more than 3x what you paid for the video intercom system.
Convenience. When tenants receive video calls directly to their smartphone, they can see who is at the door and provide property access no matter where they may be: in their unit, at the gym, or taking the dog for a walk.
Do you want to install in-unit hardware?
Intercom systems require two components: a device outside for visitors and a device inside for tenants. Advancements in technology have made it possible to replace in-unit hardware with a device that most tenants already have in their pockets: a smartphone.
Smart video intercom systems eliminate the need for in-unit hardware by empowering tenants to use the intercom with their smartphones. Instead of relying on devices installed in each unit of the building, tenants can open and manage doors with their smartphones, creating a more seamless and convenient experience.
Keep in mind that installing in-unit hardware adds an extra cost. It will also require ongoing maintenance to keep each device operating smoothly.
How many tenants are there?
The video intercom system you choose must meet your tenants' demands. Consider how many tenants will be using the system and choose an intercom that can handle that demand. Some video intercom systems have limits on the number of apartments they can support, and others have limits on the number of tenants per apartment.
Do you want remote tenant management capabilities?
If you value the ability to manage tenants remotely — without updating a directory onsite — you'll need to choose a system with remote management. Many intercom systems offer software or even cloud-based tools so you can remotely update your tenant directory, manage permissions, and more.
Is granting remote property access a priority?
Many intercom systems offer remote property access features, which let tenants open and manage doors even off-site. Tenants can answer calls and grant access remotely using a mobile app or a cloud-based dashboard. Consider how this feature could improve your tenants' experience with your property.
What is the Right Video Intercom System for Your Apartment?
Once you've considered your budget, outlined your needs, and determined the intercom features that are most important to you, it's time to choose the right video intercom system for your property.
There are several options to choose from, but below is a list of some of the best video intercom systems:
1. ButterflyMX
Industry innovator ButterflyMX introduced the apartment video intercom system in 2015. Its flagship product has been enhanced over the years, but its mission remains the same: to empower people to open and manage doors with a smartphone. Since launching, ButterflyMX has been installed in more than 4,500 buildings and more than 450,000 units. The company also has the most customer reviews in the industry with more than 6,000 five-star reviews.
In addition to opening doors with your phone, the ButterflyMX smart video intercom lets you grant remote access for guests, integrate with your property management system, eliminate building wiring and in-unit hardware, and more. The intercom features a sleek touchscreen interface and a mobile-first user experience.
Uses
Multifamily/apartments
Commercial
Mixed-use buildings
Gated communities
Student housing
Senior housing
HOAs
Self-storage facilities
Features
Two-way video calling
Smartphone-based door access and management through a powerful mobile app
No wiring
No in-unit hardware
Sleek and durable touchscreen interface
Multiple access options, including virtual keys, door PINs, and delivery PINs
Cloud-based property admin dashboard with resident management tools
Audit trail with time- and date-stamped photos of every door entry
Elevator controls
Integrations with property management systems, access control systems, keyless locks, and more
Pricing
Hardware pricing starts at $3650. Software costs $2.50 per unit per month. Software pricing includes the mobile app, ongoing updates, and new features, and live support via phone and email.
Pros & cons
Pros:
No wiring and no in-unit hardware makes for a simple and affordable installation
Smartphone-based access is convenient, intuitive, and more affordable than installing devices in every unit
The cloud-based dashboard makes it easy to manage the tenant directory and integrate with property management software
The time- and date-stamped audit trail provides an extra layer of security
Elevator control integrations make for easy property access while only allowing guests to visit the floor of the unit they are visiting
Cons:
No solution for single-family homes
Features and functionality may be too much for buildings with fewer than 10 units
---
2. Doorking
A longstanding staple in the access control industry, Doorking — also known as DKS — offers a wide range of traditional telephone entry systems. DKS intercoms use regular phone lines to allow visitors to speak with tenants, who can then open the door or gate remotely for their guests.
Doorking product reviews
Uses
Single-family homes
Multifamily
Student housing
Commercial
Gated communities
Self-storage
Features
Traditional telephone entry systems
Some models are PC programmable
Some models feature built-in directories
Keypad and call button interfaces
Separately sold features, such as directories, light kits, and camera kits
Some models offer elevator controls
Pricing
Doorking offers over a dozen entry system models with varying features and pricing. According to a February 2020 pricing sheet, intercom pricing ranges from about $1300 to $6450. Accessories are sold at an additional cost.
Pros & cons
Pros:
Durable
Weather- and tamper-resistant
Traditional design
Cons:
No built-in camera/video intercom options
No cloud-based access management
Cellular connection requires the purchase of a separate DKS Cellular Connection Box
Not all models are PC programmable
No mobile app
No touchscreen interface

3. Aiphone
A self-proclaimed security communication systems brand, Aiphone offers a variety of intercoms for several industries with a focus on security. Aiphone's products blend durable hardware with contemporary design.
Aiphone product reviews
Uses
Single-family
Multifamily
Student housing
Commercial
Parking structures
Healthcare facilities
Features
Several product series with many models tailored to both large and small buildings
Video intercom options
Touchscreen, handset, and keypad interfaces available
Pricing
Aiphone intercom pricing is not readily available online because the company sells its products through distributors.
Pros & cons
Pros:
Supports building complex/multi-building connections
Reliable
Modern video and touchscreen options available
Cons:
Not all systems are cloud-based
Most models require in-unit hardware
Not all systems offer remote management
---
4. Akuvox
Akuvox is an innovative player in the access control industry. Offering a variety of intercoms — including smart intercoms — Akuvox is committed to providing technological solutions to improve security and convenience in buildings across multiple industries.
Akuvox product reviews
Uses
Multifamily
Commercial
Assisted care & hospitals
Features
Options ranging from simple video doorbells and multi-button door phones to smart video intercoms
Touchscreen and keypad interfaces depending on model
Facial recognition available in some models
Temperature and face mask detection on certain models
Weather-resistant, with a built-in heater for cold climates
Tamper-resistant
Flush or surface mount
Pricing
Exact pricing for Akuvox intercoms is not readily available. Interested customers must reach out for a personalized quote.
Pros & cons
Pros:
Enables touchless entry
SmartPlus and Vfone mobile apps work with smart intercoms
Options available for both small and large buildings
Third-party integrations available, including compatibility with access control systems and video surveillance systems
Cons:
Most systems require indoor/in-unit hardware
Indoor monitors use only Android or Linux operating systems
SmartPlus and Vfone mobile apps have low ratings in the app store
Company based in China with no support in the United States
---
5. DoorBird
Based in Germany, DoorBird blends sleek design with innovative technology to stand out in the IP Intercom communication field. DoorBird strives to deliver reliable products and roll out ongoing updates to stay current with the latest technologies.
DoorBird product reviews
Uses
Single-family homes
Multi-tenant buildings
Healthcare facilities
Schools
Features
Keypad and call button interfaces
Wide-angle cameras on all models
Simple, straightforward design
Several colors and finishes available
Pricing
Pricing for door station hardware alone ranges from about $400 (for single-family video doorbells) to $2500 (for multi-tenant intercoms). Accessories, casings, and cloud service (for entry log recording) are available at an additional cost.
2N Product Reviews
Pros & cons
Pros:
Easy to install
Open API for integrations with third-party home automation and access control systems
Durable metal casings
Mobile app to answer calls and grant remote access from a smartphone
Cons:
No touchscreen models
Only suitable for multi-tenant buildings with up to 100 units
Lacks cloud-based remote management for multifamily buildings

6. 2N
2N is a European access control company operating internationally since 1991. 2N offers a variety of products, including intercoms and indoor answering units, access control systems, elevator systems, and IP audio systems.
2N product reviews
Uses
Commercial
Multifamily
Single-family homes
Features
Touchscreen or keypad interface depending on model
2N Remote Configuration and 2N Access Commander allow for remote device management and administration
Option to operate the intercom with smartphones or indoor answering units
Built-in Ethernet port
Entry options include Bluetooth, touchpad, RFID card reader, and fingerprint reader entry options
Pricing
Many 2N intercoms are customizable, and pricing depends on the accessories you choose. Exact pricing is not available online, as 2N requires purchase through a distributor.
Pros & cons
Pros:
Mobile app available to answer telephone and video calls, and to open doors from a smartphone
Remote management and administration capabilities
Modular intercoms allow you to add specific features and customize your intercom
Cons:
The 2N mobile app has low user ratings for both the Android and iOS versions
Comparatively low video resolution
---
7. Swiftlane
Swiftlane's mission is to deliver a physical identity solution that improves safety and security. With products designed for both residential and commercial spaces, Swiftlane offers both access control and intercom systems. The company strives to stay ahead of the curb technologically, which is illustrated by its newest product, Health Check, to assist with contact tracing.
Swiftlane product reviews
Uses
Residential
Commercial
Enterprise
Features
Two-way video calling
Mobile app for remote property access
Face recognition technology
Touchscreen panel
Built-in access control
Ethernet-based connectivity
Pricing
Pricing for each Swiftlane product is not readily available, but the company's website states that pricing for its commercial intercom starts at $1200.
Pros & cons
Pros:
Option for audio-only calls
Mobile app lets you can open doors remotely
Two-in-one intercom with built-in access control system eliminates the need to purchase two separate systems
The system provides a photo log of all door entries, stored in the cloud
Cons:
Facial recognition technology introduces privacy concerns
Requires a separate integration to grant temporary guest access
Small intercom panel makes it hard to scroll through long directories
Offers single-use PINs but no virtual keys
---
8. Comelit
Founded in 1956 in Val Seriana, Italy, Comelit (officially Comelit Group SpA) designs and manufactures a variety of products, from video entry and video surveillance systems to home automation and access control systems. Comelit's headquarters are still located in Italy, but the company sells products internationally from offices in 16 different countries.
Comelit product reviews
Uses
Multifamily
Single-family
Commercial
Features
Two-way video calling when you install indoor video panels in each unit
Mobile app for remote property access
Panel options include keypad, touchscreen, and sensitive touch buttons
Weather-resistant, though IP ratings vary between models
Name uploading via USB port
Face recognition available for some models
Pricing
Pricing is not immediately available on the Comelit website. You'll need to contact a sales representative or dealer for a quote.
Pros & cons
Pros:
Integrations with access control systems such as Prodatakey, Salto, etc.
Sleek designs
Mobile app allows for remote door management from a smartphone
Cons:
Not all models are IP65 rated
Certain features are only available on some models
It's difficult to know which models include specific features
Comelit mobile app gets low ratings in both Apple App Store and Google Play store
It's unclear how to learn more about products, get a quote, or purchase a system from a sales representative

9. Mircom
Founded in 1991, Mircom designs, manufactures, and distributes solutions to make buildings safer, smarter, and more livable. The company offers everything from fire detection and alarm systems, access control systems, and voice entry systems to mass notification systems and emergency lighting. Honing in on its property entry systems, Mircom offers several different voice entry, telephone entry, and apartment intercom systems.
Mircom product reviews
Uses
Multifamily
Commercial and industrial
Healthcare
Education
Government
Self-storage
Features
Various interfaces, including touchscreen, keypad, and direct-dial buttons
Most systems require in-unit hardware, though some are compatible with smartphones and tablets using Mircom's mobile app, MiEntry
Only two video intercom systems for apartments available, the TX3 Touch and TX3 Nano
Pricing
Pricing is not immediately available on Mircom's website. You must reach out to a distributor for Mircom pricing.
Pros & cons
Pros:
Mircom offers an extensive catalog of products applicable across many industries
Various mounting options, including flush mount, surface mount, and pedestal mount
Cons:
Not all units are weather-resistant
MiEntry app gets low ratings in both the Google Play Store and Apple App Store
There are no company reviews available online, which raises questions about product durability and reliability
Intercom design is not visually appealing, and touchscreen interfaces appear cluttered
Must be purchased through a distributor
---
10. Latch
Founded in 2014, Latch has established itself as a major player in the access control industry. Though its product lineup primarily focuses on smart locks, Latch has started exploring new territories, introducing its multi-unit building intercom in December 2019.
Latch product reviews
Uses
Multifamily
Student housing
Features
One intercom panel option measuring 6.53" wide and 12.82" tall
Tactile button interface
Residents can choose how to display their name on the intercom
Power over Ethernet
Three connectivity options: Ethernet, Wi-Fi, and cellular
IP65 rated
Pricing
According to Latch's website as of December 2020, intercom hardware starts at $2999 and software starts at $2 per month per unit. Pricing varies depending on the number of units in your building and the length of your contract.
Pros & cons
Pros:
Remote door unlock capabilities
Multiple connectivity options
Sleek design
Cons:
No built-in camera — video capabilities require purchasing and installing a separate camera
Small screen can make it difficult to read or find a tenant
The Latch mobile app gets poor customer reviews, averaging less than 3 stars in both the Apple App Store and Google Play Store
No touchscreen
---
11. Linear
Owned by Nortek Security & Control, Linear is an access control brand based in Carlsbad, California. While Nortek offers a broad range of security and home automation systems, Linear focuses on access control and telephone entry systems for a variety of industries.
Linear product reviews
Uses
Multifamily
Commercial
Healthcare
Government and municipal
Features
Offers the Entry Pro line with three models, and the more basic AE-100 Telephone Entry System
All Entry Pro models offer audio-only calling with backlit keypads, two I/O ports, and compatibility with most third-party VoIP adapters and long-range readers
EP-736 model includes a touchscreen display
Pricing
Linear pricing is not immediately available online. You must contact the company or a dealer to request a quote.
Pros & cons
Pros:
Durable intercoms
Clear audio
Cons:
No built-in cameras
Audio-only calling
Only one model has a touchscreen display
No mobile app for smartphone-based access
Cluttered and dated design
Lack of features like virtual keys for guest access and door release audit trail
---
12. Siedle
Siedle is a German company offering a variety of telecommunications systems, from intercoms to security devices. With offices in over 57 countries, Siedle is dedicated to developing technologies that improve security for people and organizations around the world.
Siedle product reviews
Uses
Features
Siedle offers both audio-only and video intercom options
Video intercoms can be used with in-unit hardware or a smartphone through the Siedle mobile app
Dome camera on video intercoms 
Day/night switchover 
Pricing
Siedle does not list prices on its website. Reach out to the company to request a quote.
Pros & cons
Pros:
Good sound quality
Intercoms are modular and customizable
Straightforward design
Modular intercoms offer useful add-ons like a card, key, and fingerprint readers
Cons:
No touchscreen options
Not cloud-based
Mobile app is difficult to set up
Video intercoms only allow for one-way video calling
Cannot accommodate very large buildings