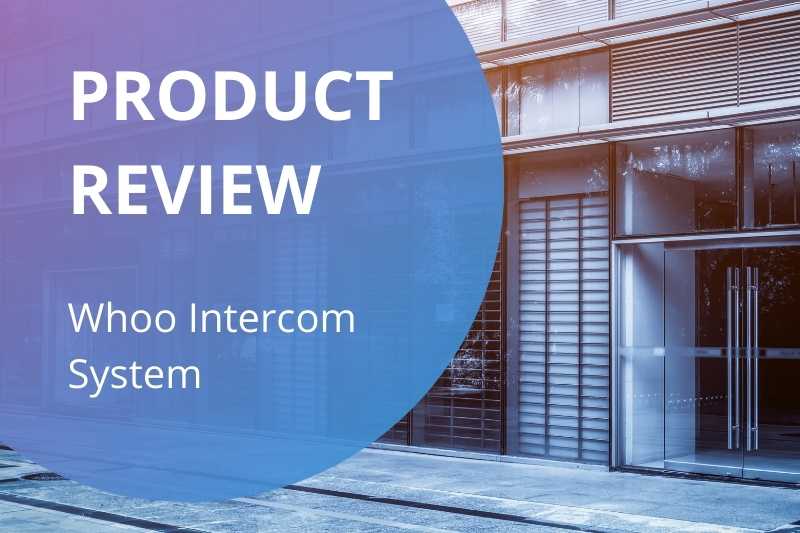 Intercom systems are essential for every type of multi-tenant property — from residential and commercial. If you're a property owner or manager who wants to improve resident safety and access control at your building, you've probably considered investing in an intercom system with video. The Whoo intercom system is one of the many options currently available. If you're considering Whoo Ai, read this review first to learn more about their intercom, its features, and how it compares to the competition.
In this Whoo intercom review, we cover: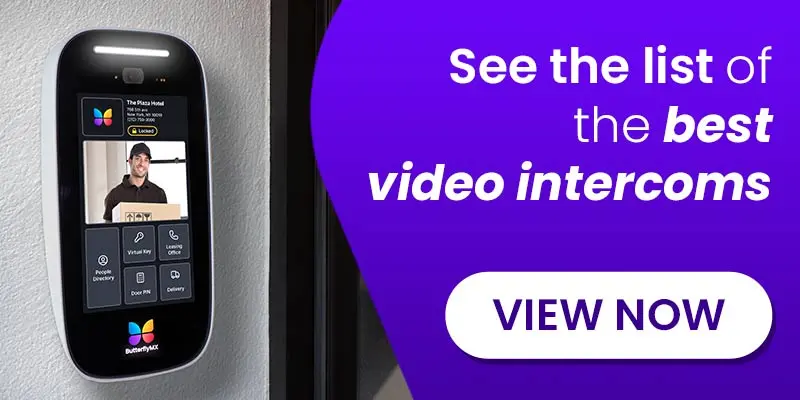 About Whoo Ai
Whoo Ai was started by Arturo Falck in 2015. Arturo gained experience as a software developer at various companies throughout his career. Whoo's mission is to create property technology solutions to improve people's lives. Currently, their only product is the Whoo intercom system, which aims to provide access control for multi-tenant buildings.
Overview of the Whoo intercom
Whoo Ai relies on Akuvox, a Chinese company, for its intercom hardware. They do not appear to design or manufacture their own intercom. The Akuvox intercom is a cloud-based video intercom system that connects to the internet via an Ethernet connection.
A mobile app is available for tenants to download on their smartphones. However, it's unclear whether Whoo designed and developed this mobile app or purchased it from a third party as well.

Features
Built-in camera: Provides one-way video calling
Smart Keys: Residents can create one-time building access codes for visitors
Display: 7-inch LCD touchscreen
Mobile app: Lets residents open the door from a smartphone
Pricing
Whoo Ai lists hardware pricing for the intercom starting at $3,200. In addition, they also have a subscription fee starting at $2.50 per month based on a $30 annual fee per apartment. For specific pricing for your building, we suggest you request a quote.
Pros & cons
Pros
Smartphone functionality: Residents can view and verify visitors and grant access from a mobile app.
Weather-resistant: IP65-rated hardware
Cons
Don't design or manufacture its own intercoms: Since Whoo buys its intercoms from Akuvox, there could be a third-party risk. Akuvox may stop providing updates, repairs, or simply go out of business.
No integrations: The Whoo intercom may not integrate with any property management software (PMS) or other smart home devices
Smart keys are not customizable: Guest building access codes might be single-use only
No audio capabilities: Whoo Ai does not currently list any audio functionality available on the Whoo intercom
Watch how ButterflyMX works:
Comparison of the Whoo intercom with ButterflyMX's smart video intercom
The Whoo intercom system offers a simple apartment access solution, however, it doesn't provide as many features and capabilities as ButterflyMX. In addition, since Whoo purchases their intercoms from Akuvox, a Chinese company, they may not be in control of the design, manufacturing, or software used on their intercoms. As such, customers face the risk of losing product support, updates, or worse.
Integrations are crucial when considering the right intercom system for your building. As a property manager or owner, you want to make your work as easy as possible. ButterflyMX offers many property management system integrations to automatically update your intercom directory when tenants move in and out of your building. Additionally, the ButterflyMX video intercom integrates with many smart home devices and solutions such as smart locks and Alexa. In contrast, Whoo Ai may be unable to integrate with valuable third-party systems such as access control and property management systems because they don't manufacture the hardware they sell.
Lastly, the Whoo intercom system has been on the market since 2015, yet only a handful of reviews of their product. Moreover, the Akuvox intercoms they sell have lower ratings than ButterflyMX on both the Google Play and Apple App Stores. On the other hand, ButterflyMX has been successfully installed in over 5,000 buildings and has over 6,000 five-star reviews from residents, property managers, and owners.
Whoo Ai vs ButterflyMX
The Whoo intercom may have some basic access entry system functionalities, but ultimately it may not hold up against the robust features and capabilities you can get with the ButterflyMX system. Choose ButterflyMX to provide the best access experience for you, your building, your residents, and their guests.
| Feature | ButterflyMX | Whoo Ai |
| --- | --- | --- |
| Built-in camera | Yes | Yes |
| Mobile app & smartphone-based access | Yes | Yes |
| IP65 rated | Yes | Yes |
| Customizable intercom screen | Yes | No |
| Customizable virtual keys | Yes | No |
| Multiple intercom sizes | Yes | No |
| PMS integrations | Yes | No |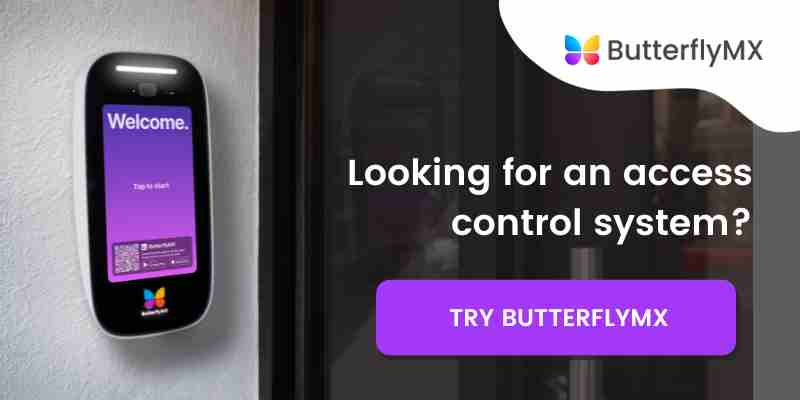 Disclaimer: ButterflyMX provides these blog posts to help our customers and potential customers make the right business decisions for them. Our blog posts are based on the information we have available to us at the time of writing.