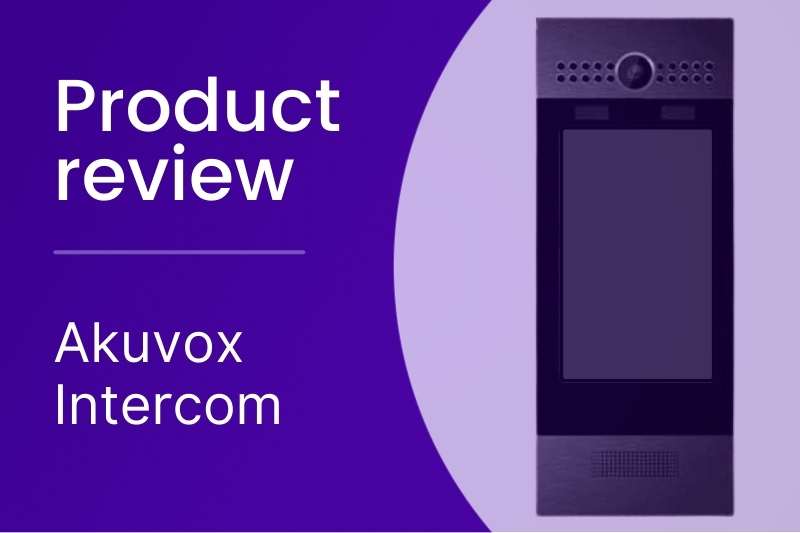 As the world has grown increasingly mobile, the intercom market has followed suit. Not long ago, installing in-unit video intercom systems in apartments was cutting-edge technology. Now, that same technology exists in the palm of your hand. Today, a Google search of "apartment intercom system" gets dozens of results from leading manufacturers offering mobile apps that pair with smart video intercom systems.
If you're looking for a video intercom system for your apartment building, you might have considered the Akuvox SmartPlus. Let's take a look at this system and compare it with the competition.
This review covers: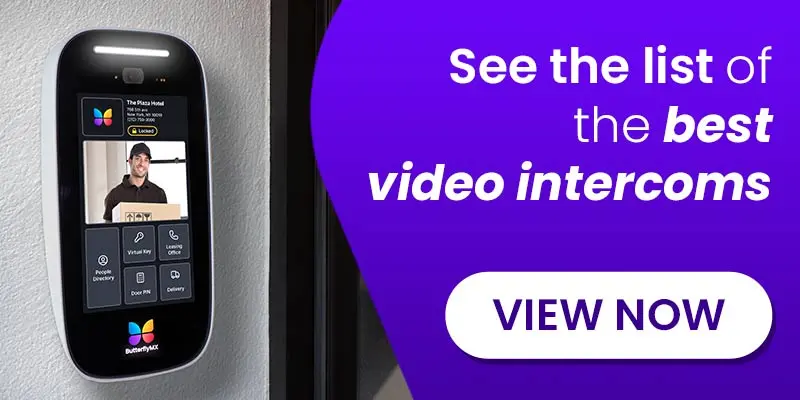 About Akuvox
Founded in Xiamen, China in 2012, Akuvox focused initially on VoIP products. Star-Net, a Chinese conglomerate, acquired Akuvox in 2014. Akuvox released its first video intercom system that year. A relatively small international company, Akuvox tries to innovate and deliver within the global intercom industry.
About the Akuvox SmartPlus Intercom
The Akuvox SmartPlus Intercom offers more features than its other solutions, like a cloud-based video intercom platform and mobile app. While these features add convenience, the user interface of Akuvox's outdoor intercoms might be cluttered and may confuse some guests. Additionally, the Akuvox SmartPlus does not have as many customer reviews as some of its competitors.
Features
Multiple entrance panel options: Panel options include a SIP-powered touchscreen panel, an AI panel with facial recognition that allows for touchless entry, and an Android door phone with a 13-inch LCD display.
Cloud-based mobile application: The Akuvox SmartPlus app — available for both Android and Apple devices — allows users to communicate with visitors and open doors remotely. The most recent release also includes a Bluetooth feature for door access.
PoE connectivity: Power over Ethernet (PoE) connections allow for installation via an existing data jack.
Common area access: The system can control elevators and other common spaces.
Access logs: The system records a date- and time-stamped image of each entry.
QR code keys: Residents can issue QR code virtual keys to guests for easy access.
Akuvox pricing
Akuvox pricing information is not publicly available in the U.S. market. To get pricing for an Akuvox video intercom, you must get a quote on the company's website.
Pros and cons
Pros:
The smartphone-based system reduces installation time and cost compared with solutions that require in-unit hardware.
Akuvox SmartPlus features a variety of access options, including entry via touchscreen keypad, virtual keys, integration with a third-party access card, Bluetooth, and facial recognition.
The system can be integrated with multiple smart home solutions such as security systems and home automation solutions.
Cons:
Akuvox is based in China, with a relatively limited presence in the United States. Distributors, installers, service technicians, and support staff for Akuvox products are more limited than for other major video intercom providers.
The Akuvox SmartPlus app has a low rating in the App Store relative to competitors.
Facial recognition technology poses privacy concerns.
There are currently no integrations available with property management software.
The intercom system lacks single- and recurring-use delivery PINs.

Comparison of Akuvox SmartPlus intercom with the ButterflyMX video intercom
Both the Akuvox SmartPlus and ButterflyMX video intercoms offer smartphone-based property access, a mobile app, and cloud-based infrastructure. But as the original innovator of the smart video intercom, ButterflyMX is the clear winner, offering a variety of features focused on convenience and security.
One thing that sets ButterflyMX apart is the fact that the company is solely focused on video intercoms and accompanying property access technology. This focus gives ButterflyMX an advantage in developing supplemental features and key features and integrations, particularly in the multifamily space. Though Akuvox offers the SmartPlus intercom, smartphone-based intercom technology is not the company's sole focus.
Plus, with a corporate headquarters in New York City, ButterflyMX has a strong presence in the U.S. ButterflyMX also offers live customer support for property managers, residents, and installers. With over 6,000 five-star reviews, ButterflyMX has built a reputation for quality products and a commitment to service — Akuvox, on the other hand, does not have many reviews accessible online.
Watch a live customer review of ButterflyMX:
ButterflyMX vs. Akuvox
The Akuvox SmartPlus intercom could be a poor choice for property managers, owners, and developers who want to enable smartphone-based access at their buildings. Akuvox intercoms may not be ideal for properties in America due to the company's lack of U.S.-based customer support. ButterflyMX provides video intercoms with the same (or better) features and superior customer support.
| Feature | ButterflyMX | Akuvox |
| --- | --- | --- |
| Built-in camera | Yes | Yes |
| Mobile app & smartphone-based access | Yes | Yes |
| U.S.-based live support | Yes | No |
| Virtual keys for visitor access | Yes | Yes |
| Property management software integrations | Yes | No |
| Package room options | Yes | No |
| One- and recurring-use delivery PINs | Yes | No |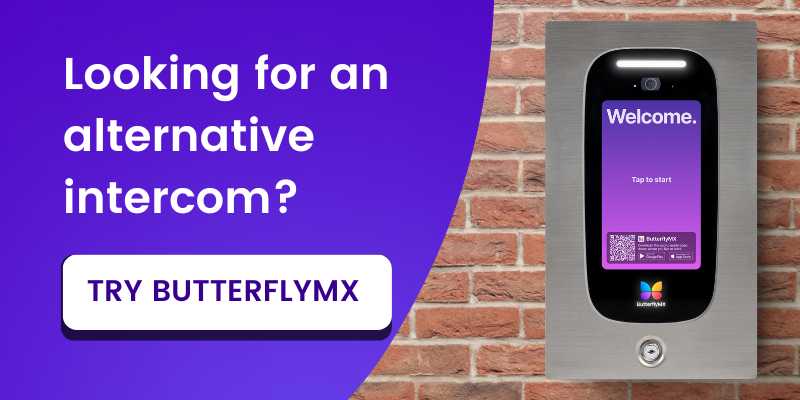 Disclaimer: ButterflyMX provides these blog posts to help our customers and potential customers make the right business decisions for them. Our blog posts are based on the information we have available to us at the time of writing.