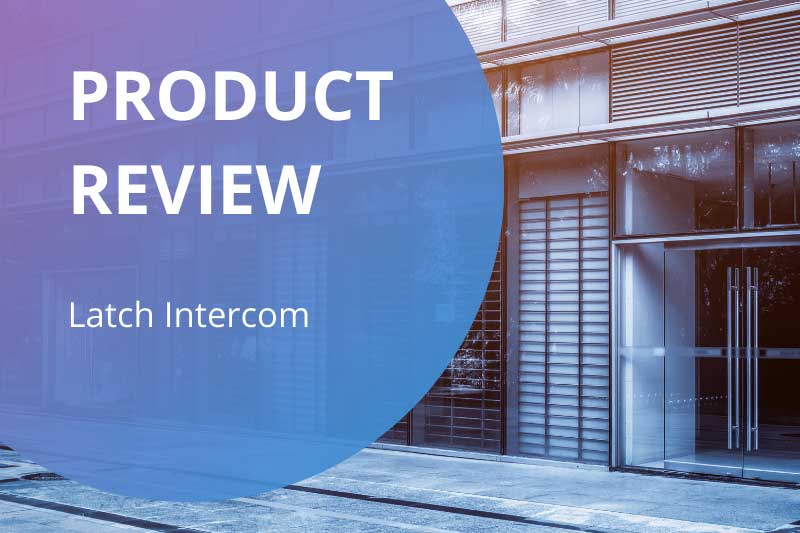 Every apartment building needs an intercom system, but finding the best apartment video intercom system is not easy. It's important to choose a system that offers a property access experience that's both convenient and secure for residents, visitors, and property staff alike. But with so many intercoms out there, it can be difficult to pick the right one for your building.
We're here to make your decision a little easier. If you're considering the Latch Intercom for your building, you've come to the right place. Below, we'll review the Latch Intercom and explore how it stacks up against the competition.
This review will cover: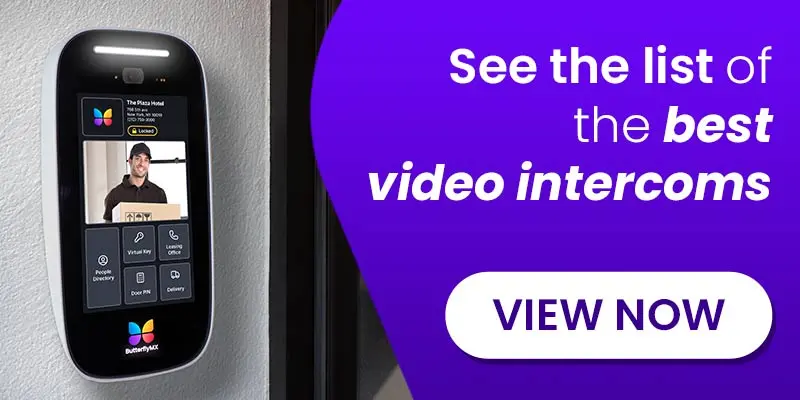 About Latch
Latch is a start-up in the property technology industry. It was founded in 2014 in New York City with the goal of enabling people to manage door locks from a smartphone. Over time, the company has added additional hardware, software, and services to its product offerings. Latch is commonly known for its access solutions focused on luxury multifamily residential buildings, including smart locks designed to be installed on apartment unit doors.
About Latch Intercom
Launched in 2019, the Latch Intercom is one of the company's newest products. The intercom features connectivity options, and operates on LatchOS — the company's proprietary software — possibly limiting its ability to connect with other technology providers outside of its ecosystem. Latch Intercom is available in one size and must be mounted on the surface of a wall or pedestal.
Features
Tactile button interface: The interface is designed with four tactile buttons below the intercom display.
Audio capability: Receive calls from any U.S. number
Video capabilities: One-way video calls are possible through the Latch app (external camera required)
Remote unlock: Unlock the door using the Latch app
Connectivity: Ethernet, WiFi, and cellular
IP65 rated: Weather resistant
One size: 7-inch diagonal
Watch how ButterflyMX works:
Latch Intercom cost
The Latch Intercom starts at $2,999. There may also be a $7.50/door/month software fee, as well as installation costs. They note on their website that the software pricing depends on the number of units and length of the contract. They recommend you get a quote.
Pros & cons
Pros:
Simple design — the Latch Intercom has only four buttons on it
Optional persistent video/photo capture
Residents can choose how their names appear to visitors to ensure privacy
Cons:
All Latch products run on unified software, so connecting with other third-party systems may not be possible
Video capability requires purchasing and installing an external camera, which still only allows for one-way video
Only one size option, smaller than the 11.6-inch display of some competitors
No touchscreen display, which may make it difficult for visitors to find residents in a larger property
The Latch Intercom hasn't been on the market for very long, so it may lack an established track record of success relative to some of its peers
Comparison of Latch Intercom & ButterflyMX
Both Latch and ButterflyMX offer intercoms that enable seamless building access. However, some key factors make ButterflyMX's smart video intercom the better choice.
The Latch Intercom system was launched a little over a year ago and might indicate a departure from the company's initial focus on smart locks. There is little feedback as to the intercom's performance and few reviews of the product online. In contrast, ButterflyMX has been growing exponentially since its launch in 2014 and has spent considerable time updating and improving its intercom. ButterflyMX has been installed nationally in over 5,000 buildings with proven success among residents, property owners, and managers.
The Latch Intercom is not actually a two-way video intercom by itself. With no built-in camera, the product is just a traditional audio-only intercom system. You must purchase and install a separate camera to enable video functionality. Even then, the intercom only enables one-way video calling — which means residents can see visitors but visitors can't see residents. ButterflyMX has a built-in camera that takes a photo every time someone uses the intercom, providing an important audit trail for extra security.
Latch does offer some features for residents and building staff, but they may have limitations when compared to ButterflyMX's features. For example, Latch lets residents send guest access codes, but those codes may only be created for one-time or single-day use. ButterflyMX, on the other hand, offers virtual keys that can be customized for specific days and times. Users can even create recurring keys that work on an ongoing basis.
ButterflyMX vs Latch
The Latch Intercom offers a simple appearance but could be a poor property access solution. Ultimately, it may not have the features and functionality of more robust video intercom systems. As a new product from a company without a 10-year history of building intercom systems, the Latch Intercom may not perform as well as more established competitors.
| Feature | ButterflyMX | Latch |
| --- | --- | --- |
| Built-in camera | Yes | No |
| IP65 rated | Yes | Yes |
| Multiple intercom sizes | Yes | No |
| Two-way video calling | Yes | No |
| Virtual keys | Yes | No |
| Mobile app & smartphone-based access | Yes | Yes |
| Delivery Pass | Yes | No |
| Integrations with 3rd-party smart locks | Yes | No |
| Touchscreen display | Yes | No |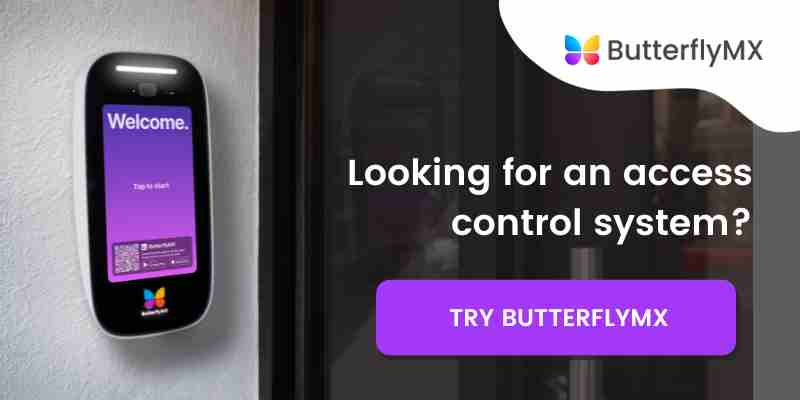 Disclaimer: ButterflyMX provides these blog posts to help our customers and potential customers make the right business decisions for them. Our blog posts are based on the information we have available to us at the time of writing.