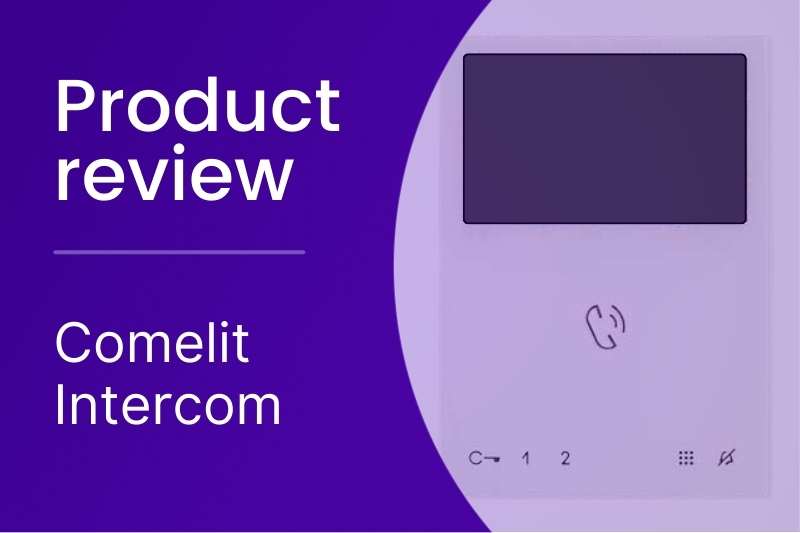 In the highly competitive world of video intercom systems for apartments, manufacturers span the globe. With a variety of designs, features, and functions, each brings a unique product to the market. This provides a vast array of choices for multifamily owners and operators but also makes it daunting to choose the right intercom system.
So how do you narrow such a crowded field? We're here to help. Below, we've reviewed one of the many video intercom options on the market, the Comelit Ikall.
Our review covers: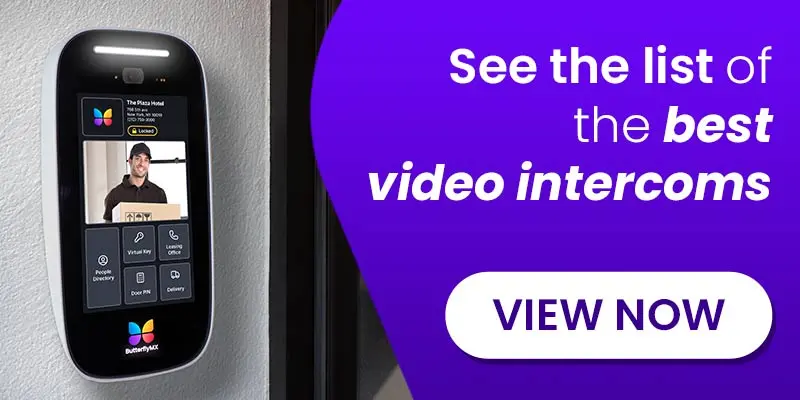 About Comelit Group SPA
Comelit Group SPA, the manufacturer of Comelit intercoms, is headquartered in Val Seriana, Italy, and has been serving clients' surveillance and access needs since 1956. Today's product offerings include video intercoms, home automation solutions, and fire protection systems for single-family homes, multifamily communities, and commercial buildings.
With international offices, Comelit Group SPA spans the globe from Europe to Asia to the Middle East. The company has a U.S. office located in Monrovia, California.
About the Comelit Ikall intercom
Comelit offers a wide assortment of intercoms that range from ultra-basic to more advanced. The Comelit Ikall is a modular system available in both a digital version with sensitive touch keys and an analog version with customizable nameplates.
Features
Two entry intercom interfaces: Outdoor intercom interface options include sensitive touch keys or analog buttons with an electronic tenant directory. Adding Comelit's cloud service for facial recognition also allows users to program images of select visitors for hands-free access.
Mobile app: The Comelit mobile app, available for both Android and Apple devices, allows users to receive push notifications when they receive a call, unlock doors, and review stored messages from missed calls.
Two-way video calling: Users can conduct two-way video calls with visitors either through in-unit hardware or the mobile app.
Additional accessories: Items such as an emergency entrance panel, key reader, RFID reader, and key fobs offer multiple configuration possibilities.
Pricing
Pricing for the Comelit Ikall is not publicly available on the Comelit website. Interested parties must contact a sales representative for information.
When seeking pricing for a new video intercom system, there are some important points to consider.
Be sure to take the following into account when determining the total cost of ownership:
Since quoted pricing will most likely include equipment only, what will installation costs add to the overall cost of your system? (It's also good to consider the number of licensed installers in your area and their availability to install and service your system as needed.)
What features and functionality are built into your system and what additional modules need to be purchased?
What are the ongoing subscription or maintenance fees?
Will the system easily integrate with third-party systems where needed? If not, will you likely incur significant integration expenses?
Pros & cons
Pros:
Comelit offers accessories with added functionality, including a radiometric thermal camera that can measure body temperatures before granting access.
The Comelit Ikall supports 16 different languages and allows for a customizable welcome message.
The system may integrate with access control systems such as Prodatakey and Salto.
Cons:
Certain features may only be available as add-ons at an additional cost.
No touchscreen interface, which could make the Comelit intercom feel outdated to modern users.
The Comelit mobile app appears to receive low ratings; the most cited issues include the inability to recognize devices and failure to launch the app.
The intercom is only IP54-rated, not IP65-rated.
You must update the intercom directory through a USB port rather than through a convenient cloud-based dashboard or an integration with your property management system.

Comparison of Comelit Ikall intercom with the ButterflyMX apartment video intercom
Comelit has a diverse product catalog of intercom systems, but its technology appears to lag behind the competition. ButterflyMX's product design and features give it a competitive advantage over Comelit Ikall intercoms.
First is that the ButterflyMX video intercom can integrate with property management software to automatically update resident information in the intercom directory. As residents move in or out of the community, names can be added or removed from the system automatically. With the Comelit Ikall, you may have to manually update the directory via a USB port.
The second is the end-user experience. Because ButterflyMX is developed around its mobile platform rather than in-unit hardware, the ButterflyMX mobile app is user-friendly and reliable. With more than 7,000 five-star reviews and high ratings in the Apple App Store and Google Play Store, it's clear that residents enjoy the ButterflyMX experience.
The third is property access features. ButterflyMX offers several convenient ways to open the door or gate. Residents can swipe to open directly in the mobile app, use Siri or Alexa voice commands, or enter their personal PIN code. They can also send virtual keys to guests ahead of time. The Comelit intercom and mobile app may lack these robust features.
Finally, while the Comelit Ikall is only IP54-rated, ButterflyMX's intercoms are IP65-rated, ensuring excellent dust, water, and chemical resistance.
Watch what Jonathan Scott thinks about ButterflyMX:
ButterflyMX vs. Comelit Ikall
As an apartment intercom, the Comelit Ikall checks some boxes but could lack certain key features. Without a touchscreen, the Comelit Ikall may feel outdated, lacking the modern, user-friendly design of other intercom systems. Plus, this Comelit intercom requires onsite management, which could be frustrating for busy property managers.
| Feature | ButterflyMX | Comelit |
| --- | --- | --- |
| IP65 rated | Yes | No |
| Mobile app & smartphone-based access | Yes | Yes |
| Remote management | Yes | No |
| Two-way video calling | Yes | Yes |
| Visitor & delivery PINs | Yes | No |
| Touchscreen | Yes | No |
| Property management software integrations | Yes | No |
| Virtual Keys | Yes | No |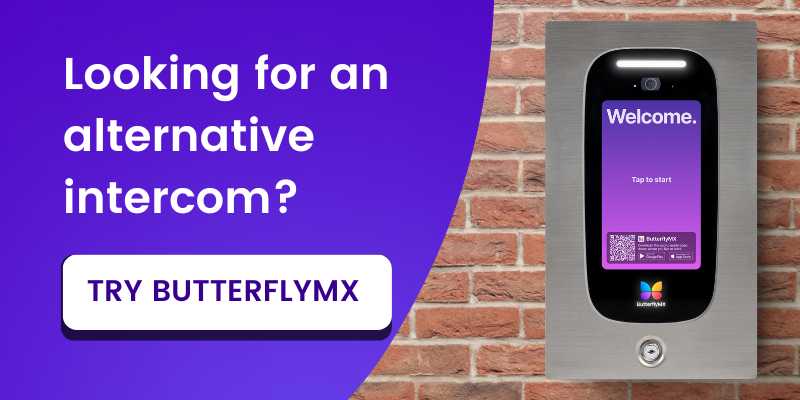 Disclaimer: ButterflyMX provides these blog posts to help our customers and potential customers make the right business decisions for them. Our blog posts are based on the information we have available to us at the time of writing.