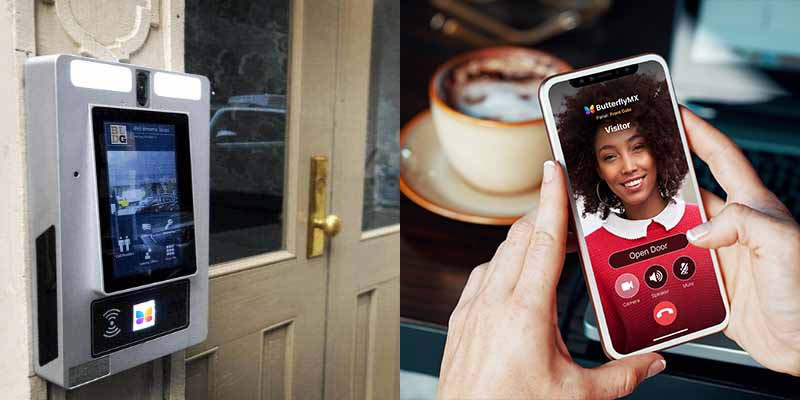 If you're in the market for a building entry system, you've probably encountered a lot of different options. From apartment video intercoms to door buzzers to telephone entry systems, there are tons of systems to choose from. But one system stands apart from the rest: the wireless video intercom.
Read on to learn why wireless video intercom systems are the best access control solution for apartments and other multi-tenant buildings. We'll also outline the top four benefits of wireless video intercoms and recommend the best system on the market.
Navigate this post:
What is a wireless video intercom?
A wireless video intercom is a door entry system that has a built-in camera for video calling and doesn't require physical wiring between the system's hardware. The system wirelessly transmits audio and video footage when a resident and a visitor are communicating. It also provides a way for residents to open the door or gate for their guests.
A wireless video intercom system either offers:
One-way video calling: During a video call, a resident can see visitors on their device's screen, but visitors can't see the resident.
Two-way video calling: Residents and visitors can see each other during a video call.
Components of a wireless video intercom system
Every wireless video intercom requires a base station at the property's entrance. This hardware contains the resident directory, which visitors use to find a tenant. The base station also has a speaker, microphone, and camera.
The intercom also needs substations, which are the devices residents use to answer calls from visitors. And finally, wireless video intercoms have a door release mechanism, which empowers residents to unlock the door or gate remotely.
There are two types of wireless video intercoms:
Systems with in-unit hardware: A video intercom with in-unit hardware requires you to install substations in every unit throughout the building. These substation devices contain a microphone, speaker, and sometimes a camera. The devices communicate wirelessly with the intercom base station.
Smartphone-based systems: Instead of requiring in-unit hardware, these video intercoms operate with residents' smartphones. Residents download a mobile app, which they use to answer video calls and open the door remotely.
Watch how ButterflyMX works:
Cost of a wireless video intercom
A wireless video intercom costs between $1,000 and $7,000. However, that price doesn't include the cost of installation or ongoing service fees.
Since installers set their own prices, installation costs vary. But the good news is that wireless intercoms are cheaper to install than wired systems. With a wireless system, you won't have to purchase long lengths of expensive wiring and knock down walls to install it all.
Many video intercom systems also have ongoing software fees. These fees cover the important features you'll enjoy, like video calling and remote management. Most intercom brands charge a small fee per unit on an annual or monthly basis to provide video calling, remote management, and other features.
Why you should buy a wireless video intercom
Now that you know what a wireless video intercom is and how it works, you're probably wondering if it's right for your building. Wireless intercoms with cameras stand out among every other entry solution.
Here are the top four reasons why wireless video intercoms are the best building entry system:
1. Increased property security
Nobody wants to live in an unsafe building. So, property security is a must for any apartment resident.
Having a video intercom at your front entrance lets you keep the door or gate locked without hampering access for residents, guests, and delivery carriers. The intercom system prevents access for anyone who shouldn't be there while providing an easy way for visitors to request access.
Additionally, the video component adds an extra layer of security. Video calling allows residents (and property staff) to visually confirm who's requesting access. That way, they can see who they're letting in before opening the door.
Pro tip: Choose a wireless video intercom that takes a photo of every door entry event. The property staff can review this audit trail as needed to maximize security.
2. Attract and retain residents
A wireless video intercom benefits your bottom line as a developer, owner, or property manager.
Tenants expect a reliable door entry system anywhere they live. By adding a video intercom system, you're not just meeting residents' expectations — you're exceeding them.
 A video intercom doubles as an apartment amenity because it:
Ensures successful package deliveries.
Empowers residents to open the door from anywhere.
Lets residents create virtual keys for guest access.
By adding this convenience- and safety-focused amenity, you'll better attract and retain residents, maximizing your NOI.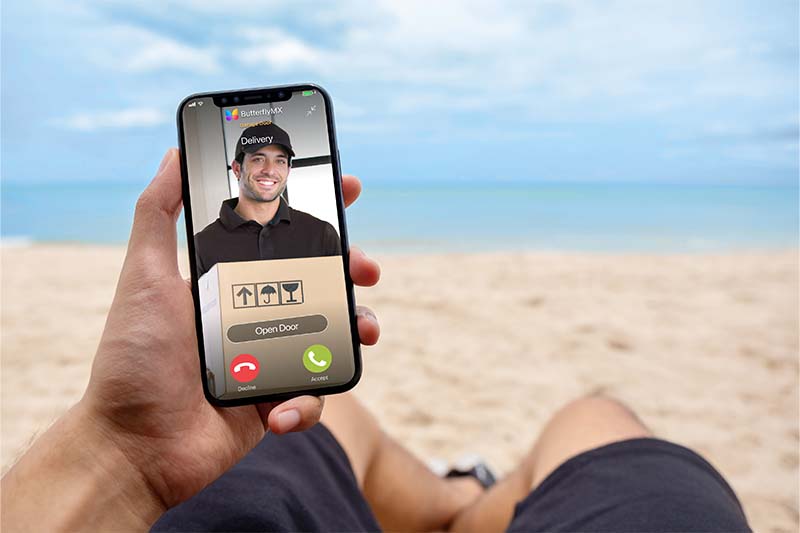 3. Never miss a visitor or delivery
Everyone can relate to the frustration of missing a package delivery or an unplanned guest. The good news: A wireless video intercom ensures staff and residents can always grant access to couriers and visitors from anywhere.
With a video intercom system, you'll say goodbye to package theft and those pesky "Sorry we missed you" notes. Delivery carriers can use the intercom to get inside the building and safely leave packages.
A wireless video intercom also ensures access for dog walkers, service providers, and even friends dropping by to say hi. Even if a resident isn't home, they can answer video calls from visitors and unlock the door right from their smartphone.
4. Affordable installation
You know your apartment needs an effective door entry solution, but you might be concerned about the cost of installing a new system. Not to worry: Wireless intercoms don't require expensive wiring, so they're cheaper to install.
If you purchase a wired intercom, you'll also have to pay for all the wiring to connect the system. On top of that, installers charge more to install wired systems, since they have to break down walls and pavement to lay all the wiring. In contrast, wireless intercoms only require you to install the hardware.
Pro tip: Choose a wireless video intercom without in-unit hardware. That way, you'll avoid the cost of purchasing, installing, and maintaining hardware. Since residents use their own smartphones with the intercom, it won't cost you a thing.
Best wireless video intercom system
You've done your research and now you're ready to invest in a wireless video intercom. But which one should you purchase? The ButterflyMX wireless video intercom stands out as the best system on the market.
Since ButterflyMX doesn't require wiring or in-unit hardware, it's quick and affordable to install. Its powerful mobile app is easy to download and use, empowering residents to open doors and manage access right from their smartphones.
ButterflyMX also saves time for building staff, who can manage the system remotely using the ButterflyMX OS. Plus, staff can take advantage of time-saving integrations with smart locks and property management software.
You won't find a system that matches the robust features and functionality of ButterflyMX. With over 20,000 five-star reviews, we're the most trusted video intercom provider.