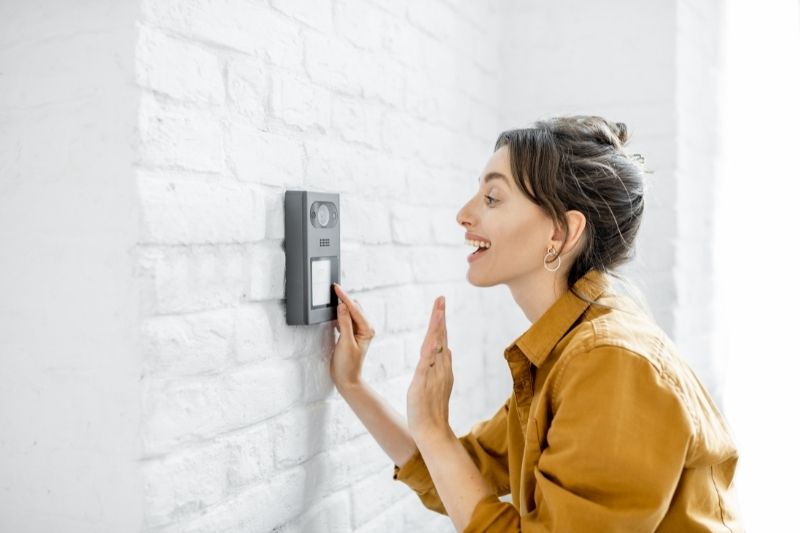 If you're replacing an existing video intercom system or choosing one for a new building, you've come to the right place. Follow this camera intercom system guide to select the best solution for your residents and staff. This guide describes all the crucial features you should consider in order to find the right camera intercom system for your apartment building.
This post covers:
What is a camera intercom?
A camera intercom is a type of building entry system that uses a camera to allow a resident to see and speak with a visitor before granting them property access. Since the 1980s, intercom systems have been a popular addition to apartments and other multi-tenant buildings. However, the first intercoms relied on expensive wiring and hardware that had to be installed at the building entrance and inside each unit.
Modern camera intercom systems include video call functionality so that residents can see who they're talking to as well as hear them. Front door video intercoms have either one-way or two-way video calling. With one-way calls, residents can see visitors on their screen, but the visitor cannot see them. Alternatively, a 2-way intercom camera allows residents and visitors to see each other during a video call.
Watch how ButterflyMX works:
How much does a video intercom system cost?
A video intercom system with a camera costs $1,000 to $7,000. But to calculate the exact cost, you'll need to account for hardware, software, wiring, and installation fees.
Camera intercom hardware prices vary. But the most affordable option is to choose a system without in-unit hardware. By allowing tenants to use their smartphones instead of in-unit devices, you'll avoid the expense of purchasing (and maintaining) all those devices.
Intercoms with cameras can be wired or wireless. Wireless video intercoms are more cost-effective than wired systems because they don't require you to run wiring between devices.
Many door intercom systems also have ongoing software fees. Expect to pay a small fee per unit on an annual or monthly basis to provide video calling, remote management, and other features.
Depending on the type of system you install, your video intercom installation could cost a few hundred or several thousand dollars. Keep in mind that installers set their own prices, so installation costs may vary.
How does a video intercom system work?
A camera intercom system works similarly to well-known video calling platforms like Apple's FaceTime. When visitors request building access, they use the entryway hardware to select and video call a resident or staff member.
A video intercom relies on four key components to work:
Master station: Installed at the building entrance, master stations store tenant directories and allow visitors to select the resident they want to talk to. Master stations often also have an option to contact the front desk or office.
Camera: All camera intercom systems have a camera built-in. The camera streams live footage of visitors to residents during a video call. Many cameras also capture photos of every entry event for added security.
Substation: The substation is the hardware that allows a resident to see, hear, and speak to guests. In systems with two-way calling, substations contain cameras so visitors can also see the resident. Substations can be video-enabled devices installed in each unit or even residents' own smartphones.
Door strike: The door strike is the lock that unlocks the door when a resident grants access. Door strikes can be electric or magnetic. All camera intercom systems need a door strike to enable remote property access.
Even today, some intercom systems still use wiring to connect the master station and substations. However, this is more expensive to install and maintain than a wireless intercom with camera. Wireless intercoms operate over the internet. So, residents download a mobile app to answer video calls and open the door remotely from their smartphones instead of using in-unit hardware.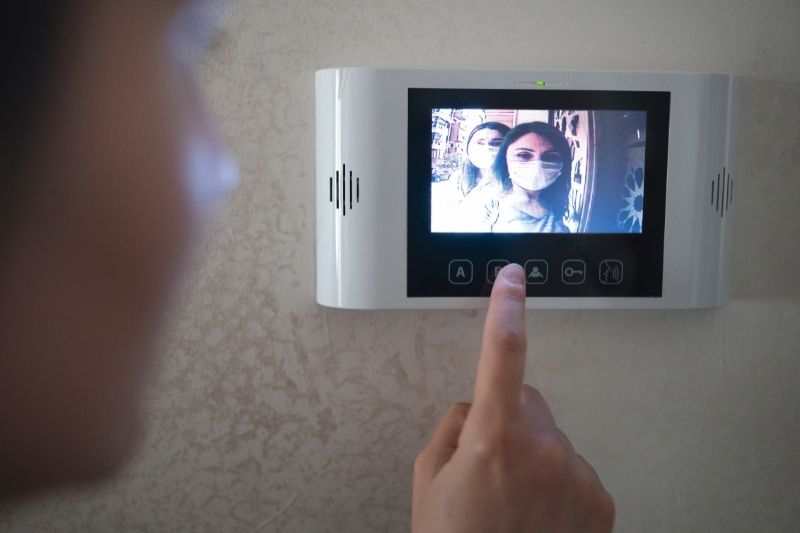 Why your building needs a camera intercom system
Now that you know what a camera intercom system is and how it works, you're probably wondering if it's the best option for your building. An intercom with a camera stands out as the best entry solution on the market today, but why?
The benefits of a camera intercom system include:
Integrations with other technology: Did you know that modern camera intercom systems can integrate with other smart technologies, such as lighting and temperature controls? Create a forward-thinking community at your building by investing in a smart video intercom.
Increased security: Property security is essential at all buildings. A camera intercom system keeps the door or gate locked but maintains easy access for residents, guests, and delivery carriers. Additionally, staff and residents can visually confirm who is requesting access before letting them into the building.
Delivery and visitor management: Missing a package delivery or an unexpected guest is frustrating. With a camera intercom, it's easier for staff and residents to grant access without personally going to open the door. The best intercom systems also include remote access options so you can answer video calls from anywhere using your smartphone.
Improved resident experience: Residents expect a reliable entry system, so a video intercom benefits your bottom line. By upgrading to a smart camera intercom system, you're exceeding expectations to attract new residents and investors. In general, an improved access experience makes day-to-day life more convenient for residents.
How to choose a camera intercom system
You've done your research, and now you're ready to invest in a camera intercom. But how do you know which one to purchase?
As you decide on the best camera intercom system for your property, look out for these key features:
1. Cloud-based
Cloud-based intercoms are wireless and operate over the internet. So, if your door or gate camera system stores data in the cloud, you can manage the entire system from anywhere, anytime.
Also, by choosing a cloud-based intercom system, you'll save time and enjoy automatic software updates that include new features. Additionally, your cloud-based system can take a date- and time-stamped photo of every entry event. That way, your staff can reference an audit trail with pictures of every person who enters.
2. IP65 rating
Chances are you'll be installing your intercom at an outside entrance to your building. In that case, it's essential to choose an IP65-rated intercom. The IP65 rating lets you know that your new device is both waterproof and dust-resistant. In the end, you'll save money on replacements and repairs because your intercom is protected from most weather conditions.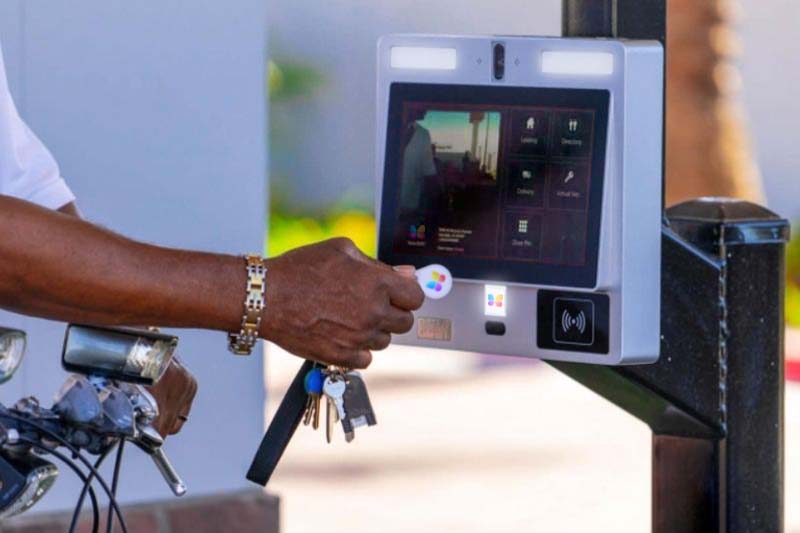 3. Mobile app
85% of Americans own a smartphone. We use our phones as wallets, car keys, and even transit cards. So why not encourage residents to use their smartphones for building access too?
Today's best intercoms come with powerful mobile apps to allow residents to open the door or gate from the device they already have in their pocket. Make sure to choose an intercom system with a highly rated mobile app that offers multiple ways to open the door, such as swipe, tap, or voice control.
4. Property management software integrations
With a traditional intercom system, you need to physically update your intercom's directory for every change in your rent roll (move-ins, move-outs, new emails, etc.). But you can save yourself the hassle of manual updates by choosing an intercom system that integrates with property management software. Once the integration is set up, you won't have to think about it again. Instead, just update your PMS as you usually would, and it will sync to the intercom system automatically.
5. Delivery management
Residents are ordering online more than ever before, so your building gets many packages and food deliveries daily. Also, choose an intercom system that doubles as a package delivery system to make deliveries more secure and convenient. When you upgrade to an intercom that offers delivery passes, staff and residents can create and send single-use codes directly to delivery carriers for easy access. Couriers can then enter the building using a PIN code to securely place packages inside or even in a designated package room.
The best camera intercom system
A camera intercom is a must-have for modern apartment buildings. Today's renters want building access to be secure and convenient, which is easy with a wireless video intercom.
When it's time for an upgrade, consider ButterflyMX.
The ButterflyMX video intercom empowers building staff and residents to open doors and gates with a smartphone. By eliminating building wiring and in-unit hardware, ButterflyMX saves you time and money while adding convenience for residents.
ButterflyMX wireless video intercoms have been installed in more than 7,500 buildings. And with more than 7,000 five-star reviews, ButterflyMX is the clear frontrunner as the best wireless intercom on the market today.