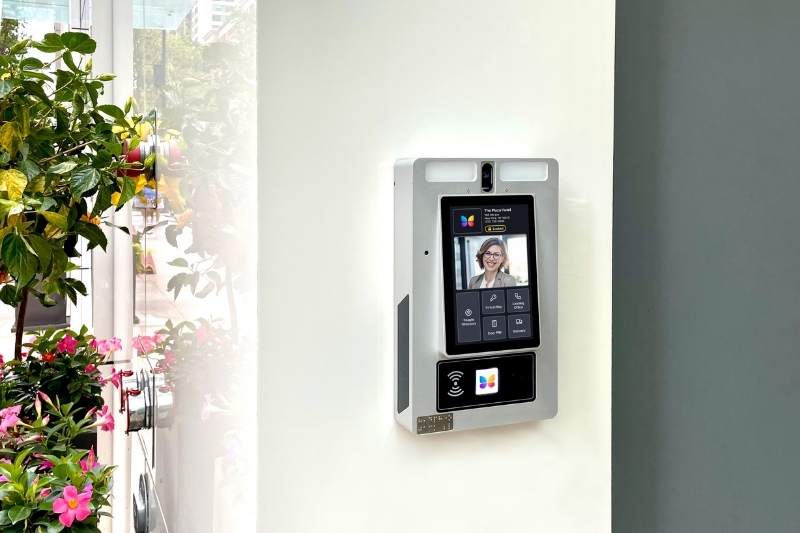 If you're in real estate, you may have recently come across cloud-based video intercom technology, which is a video intercom system that is connected to "the cloud." But how exactly does a video intercom operate in the cloud and what benefits does that offer your staff, residents, and visitors? We're here to help clarify things.
Below, we explain what the cloud is and how it works. We'll also answer what is a cloud-based intercom and walk you through the many benefits of cloud-based access control systems for your multi-tenant building.
This post covers:
What is the cloud?
Turns out, the cloud is just a fancy name for a collection of off-site computers connected together. This can be as few as two computers or several thousand in huge data centers that run on as much electricity as some countries. Experts estimate that the entire cloud can store about 1 exabyte of data — about 1 trillion terabytes.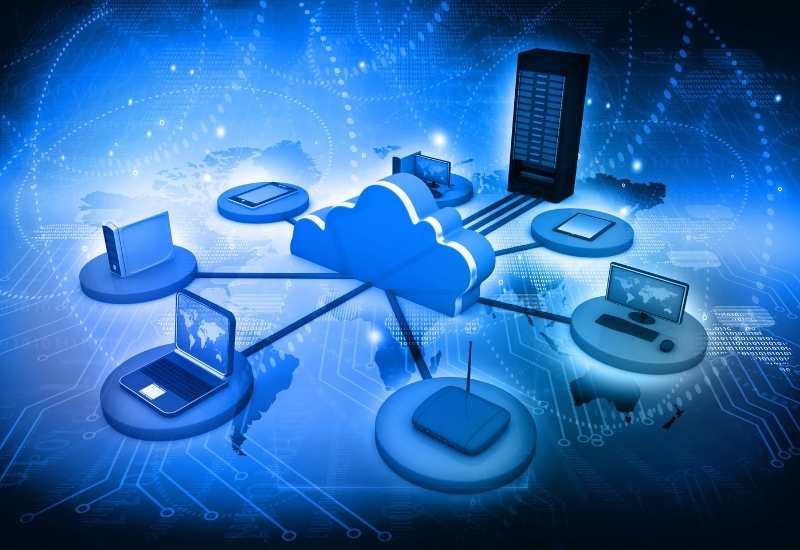 How does the cloud work?
You can think of the cloud like a farm of computers. Because all these computers are connected to the internet, you can access their data whenever you need to, no matter where you are. The cloud eliminates the need for both large personal hard drives and computing power. Instead, you can harness the collective storage and processing power of all the connected computers.
Connected by cables that run all across the globe (including the ocean floor), data travels between these computers at nearly the speed of light. As more and more cloud infrastructure is built, new opportunities arise to simplify tasks and processes in unprecedented ways. There are even cloud-based baby changing tables, toothbrushes, and tortilla makers.
How ButterflyMX works:
Why is everything in the cloud?
If you spend much time working on a computer, you may have noticed that you can't buy disc-based software anymore. In some cases, you can't even download software directly to your device. Just a decade ago, you would have to spend hundreds of dollars to buy a software program — but those days are gone.
Thanks to faster internet speeds, lower chip and storage costs, and mobile-first development, it's now easier and more convenient to host software in the cloud. Software users log in through a website to access it.
Consumers reap the benefits of cloud-based technology because storing software in the cloud allows companies to:
Deliver better service
Make ongoing improvements
Improve accessibility and convenience
Takeaways
Though it seems like a confusing topic that only Bill Gates needs to know about, the cloud is simpler than you may think. The cloud is essentially a group of computers that are connected together in a data center.
The cloud is a place to store data that you can access at any time, from anywhere
You can use the cloud instead of your own hard drive and computing power
Services and software are moving to the cloud because it provides faster and easier access, lower storage costs, and the ability to make frequent updates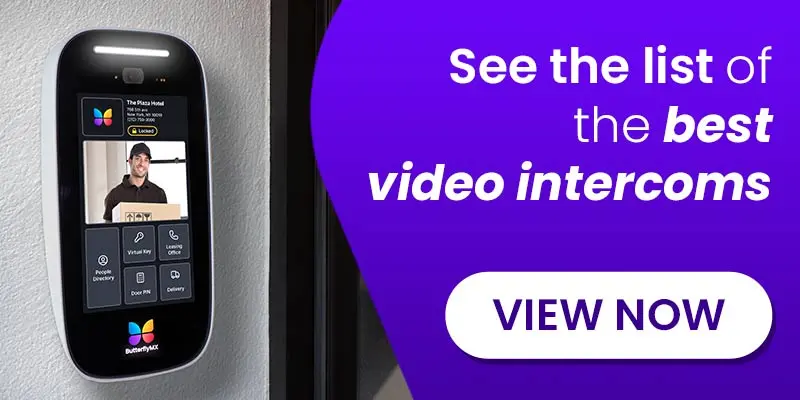 What is a cloud-based video intercom?
Tenants, property managers, and building owners alike all deal with the frustration of needing to provide property access to a visitor or delivery remotely. Now that most people have a smartphone in their pocket, remote access doesn't have to be difficult.
One product of the cloud revolution that can solve this problem is the cloud-based apartment video intercom system. Thanks to the cloud, you can grant building access to a visitor even when you're not physically there.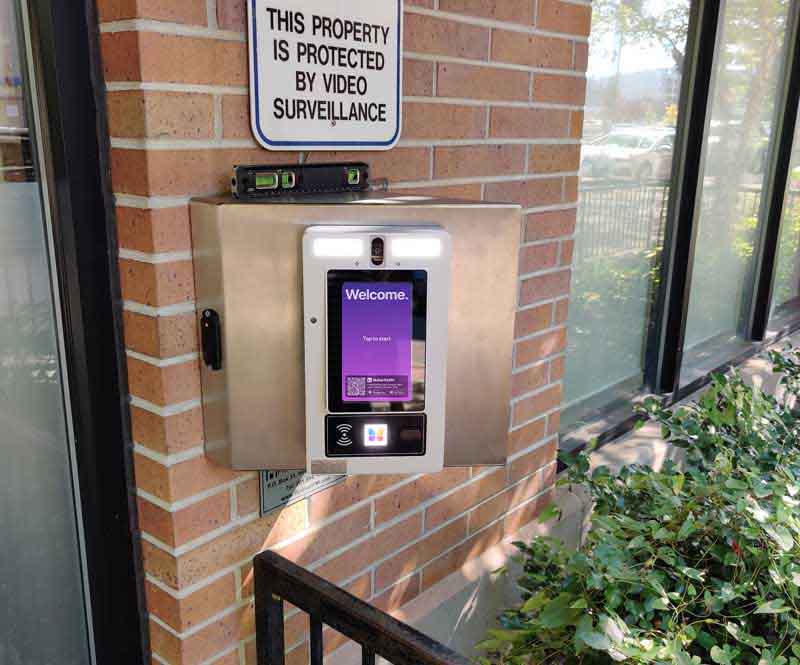 A cloud-based video intercom is an intercom that operates and stores data in the cloud. Rather than uploading data — that is, all the information about your tenants and your apartment building — directly into the intercom, you store it all conveniently in the cloud. Your multi-tenant intercom provider gives you access to a cloud-based platform (typically a website) where you can update your tenant directory, manage property access permissions, review entry logs, and more.
Benefits of cloud-based video intercoms
So what are the benefits of investing in a cloud-based intercom with a camera?
Cloud-based video intercoms offer time-saving and cost-cutting features that will improve your building access experience for visitors, residents, and even property staff.
The top four benefits of cloud-based intercoms include:
1. Convenient building access
The cloud brings unmatched convenience to your building for residents and property staff alike. A cloud intercom system allows tenants to video call guests and grant them remote entry into the building, no matter where they are when they get the call. That means they can open the door for themselves or their visitors from anywhere in the world using just a smartphone.
Good riddance to those long days spent waiting for the cable guy to show up within a four-hour window. You can also say goodbye to missing a package because the delivery driver couldn't access the building. At long last, you can even leave the in-laws at home without worrying they'll lock themselves out by accident.
2. Strengthen building security
As a solution for added building security, the cloud has revolutionized property access. With a cloud-based door entry system, you never have to worry about making duplicate building keys and having to track them down. With virtual keys, you can grant access to a visitor for a specified time, strengthening security and giving you more control over your multi-unit building. This is a great way to offer self-guided tours to prospective tenants.
Cloud-based access control systems also allow residents to set up PIN codes. Tenants can use their PIN to open the door for themselves — it's like creating a unique lock where each entrant's information is documented and stored.
Perhaps the greatest safety feature of a cloud-based intercom is the digital audit trail. Cloud-based video intercoms take a photo every time someone accesses the building. Residents and staff can review these time- and date-stamped photos in their cloud-based dashboard at any time.
3. Eliminate wiring
Before the cloud, when wired intercom systems were the only option, you had to run wiring from the entryway hardware to every single unit in the building. The installation was expensive and if anything needed to be repaired, it meant cutting into the wall, replacing the wiring or hardware, and patching the wall once the work was done.
With an app-based intercom system, you don't need hardware in every unit — which means you don't need to run expensive wiring throughout the apartment building. Wireless intercom systems save you money on the initial install as well as ongoing maintenance. Some systems even run on Power over Ethernet or PoE, which means you don't need to provide a separate power source to your PoE video intercom.
4. Remote management
Traditional intercom systems require building staff to go onsite to change the tenant directory or make other updates. Even if the system offers software for remote management, it comes with the caveat of downloading that software to a single device — which makes it difficult for multiple admins to use it from anywhere.
Thanks to the cloud, property managers and owners no longer need to go onsite to manage their intercom systems. Cloud-based intercoms offer remote management capabilities, which means you can manage and update the system from anywhere. There's no need to purchase hard copies or download software. Instead, you can sign in to your cloud-based property admin dashboard from your home, your office, or any other location.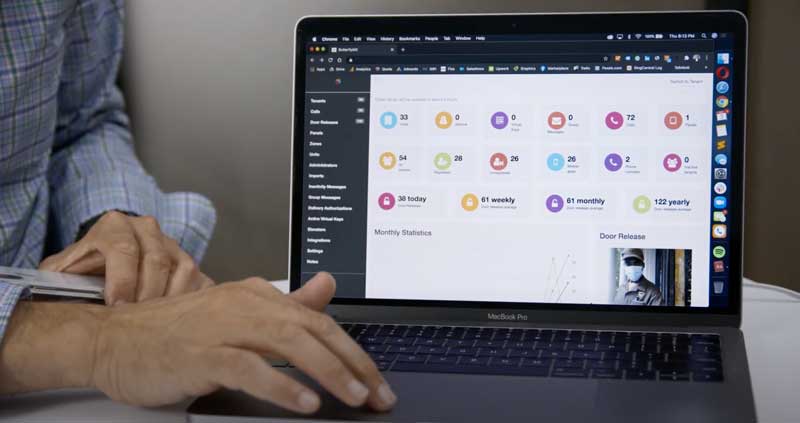 Takeaways
Cloud-based video intercoms store your building and resident data in the cloud, which offers plenty of benefits for both residents and property staff.
The cloud enables app-based video intercom systems, which let tenants open the door with their smartphones
Cloud-based intercoms do not require wiring throughout the building, which makes them simpler and more affordable to install
Cloud intercom systems improve multi-tenant building security by enabling safer entry methods, including virtual keys and door PINs
If you have a cloud-based video door phone, tenants can video chat with guests and view an audit trail of all door release activities
Property managers can remotely manage cloud-based intercom systems
Should you switch to a cloud video intercom system?
Some people are hesitant about making the switch to cloud-based services because they seem complex and hard to understand. But the cloud is simple. In fact, if you've ever used Facebook, Netflix, or Gmail, you've used the cloud.
You should switch to a cloud-based intercom because they are:
Easy to manage and update remotely
Secure, reliable, and always improving since the software can be updated anytime
Simple and affordable to implement, since you don't have to install hardware in every unit or run wiring throughout the building
As you can see, the cloud actually simplifies property access and makes your job easier as a property manager or owner. Plus, your residents will enjoy the safety and convenience that a cloud-based intercom provides.
The best features of cloud-based intercoms are:
Smartphone-based property access
Remote system management
Virtual keys for visitors
Tenant and delivery PINs
Audit trail of door activity
With the cloud-based video intercom system, it's finally easy to manage your apartment building and keep it secure. Now do you see why everyone's raving about the cloud?