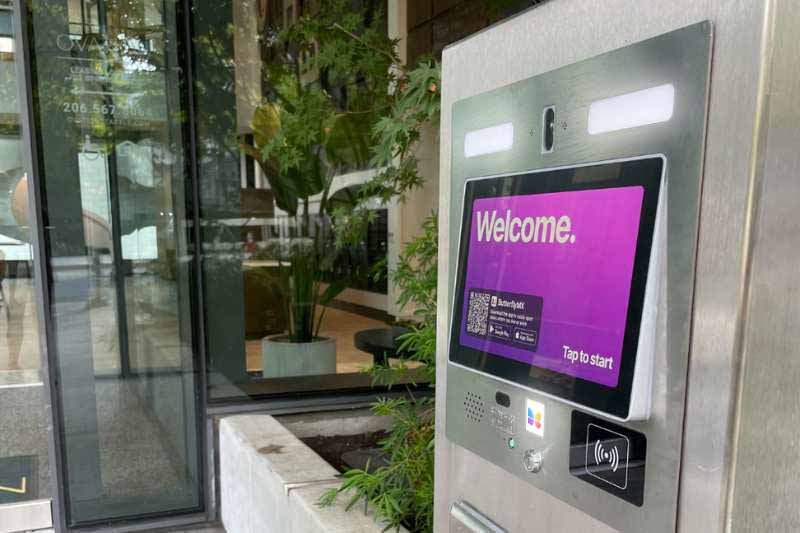 Key takeaways
The best video intercom with door release is ButterflyMX.
A video intercom system with door release is a two-way video communications system that automatically opens doors and grants access to tenants and visitors.
A video door phone intercom system typically costs between $1,500 to $10,000.
The benefits of a video intercom system are enhanced security, peace of mind, remote management, and convenience.
The best way to choose an intercom system is to evaluate the features of your property before selecting a system.
A video intercom system with a door release is a valuable feature for any apartment or commercial property, but what's the best option out there?
This blog post covers everything you need to know about choosing the best video intercom system with a door release. You'll learn how these systems work, the available types, and how they benefit your property. More importantly, you'll find out how to choose an intercom system and which system is the best.
This post covers:
Best video intercoms with door release
Whether you're safeguarding your home, enhancing workplace security, or managing access to a multi-unit building, the right video intercom can make all the difference.
To help guide you through the best options on the market, we've curated a list of the top video intercoms with door release capabilities.
Here are our picks for the best video intercoms with door release systems:
1. ButterflyMX
The best video intercom system with a door release is ButterflyMX.
ButterflyMX started in 2014 with its flagship product, the video intercom. Since then, ButterflyMX has evolved into a complete access control solution that's been installed in over 20,000 buildings and is used by over 1 million apartments.
Notable features:
Top-rated mobile app with door release. ButterflyMX's video intercom pairs with a top-rated mobile app that uses smartphones as substations rather than in-unit hardware. So, tenants can grant access to guests from anywhere, and property staff can edit permissions remotely.
Integrations. Streamlining property tasks is important when there are so many at hand. Thanks to ButterflyMX's many smart lock integrations, properties can connect their PMS and existing security hardware with their video intercom.
Audit log. For maximum security, the ButterflyMX video intercom takes time- and date-stamped photos of every entry. Then, staff can review them later if a security breach or a safety issue arises.
Multiple credentials. Staff and tenants can access the property using their smartphones or a six-digit PIN code. If at any point a user loses their phone or it dies, the PIN code acts as a simple alternative.
Virtual keys. Tenants can set up virtual keys to provide access for guests or service workers. What's more, virtual keys grant temporary access to visitors that can either be used at certain times of the day or for a single use. With this in mind, this feature is perfect for residential tenants who hire dog walkers or housekeepers who need access when they're away.
Delivery PINs. Ensure your tenants never miss a delivery again by adding major couriers to your video intercom system. Moreover, delivery PINs help drivers access the building and complete package drop-offs.
IP65 rated. ButterflyMX video intercoms are IP65 rated, meaning they can withstand harsh climates in various elements and temperatures.
Drawbacks:
Relies on the internet. ButterflyMX is a cloud-based system that relies on an internet connection. So, if the internet goes down or experiences disruptions, tenants may have difficulty using the intercom system. However, all ButterflyMX intercoms feature a battery backup that makes these instances highly unlikely.
Requires regular maintenance. Regular maintenance and software updates are necessary to keep the system running smoothly. However, this maintenance only needs to occur quarterly and software is automatically updated through the cloud.
2. Avigilon
Avigilon is a trusted provider of advanced access solutions, offering a range of benefits to properties seeking to enhance security and operational efficiency.
Notable features:
Video verification. With video capabilities, users can visually confirm the identity of visitors, reducing the risk of unauthorized entry.
Remote access. Avigilon allows authorized personnel to remotely release doors or gates, providing convenience and flexibility in managing access.
Security integrations. Avigilon's video intercom doorbell with door release system integrates with other security and surveillance solutions, streamlining overall security management.
Visitor logging. The wireless video intercom with door release records visitor information and interactions, creating an audit trail for security and tracking purposes.
Analytics. The visual intercom system integrates with Avigilon's analytics solutions, enabling advanced features like facial recognition for added security.
Drawbacks:
Limited compatibility. Avigilon's compatibility with certain door types or existing hardware may be limited, potentially requiring additional modifications or investments.
Scalability. While Avigilon's system is scalable, expanding it to accommodate a growing organization's needs may involve additional costs and complexity.
3. Intercoms Online
Intercoms Online's video intercom with door release offers a host of valuable benefits for enhancing security and convenience in residential and commercial settings.
Notable features:
Convenience. Intercoms Online WiFi video intercom with door release enables two-way communications with visitors, ensuring smooth interactions without the need for a resident to physically be there.
Customizable. Intercoms Online's solutions empower you to define access permissions, schedules, and restrictions. As a result, it gives you control over who enters a building and when.
Great for all types of properties. With a variety of intercom solutions that are suitable for both small and large-scale buildings, Intercoms Online accommodates various property sizes and needs.
Contactless. Intercoms Online offers contactless access control that reduces physical contact with keys or door handles.
Drawbacks:
Reliance on vendors. Intercoms Online has a variety of products that depend on the vendor for support, updates, and maintenance. Moreover, issues with the vendor's service or discontinuation of support can affect the system's reliability.
Staff training. Staff need to be trained on the implementation and configuration of the system to operate it effectively.
4. Aiphone
Aiphone's IP video intercom system with door release is a trusted choice for enhancing security and communications for buildings of all types.
Notable features:
Two-way communication. The Aiphone video intercom with door release enables real-time audio and video communication between tenants and visitors, facilitating efficient remote interactions.
Remote door release. Remotely release doors or gates to offer convenience and reduce the need for physical presence at entry points.
Reliability. Aiphone is known for its reliable and durable products, ensuring that the system functions effectively over time.
Durability. Aiphone's products are designed to withstand continuous use and various environmental conditions, ensuring longevity.
Drawbacks:
Limited integrations. Aiphone has limited integrations with third-party platforms.
Customer service. Some users have reported poor customer service and unreliable hardware.
5. LiftMaster
Known for its reliability and innovation, LiftMaster's video intercom with door release system offers a multitude of benefits for residential and commercial properties.
Notable features:
Integrations. LiftMaster seamlessly integrates with other access control and security systems, creating a cohesive and comprehensive security infrastructure.
High-definition video. Delivers clear and detailed video footage for improved monitoring.
Operational efficiency. Streamlines visitor management processes, reducing the need for physical keys or on-site staff, saving time and resources.
Drawbacks:
Limited dealers. Some LiftMaster products may only be purchased through local dealers in the US and Canada.
Limited reviews. LiftMaster may not have as many buyer reviews as some competitors.
What is a video intercom system with door release?
A video intercom system with door release is a two-way video communications system that automatically opens a door and grants access to a visitor once they've been video-verified.
What's more, because a commercial video intercom system with door release automatically opens doors after a visitor is verified, it prevents pile-ups at the door and enhances security.
How does a video intercom system with a door release work?
A video intercom system with a door release works by triggering an electronic door lock to unlock after receiving a signal from an authorized substation.
For video intercom systems to receive and send signals, they require two things:
An internet connection
An electric door release
The internet connects the intercom to the substation, which can either be a smartphone or an in-unit device.
So, when a resident wants to access the property or remotely open the door for a guest, they press a button on their phone or device. Then, the device sends a signal to the video intercom, which sends an electrical signal to the door release, unlocking the entryway.
Learn more about video intercoms and how to unlock doors and gates using ButterflyMX:
Is an intercom wired or wireless?
Intercom systems can be either wired or wireless.
Moreover, wired intercoms use cables to connect the primary control panel to the substation, whereas wireless intercoms use wireless technology — like WiFi or VoIP technology — to communicate.
What is a wireless vs. wired video door intercom?
Wired intercom systems are usually connected to in-unit hardware and require on-site servers to store data. So, these systems are costly to install and require significant maintenance.
In contrast, wireless intercom systems use smartphones as substations. As a result, they don't require extensive wiring. Instead, they only need a few wired connections to operate: power, internet, and door release.
Above all, wireless intercom systems are easier to install, last longer, and can be managed remotely thanks to their cloud-based infrastructure.
What is the price of a video door phone intercom system?
A video door phone intercom system costs between $1,500 to $10,000.
Of course, many factors impact the cost of your video door phone intercom. These include the manufacturer, features, and technology. Moreover, it's also important to mention the average cost does not include installation, maintenance, or subscription fees.
What are the different types of video intercom systems?
The two primary types of video intercom systems are wired and wireless. However, many variations of video intercoms fall into these categories.
So, consider these types of video intercom systems:
IP intercom with camera. An IP intercom system with a camera is a device that uses the Internet Protocol to let tenants see who's requesting access. Then, they can grant access remotely.
PoE intercom system. Power over Ethernet (PoE) intercom systems are a type of IP intercom system. So, rather than using two different cables for power and internet, PoE intercoms use a single cable.
2-way video intercom system. As a type of IP intercom, 2-way video intercom systems allow guests and tenants to video call each other. So, the tenant uses their smartphone or in-unit hardware for the video feed while the guest uses the intercom's display at the entrance.
Wireless intercom doorbell. Located at the main entrance, a wireless intercom doorbell uses WiFi or cellular signals to communicate with substations, often located inside the unit. In some cases, these devices may have cameras so tenants can see who's at the entryway.
SIP intercom system. Using Session Initiation Protocol (SIP), these devices use the internet to communicate with substations and allow tenants to grant access to guests remotely. Additionally, these systems use the cloud to store data rather than a bulky on-site server.
VoIP intercom system. Lastly, Voice over Internet Protocol (VoIP) intercom systems connect guests from the front door to a tenant in their unit, often through a hard-wired telephone line.
Benefits of a video intercom system with door release
Modern video intercom systems with door release are packed with features that benefit the property, staff, and tenants alike.
After installing a video intercom system, your property will benefit from:
Increased security. Restricting access to the property for tenants and their authorized guests is a big security boost. Plus, having a camera in an entry intercom system allows for the system to take time- and date-stamped photos of every entry. That way, staff can review them in the event of a security breach.
Peace of mind. Tenant peace of mind is essential with any property amenity. With this purpose in mind, a video intercom system provides a video feed of guests requesting access. This way, tenants see who they're letting inside rather than relying solely on the visitor's voice.
Remote management. Property staff and tenants can remotely manage access using their phones. In addition, staff can easily manage permissions and review entries using a mobile app or a web-based dashboard without being onsite.
Scalability. Video intercom systems make scalability easy as they can adjust to your property's changes. For example, you can add or remove tenants whenever you'd like without changing hardware.
Convenience. A video intercom system with door release allows tenants to easily let in their guests, service workers, or delivery drivers. So, all it takes is a simple tap on their phone to grant access remotely, no matter where they are.
How do I choose an intercom system?
The best way to choose an intercom system is to evaluate the unique features of your property before selecting a system that can accommodate them. This way, you can make sure to select the right system for your property.
Aspects to consider when choosing an intercom system:
Your property. To select the right video intercom system for your property, consider its characteristics. For example, certain systems may not be appropriate for gated communities. Therefore, finding an intercom designed specifically for your property is essential.
Tenant demographics. Some modern intercoms rely on smartphones, which may not suit all users. So, you must choose a system that accommodates all tenants to ensure it benefits everyone. For instance, older residents and tenants may not have a smartphone. So, select a system that also works with other types of phones or accepts other credentials, such as PIN codes.
Installation. Your property's infrastructure and the system's installation requirements will impact your decision. Moreover, it's best to always choose a wireless system to ensure lower costs and faster installation. However, it all comes down to the architecture of your property. Thus, you should speak with an installer before committing to a certain intercom.
Weatherproofing. Video intercoms must withstand severe temperatures and weather conditions. Otherwise, the system won't last long enough to make your investment worthwhile. With this in mind, if your property is located in an area with extreme weather, ensure the system you select can withstand such elements.
Features. One of the biggest deciding factors of any video intercom system is the features it offers. What capabilities are you looking for in a video intercom system? Take note of your desired features and use them as a guide when selecting a solution.
Reputation. Finally, you should always select a video intercom system from a reputable manufacturer and brand.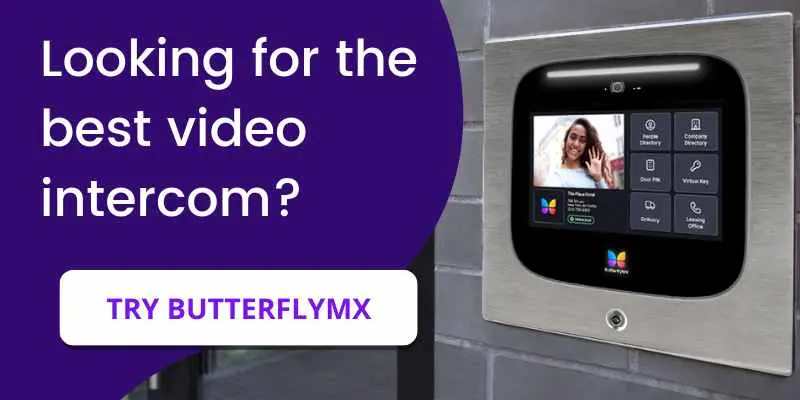 Disclaimer: This content is for informational purposes only; you should not construe any such information as legal, tax, investment, financial, or other advice. Nothing contained on our site constitutes a solicitation, recommendation, endorsement, or offer by ButterflyMX or any third-party service provider.