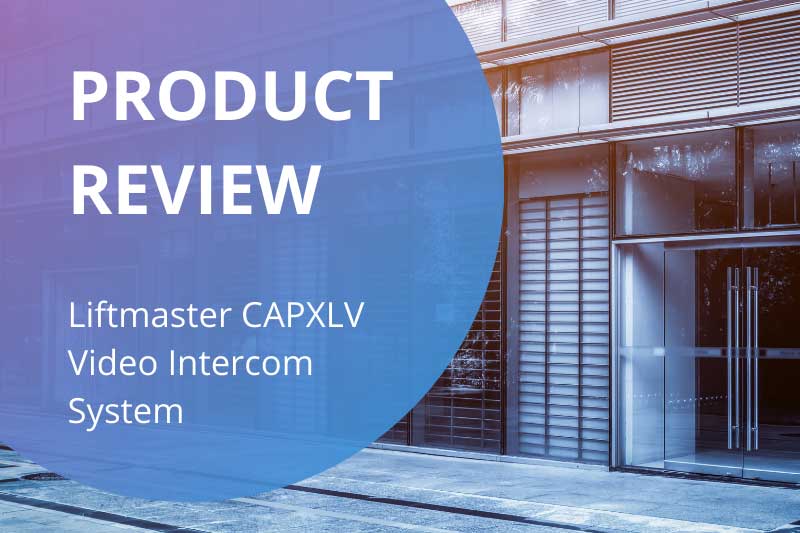 If you own or manage a multifamily property, you know how important it is to ensure convenient and secure property access. The best solution for residents, visitors, and building staff is a video intercom system installed at your property's entryway or gate. One system you may have heard of is LiftMaster's CAPXLV cloud-based video intercom.
But how does this intercom work, and is it worth the investment? In this review, we'll examine the LiftMaster CAPXLV cloud-based intercom, and compare it to the competition.
In this LiftMaster intercom review, we'll cover: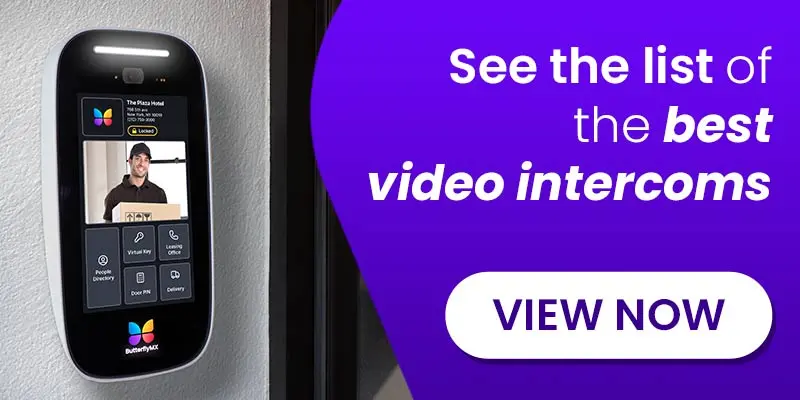 About LiftMaster
LiftMaster, owned by the Chamberlain Group, has been offering access control solutions for homes, businesses, and more for the past 50 years. While LiftMaster is known for designing and building garage door openers, it also sells some access control systems including intercoms for residential and commercial properties.
Watch how ButterflyMX works:
Overview of the LiftMaster CAPXLV intercom
The CAPXLV is LiftMaster's cloud-based video intercom for multi-tenant residential properties. The intercom allows residents to see their visitors through live video and grants access to the building via the MyQ app. MyQ is LiftMaster's proprietary cloud-based software. It's used for Liftmaster's various mobile applications and hardware and is controlled solely by LiftMaster.
Features
Display and interface – 10", color display with touchscreen
Connectivity – WiFi, cellular, wired high-speed, DSL
Audio capabilities – Voice over IP – digital call quality with no long-distance charges
Video capabilities – One-way video calling with a 135-degree view
Remote unlock – Grant property access using the MyQ app
Materials – Stainless steel, fade, and glare-resistant
LiftMaster intercom pricing
LiftMaster pricing isn't available on the company's website, but dealer pricing has recently been listed at $2,895 for a LiftMaster intercom. The installation and software costs are unavailable at the time of this writing. 
Pros & cons
Pros
Records videos for access events
Protects resident information with cloud-based security
Allows entry even when the internet is down
Cons
Lack of integrations: This LiftMaster intercom does not appear to have any property management software integrations, meaning tenant information may have to be added/edited manually
Dealer purchasing: The CAPXLV may only be purchased through local dealers in the US and Canada
Limited reviews: The CAPXLV intercom may not have as many user or buyer reviews as some competitors
Watch what Property Brother Jonathan Scott has to say about ButterflyMX:
Comparison of LiftMaster intercom & ButterflyMX video intercom
LiftMaster and ButterflyMX both offer intercoms that utilize smart technology to enable property access from a smartphone. However, a few additional features make ButterflyMX's smart the better choice.
LiftMaster's primary focus on garage door openers indicates its CAPXLV intercom may not be one of its renowned products or focal points. There is little performance feedback or reviews of the product online. In contrast, ButterflyMX has been solely focused on smart video intercom solutions since 2014. ButterflyMX has been installed in over 10,000 buildings with proven success, as demonstrated by more than 20,000 five-star reviews from residents, property owners, and managers.
A significant difference between the ButterflyMX and LiftMaster intercoms is ButterflyMX's property management software (PMS) integrations. The CAPXLV may not integrate with property management software and could solely function on LiftMaster's MyQ connectivity. Choosing the CAPXLV could mean having no option but to switch to the MyQ software for resident management, which would take time to input resident and unit data. In contrast, ButterflyMX can simplify property management by seamlessly integrating with existing products or platforms property managers and owners are already using.
From an access standpoint, the CAPXLV allows you to create trackable PINs for guests to gain access to the property. This feature could be convenient, however, may come with risks, since guests may forget the PIN or share it with others. ButterflyMX offers virtual keys that can be customized for single- or recurring use, specific days of the week, and even certain times of the day. Virtual keys are QR codes sent via text message or email to the trusted visitor, which eliminates the risk of forgetting a code or sharing it with others.

ButterflyMX vs. LiftMaster
LiftMaster's CAPXLV video intercom is an option for multifamily residential access but may not offer the extensive functionality available with ButterflyMX. ButterflyMX's robust features, proven success, and reliability ultimately make it the better choice for multifamily buildings and gated communities.
| Feature | ButterflyMX | Liftmaster |
| --- | --- | --- |
| Built-in camera | Yes | Yes |
| Customizable intercom screen | Yes | Yes |
| Mobile app | Yes | Yes |
| PMS integrations | Yes | No |
| Virtual keys | Yes | No |
| Multiple intercom sizes | Yes | No |
| Two-way video calling | Yes | No |
| IP65 rated | Yes | No |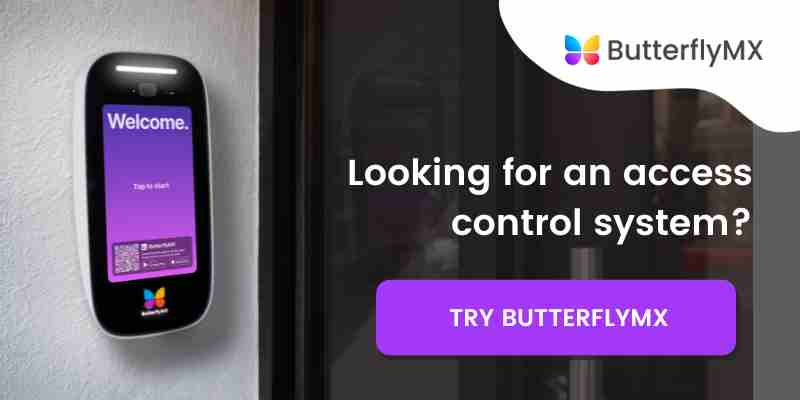 Disclaimer: ButterflyMX provides these blog posts to help our customers and potential customers make the right business decisions for them. Our blog posts are based on the information we have available to us at the time of writing.