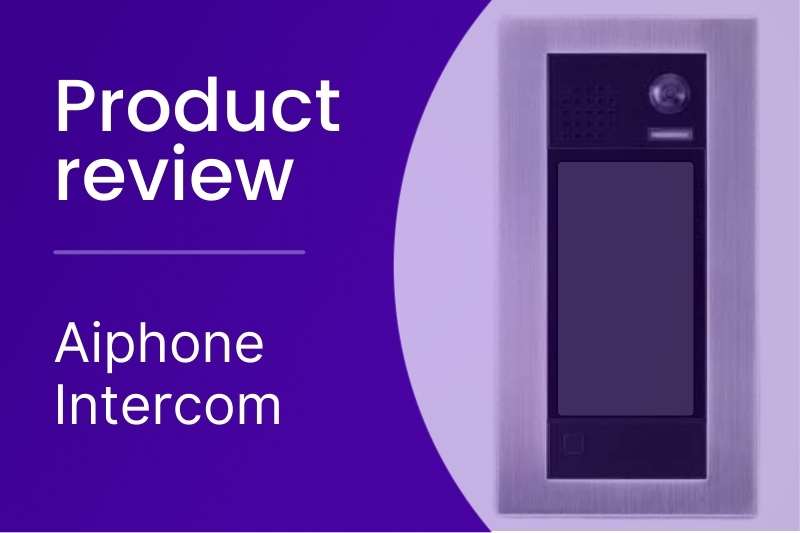 Delivering an exceptional experience for residents in a multifamily building starts at the front door. To ensure seamless property access for residents, guests, service providers, and deliveries, invest in a video intercom system for apartment buildings.
We've made it easy to weigh your options by reviewing some of the many intercom providers in the industry. Aiphone is known in the access control and intercom space. Read on to learn more about Aiphone's IXG Series IP Multi-Tenant Video Intercom and how it may stand up against the competition.
This Aiphone intercom review covers: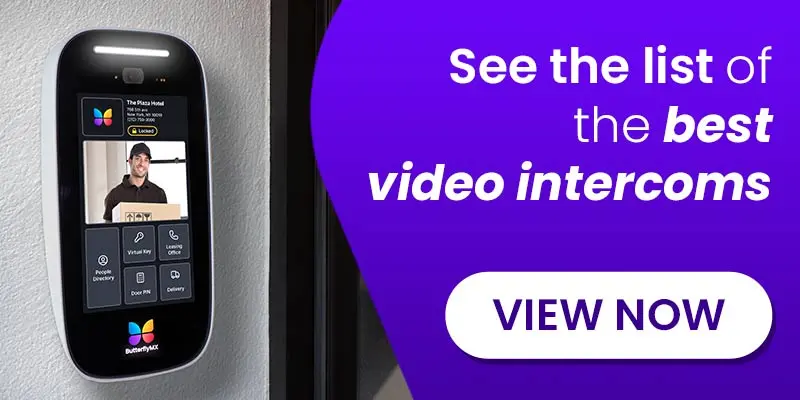 About Aiphone
Aiphone Corporation, headquartered in Richmond, Washington, has been serving its clients' security and communications needs since 1970. Aiphone Corporation is the American subsidiary of the international Aiphone Co, LTD, founded in 1948. Covering a range of vertical markets from healthcare and education to government and design resources, Aiphone offers an array of products tailored to each industry.
About the Aiphone IXG Series IP Multi-Tenant Video Intercom
Launched in the spring of 2020, the Aiphone IXG IP Mult-Tenant Video Intercom may offer more features than Aiphone's other products. It is designed for multi-tenant operators in the retail, commercial, residential, and education spaces.
The configurable system can be assembled using a combination of:
A video entrance system with touchscreen operation
In-unit tenant stations for multifamily residential use
A guard station terminal for secured-access buildings
An elevator control adapter to control floor access
An optional tenant mobile app
Features
Cloud-based mobile application: Tenants can communicate with visitors or allow access on the go through the optional mobile app. The IXG Series can support up to 9,999 cloud-based devices and apps.
PoE connectivity: Power over Ethernet (PoE) connections are available.
Touchscreen entrance panel: Entrance panels have a 720p camera (compared to the 1080p quality of many other intercoms) and built-in card readers that can integrate with third-party access systems, which can be configured for touchless entry. System instructions can also be displayed in multiple languages.
Tenant stations: Wall-mounted, in-unit tenant stations can be used in place of, or in addition to, the mobile app. Up to eight stations can be added in one unit to serve as an in-home intercom. With the addition of a micro-SD card, the station can store up to 99 images.
Multi-call gateway: The IXG Series IP Multi-Tenant Video Intercom gateway supports up to eight different calls simultaneously.
Elevator lift control: You can connect up to 16 adapters to the console to accommodate properties with multiple elevators.
Watch how ButterflyMX works:
Pricing
Aiphone does not list pricing on its website. However, the manufacturer's suggested retail prices (MSRPs) as advertised by third-party dealers are listed below. Actual pricing may be higher based on dealer incentives, promotions, or other discounts.
IXG-DM7-HID Aiphone IP Video Entrance Station: MSRP $2,400
IXG-2C7 Aiphone IP Video Tenant Station with 7″ Touchscreen: MSRP $700
IXG-MK Aiphone IP Video Guard Station with 7″ Touchscreen: MSRP $1,780
IXGW-GW Aiphone IXG Series Mobile App Gateway Adapter: MSRP $1,200
IXGW-LC Aiphone IXG Series Elevator/Lift Control Adapter: MSRP $500
IXG-FMK-2C7 Aiphone Flush Mount Kit for Tenant Station: MSRP $70
IXG-DM7-BOX Aiphone Flush Mount Box For IXG-DM7-HID: MSRP: $100
Note: Pricing is for equipment only. Installation, activation, or monthly service fees may be added to any costs listed above. It is always recommended to get a quote.
Pros and cons:
Pros:
Customers can configure the system to accommodate their needs
IP65 and IK08 rated
Cloud-based management
Cons:
Remote usage with the mobile app may require an additional monthly service fee
The system may only offer one entrance screen option. Those seeking larger screens or different orientations might need to integrate with a third-party display provider.
No virtual keys or QR codes for property access

Comparison of Aiphone IXG Series IP Multi-Tenant Video Intercom with ButterflyMX Video Intercom
Both the ButterflyMX video intercom and the Aiphone IXG Series intercom can be customized to meet your individual building needs. However, ButterflyMX may be a more robust, tech-forward system with features that give it a competitive advantage.
The first benefit is aesthetics. ButterflyMX was described as "arguably the best video intercom on the market" by Safe and Sound Security. Featuring two different panel sizes and several mounting options, ButterflyMX can be easily incorporated into your new or existing building.
Second, ButterflyMX is a mobile-first experience. The smartphone-based intercom doesn't require installing or maintaining expensive in-unit hardware. It also provides a better resident experience with fully remote, smartphone-based access management.
Finally, ButterflyMX offers virtual keys and delivery PIN codes for streamlined visitor access, as well as integrations with leading property management software.
Watch a live customer review of ButterflyMX:
ButterflyMX vs. Aiphone
If you are looking for an apartment video intercom system, the Aiphone intercom may be somewhat lacking. If you choose the Aiphone IXG Series intercom, you could be missing out on some critical features, like virtual keys for guest access and a seamless, cloud-based management system. The IXG Series Aiphone intercom empowers residents to open the building's front door with a smartphone, but it may lack certain functions to offer ultimate convenience and security.
| Feature | ButterflyMX | Aiphone |
| --- | --- | --- |
| Built-in camera | Yes | Yes |
| 1080p HD camera | Yes | No |
| Mobile app & smartphone-based access | Yes | Yes |
| Cloud-based access management | Yes | No |
| Virtual keys for visitor access | Yes | No |
| Multiple entrance screen options | Yes | No |
| Amazon delivery codes | Yes | No |
| Property management software integrations | Yes | No |
| Touchscreen | Yes | Yes |
| Elevator controls | Yes | Yes |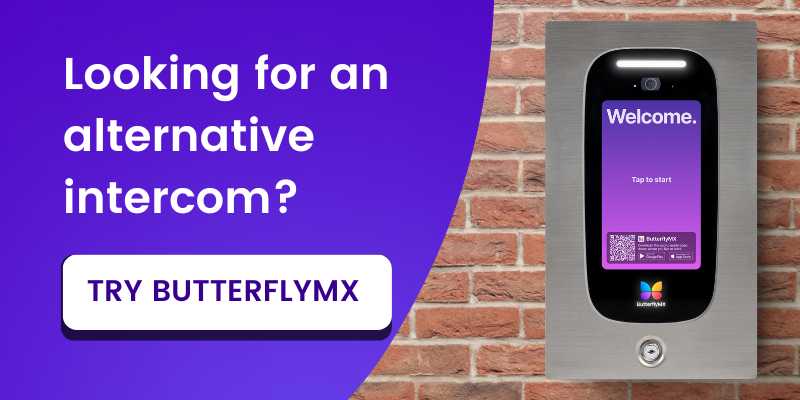 Disclaimer: ButterflyMX provides these blog posts to help our customers and potential customers make the right business decisions for them. Our blog posts are based on the information we have available to us at the time of writing.