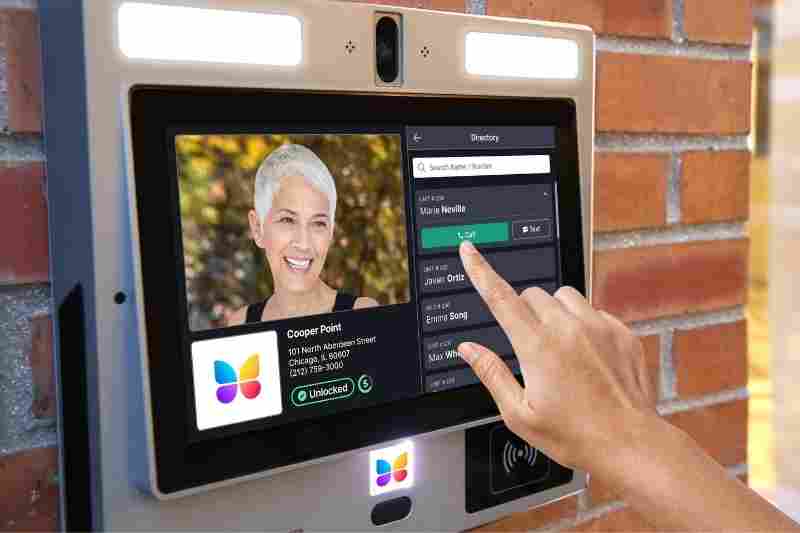 As a property owner or manager, you know how hard it can be to balance cost and convenience when creating the best possible living experience for your residents. And one way to strike that balance is with a wireless video intercom with door release. They allow your tenants to see who is at your building's entrance and easily grant them access without the expensive wiring of a traditional intercom system.
But to make the right choice for your property, you first need to know how a wireless video intercom with door release works, what it does, and how to select the best one for your building.
In this post, we'll cover:
What is a wireless video intercom with door release?
A wireless video intercom with door release is an access control system designed to manage entry into a property. The intercom's door release mechanism empowers residents to unlock the door remotely. In addition, a camera enables residents to see who they are letting into the building.
Because they don't require physical wiring between devices, wireless intercom systems are less expensive and easy to install. And in many cases, you can even access the door release history to see who is coming into your property for added security.
A wireless video intercom with door release is also an effective visitor management system because it gives visitors a way to request access. When a visitor wants to enter the building, staff or residents can remotely open the door or gate for them.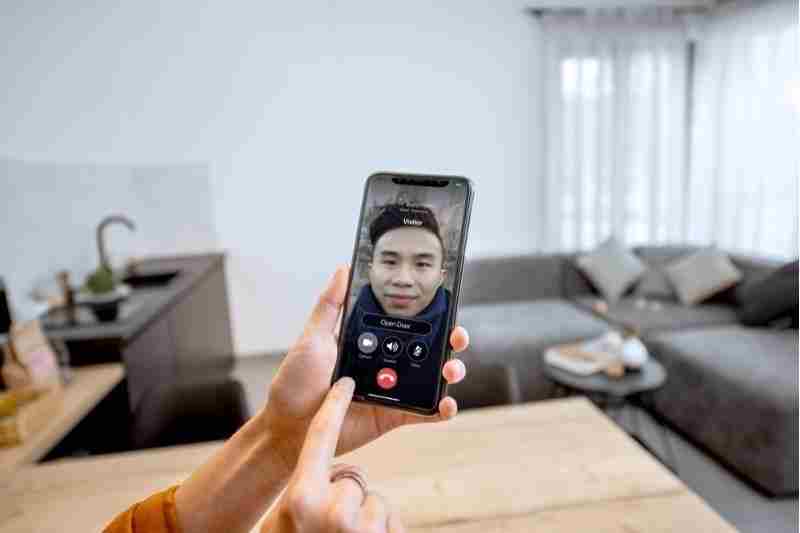 How an intercom with door release works
To use a wireless video intercom, visitors first use the intercom directory to look up a tenant. The resident then gets a video call showing them who is at the door or gate. Depending on the type of video intercom you have, the call may go to the resident's smartphone or to a device installed in their apartment unit.
If the resident chooses to open the door, they will then press a "door open" button to grant property access. Pressing that button signals the door release mechanism to unlock the door and admit the visitor.
How the door release works
The door release mechanism is connected to your video intercom, enabling the intercom to send signals to the door release.
There are two types of door locking mechanisms:
Electronic locks or strikes: Fail-secure and durable, electronic locks are mechanical devices powered by electricity and installed inside the door frame. When the intercom system sends power to the lock, it enables the door to open.
Magnetic locks: Magnetic locks (or maglocks) are a fail-safe alternative to electronic locks. They include a magnet and a metal plate installed inside the door frame. The magnet creates a charge that holds the door closed until the intercom system cuts that electrical signal. When the signal is cut the door can open.
Watch how ButterflyMX works:
How much does a wireless video intercom cost?
The cost of a wireless video intercom can range from $1,000 to $7,000. However, that price doesn't include the cost of installation or ongoing service fees.
In addition to the cost of hardware, video intercom systems may have ongoing fees. These fees cover anything from video calling to property management system integration.
It's also important to note that the installation varies depending on the installer and the amount of work necessary. However, generally, a wireless intercom is cheaper to install than a wired one because you won't have the added cost of purchasing and installing wiring.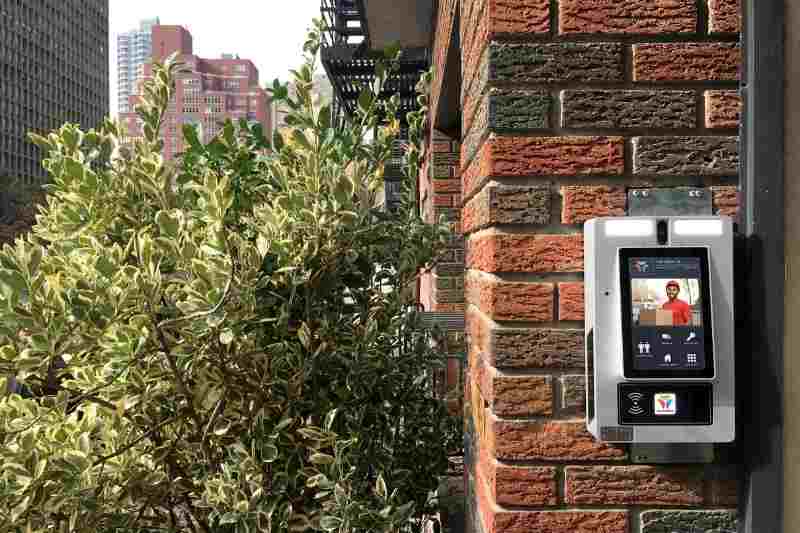 Benefits of a wireless video intercom with door release
All kinds of multi-tenant properties benefit from a video intercom. And today's modern video intercoms pair secure door release technology with a convenient mobile app, so building staff and tenants can securely manage access from their smartphones.
Top five benefits of a wireless video intercom with door release for residents:
Visitor management: From apartments to offices, all properties need a way to grant access to visitors. The simplest way to do this is with a wireless video intercom. Tenants can easily unlock the door for visitors, delivery carriers, and more while the intercom's camera takes a photo of every entry event.
Improve resident experience: Property technology is one of the most desirable amenities for renters. As a result, investing in upgrades your residents really want will decrease turnover and increase your NOI.
No need for key fobs: Tenants often lose, break, or forget their keys & fobs, and the time/cost of replacing them adds up. With a wireless intercom system, residents can use their smartphones or enter a PIN code to unlock the door.
Remote access: Because wireless video intercom systems don't require in-unit hardware, residents can do everything from their smartphone or tablet. Residents can open the door remotely for visitors even if they're not home.
Easy to install: Since there's no in-unit hardware or wiring, wireless video intercoms are quick and inexpensive to install.
As technology advances, more and more tenants expect buildings to have smart features from thermostats to lighting. Investing in a video intercom system with door release for your building sets up a great experience for visitors and prospective residents from the moment they arrive.
The best wireless video intercom with door release
For multi-tenant properties, a video intercom is now a must-have. Renters today want their apartments to combine easy access with security. And the best way to offer that is with a wireless video intercom with door release.
ButterflyMX wireless video intercoms have been installed in more than 6,500 buildings and 650,000 apartments. And with more than 7,000 five-star reviews, ButterflyMX is the clear frontrunner as the best wireless intercom on the market today.
Here's how our wireless video intercom with door release makes property access simple:
Powerful mobile app: The ButterflyMX mobile app is a convenient and reliable way for residents to manage building access from anywhere.
Remote management: With the ButterflyMX OS, you can control access and manage the system from anywhere in the world. From the online dashboard, you can view audit trails, adjust permissions, manage integrations, and more.
Virtual keys: Residents and staff can create time-restricted virtual keys for guests to use at the door. With virtual keys, everyone from dog walkers to family members can access the building at approved times.
Seamless deliveries: Similar to virtual keys, ButterflyMX has features specifically designed for delivery access. With Delivery Passes, staff doesn't have to worry about letting in carriers and residents won't ever miss a delivery.