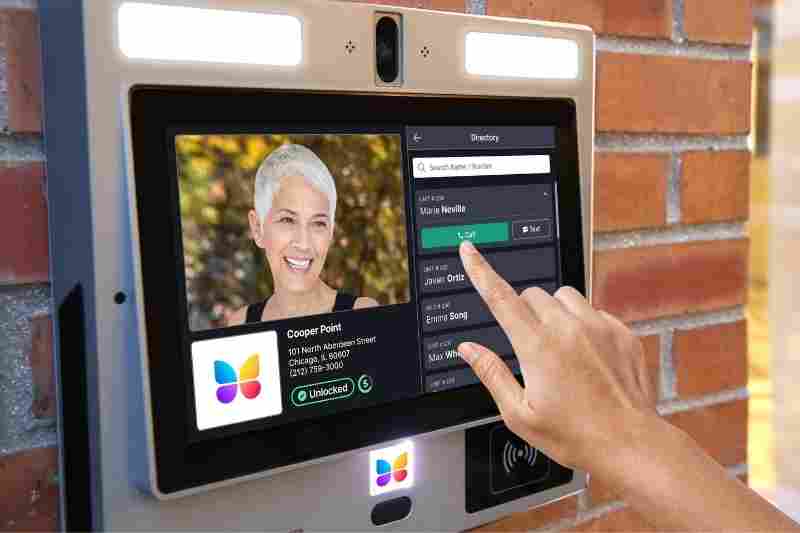 Key takeaways
The best video intercom with door release is ButterflyMX.
A wireless video intercom with door release is an access control system that manages entry into a property.
A wireless video intercom works when visitors use the intercom directory to look up a tenant, then the tenant lets them in after verifying the visitor via two-way video.
As a property owner or manager, you know how hard it can be to balance cost and convenience when creating the best possible living experience for your residents. And one way to strike that balance is with a wireless video intercom with door release. They allow your tenants to see who's at your building's entrance and easily grant them access without the expensive wiring of a traditional intercom system.
But to make the right choice for your property, you first need to know how a wireless video intercom with door release works, what it does, and how to select the best one for your building.
In this post, we'll cover:
Top 5 wireless video intercom systems with door release
In the rapidly evolving landscape of building security and smart technology, wireless video intercoms with door release capabilities have emerged as a cutting-edge solution that seamlessly combines convenience and security.
Here's our round-up of the best wireless video intercoms with door-release capabilities:
1. ButterflyMX
With comprehensive access control solutions that can be tailored to suit properties of all types, ButterflyMX is not your average wireless video intercom.
ButterflyMX stands apart with offerings like:
Wireless connectivity. ButterflyMX's wireless video intercom system offers seamless connectivity, eliminating the need for complex wiring installations.
Reduced maintenance. Because ButterflyMX access control solutions have fewer physical components and wires, the wireless intercom system generally requires less maintenance compared to traditional wired alternatives.
Top-rated mobile app. Users can manage the intercom system through a user-friendly mobile app, allowing remote access from smart devices like smartphones, tablets, and smartwatches.
Touchless Entry. With the door release function, residents can easily grant access to guests without physical contact.
Great for properties of all types. The system is designed to accommodate all types of buildings, from condo communities, salon suites, and commercial office spaces to large apartment complexes — ButterflyMX has you covered.
Remote management. With the ButterflyMX OS, you can control access and manage the system from anywhere in the world. From the online dashboard, you can view audit trails, adjust permissions, manage integrations, and more.
Virtual keys. Residents and staff can create time-restricted virtual keys for guests to use at the door. With virtual keys, everyone from dog walkers to family members can access the building at approved times.
Seamless deliveries. Similar to virtual keys, ButterflyMX has features specifically designed for delivery access. With Delivery Passes, staff doesn't have to worry about letting in carriers, and residents won't ever miss a delivery.
Learn more about ButterflyMX:
2. Aiphone WL-11 Wireless Video Intercom
Aiphone has emerged as the leading intercom solution for small-scale educational, commercial, and healthcare properties.
Aiphone's award-winning features include:
Easy to install. Because the WL-11 is wireless, no extensive wiring is required for installation. What's more, the 1.9 GHz band frequency empowers you to receive calls with minimal interference.
Great for small-scale properties. Aiphone's WL-11 wireless home intercom system requires minimal maintenance. So, you only have to replace it when the number of tenants exceeds the system's capacity.
Clear color video. The WL-11 wireless intercom with door release offers high-quality clarity and takes three visitor images per call.
Convenient visitor logs. Aiphone's WL-11 wireless stores up to 100 visitor images.
3. 2N IP Style
Style meets innovation with 2N's IP doorbell intercom solutions — making it ideal for single homes, factories, and schools.
2N's IP Style features:
Sleek aesthetic. The 2N IP Style's modern 10-inch touch display is intuitive to use and visually appealing.
Adaptive face zooming. 2N's IP Style wireless home video intercom system captures all visitor activity with state-of-the-art face zooming technology. That way, you always know who you're letting in.
Full HD camera. The wireless video intercom offers crystal clear video clarity for all tenants.
Wavekey Technology. 2N's WaveKey technology opens the door in 0.3 seconds. So you won't have any problems using it in busy environments.
4. DoorBird D1101V IP Video Door Station
DoorBird empowers you to answer your door from anywhere — making it one of the best wireless door entry systems on the market.
DoorBird's wireless video intercom offers advantages like:
Motion detection. DoorBird's wireless video intercoms send alerts to users when motion is detected near the intercom. As a result, this empowers proactive monitoring and heightened security.
Night vision. DoorBird's wireless apartment intercom systems are equipped with low-light capabilities, ensuring visibility even in dark conditions.
Integration with smart home systems. DoorBird's wireless intercom systems are compatible with popular smart home platforms. As a result, this enables integration with other connected devices and home automation technology.
Multiple user support. DoorBird allows different members of a household to access and control the intercom system.
Remote firmware updates. The DoorBird wireless video intercom supports over-the-air firmware updates. So, this ensures that the system remains updated with the latest features and security enhancements.
5. OPTEX iVision+ Connect
OPTEX America offers smart entrance solutions with high-performance sensing technologies making it one of the best wireless intercom systems for businesses.
The OPTEX wireless video intercom has unique offerings like:
Connectivity and flexibility. OPTEX's iVision+ Connect WiFi video intercom has an enhanced extended WiFi range that makes it easy for tenants to easily open doors with their smartphones.
Convenient video storage. The iVision+ Connect stores visitor videos from easily accessible cloud services like Google Drive and Dropbox.
Great for office environments and retail stores. Ideal for commercial offices and retail spaces, the OPTEX iVision+ Connect has the ability to accommodate several door stations.
Interactive mobile app. The OPTEX Vision App empowers you to easily manage and monitor entry activity from a single dashboard.
What is a wireless video intercom with door release?
A wireless video intercom with door release is an access control system designed to manage entry into a property. Moreover, the intercom's door release mechanism empowers residents to unlock the door remotely. In addition, an intercom camera enables residents to see who they are letting into the building.
Because they don't require physical wiring between devices, wireless intercom systems are less expensive and easy to install. And in many cases, you can even access the door release history to see who is coming into your property for added security.
Furthermore, a wireless video intercom with door release is an effective visitor management system because it gives visitors a way to request access. So, when a visitor wants to enter the building, staff or residents can remotely open the door or gate for them.
How an intercom with door release works
To use a wireless video intercom, visitors first use the intercom directory to look up a tenant. Then, the resident gets a video call showing them who is at the door or gate.
Depending on the type of video intercom you have, the call may go to the resident's smartphone or to a device installed in their apartment.
If the resident chooses to open the door, they will then press a "door open" button to grant property access. So, pressing that button signals the door release mechanism to unlock the door and admit the visitor.
How the door release works
The door release mechanism is connected to your video intercom, enabling the intercom to send signals to the door release.
There are two types of door-locking mechanisms:
Electronic locks or strikes. Fail-secure and durable, electronic locks are mechanical devices powered by electricity and installed inside the door frame. So, when the intercom system sends power to the lock, it enables the door to open.
Magnetic locks. Magnetic locks (or maglocks) are a fail-safe alternative to electronic locks. In this case, they include a magnet and a metal plate installed inside the door frame. As a result, the magnet creates a charge that holds the door closed until the intercom system cuts that electrical signal. When the signal is cut, the door can open.
Watch how ButterflyMX works:
How much does a wireless video intercom cost?
The cost of a wireless video intercom can range from $1,000 to $7,000. However, that price doesn't include the cost of installation or ongoing service fees.
In addition to the cost of hardware, video intercom systems may have ongoing fees.
These fees cover anything from video calling to property management system integration.
It's also important to note that the installation varies depending on the installer and the amount of work necessary. However, generally, a wireless intercom is cheaper to install than a wired one because you won't have the added cost of purchasing and installing wiring.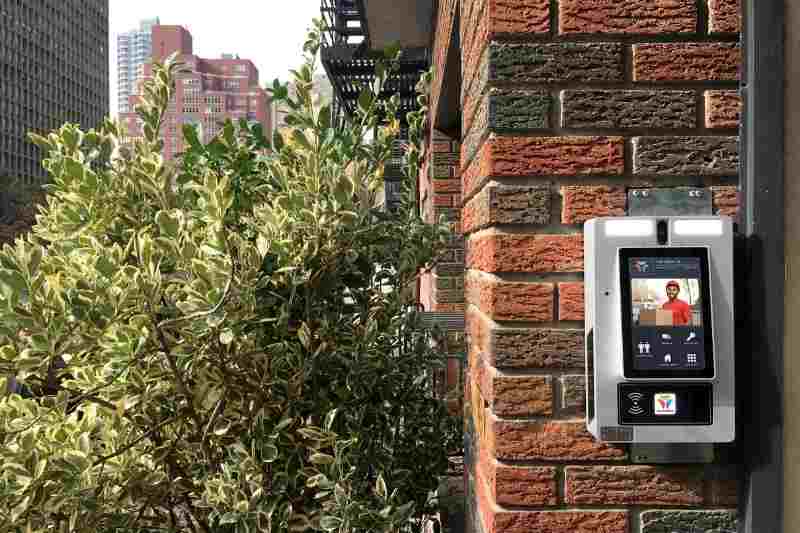 Benefits of a wireless video intercom with door release
All kinds of multi-tenant properties benefit from a video intercom. And today's modern video intercoms pair secure door release technology with a convenient mobile app. As a result, building staff and tenants can securely manage intercom access with smartphones.
Top five benefits of a wireless video intercom with door release for residents:
Visitor management. From apartments to offices, all properties need a way to grant access to visitors. The simplest way to do this is with a wireless video intercom. So, tenants can easily unlock the door for visitors, delivery carriers, and more while the intercom's camera takes a photo of every entry event.
Improve resident experience. Property technology is one of the most desirable amenities for renters. As a result, investing in upgrades your residents really want will decrease turnover and increase your NOI.
No need for key fobs. Tenants often lose, break, or forget their keys & fobs, and the time/cost of replacing them adds up. With a wireless intercom system, residents can use their smartphones or enter a PIN code to unlock the door.
Remote access. Because wireless video intercom systems don't require in-unit hardware, residents can do everything from their smartphone or tablet. As a result, residents can open the door remotely for visitors even if they're not home.
Easy to install. Since there's no in-unit hardware or wiring, wireless video intercoms are quick and inexpensive to install.
As technology advances, more and more tenants expect buildings to have smart features, from thermostats to lighting. So, investing in a commercial video intercom system with door release for your building sets up a great experience for visitors and prospective residents from the moment they arrive.