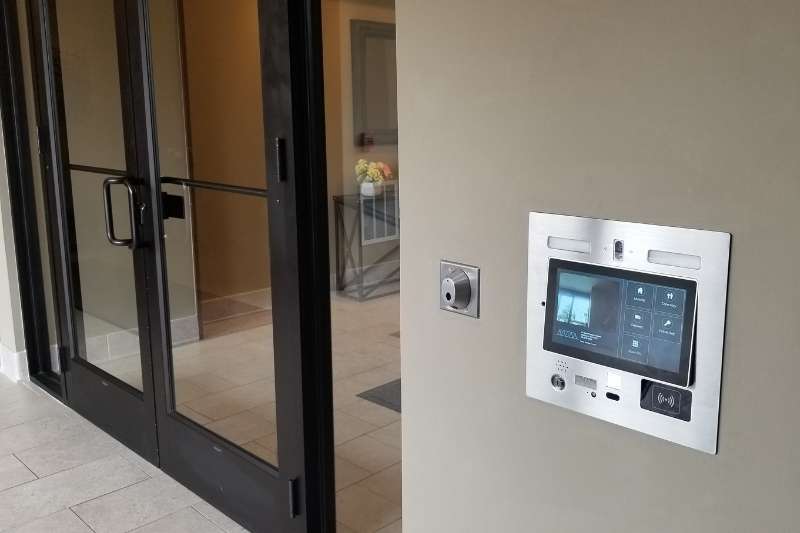 Key takeaways
The IP intercom system with camera is a tech-forward, multi-tenant property access solution with benefits for property owners, staff, residents, and every kind of visitor.
IP intercom systems are better than traditional intercoms because they use the internet to function.
IP intercoms with cameras are the best way to provide a safe, secure, and convenient access control experience for your residents.
Thousands of property owners agree that ButterflyMX is the best IP intercom.
By installing a ButterflyMX IP intercom system at your property, you'll increase convenience for residents and simplify admin duties for staff.
If you're looking to upgrade or replace your apartment intercom system, you know that there are a lot of options out there. But your best bet is to choose an IP intercom, which offers enhanced technology and more features than other building entry systems. And to maximize security and convenience, you should invest in an IP intercom with a camera.
In this post, we'll explain what an IP intercom with camera is and how it works. Then, we'll go over the benefits of an IP intercom with a camera.
This post covers:
The best IP intercom system with camera
The best IP intercom system with a camera is ButterflyMX. ButterflyMX stands apart from other IP intercom systems because it enables residents to unlock doors and buzz in guests using an app on their smartphones.
What's more, the ButterflyMX mobile app offers many secure and convenient features, including:
Virtual keys: Simplify visitor access by empowering residents and staff to send virtual keys to guests for either one-time or recurring use.
Delivery pass: Residents can send a single-use delivery pass to couriers for easy access.
Door release audit trail: Within the ButterflyMX app, residents can view a door release audit trail. It includes time- and date-stamped photos of every person they've let into the building. Property staff can also view a door release audit trail for the whole building using a web-based dashboard powered by the ButterflyMX Operating System.
On top of all these benefits, you'll also save money on installation costs by choosing ButterflyMX. IP video intercoms operate wirelessly, which means you avoid the costs of running wiring throughout the building. And since ButterflyMX operates with residents' smartphones, it cuts costs further by sparing you from installing hardware in every apartment unit.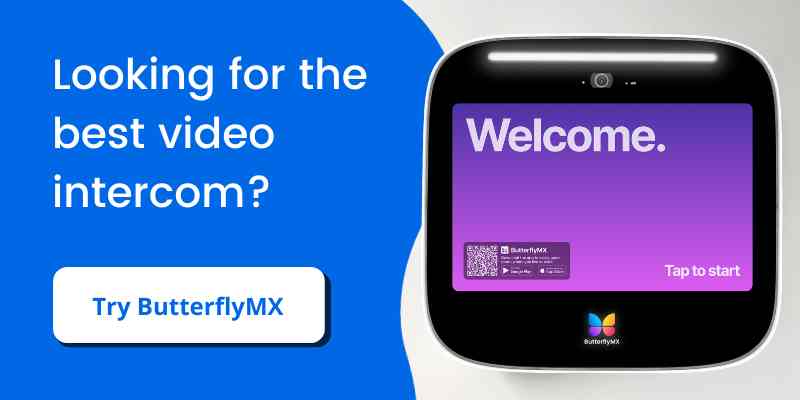 What is an IP intercom with camera?
An IP intercom with camera is a type of building entry system that uses a camera and an internet connection to allow a resident to see and speak with a visitor before granting them property access.
The first intercom systems equipped with cameras were introduced in the 1980s. Although being able to hear and speak to guests before letting them in was convenient, these wired intercoms with cameras were very expensive to install. You had to run wiring throughout the building — and it had to be specialized wire that could carry video data.
Things began to change in the late 1990s and early 2000s. As the internet and wireless technology grew, they converged to create the IP door intercom with camera.
Components of an IP intercom with a camera
An IP intercom with camera has four components:
Master station. The master station is installed at the entryway of a building. Master stations have directories that visitors use to contact the resident they want to talk to.
Camera. An IP intercom with a camera has a camera built into the master station. The camera streams live footage of visitors to residents during a video call.
Substation. The substation is the hardware that allows a resident to see, hear, and speak to guests. Sometimes, substations contain cameras of their own to enable two-way video communication. Substations can be in-unit devices installed in every resident's apartment or residents' own smartphones.
Door strike. This is the physical component that actually unlocks the door when a resident grants access. Door strikes can be electric or magnetic.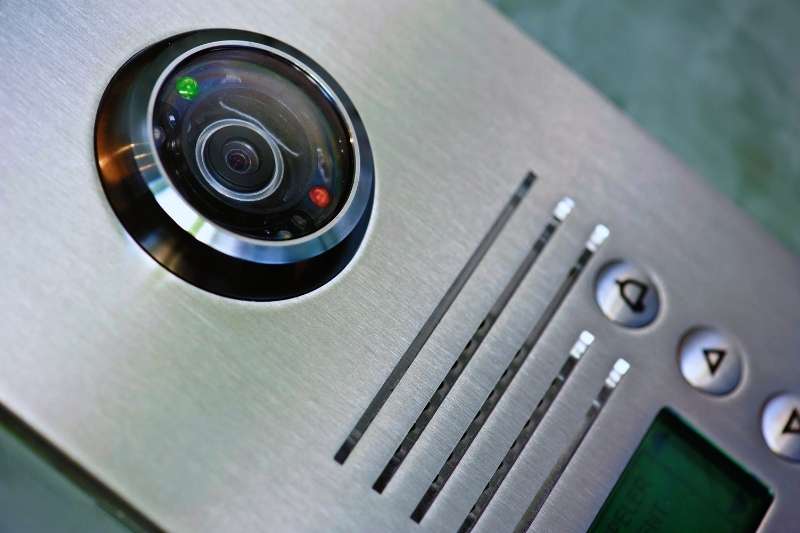 How does an IP intercom with camera work?
An IP door intercom with camera works by using the internet to route video and audio data between a master station used by a visitor and a substation used by a resident. The resident also uses their internet connection to unlock the door remotely.
Here's how a visitor uses a video IP intercom to contact a resident:
A visitor uses the master station to contact a resident. Visitors select the tenant they intend to visit from a directory.
The master station uses the camera to send live video. Once the visitor selects the resident they're visiting, the camera activates and starts transmitting data to a resident's substation over the internet.
The resident speaks to their guest using the substation. The substation transmits audio to the master station. Some substations also transmit video data.
The resident uses the substation to let their guest in. To grant entry to their visitor, the resident presses a button on their substation.
The substation signals the door to open. The substation sends a signal to the master station using the internet. Then, the master station directs the door to open, and the guest can enter the building.
How video IP intercoms transmit data
IP video intercoms with cameras use a set of rules called protocols to transmit audio and video data over the internet. (The IP actually stands for 'Internet Protocol.')
Sending real-time video call data between a master station and a substation is a complex job. Compared to streaming video — which only sends data in one direction — IP intercoms must manage two-way calls that require them to constantly send data back and forth. To do that, IP intercom software needs to use different types of protocols.
One type of protocol IP intercoms use is the TCP/IP protocol. All computers need to use TCP/IP to send data over the internet. Other protocols that IP intercoms use are specifically optimized for audio and video transmission, like SIP (Session Initiation Protocol) and VoIP (Voice over Internet Protocol). In fact, the VoIP protocol is so important that IP intercoms are sometimes referred to as 'VoIP intercoms'.
Watch how ButterflyMX works:
Why your building needs an IP intercom system with a camera
An IP intercom system with camera offers far greater benefits compared to a traditional intercom, a telephone entry system, or an apartment buzzer.
Here are the top three reasons to get an IP intercom with a camera:
Enhanced security
Added convenience
Better features
1. Enhanced security
Residents using a traditional intercom have no way of actually seeing who they're buzzing into the building. Video capabilities give your residents added peace of mind. Some IP doorbell intercom systems can also store photos of visitors, allowing your staff to audit door release events and better secure your property.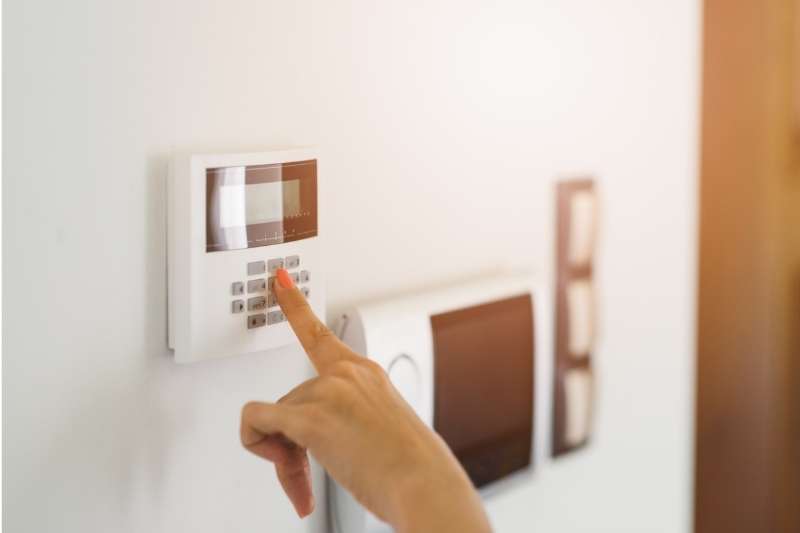 2. Added convenience
IP intercoms with cameras add convenience for residents. The best IP intercoms are smartphone compatible, meaning that residents can open doors from their phones wherever they have an internet connection. And, if your IP intercom is integrated with other proptech — like smart locks — residents can open the front door and their unit door from one app.
As a property owner or manager, you'll enjoy simpler installation and maintenance by choosing a video IP intercom. Because IP intercoms operate wirelessly, you won't have to deal with the hassle of running wiring throughout the building. So say goodbye to tearing down walls and ripping up floors just to install your building's door entry system! Additionally, you'll be able to remotely manage the intercom system and adjust access permissions from anywhere.
3. Better features
Live video calling is already a massive step up from outdated intercoms. However, because they can access the internet, IP intercoms have features that traditional intercoms simply don't have the bandwidth for.
Video IP intercoms offer features like:
Delivery PINs for couriers
Virtual keys for guests
Integrations with other proptech