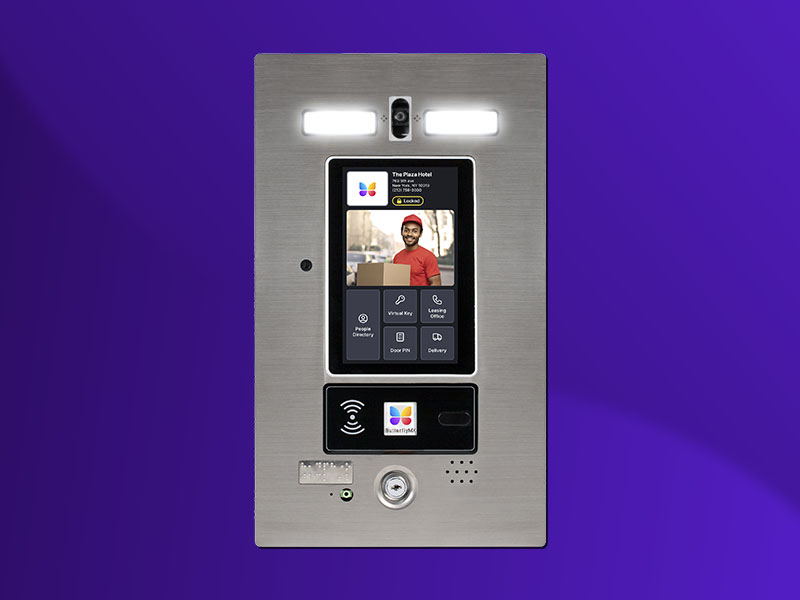 Takeaways
The top IP intercom system is the ButterflyMX video intercom.
An IP intercom is a type of intercom that connects to the internet to wirelessly transmit video and audio.
Internet protocol intercoms work by transmitting between a master station and a terminal.
These intercoms feature audio, video, mobile applications, and integrations with other building systems
Innovators are changing the face of real estate almost overnight. Smart homes and smart apartments are prime examples. Regardless of the latest invention, however, a property manager's mission remains the same: to provide a safe, secure, and convenient living experience for their residents. Can an IP intercom help you do that?
Whether you're looking to upgrade to a cloud-based video intercom or you're just curious about the technology, read on to learn more.
First, we'll review the top IP intercom systems. Next, we'll answer some commonly asked questions about IP intercoms. Finally, we'll help you decide if an IP intercom is the right fit for your access control needs.
This post covers:
The top 5 IP intercoms
Quite a few different providers offer IP intercoms. The best intercom for you will depend on your unique property type and any unique or useful features it might have.
The top five IP intercom devices are:
ButterflyMX video intercom. This video intercom access control system allows for residents to enter via their mobile app. Residents use their mobile device for audio and visual communication with visitors. The ButterflyMX video intercom also allows for remote entry and temporary guest and delivery access thanks to temporary PIN codes that can be entered on the device's sleek touchscreen. It also runs on cloud-based technology, has seamless integration with other security systems, and does not require in-unit hardware.
Algo 8201 SIP PoE IP Intercom. This device is weather-resistant and features integrations that unlocks doors and gates. It also features a configurable remote network. Algo can be self-installed and doesn't require a professional installer.
Aiphone IX Series video intercom. A standout feature of this device are the 1.3 megapixel cameras that allow users to zoom in and out. This device also features flexible configurations depending on how it will be used for your property.
BAS-IP AQ-07LL video intercom. This is another IP video intercom system that features a mobile app and multifactor authentication for users. This device also stands out because it features multiple language settings.
Grandstream IP Video Door System. This intercom features a camera that has 180-degree wall-to-wall coverage, an RFID chip reader for keyless entry, and it can stream visuals to IP phones, video intercom stations, smart phones, and NVRs.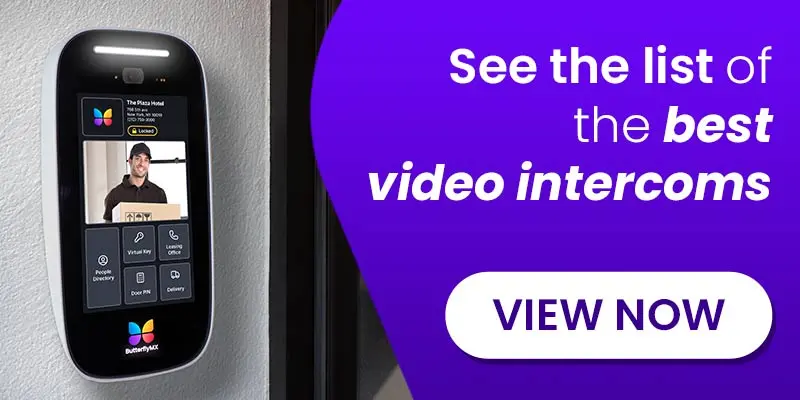 What is an IP intercom?
An IP intercom is an internet-connected device designed to transmit audio and video between two parties. The "IP" in IP intercom stands for Internet Protocol, which is a set of rules for routing and addressing data so that it can travel across the internet to the correct destination.
IP intercoms can either connect directly to each other via a Local Area Network (LAN) connection or through a computer server. In contrast to analog intercom systems, IP intercoms rely on digital technology, allowing them to transmit larger and more complex data such as video. But modern IP intercoms don't just transmit video and audio. They also connect to a building's electronic or magnetic lock to facilitate property access.
IP intercoms are just the latest in a parade of everyday items — fridges, toasters, tea kettles, and even shirts — that you might not expect to be internet-connected. More specifically, this makes the IP intercom a member of the Internet of Things, or IoT. Like other IoT devices, IP intercoms make use of built-in sensors and cloud-based computational power to do their jobs. For IP intercoms, that job is to ensure that residents can talk to guests without interruption or delay.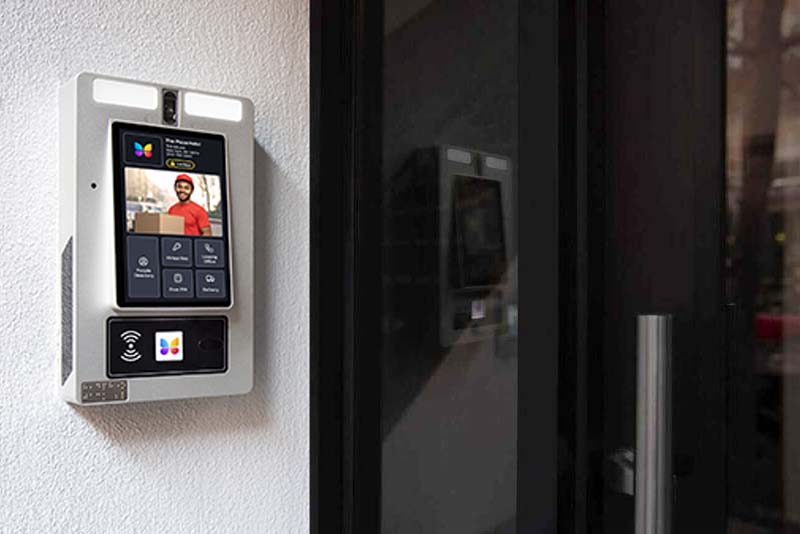 IP video intercoms
Many modern IP intercoms include a camera to offer video calling. IP video intercoms enhance security and add convenience because they empower residents to see who's requesting access before letting them in.
Because video IP intercoms operate over the internet, they can handle the large data load required of video calling. The best IP intercoms with cameras operate with tenants' smartphones so that you don't have to install hardware in every unit. However, some IP video intercoms may include small devices with screens that you must install in each unit.
How does an IP intercom work?
IP intercoms work by using the internet to transmit data between a master station and its terminals. An IP intercom has two primary components: master stations and terminals.
Here's a quick definition of those terms:
Master stations. These are the brains of a IP doorbell intercom system. Master stations communicate with various parts of the building's intercom system, including door-locking mechanisms and terminals used by residents. They are installed at the entryway of the property (either a door or gate) and can include microphones and cameras. IP intercom master stations are also called base stations and door stations.
Terminals. Tenants use terminals to interact with visitors at the door station and grant them property access. In the past, terminals were in residents' apartments and required you to run wiring throughout the building. Today, you can install an IP intercom terminal wirelessly. Terminals are also called substations.
An example of how IP intercoms work
A visitor seeking entry into a building with an IP intercom selects a tenant from the directory on the door station. The door station uses the internet to send a signal to the correct terminal, notifying the tenant of their visitor. The tenant then uses the terminal's speaker to communicate with the visitor and grant them access to the building.
What's happening on a technical level
To transmit audio and video data, IP intercoms use organizational rules called protocols. One of the most popular protocols for audio and video delivery is the Session Initiation Protocol or SIP. For this reason, IP intercoms are also called SIP intercoms.
This connection goes on for however long the resident desires. (IP intercoms tend to use preexisting network infrastructure. We recommend directly wiring your IP intercom to the internet to eliminate the risk of network connectivity issues.) If the resident wants to open the door for their visitor, the terminal sends a different signal back to the door station. The door station electronically unlocks the door.
How do I install an IP intercom?
Installing an IP intercom is simple. To install an IP intercom door station, size and cut a hole in your wall and drill a hole for your cables. Most IP intercoms require three cables: internet, electricity, and door strike.
Some IP intercoms don't need a power connection because they run on Power over Ethernet, or PoE. PoE devices can be powered with the same cable that connects them to the internet, eliminating the need for a traditional power cable.
After you've got everything wired up, the last step to install a door station is to firmly fix the door station into the wall with either screws, mortar, or both. The process is similar for terminals. Because terminals can communicate wirelessly, you'll no longer need to physically connect them to the master station.
Installation takeaways:
If you've had any experience installing or replacing a wired intercom, it's no surprise that installing an IP intercom is much easier. You won't have to deal with tearing down walls and running wires. And when you're not dealing with expenditures like those, initial overhead costs drop.
On top of installing an electronic lock, some IP-based intercoms require you to install the initial door station as well as terminals for each residential apartment. To cut costs further, consider choosing a smartphone-based intercom. Some IP intercoms offer mobile apps that allow residents to use their phones to connect with the door station and let visitors in, negating the need to install physical terminals. In that case, all you really need is a door station and an electronic lock.
What features do IP intercoms have?
IP intercoms offer a wider range of features when compared to more traditional intercoms such as telephone entry systems. Features common to IP intercom systems include audio, video, mobile applications, and integrations with other building systems such as access control and property management systems. Some IP intercoms can communicate over Bluetooth. Others make building entry as simple as talking to Alexa or Siri.
These features benefit building owners and managers as well as tenants. IP intercom software makes property management, administration, and security easier.
For example, some IP intercoms offer a web-based dashboard where property managers can manage the intercom directory, grant or revoke permissions, and view an audit trail of all door release events. The dashboard also displays other important information, such as the most common times doors open. They even integrate with other property management software to automatically update rent rolls as residents move in or out.
Watch how ButterflyMX works:
Can I use my phone as an IP intercom?
Yes, you can use both smartphones and landlines with an IP-based video intercom. IP intercoms and phones can communicate using VoIP (Voice over Internet Protocol). When a resident has a visitor, the intercom uses VoIP to call that resident's phone. Tenants and building staff can greet their visitors and provide property access — even if they're halfway around the world.
Some IP intercoms can also send video to a smartphone, allowing you to use your phone as an IP intercom. Innovations in video intercom systems mean your smartphone can be so much more than just the receiving end of a phone call. The best video intercoms even let you use your smartphone to create virtual keys for managed guest access, issue delivery PINs for courier access, and unlock key-fobbed elevators for visitors.
How are IP intercoms better than traditional intercoms?
If you're deciding between installing an IP-based intercom or a traditional system, this will help you make an informed decision.
Benefits of IP intercoms over traditional intercoms include:
Ease of installation. Installing a traditional intercom means purchasing and installing costly wiring throughout your building. For a system that requires less wiring, choose an IP intercom.
Flexibility. Need to add more terminals? If you thought installing a traditional system was a pain, imagine going through the same wall-ripping hassles every time you want to make the slightest change. In comparison, wireless IP intercom installation is a simple process.
Security. The camera-based system of many IP intercoms ensures that you'll always know who's coming in and out of your building at all times.
Resident satisfaction. Resident satisfaction has never been more important than it is today. The right apartment amenities attract potential renters while keeping your existing residents happy. IP intercoms are affordable amenities that enhance your residents' living experience.