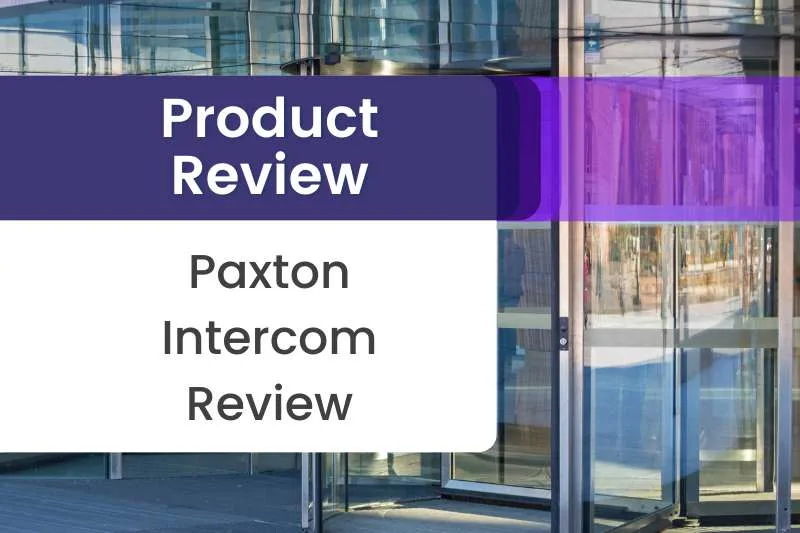 For many multi-tenant properties, managing security and convenience for residents is a balancing act. The right access control system could be the difference between happy residents and a rising vacancy rate. If you're in the market for a new video access system, you might have come across the Paxton intercom.
In this post, we give you an overview of Paxton and all of its access control offerings. Then, we go over the pros and cons of installing a Paxton intercom in your building and offer alternatives.
This post covers: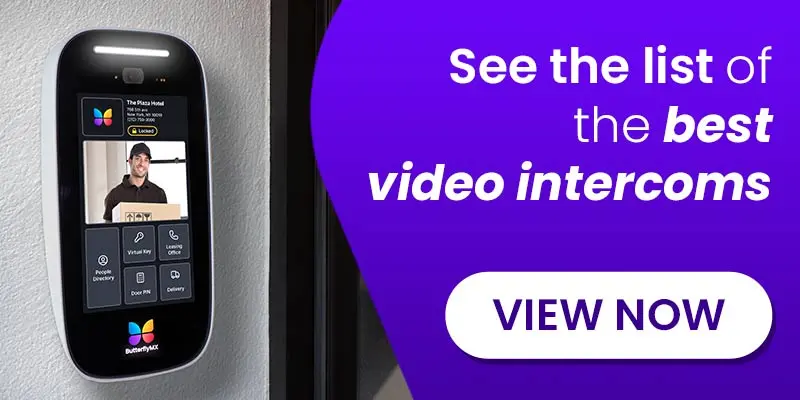 About Paxton
Paxton is an access control and security company that was founded in the United Kingdom in 1985. First, Paxton focused on selling keypads, and afterward, it branched out into related access products, like cameras and intercoms.
Eventually, Paxton expanded into international markets, opening a United States headquarters in South Carolina.
In 2022, Paxton's founder, Tony Ratcliffe, retired as Paxton's chairman, and his son assumed the role.
Overview of Paxton access systems
Paxton offers many products that help you maintain the security of your property.
Paxton products include:
Intercoms
Cameras and video surveillance systems
Controllers
Smart locks
Access control readers
How does Paxton access control work?
Paxton access control solutions generally work either as standalone, offline systems or online, networked systems. Whether you buy an intercom or a card reader, you can choose whether it operates as a standalone solution without an internet connection, or as a networked device within a complete access system.
For example, you can purchase intercoms that come with a phone handset. Or, you can also purchase a touchscreen Paxton IP video intercom that uses a microphone and speaker.
Paxton also offers different software platforms that allow you to manage your access devices and change permissions.
These platforms include:
Paxton10: A networked option with an online user interface, meaning you don't need software installed on a server PC.
Net2: Net2 software is also a networked option that allows property admins to manage the system from a central PC. Choose between Net2 Lite and Pro versions.
Paxton BLU: Paxton BLU is specifically designed for cloud-based computing.
Watch how ButterflyMX works:
Features of Paxton intercoms
Mobile app allows users to unlock the door with a computer or smartphone (when using certain Paxton software)
Video feed allows residents to see visitors
Extra hardware additions include vandal resistance and rain guards
Built-in keypad and RFID reader
Integrations with Paxton's other security offerings, including cameras and keypads
Standard model has tactile buttons with a single-line display
Touchscreen model available at a higher price
PoE connection
Pairs with in-unit monitors and handsets
Paxton intercom pricing
A Paxton intercom costs $1,035 for the standard model. And the Paxton intercom touchscreen model costs $2,616.
If you're interested in more features and add-ons, like a rain guard or a touchscreen, those will cost extra.
In addition to upfront costs for hardware, many of Paxton's entry software platforms charge a recurring fee. Net2 Lite is free of charge, but other software platforms like Net2 Pro and BLU cost an extra monthly fee.
You'll also have to budget for installation costs, which could cost tens of thousands of dollars if you install in-unit monitors throughout the building.
For more information, contact Paxton by checking their website.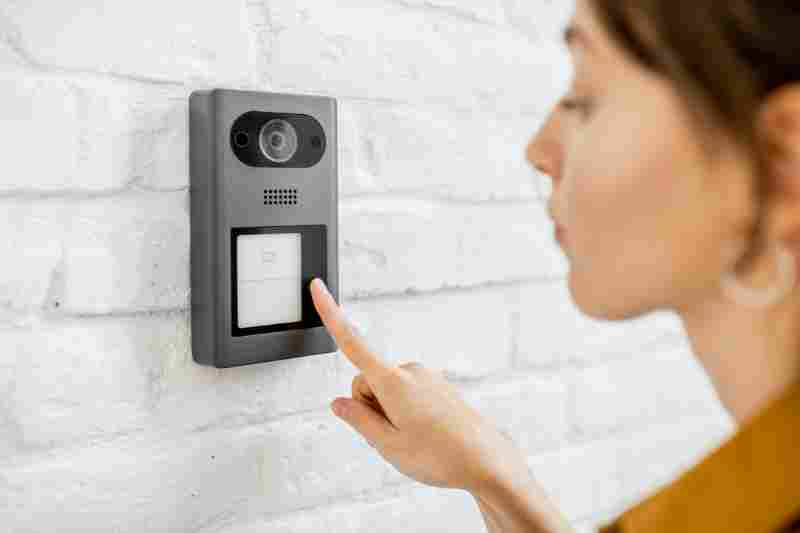 Pros & cons
Pros
Mobile app. Paxton's mobile app increases convenience for residents by allowing them to use their smartphones as credentials. Staff members can also manage the Paxton system using a separate app. Keep in mind that the Paxton app can only be used if you opt for the Paxton10 software.
Multiple credentials. Residents in Paxton buildings can choose between fobs, keypads, and app-based access.
Video capabilities. Like many of today's modern intercom systems, the Paxton video intercom allows residents to see their guests in real-time through a camera at the front entrance.
Cons
Inconsistency. Some people who use the Paxton Key app report delays of up to a few minutes when they trigger the door release — and for some users, the app doesn't work at all.
No delivery carrier access solution. Delivery drivers need an easy way to gain property access and complete deliveries. But Paxton intercom systems have no specific solution — such as delivery PIN codes and passes — to grant a delivery courier access.
No vehicle access solution. While Paxton might have intercoms, keypads, and other hardware, it fails to specifically address the access needs of vehicles. The best access systems natively integrate with vehicle sticker readers that grant seamless vehicle access.
Multiple operating systems can be confusing. According to Paxton's website, you can choose between Net2, Paxton10, or Paxton BLU — and each comes with its own set of features. A feature that's included in one operating system might cost more if you've already chosen the other, bogging any Paxton intercom setup down in unnecessary complications.
Lacking integrations. Although Paxton intercoms integrate with various technologies, they may not integrate with the hardware and software that's most important to you. For example, Paxton may not integrate with leading multifamily property management software or smart locks.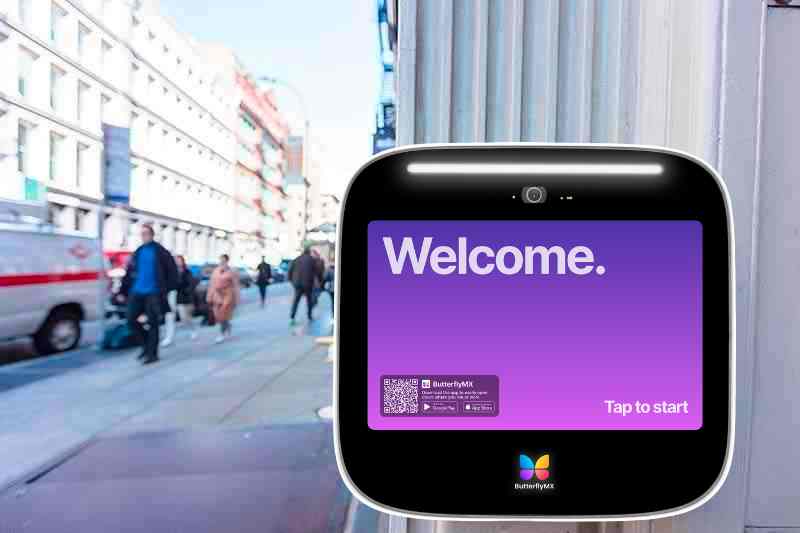 The best Paxton intercom alternative
The best Paxton intercom alternative is ButterflyMX. In fact, the ButterflyMX video intercom is a step above Paxton intercoms because it offers a completely smartphone-based experience with user-friendly cloud-based software.
Paxton's intercom may help control access for visitors at your front entrance, but it may do little more beyond that. What's more, Paxton offers so many software tiers and variations of the same hardware that you might get lost in the details.
Instead, you can make access simple by choosing the ButterflyMX video intercom.
Paxton vs. ButterflyMX
If you're purchasing an intercom for your apartment or commercial building, you'll want to choose ButterflyMX, the industry-leading video intercom provider. While a Paxton video intercom may improve the access experience for certain visitors, it may fail to simplify access for everyone, especially recurring visitors and delivery carriers. 
Compared to the Paxton intercom, ButterflyMX offers:
A streamlined hardware selection process.
World-class cloud-based software so property staff can manage the entire access system from anywhere.
Delivery Pass to enable seamless access for delivery carriers.
Installation savings because residents can use their phones to grant access instead of expensive in-unit hardware.
Highly rated smartphone app that allows residents to unlock doors and gates with the swipe-to-open feature.
Long-range, internet-powered opening — Paxton's app depends on Bluetooth, which means that you have to be in close range.
| Feature | Paxton | ButterflyMX |
| --- | --- | --- |
| PIN code access | Yes | Yes |
| Delivery PINs & passes for delivery access | No | Yes |
| Virtual keys for visitor access | No | Yes |
| 24/7 support | No | Yes |
| Two-way video calling | No | Yes |
| Voice command entry | No | Yes |
| Elevator controls | No | Yes |
| Smart lock integrations | No | Yes |
Takeaways
Paxton intercoms use the right technology, but you may have a hard time choosing which products and software platforms to use.
Some Paxton intercoms may require in-unit hardware, which is expensive and difficult to install.
Drawbacks of Paxton intercoms include inconsistent app functionality and a failure to address the needs of vehicles and delivery couriers.
The best Paxton intercom alternative is ButterflyMX, which offers a more streamlined, intuitive experience for staff and residents.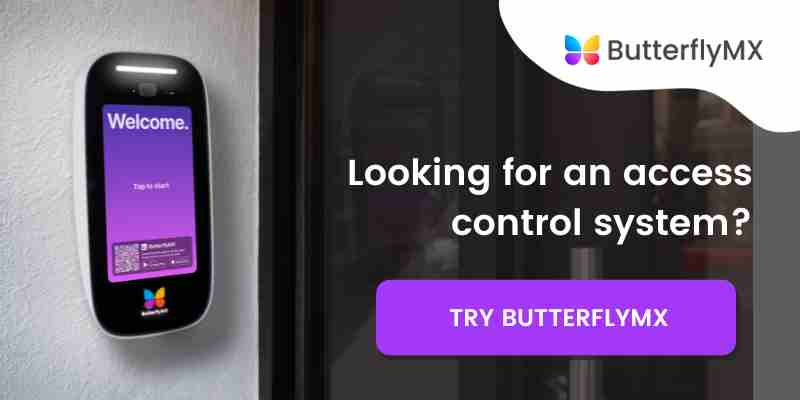 Disclaimer: ButterflyMX provides these blog posts to help our customers and potential customers make the right business decisions for them. Our blog posts are based on the information we have available to us at the time of writing.