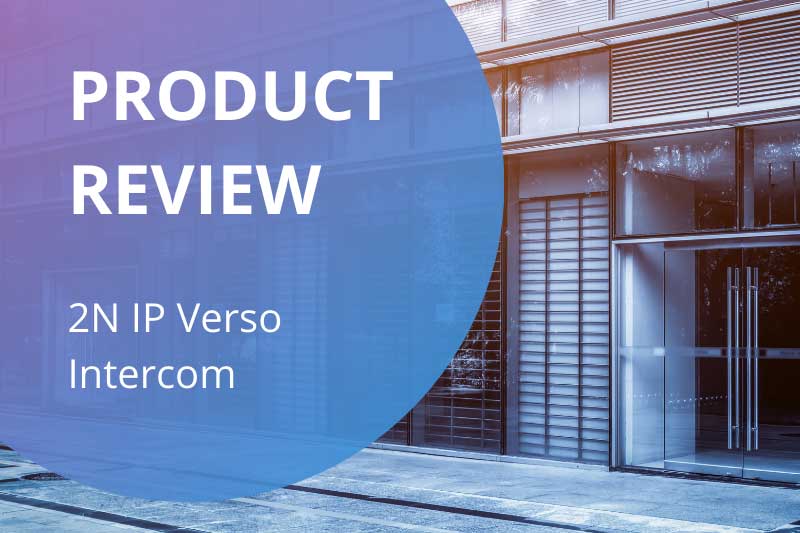 If you own, develop, or manage multifamily apartment buildings, you know you need a comprehensive intercom system. To ensure tenant satisfaction, you want an apartment video intercom system that provides two-way video communication. But as you begin investigating your choices, you may realize that you have a lot of options. Let us help.
Start here by comparing solutions from two leaders in the video intercom market, the 2N Verso and the ButterflyMX smart video intercom.
This post will cover: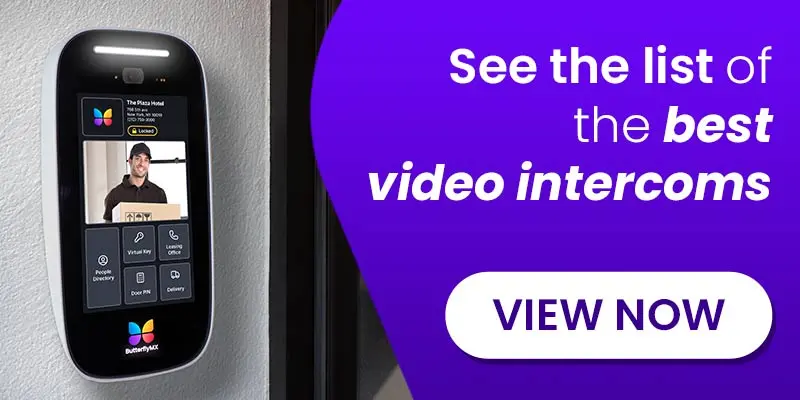 About 2N
Founded in 1991 in Prague, Czech Republic, 2N shifted its focus from analog to IP technology in 2005, eventually launching an IP intercom in 2008. 2N opened a U.S. office in Florida in 2011.
Then, in 2016, 2N was acquired by Axis Communications, a leading audio and video solutions developer. Headquartered in Lund, Sweden, Axis Communications employs more than 2,600 employees in 50 countries.
About the 2N Verso intercom
As a modular intercom system, the 2N Verso offers customizability. Users can configure a system online with 2N's virtual product designer.
The Verso comes in two models: the Verso IP, a cloud-based video intercom, and the Verso LTE, a wireless apartment intercom system. Both models can operate with in-unit stations or with a mobile app. Additionally, 2N's centralized Access Commander software lets you configure, control, and monitor access throughout the community.
Features
Session Initiation Protocol (SIP). SIP intercom protocol allows the 2N IP Verso to connect with existing IP phones without connecting to a server. Those wanting to connect via mobile broadband should select the 2N LTE Verso.
Mobile app. The 2N mobile app, available for both Android and Apple devices, allows tenants to open the door and video chat with visitors using smartphones and tablets.
Camera optional. You can purchase the 2N Verso with or without a built-in camera.
Access options. The system offers optional access features including a fingerprint reader, a Bluetooth reader, or an RFID reader.
Email entry photos. Users can choose to receive photos of visitors entering the property via email.
Watch how ButterflyMX works:
2N intercom pricing
The MSRP of a 2N intercom starts at $4,150. However, exact pricing isn't available on the company's website.
The total cost of a 2N intercom system often varies given its modular design. Since each feature added to your configuration comes at an additional cost, the price of your 2N intercom depends on the features you choose.
We recommend you get a quote.
Pros & cons
Here are the benefits and disadvantages of the 2N Verso:
Pros:
Camera features a field of view of up to 120 degrees and can be combined with an external camera to cover any blind spots.
2N offers free remote configuration service, support hours of 9 a.m. to 8 p.m. Eastern time, and an online help desk that offers technical support to customers.
You can combine the IP Verso with an audio induction loop that allows those with hearing impairments to communicate with visitors.
Cons:
Relatively limited design options, featuring only black and housing finishes.
Fewer reviews than some competitors' reviews.
Lacks delivery PIN and virtual key features for easy guest access and seamless package deliveries.

Comparison of the 2N IP Verso intercom with the ButterflyMX smart video intercom
Though 2N is a player in the video intercom industry, ButterflyMX has a decided advantage over the 2N IP Verso intercom.
Let's take a closer look at the differences between ButterflyMX and 2N:
Video display
The first notable difference is the video display.
ButterflyMX's intercom displays real-time video footage so anyone approaching the intercom sees themselves on the screen. This display may help deter crime and prevent vandalism.
The 2N Verso, on the other hand, lacks a video footage display on the outdoor intercom hardware. In fact, the built-in camera appears to be hidden, so visitors likely won't even know a camera is watching them.
Performance
Although the goal of both the ButterflyMX and 2N intercoms is similar, the performance is vastly different.
2N IP intercoms have wide dynamic range capability, as well as an HD camera with night vision that captures entry events even in low-light conditions. While both 2N and ButterflyMX offer a stylish IP intercom, design meets functionality with the ButterflyMX smart video intercom. The ButterflyMX smart video intercom has a user-friendly interface that offers convenient, touchless entry.
Additionally, ButterflyMX empowers staff to create unique delivery PINS for couriers for streamlined delivery management. This is especially convenient for buildings that receive a high influx of packages each day, since staff won't have to let delivery couriers and service providers into the building manually.
Integrations
ButterflyMX offers integrations with the most popular property management software (PMS) solutions. Integrating your intercom system with your PMS allows you to automatically update tenant information in the intercom when you make changes in the management software.
As a result, you won't have to waste time updating information on two different platforms. This empowers you to save time and money — especially in large communities or those with high turnover rates.
What's more, ButterflyMX integrates with over 80 unique smart lock brands and styles — granting staff and residents the ability to open any door, gate, or access point with their smartphones. These integrations make ButterflyMX the preferred property-wide access control system for all building types.
Experience
Like many of its competitors, 2N's mobile app serves as an alternative to in-unit hardware. However, 2N may not focus primarily on smartphone-based intercom technology.
ButterflyMX, on the other hand, focuses exclusively on a mobile app-based intercom with smartphone-enabled access. The ButterflyMX mobile app's more than 30,000 positive reviews reflect this effort.
Moreover, the 2N IP intercom is best suited for gated communities and residential properties. However, ButterflyMX can be tailored to modernize access into industrial buildings, commercial office spaces, multifamily apartments, and more.
These benefits, combined with ButterflyMX's IP65-rated hardware and intuitive design, make it worthy of serious consideration by anyone purchasing a video intercom system.
ButterflyMX vs. 2N IP Verso
While the 2N IP Verso intercom is a fine apartment building entry solution, it may lack the technology to make it a truly powerful and comprehensive intercom system. Though this 2N intercom does allow smartphone-based access, the mobile app may not offer the robust functionality and user-friendliness of other IP intercoms.
Alternatively, ButterflyMX offers a suite of holistic access control solutions. These all serve to simplify access at commercial apartments, gated communities, industrial warehouses, offices, and more.
Let's take a closer look at the different offerings of ButterflyMX vs. 2N:
| Feature | ButterflyMX | 2N IP Verso |
| --- | --- | --- |
| IP65 rated | Yes | No |
| Mobile app & smartphone-based access | Yes | Yes |
| Two-way video calling | Yes | No |
| Multiple intercom sizes | Yes | No |
| Delivery PINs | Yes | No |
| Touchscreen | Yes | Yes |
| Property management software integrations | Yes | Yes |
From seamless delivery management to robust vehicle access control, ButterflyMX streamlines access to and throughout your property. Moreover, our comprehensive access control solutions work harmoniously together — providing residents, staff, and visitors with a seamless entry experience.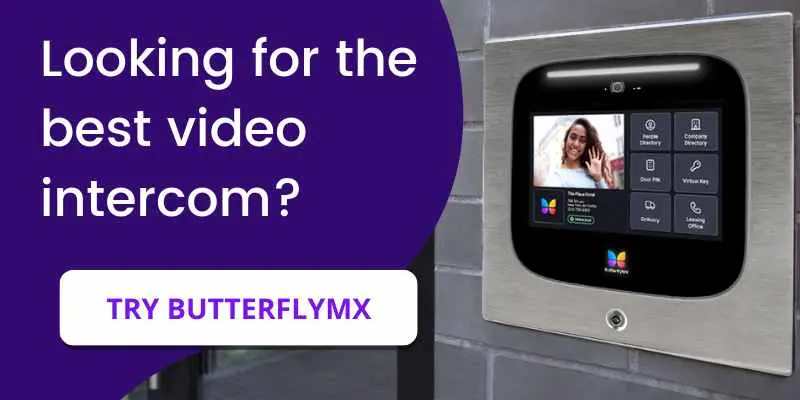 Disclaimer: ButterflyMX provides these blog posts to help our customers and potential customers make the right business decisions for them. Our blog posts are based on the information we have available to us at the time of writing.