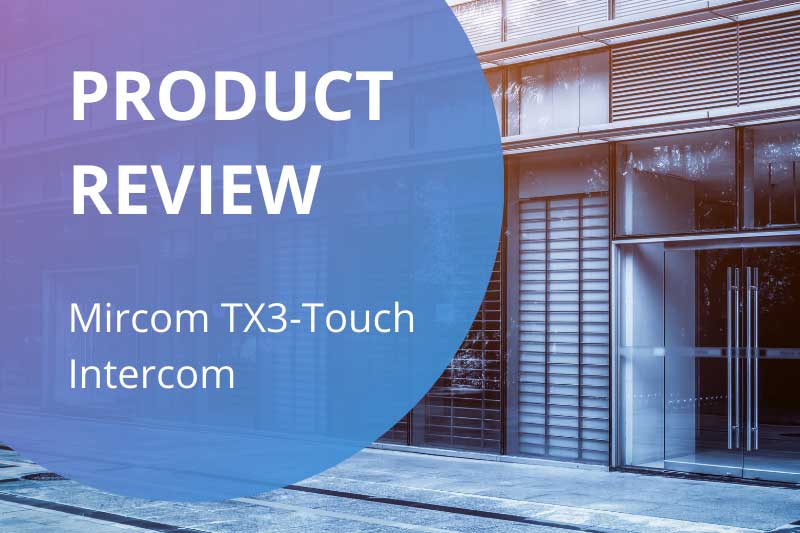 Though they were once considered a luxury adorning only high-end buildings, apartment video intercom systems are more accessible than ever before. Nowadays, you can find them in buildings of all sizes, as they offer considerable convenience and improved security.
There are many different styles and brands to choose from, all with distinct features and price points. Below, we'll take a closer look at the Mircom TX3-Touch and see how it may stack up against the ButterflyMX smart video intercom.
This review will cover: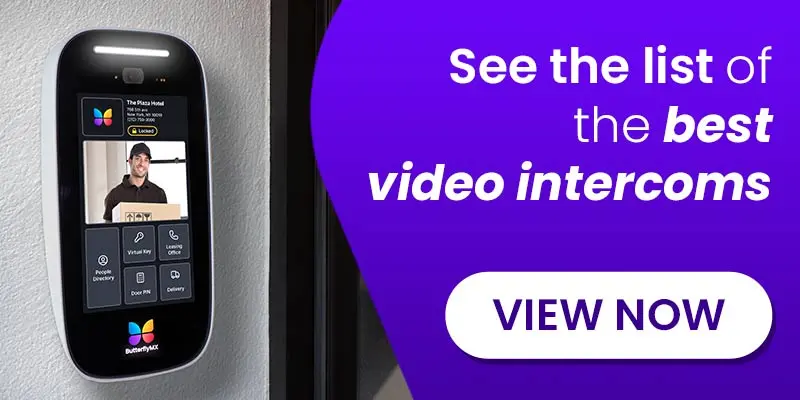 About Mircom
Mircom was founded in 1991 by Tony Falbo, a Canadian entrepreneur. In the early 1960s, he launched a company that became the second-largest fire alarm manufacturer in Canada. Looking to replicate that achievement, Falbo created Mircom.
As an independent fire alarm manufacturer in North America, Mircom is known in the building solutions sector. The company manufactures a wide range of products, from fire alarms and emergency lighting to intercoms and smart building systems.
About the Mircom intercom TX3-Touch
The TX3-Touch is a line of video intercom systems created by Mircom. The system is designed for apartments, condominiums, gated communities, and office buildings.
The TX3-Touch series may offer some customization options, such as display layouts, videos, and promotional material. This may allow property managers to stylize the menu to match the building and showcase different events or important messages.
There are several different models of the TX3-Touch, providing some variety in screen sizes, finishes, and mounting styles. The base model has a 15-inch anti-glare screen, while the TX3-Touch-F22 has a 22-inch screen.
Learn about ButterflyMX video intercoms:
Features
Customizable touchscreen
Built-in HD web camera
Two-way voice and one-way video calling to in-unit hardware (TX3 InSuite Touch Gateway) or Mircom's mobile app, MiEntry
2000-name directory on some models
Some models are weather-resistant
Provision for optional high-definition IP camera
Built-in Wiegand proximity reader
Windows-based operating system
Pricing
Mircom does not share any public pricing information or installation costs; however, individual models range from $5,989 to $9,697. You'll have to get a quote for an exact price. 
Pros & cons
Pros:
An established provider with 30+ years in business
Multiple models and customizability
Mobile app for voice and video calling as well as remote entry
Cons:
No public information about product costs or installation (that can be found at the time of writing)
User interface may be outdated
Might not IP65 rated
No known two-way video calling capabilities
The built-in camera may not be an IP camera
Software for remote configuration may not be cloud-based

Comparison of Mircom TX3-Touch with the ButterflyMX Smart Video Intercom
While both the Mircom TX3-Touch intercom system and the ButterflyMX smart video intercom take advantage of smartphone apps to connect residents with guests, ButterflyMX may provide a far more robust property access experience.
One of the most appealing aspects of the ButterflyMX intercom system is how feature-rich and user-friendly it is. Residents can receive two-way video calls and remotely unlock the door from the device they already use every day: their smartphone. Mircom's TX3-Touch intercom may lack two-way video chatting and other entry options ButterflyMX offers. With ButterflyMX, you can send virtual keys to guests ahead of time, grant access to couriers with delivery PINs, and even open the door with an Apple Watch.
Another advantage of ButterflyMX is its design. ButterflyMX resembles a high-end tablet, with crisp, colorful video and customizable buttons. The resident directory is intuitive, ensuring a seamless entry experience for guests.
These advantages in features, aesthetics, and ease of use are why ButterflyMX has been installed in more than 6,500 buildings. It continues to beat out the competition with its sleek style, feature-packed app, and user-friendly functionality.
Watch how ButterflyMX works:
ButterflyMX vs. Mircom
Mircom intercoms may lack the sophisticated technology needed to create a seamless, convenient, and ultra-secure property entry experience. Though the Mircom TX3-Touch intercom enables smartphone-based property access, the system could be difficult to set up and manage. Further, without two-way video calling or an IP65 rating, this Mircom intercom may not compare to its competition.
| Feature | ButterflyMX | Mircom |
| --- | --- | --- |
| Built-in camera | Yes | Yes |
| Two-way video calling | Yes | No |
| Touchscreen | Yes | Yes |
| IP65 rated | Yes | No |
| Virtual keys | Yes | No |
| Mobile app | Yes | Yes |
| Cloud-based system management | Yes | No |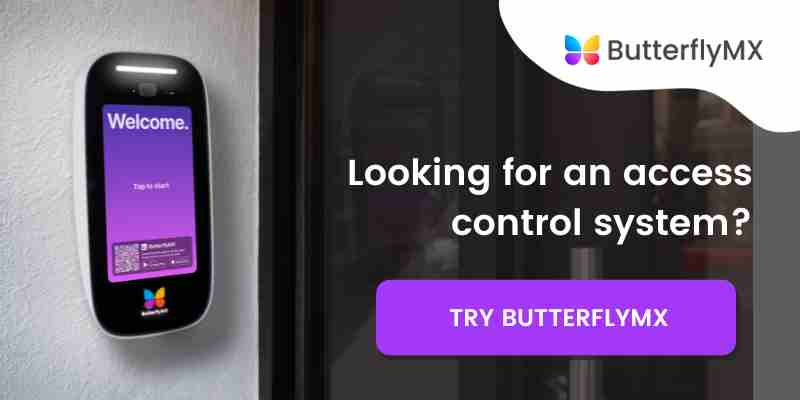 Disclaimer: ButterflyMX provides these blog posts to help our customers and potential customers make the right business decisions for them. Our blog posts are based on the information we have available to us at the time of writing.