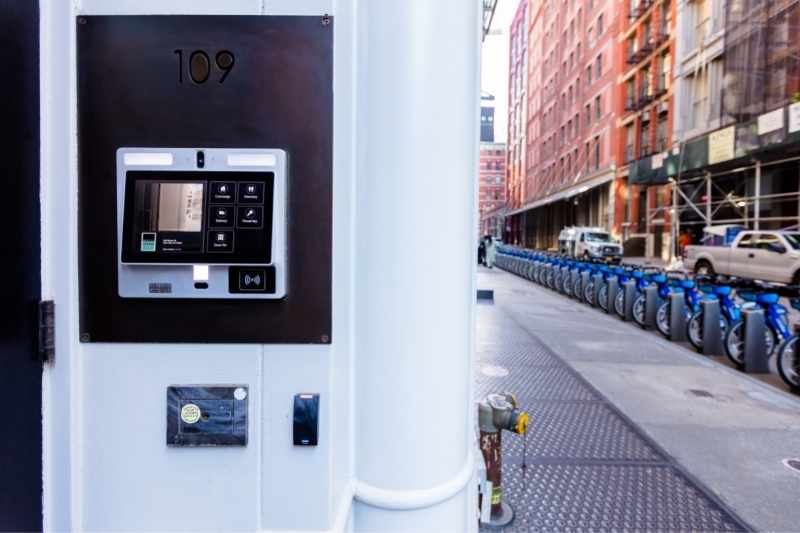 Key Takeaways
The best touch screen intercom system is ButterflyMX.
A touchscreen intercom is a building entry solution with a touchscreen interface instead of keypads and buttons.
The benefits of an intercom system with a touchscreen include increased security, improved ease of use, more convenience, and added curb appeal.
A video intercom system is a must-have for properties that want to control access to their building as well as improve efficiency.
Having the right touch screen intercom system can make or break the tenant experience at your property. So, if you're shopping for a new property access solution, choose one that will delight residents while improving security.
In this post, discover:
Top 5 touchscreen intercom systems
Now that you know the benefits of a touchscreen intercom, it's time to determine what is the best intercom. Below, we share a list of the best touchscreen intercom systems on the market.
The top five touchscreen intercom systems:
1. ButterflyMX
ButterflyMX is the best touchscreen intercom on the market. ButterflyMX's video intercom has a sleek yet durable touchscreen paired with an intuitive user interface. Moreover, visitors who have never used a ButterflyMX intercom can easily tap its screen and quickly figure out how to call a tenant and request access.
But that's not all.
The ButterflyMX video intercom also offers:
A cloud-based dashboard for remote system management.
Easy integration with existing access control systems, property management software, and smart locks.
Mobile app and smartphone-controlled door access.
Simple installation since there are no wires or in-unit hardware needed.
2. Aiphone
Aiphone sells access control products for both commercial and multifamily properties. And their product lineup includes a touchscreen intercom system that may meet some needs: the Aiphone IXG Series IP Multi-Tenant Video Intercom
This Aiphone touchscreen intercom includes:
A camera for video calling.
Wall-mounted, in-unit tenant stations.
PoE connectivity.
Keep in mind that this product requires in-unit hardware, which could lead to a difficult and expensive installation.
3. Akuvox
Touting a global reach, Akuvox sells a touch screen intercom designed for multifamily buildings.
The Akuvox video intercom includes:
Time-stamped log of every entry for safety and auditing
QR codes for guest entry
A mobile app
While there are some high-tech options like the mobile app, this system may require in-unit hardware and may not integrate with other proptech you already use. What's more, the company is based in China, so you may not be able to access any sort of live customer support.
4. LiftMaster
Based in Oak Brook, Illinois, LiftMaster is part of The Chamberlain Group a company that designs and engineers residential garage door openers, commercial door operators, and gate entry systems.
The Liftmaster video intercom includes:
Audio-only and video intercoms
May not offer in-unit hardware; their intercoms must be connected to existing phone numbers or operated with a smartphone through LiftMaster's mobile app
Touchscreen and keypad interface options
5. Comelit
This access control company has been around for a while, specializing in a range of access control and security systems. Comelit sells a few different intercom models, and only certain ones have a touchscreen.
Comelit's touchscreen intercom includes:
A remote access option with a mobile app
Two-way video calling
Digital access codes for visitors
However, one thing to keep in mind about Comelit's touchscreen intercom is that it may require in-unit hardware, which is expensive to purchase, install, and maintain.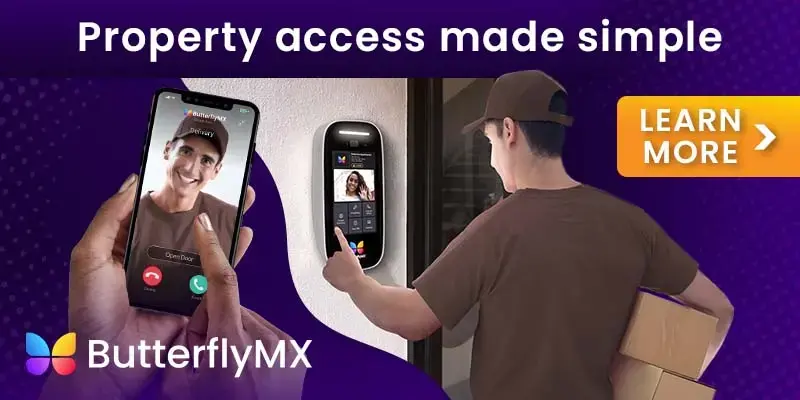 What is a touchscreen intercom?
A touchscreen intercom is a building entry solution with a touchscreen instead of keypads and buttons.
Touchscreen intercoms allow users to tap the device's screen to:
Navigate the tenant directory.
Call a tenant.
Enter an access code.
Many — but not all — touchscreen intercom systems also have a built-in camera to enable video calling. As such, residents can actually see who's requesting property access before unlocking the door for them.
What are the benefits of a touchscreen intercom?
There are many benefits to installing a touch screen intercom at your multifamily building. Furthermore, most of those benefits center around creating a better access experience for tenants, visitors, and staff.
Benefits of a touchscreen intercom include:
Increased security
A touchscreen intercom system increases security by making it easier for residents to see visitors requesting access via the camera system. Additionally, a modern touchscreen entry system is a huge step up from an outdated telephone entry system that constantly breaks down.
Every access control system should increase security. However, if a system lacks modern features, confidence levels won't be as high as they should be.
Improved ease of use
The power to improve everyone's routine comes with having easy access — and that requires a powerful building entry system. Believe it or not, ease of use is critical to how daily activities are carried out at your property.
Touchscreen access control systems improve ease of use by:
Improving deliveries. Intercom systems make it faster and easier for couriers to complete deliveries and prevent package theft.
Making installation easier. Wireless intercoms with touchscreens are easy to install and make retrofitting possible.
Empowering tenant entry. Most touchscreen intercoms provide multiple entry methods, like opening the door with a smartphone or voice command.
Discover how easy it is to use a delivery pass with ButterflyMX:
More convenience
Intercoms with touchscreen make access to your building easier with mobile apps, touchless entry, and even virtual keys. And many touchscreen intercoms offer all those conveniences. By streamlining building entry, you're effectively improving the resident experience.
People are busier than ever, which means that everything — including access control systems — should be able to keep up.
Added curb appeal
With a modern, sleek intercom system at your property's entrance, you'll increase the property's value and give prospective residents and visitors a positive first impression. Furthermore, you may even be able to increase your rent rates with modern, smart technology like a touchscreen intercom.
No matter where your property is located, you've likely seen the many types of intercom systems. Moreover, you may have also noticed how the outdated hardware that sits outside of them can speak volumes about the care put into the building.