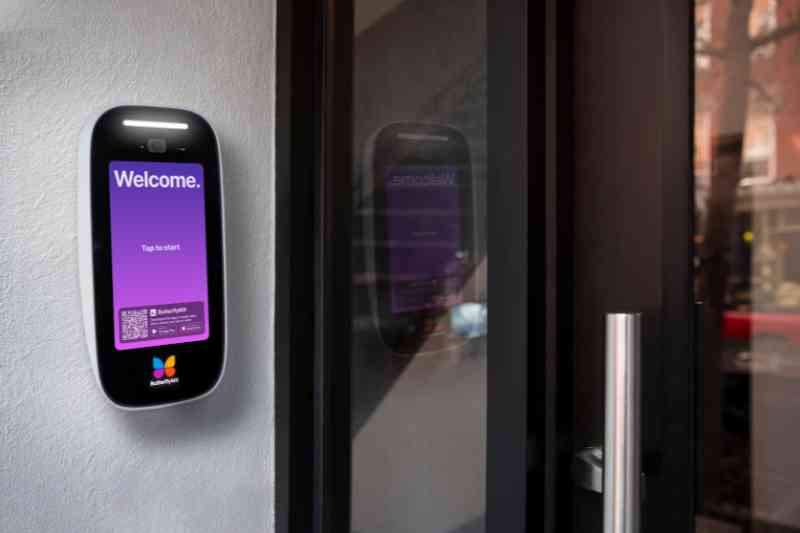 Key takeaways
A multi-tenant intercom system allows building tenants to communicate with visitors and grant them property access.
Common types of multi-tenant intercoms are wired, wireless, telephone, and video intercoms.
The types of buildings that can benefit from multi-tenant entry intercom systems are apartment buildings, commercial offices, condos, student housing, gated properties, and industrial facilities.
The best multi-tenant intercom system is ButterflyMX.
Multi-tenant intercom systems are building entry solutions that grant access to guests, provide seamless entry for tenants, and help property staff maintain security. Since every building has visitors, tenants, and staff, every building needs a multi-tenant intercom system.
Read on to discover what these systems are, how they work, and the types of systems available. You'll also find the cost of these devices, how they benefit various properties, and what features to look for when choosing a system. Finally, discover the best multi-tenant intercom on the market.
In this post, you'll learn:
What is a multi-tenant intercom system?
A multi-tenant intercom system is electronic hardware that allows building tenants to communicate with visitors and grant them property access. Installed at a building's entrance, this system includes a microphone, speaker, and often a camera. All properties can benefit from using a multi-unit intercom, including apartments, commercial office buildings, and industrial properties.
Though multi-tenant intercom systems were invented more than 100 years ago, they remain one of the best tools for granting building entry to visitors. In fact, they're so effective at managing property access that many additions have been made to these intercoms over the years. So, today's multi-tenant entry systems are more powerful than ever.
Today's multi-unit intercom systems:
Connect to the internet
Provide live video
Offer a smartphone app
Integrate with access control and property management systems
Types of multi-tenant intercom systems
While multi-tenant intercom systems are designed for the same purpose, they don't all use the same technology.
The types of intercom systems include:
Wired multi-tenant intercom. As the most traditional option, wired intercom systems use physical wiring to connect individual unit hardware to the main intercom device located at the entryway. Unfortunately, because of all the wiring, these systems cost more, take longer to install, and require significant maintenance.
Wireless multi-tenant intercom. A wireless intercom system uses a type of wireless signal — such as WiFi or a cellular network — to connect units with the central control panel. These systems are much simpler to install, reducing costs and time. Not to mention, maintenance is easy with a wireless system since it has little to no wiring and can be updated remotely.
Telephone multi-tenant intercom. With a telephone intercom system, existing telephone lines carry the signal between the in-unit hardware and the main control panel. From the in-unit hardware, tenants can press a button on the phone to grant access. The major drawbacks of telephone intercoms are their lack of video capabilities and the expenses associated with operating a telephone line.
Multi-tenant video intercom. Lastly, video intercom systems are the most advanced option. They provide tenants with a video feed of guests requesting access from the entry hardware. These systems are most commonly wireless to cut installation costs. Additionally, many video intercoms are cloud-based, meaning they store data in the cloud instead of requiring on-site servers.
Watch how ButterflyMX works:
Which types of buildings benefit from a multi-unit intercom system?
Apartment buildings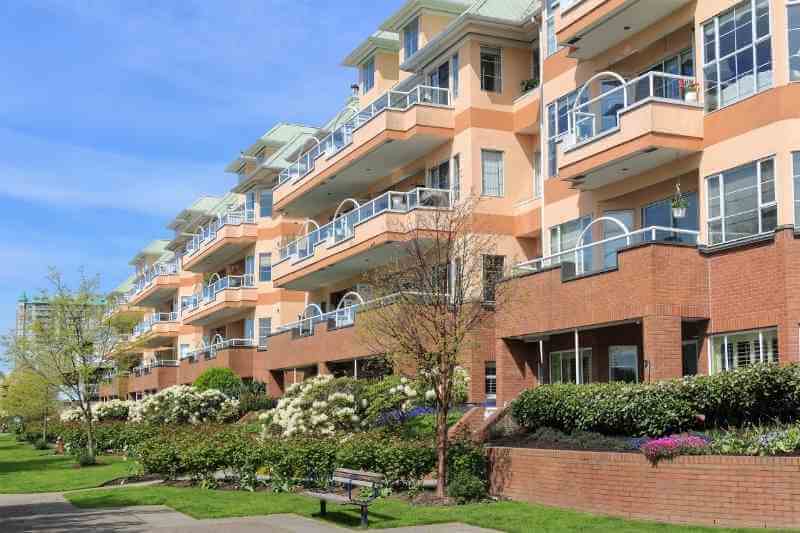 With 21.9 million apartment units in the U.S., apartment intercom systems are the most common type of multi-tenant intercom.
Apartment intercom systems allow residents to communicate with visitors and grant them property access. They also enable property owners and managers to easily grant or deny access from a smartphone or computer.
In recent years, many of these apartment intercom systems have become wireless. Wireless systems for apartment buildings reduce the need for additional installation, hardware, and maintenance — which are often the most expensive components of getting a new apartment building intercom.
Commercial/Office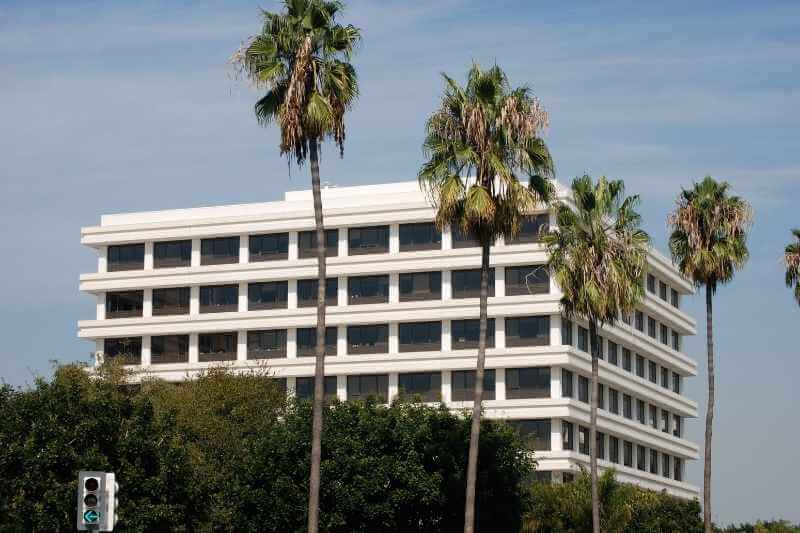 Commercial properties are often overlooked when considering a multi-tenant entry system. However, commercial office buildings also have tenants, staff, and visitors.
Most commercial buildings rely on a simple access control system — like a key fob system — to manage entry into their property. But access control systems aren't designed to provide visitor access because they lack a way for visitors to call individual tenants within the building.
In addition, modern commercial office buildings are seeing more visitor traffic than ever before — thanks to the flood of on-demand services created by the gig economy. Today's offices now have food deliveries, office supplies, and cleaning people coming at all times of the day.
Condos/Co-ops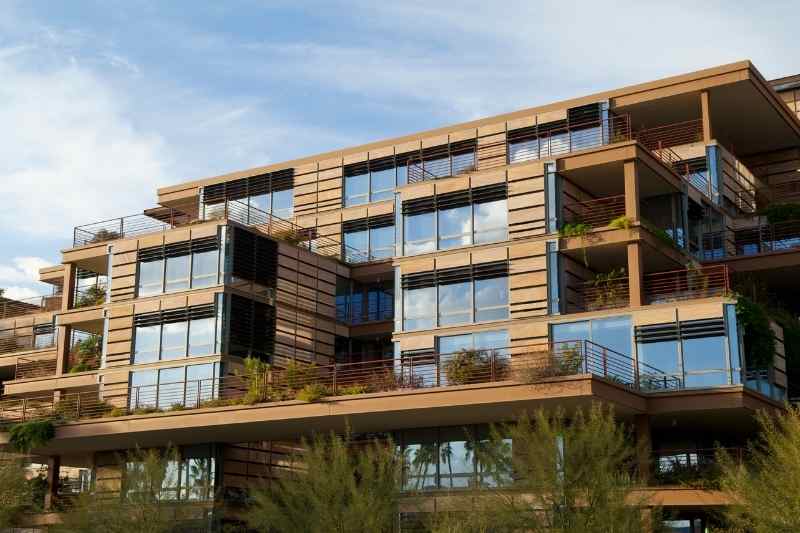 The difference between apartments and condos or co-ops is ownership. While apartments are rented, condos and co-ops are owned. This small but significant difference means that condo residents, owners, and managers have distinct needs regarding intercom systems for their condominium buildings.
For example, tenant turnover isn't a major concern for condo buildings since owners don't buy or sell their residences often. However, ensuring simple visitor entry and package delivery is extremely important because this is not just where they live — it's their home. Having a multi-tenant IP intercom ensures that residents never miss a delivery or visitor because they can remotely open and manage doors from their smartphones.
Student housing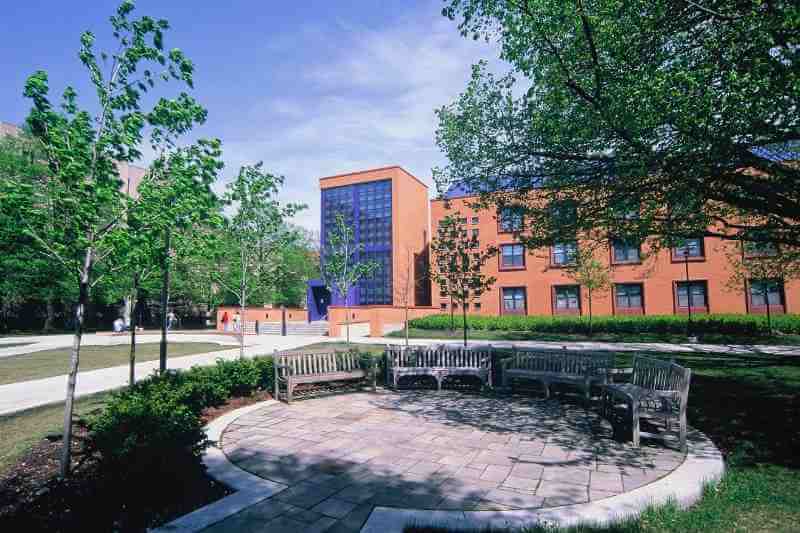 With nearly 5,300 colleges in the U.S., housing all of these students is a big business. Like apartments and commercial buildings, student-residents also receive guests and deliveries. And they also need a way to manage property access for these visitors.
However, unlike other buildings, student housing has nearly 100% turnover year-over-year since student-residents graduate and move on with their lives. Also, there are often significant security concerns (these are young adults, after all).
The right multi-tenant entry system can solve these challenges by offering integrations with property management software for automatic tenant directory updates. What's more, multi-tenant video intercom systems provide student housing residents and staff with the security of knowing who they're letting into the property.
Gated properties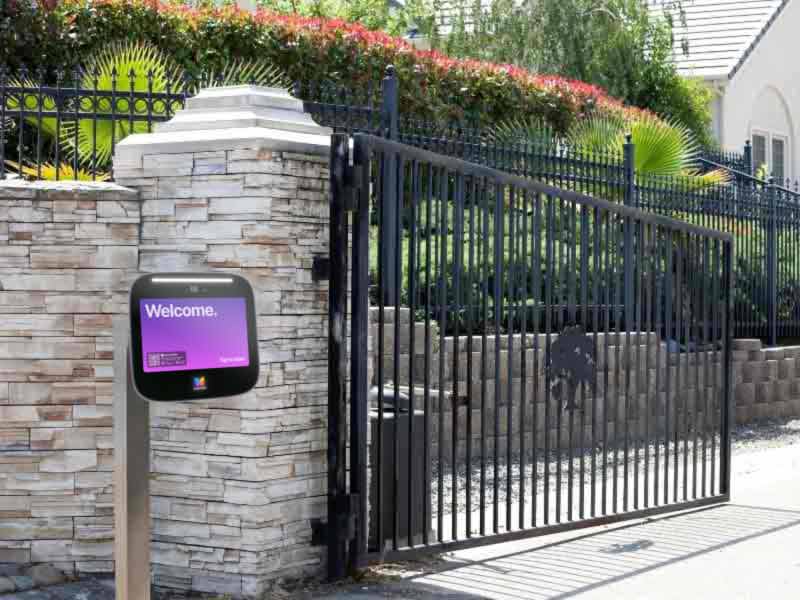 When it comes to gated communities, choosing a wireless intercom system is key.
Gated properties usually have driveways, which creates an installation challenge for the intercom system. Ripping up asphalt, running wiring, and repaving the street are expensive. A better option is to choose a wireless apartment intercom system that relies on a cellular connection (4/5G) or WiFi.
Modern wireless multi-tenant IP intercoms still offer the same functionality as a traditional wired intercom system without the need to run additional wiring. In addition, the right gate intercom system can reduce the need for a full-time gate attendant to vet visitors and grant them access to your gated community.
Industrial facilities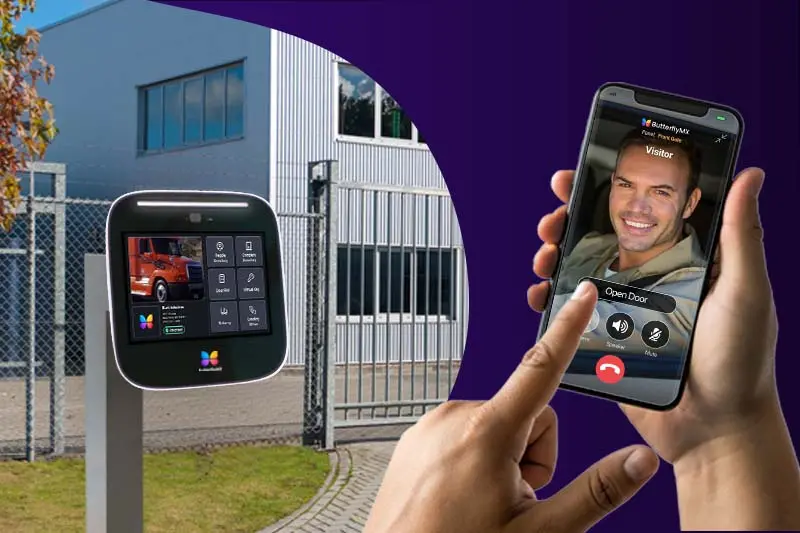 Warehouses, self-storage, and manufacturing are all examples of facilities that fall under the industrial umbrella.
These types of properties house valuable products, belongings, and raw materials. They also need to provide convenient and verified access to various parties, such as truckers, customers, and employees.
Currently, industrial buildings rely on a patchwork of people and processes to review a person's credentials and provide access to all or some of the facilities. But using the right multi-tenant intercom can help streamline this process by allowing visitors to authenticate access while recording their entry into the property. With QR codes, delivery PINs, and live video, facility managers can rest assured that only the right people are accessing their building.
How much do multi-tenant intercoms cost?
Multi-tenant intercoms typically cost between $1,000 to $7,000 depending on the type of system.
Typically, wireless intercoms cost between $1,200 to $3,000. Meanwhile, video intercom systems range between $1,400 to $7,000.
How do I get my intercom repaired?
Installing and repairing a multi-tenant intercom system is a complex task that requires technical expertise. The specific steps vary depending on the brand and model of the intercom system you're working with.
Here are a few considerations to consider when choosing an installer:
Choose a system that fits your property's needs. Select a multi-tenant intercom system that meets the needs of the tenants and your buildings' layout. Then, identify a suitable location for the intercom panels, indoor units, as well as any necessary wiring.
Preparation. Opt for an installer that's knowledgeable about the system by choosing a technician that specializes in installing your specific intercom model. Additionally, determine the number of units (apartments or offices) that will be connected to the intercom system.
Wiring. If you have a wired system, your installer may need to run wiring from the intercom panel to each individual unit. Alternatively, wireless intercoms don't require extensive wiring.
Testing. Test your access control system by making calls from the intercom panel to the indoor units. Then, check the audio and video quality, as well as the functionality of any additional features, like door release mechanisms.
Pro tip: To avoid constant repairs, it's important to get your multi-tenant apartment building intercom system installed by a certified technician. Further, getting your intercom installed by a certified installer ensures you don't void the warranty.
Troubleshooting and intercom repair tips:
Identify the problem. Determine if the issue is with the intercom panel, indoor units, wiring, power supply, or any other component.
Check power and connections. Turn your intercom off and power it back on to ensure that the system is receiving power. Then, examine the wiring for any visible damage or loose connections.
Test your system. Test the system by making calls. Then, determine whether the audio and video capabilities are working properly.
Check for software issues. If the system has software, check for any updates or issues related to the programming.
Replace faulty components. If you identify a faulty component, replace it with a new one.
Seek out the professionals. If the issue is complex or beyond your expertise, contact the manufacturer's support team or hire a professional technician.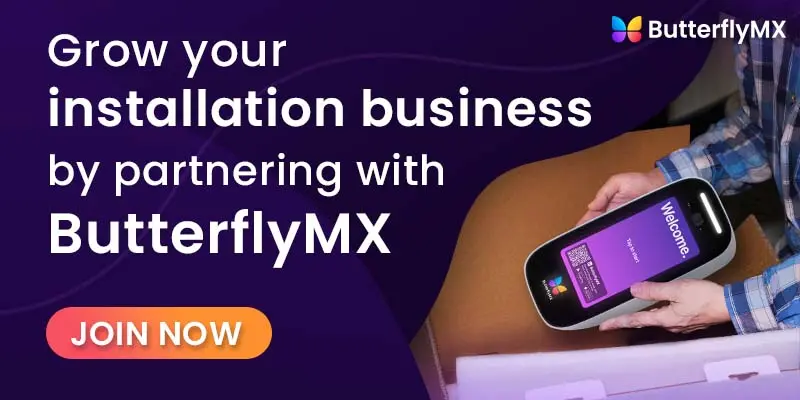 How to choose a multi-tenant video intercom system
Whether you manage an apartment building, own an office complex, or serve as president of your HOA board, one crucial part of your job is managing access into and within your building.
Managing access is crucial for maintaining building security, providing seamless guest access, ensuring package deliveries, and delivering an exceptional tenant experience. Installing a multi-tenant intercom system is one simple step you can take to drastically improve how people live or work in your building.
So, to get the most out of your multi-tenant video intercom, you have to know what features to consider.
Must-have features you need in a multi-unit video intercom system:
Mobile app. To reduce installation costs from in-unit hardware, ensure your multi-tenant intercom system utilizes a mobile app instead. In turn, your tenants can see and speak with those requesting property access. Then, if they want to let them inside, they can easily grant them access from their phone.
Integrations. Avoid disrupted workflows by integrating your intercom system with your existing property management software. That way, your tasks of adding and removing tenants are automated.
Audit log. An audit log keeps track of who enters your property at all times of the day. Your multi-tenant video intercom will take a time- and photo-stamped picture of the entry alongside other stored information.
Multiple credentials. Many multi-tenant intercoms only support one door opening method, but these systems are flawed. Instead, you should consider a system that supports multiple credentials for added convenience.
Virtual keys. Whenever your tenants want to provide autonomous access to their visitors, they can set up virtual keys. Virtual keys can be customized for one-time use or for specific times of the day and week. This feature is especially useful if tenants won't be on the property when it's used. For instance, a resident may provide their dog walker or housekeeper a virtual key to access the property when they're away.
Delivery PINs. Finally, make it easy for major couriers to deliver packages to the property by creating unique delivery PINs. As a result, drivers can easily access the property, preventing missed or delayed deliveries.
Learn more about ButterflyMX:
The best multi-tenant intercom system
ButterflyMX is the best multi-tenant intercom system for making property-wide access simple.
Of all the multi-tenant intercoms available, the ButterflyMX video intercom system is by far the most beneficial because of the modern features it offers.
Benefits of the ButterflyMX multi-tenant video intercom include:
Top-rated mobile app. With over 20,000 5-star reviews, the ButterflyMX mobile app is convenient and easy for tenants to use. Additionally, property staff can remotely manage users from a web-based dashboard.
Two-way video calling. Traditional buzzer intercoms don't manage visitors safely. With ButterflyMX, your tenants can easily see who's requesting access before letting them in. What's more, it takes a time- and date-stamped photo of each entry event that staff and residents can review at any time.
Visitor management. Grant safe and secure remote access to guests, service providers, and delivery couriers with digital keys. These temporary keys can be single-use or set to expire after an allotted period of time.
Integrations with smart locks. ButterflyMX integrates with over 80 smart locks so you can manage access to shared amenity spaces and enable self-guided tours.
Package management. The ButterflyMX video intercom lets delivery drivers independently access the building and package room. That way, tenants can avoid missed or stolen packages when they're not home. Package management solutions are crucial as online shopping has grown exponentially.
Scalability. A multi-tenant video intercom can accommodate any size building — allowing you to add tenants or floors whenever necessary without upgrading the system or changing the existing infrastructure.
Wide-angle camera. The wide angle view of the ButterflyMX video intercom camera records a majority of the surroundings for ideal security.
Multiple connections. The intercom is equipped with RFID, WiFi, Bluetooth, and NFC connection capabilities.