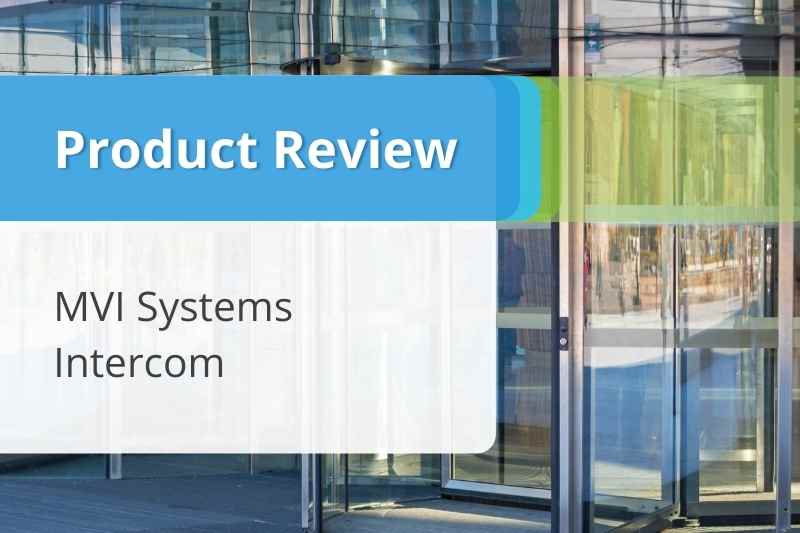 If you're a property owner or manager, you know how much work goes into maintaining your building's daily operations. You have to wear multiple hats to keep your building up and running. And you crave automation whenever possible. And one solution to manage the building access is an apartment video intercom system. A video intercom makes property access simple and secure for residents, staff, and guests.
My Video Intercom (MVI Systems) is one of the many options currently available for multifamily buildings. So, if you're considering MVI Systems, read on to learn more about the intercom, its features and costs, and why you may want to consider a better alternative.
In this review, we cover: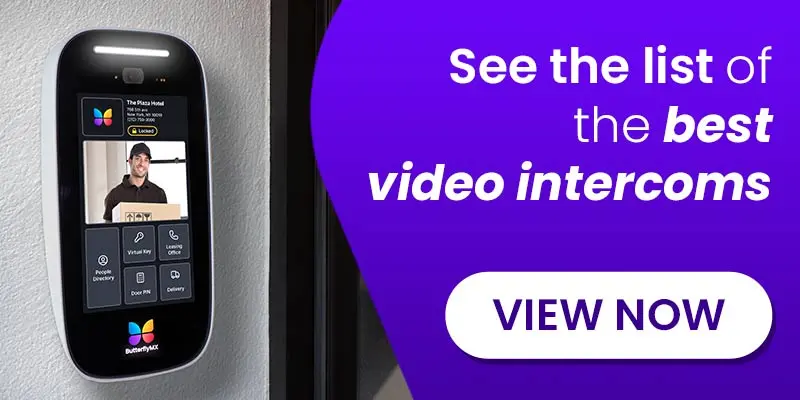 About MVI Systems (My Video Intercom)
In 2016, Samuel Taub wanted to make the residential multifamily building market more attractive to millennials, the largest demographic in the renter population. And this is what led him to create My Video Intercom.
MVI Systems is a Brooklyn-based software development company. It provides property technology (proptech) solutions to multifamily buildings in New York and New Jersey. Most notably, its patented KeyCom® smart video intercom system paired with its Building Management Platform offers residents and staff insight into door entry activities, maintenance tracking, and delivery statuses. Additionally, KeyCom® claims to include facial recognition and artificial intelligence software to control access.
Moreover, the MVI myKey™ smartphone app provides residents with keyless Bluetooth entry and digital keys. The mobile app also facilitates real-time communication between residents and guests.
Features
Audit and track door events: Residents and building staff can remotely grant or deny guests and service workers access to the building. Additionally, property managers have access to detailed building entry events and reporting.
Cloud-based management: Every access activity is controlled and monitored through a cloud-based web platform.
Built-in camera: The intercom's camera enables video calling so that residents and staff buzz in only verified guests into the building.
Manage maintenance requests: Through the Advanced Building Management web platform, residents can submit maintenance service requests. In turn, property managers can ensure that staff respond to each request promptly and track its progress.
Messaging platform: The in-app messaging platform facilitates inner-building communication among residents, staff, visitors, and delivery personnel. And, visitors can scroll through the directory on the KeyCom® touchscreen device to call the resident they're visiting.
Pricing
MVI's KeyCom® intercoms come in two sizes: BOLT 15" and LITE 12". The cost of both MVI Systems' intercoms starts at $3,995, not including the installation fees or monthly service fees.
MVI intercoms offer residents three ways to open doors:
MVI myKey™ mobile app
myKey™ TAB key fob
Access PIN
Regardless of which entry method residents choose, they all need a Resident Onboarding Package. Each resident gets a set of two myKey™ fobs, an activation card, and user registration instructions. The set comes in a box of 25 at $150 per box. Additional packs of myKey™ come in sets of 25 at $37.50 per box.

Pros & cons
Pros:
Multiple ways of entering: Residents who don't have smartphones can enter buildings by scanning their myKey™ tags or entering their PIN codes.
Ability to grant access remotely: Building staff and residents can give access to guests even when they're not home.
Video calling and video voicemail capabilities: Residents can video call with guests before granting them access. And if the resident isn't home, visitors can leave a voicemail.
Cons:
Lackluster customer service: MVI Systems may not have robust customer service. So, when there's a problem with the intercom, property managers must pay for dealers to come on-site.
Prone to system crashes: Some MVI Systems users report how the intercom software can sometimes crash, making it difficult to use.
Poor user-interface experience: Some reviews from MVI Systems users point to the intercom's poor user interface. They say guests need to call residents multiple times for the door to open, and navigating the touchscreen system is complicated.
Comparison of MVI Systems and ButterflyMX
Both MVI Systems and ButterflyMX provide video intercoms that run on the Internet of Things (IoT) and are smartphone-enabled. However, a handful of features make ButterflyMX's smart intercom system the better option.
First, all properties that install ButterflyMX are teamed with a dedicated Customer Success Manager who troubleshoots all and any device issues a property might encounter. ButterflyMX has its own team of trusted installers who can come on-site if the problem can't be solved over the phone. Therefore, you'll never be stranded with a malfunctioning device.
Additionally, ButterflyMX makes deliveries secure and simple with its package room, Delivery Pass, and virtual key options. The package room creates an organized space where package couriers simply scan and place tenants' deliveries. Then, tenants receive a notification on the ButterflyMX mobile app informing them of the deliveries. And they can pick up their packages at any time of the day.
In a similar vein, Delivery Pass lets tenants give out single-use PINs to package couriers and food delivery delivers to securely place their orders inside the building. Working similarly, virtual keys facilitate seamless property access for trusted visitors, such as on-demand services, family members, and friends. With virtual keys, authorized guests can enter the building even if the tenant is not home.
Watch how ButterflyMX works:
MVI Systems vs. ButterflyMX
Although MVI Systems' video intercom is one option for multifamily property access, it may not offer the same extensive functionality as the ButterflyMX intercom. Ultimately, ButterflyMX's robust features, proven success, and reliability ultimately make it the better choice for multifamily buildings and gated communities.
| Feature | ButterflyMX | MVI Systems |
| --- | --- | --- |
| Refined mobile app experience | Yes | No |
| Easy-to-use touchscreen interface | Yes | No |
| Catered customer success teams | Yes | No |
| 15+ integration partners | Yes | No |
In addition, ButterflyMX has over 6,000 five-star ratings, whereas MVI myKey™ has about 130 reviews that average around 3.3 stars (at the time of writing). Overall, ButterflyMX is more than just an intercom system; its product line-up of building access solutions also includes keypads, package rooms, elevator systems, self-guided tours, and front desk systems.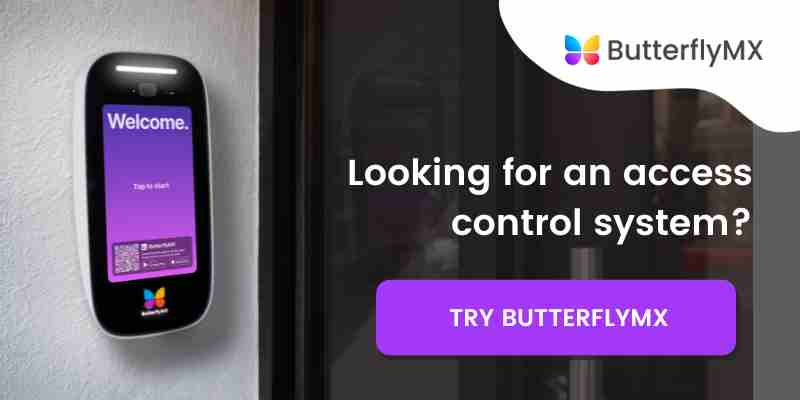 Disclaimer: ButterflyMX provides these blog posts to help our customers and potential customers make the right business decisions for them. Our blog posts are based on the information we have available to us at the time of writing.