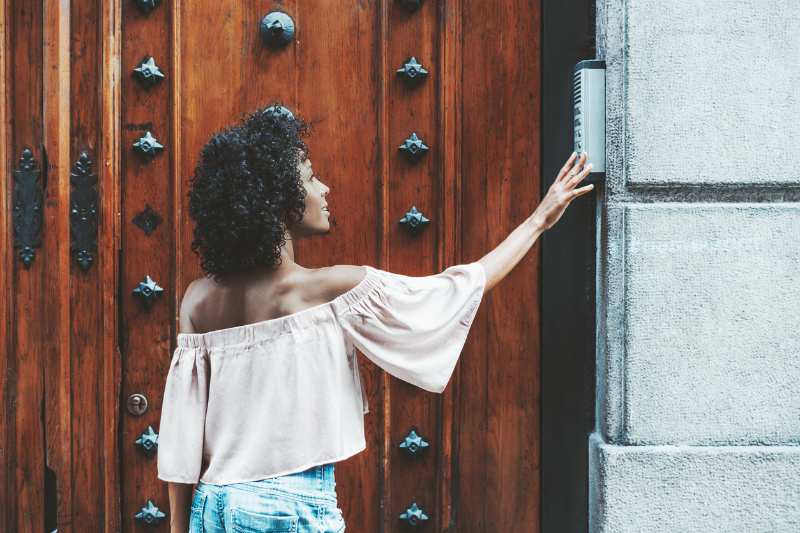 Is it time to upgrade the intercom in your apartment building? If your decision is down to the wire, that's exactly what you should consider first: wiring. When choosing an apartment intercom system for your building, you'll have to choose between a wired or a wireless system.
But don't decide too quickly — this decision may have significant financial and functionality implications.
Here's what to know when selecting between a wired and wireless apartment intercom system:
Best wireless apartment intercom system
The best wireless apartment intercom system is the ButterflyMX video intercom.
Established in 2014, ButterflyMX introduced its flagship product, the video intercom system. Since then, ButterflyMX has been installed in more than 10,000 buildings with more than 1 million active daily users. Moreover, the video intercom is a cloud-based system that enables tenants to use their phones for property access.
With this in mind, you can expect a variety of helpful features:
Mobile app. Use the ButterflyMX mobile app to grant access to the property, speak with visitors, or manage credentials.
Built-in camera. See who you're speaking with when a visitor requests access to the property. The camera sends a video feed of the guest to the tenant's phone. From there, tenants can see and speak with the visitor before granting access remotely.
Audit log. Review everyone who's accessed the property using ButterflyMX through the comprehensive audit log. The video intercom takes a date- and time-stamped photo of the user and stores it for up to 365 days.
Directory. Request access from tenants by searching the directory. Upon selecting their name, guests can video call the individual to notify them of their arrival and request access.
Delivery PINs. Give delivery drivers the ability to access the property on their own by assigning major couriers their own delivery PIN. This way, tenants can receive their deliveries safely and without delay.
Virtual keys. Let tenants provide their guests or service workers temporary access to the property with virtual keys. These keys are designed to only be used at certain times or only once. Virtual keys are great for residents who need to let in a service worker, such as a housekeeper or dog walker, while they're away.
Multiple credentials. Use your smartphone or unique PIN code to access the property.
Learn how the ButterflyMX ecosystem works:
How do wireless apartment intercom systems work?
Wireless apartment intercom systems work by using the internet to receive and verify credentials before granting access to a user.
More specifically, there are three major components a wireless intercom system utilizes to function:
Base station. Located at the entryway, the base station acts as the brains of the system. The base station is what determines if a user may enter based on the credentials provided. It communicates with substations and the door release to verify credentials and unlock the entryway.
Substation. Wireless intercom systems primarily use smartphones as substations because they reduce installation costs and are significantly more convenient for users. Substations act as the credentials for users, allowing them to grant access for themselves or for guests remotely.
Door release. As the component physically secures the entryway, the door release grants access once it receives a signal from the base station when authorized credentials are provided. Then, the user has a limited amount of time to enter before the entry is secured again.
Wireless vs. wired apartment intercom systems
Wireless and wired apartment intercom systems have many differences, but the most obvious comes down to wiring.
Wiring applies to two different aspects of an apartment intercom system: its connection to in-unit devices and its connection to the internet. Wiring is beneficial in some situations but a hindrance in others. Wired intercoms require wiring between the outdoor and indoor devices. In other words, the front entry hardware needs to be wired to the hardware in every unit.
In contrast, wireless video intercoms don't require extensive wiring to in-unit hardware. Instead, they need to be connected to the internet, which lets residents receive notifications from a visitor and grant them access. So, many wireless apartment intercoms have minimal wired connections, typically only requiring wires to the internet, power, and door release.
Overall, wireless and wired apartment intercoms differ in the following ways:
| Wireless intercom | Wired intercom |
| --- | --- |
| Doesn't require wiring to substations | Requires wiring to each substation |
| Uses smartphones | Uses in-unit hardware |
| Cloud-based | On-site server (legacy system) |
| Fast and low-cost installation | Expensive and lengthy installation |
Considerations for choosing an apartment intercom system
Before moving forward with an apartment intercom system, you must first consider many aspects. That way, you can ensure you're making the best decision possible for your property.
So, you should consider the following:
Budget. Apartment intercom systems vary widely in price, but it's critical you find a system that is cost-effective for your property. Most importantly, don't forget to consider the costs associated with installation, as it will also have an impact on your budget.
Installation. Some apartment intercom systems are easier to install than others. For example, wired intercom systems will take a lot of time to install because they are more complex. With this in mind, choose a system that won't set you back when it comes to upgrading your property.
Property. The size of your property should have an influence on the type of system you choose. If your property is large, with hundreds of units, a wireless apartment intercom system is best because it won't require extensive wiring throughout the building. As a result, you'll save a lot on installation.
Entryway. Apartment intercoms can be installed at traditional doorways, but they can also be placed at gates or garages. Keep location in mind when considering what type of system is best because it'll impact costs and installation. For the best results, choose the system that will meet your needs without drastically affecting costs or installation.
Internet access. Lastly, ensure the location where you plan to install your intercom receives dependable internet service. While some wireless intercom systems can use WiFi, many still require a hard-wired connection. Conversely, wired intercom systems require a wired connection regardless.
Disadvantages of wired apartment intercom systems
Many traditional intercoms require building wiring because they have in-unit hardware. When visitors use the front door intercom, it sends a signal through the wiring to the correct unit. Then, residents respond or open the door with the device in their unit. The device sends a signal to the door release mechanism, instructing it to unlock the door.
Rather than use a wired intercom system, it's best to avoid them because of the following:
Challenging to install. Installing wiring throughout a building is long and grueling work. As such, you'll need an experienced installer and a good amount of time. If you do want a wired system, it's best to install them as the building is constructed to reduce costs.
Expensive. Wired intercoms cost more because they require cabling, hardware, and installation time. Depending on the property, installing wiring throughout the building could cost tens or even hundreds of thousands of dollars.
Not future-proof. If you want to upgrade your system in the future, you'll have to rewire the entire building again.
Use in-unit hardware. As of February 2021, 85% of Americans had a smartphone — and that percentage will only continue growing. With this in mind, there's no reason to waste time and money installing in-unit intercom hardware when most people have a compatible device right in their pocket.
Persistent maintenance. Wired intercom systems require regular maintenance to stay updated and working properly. With so much hardware and wiring, maintaining a wired intercom system becomes grueling work. Not to mention, maintenance costs quickly add up.
These factors could cause headaches for installers, developers, owners, and property managers alike. So, choose a wireless apartment intercom to cut back on necessary wiring and to have a better experience overall.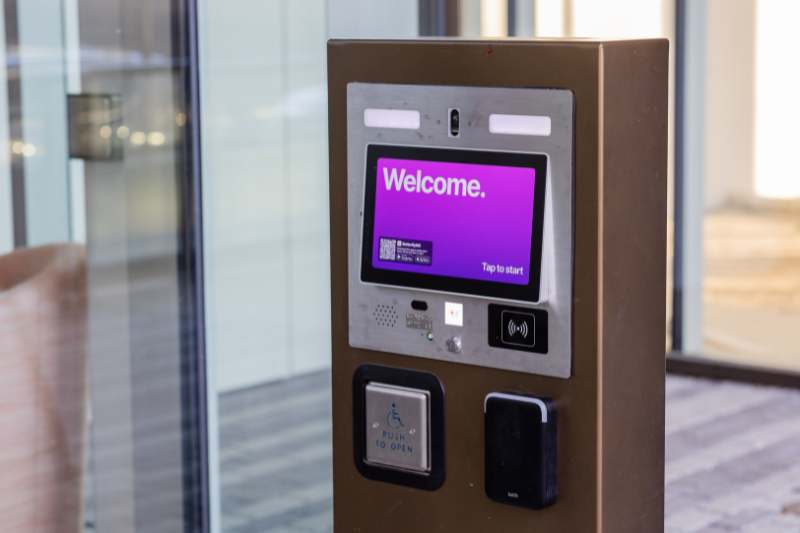 Why choose a wireless apartment intercom system
As mentioned above, wireless apartment intercom systems are superior options for your multifamily or commercial property. Generally, these systems are built with future-proof technology so that you can enjoy them for longer without racking up significant costs.
Meanwhile, you can benefit from their slew of features:
Cloud-based. By utilizing the cloud, wireless intercoms are capable of lasting significantly longer than wired solutions. Wireless intercoms receive updates and maintenance remotely, allowing them to get new features long after installation.
Smartphone credentials. Instead of using expensive in-unit hardware, wireless apartment intercom systems use tenants' phones as substations. As a result, tenants may use their phone to access the building.
Easy installation. While wireless intercom systems aren't entirely wireless, they don't require extensive wiring projects like their counterparts. Rather, they only need a few wired connections, reducing the effort needed for installation.
Integrations. Thanks to their cloud-based abilities, wireless intercom systems can integrate with other cloud-based technology, such as cameras or smart locks.
Remote access. By tenants using their smartphones as credentials, they can grant access remotely to family members, friends, and other guests.
Delivery-friendly. Traditional wired intercoms do not support delivery drivers because they can't be opened remotely, but wireless intercoms grant that ability. In turn, tenants can ensure their package is delivered safely and on time because of remote capabilities.