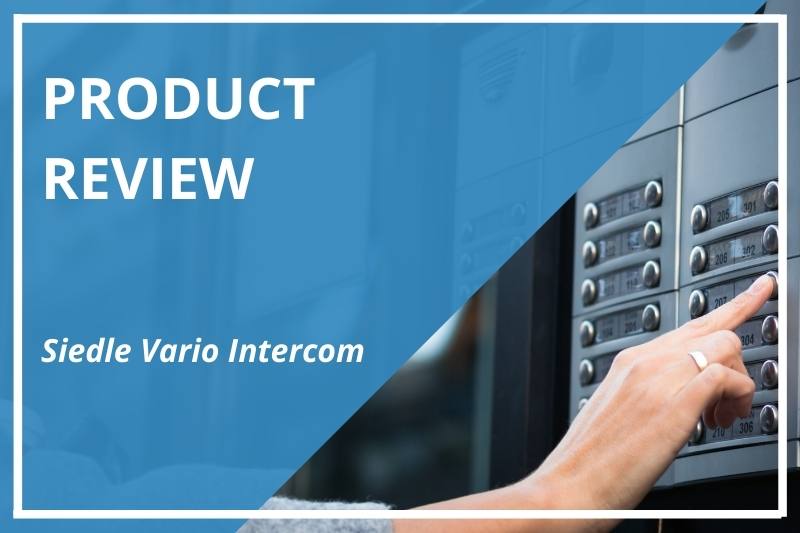 Multifamily residents prioritize safety and security. Protecting property, possessions, and loved ones is critical to maintaining resident satisfaction. Video intercom systems for apartment buildings are an effective way for tenants to see who's at the door before granting them property access.
There are plenty of video intercom providers, but not all products are equal. In this review, we'll take a closer look at a Siedle intercom: the Siedle Vario. We'll also see how it compares to the competition.
This review covers: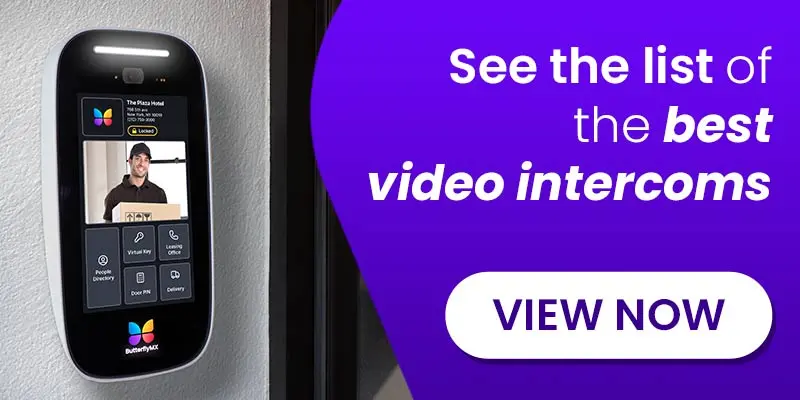 About Siedle
Based in Germany, Siedle provides telecommunications systems, including intercoms, IP systems, and access point security devices. The company has an international footprint, with a presence in many countries around the world. It is dedicated to creating innovative designs and engineering technologies that enhance security for people and organizations. Simplicity is a hallmark of Siedle, as it strives to provide functional products that deliver results.
Overview of the Siedle Vario intercom
The Siedle Vario is a modular video intercom that can be mounted either horizontally or vertically in a surface-mount or flush-mount version. With a variety of optional features, the Vario is easy to customize. Siedle's digital configurator tool lets you design a system with the features you desire. Intended for multifamily properties, this Siedle intercom can also be installed at commercial buildings, gated properties, and other multi-tenant buildings. Residents can open the door using an indoor door station or with their smartphones using the Siedle mobile app.
Features
Call button interface with optional digital directory/call display
Customizable and adaptable for different configurations and situations.
Dome camera that includes integrated infrared lighting
Day/night switchover function
Optional features include letterboxes, fingerprint reader, card reader, key-operated switch, electronic key reader, and code lock
Pricing
Siedle does not list prices on its website, and the cost of the Siedle Vario intercom will vary depending on the features you select. To get a quote, reach out to the company.
Watch how ButterflyMX works:
Pros & cons
Pros:
Good sound quality
Straightforward design and easy to use
Useful add-ons like the fingerprint reader, card reader, and electronic key reader
Cons:
No touchscreen
Mobile app requires a complex set-up process to grant residents access
Only one-way video calling
Outdated interface with limited functionality
Not ideal for large buildings with many units

Comparison of the Siedle Vario intercom with the ButterflyMX smart video intercom
Installing a video intercom system is an easy way to establish secure and convenient property access at any apartment building. But which intercom is better: the Siedle Vario or ButterflyMX? Though Siedle's Vario intercom offers a basic property access solution, it may not go beyond that.
ButterflyMX's mobile app and web-based platform provide a far more seamless access experience for both property managers and residents. Property managers using the ButterflyMX intercom are given access to a cloud-based property management dashboard. This means they can manage the video intercom system from anywhere without downloading software. They can also program the intercom and add or remove tenants remotely without going onsite to update the resident directory.
When it comes to hardware design and functionality, ButterflyMX also has the upper hand. Though simple and straightforward, the Siedle Vario may leave a lot to be desired from its intercom hardware. The ButterflyMX intercom, on the other hand, offers a more modern aesthetic with its large touchscreen interface and clean design.
Another advantage of ButterflyMX is its many property entry methods. With ButterflyMX, you can send virtual keys to guests in advance, provide delivery PINs to couriers, open the door with a Siri- or Alexa-enabled device, and swipe to open the door from the mobile app, among other methods. The Siedle Vario offers access options too: opening the door from a smartphone or from an in-unit device.
Finally, ButterflyMX has over 6,000, five-star reviews. There are not as many customer reviews on Siedle's website.
ButterflyMX vs. Siedle
The Siedle Vario intercom may function well enough for basic property access at multifamily apartment buildings. However, the Siedle Vario intercom could lack the convenient features and functionality needed to create a well-rounded building entry experience. Installing the Siedle Vario may be expensive if you choose to install indoor hardware in every unit, and setting up the mobile app for all your residents could be more trouble than it's worth.
| Feature | ButterflyMX | Siedle |
| --- | --- | --- |
| Two-way video calling | Yes | No |
| Mobile app & smartphone-based access | Yes | Yes |
| Touchscreen | Yes | No |
| IP65 rated | Yes | No |
| Virtual keys | Yes | No |
| Delivery PIN codes | Yes | No |
| Property management software integrations | Yes | No |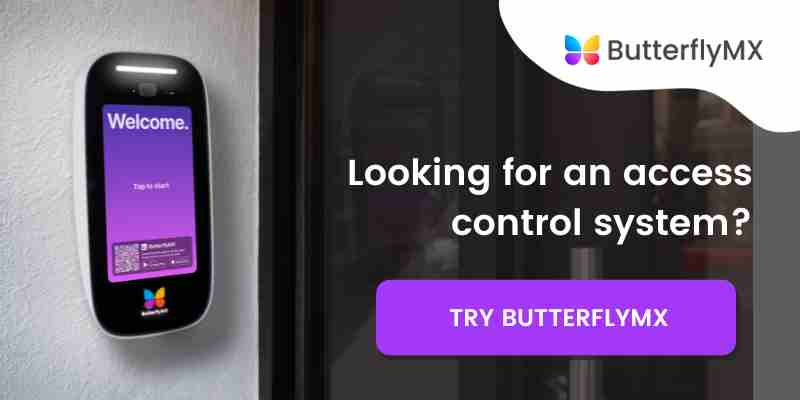 Disclaimer: ButterflyMX provides these blog posts to help our customers and potential customers make the right business decisions for them. Our blog posts are based on the information we have available to us at the time of writing.