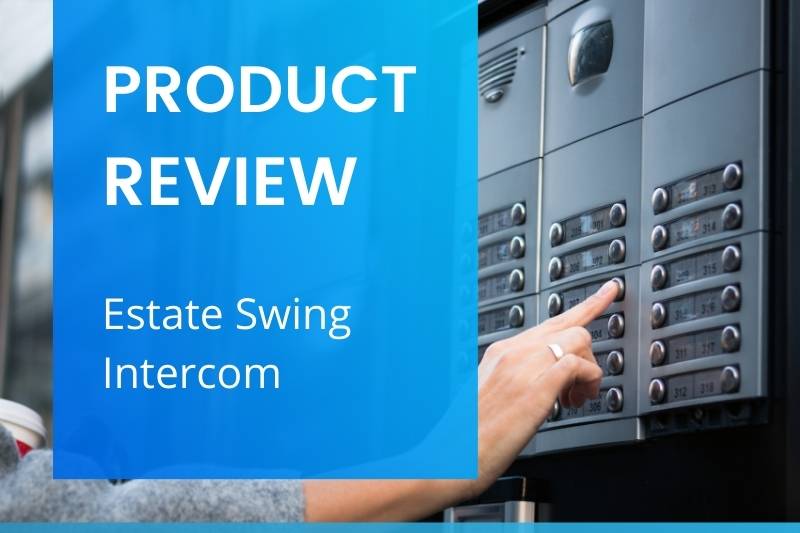 Choosing the best gate intercom system is a vital part of managing any residential property or gated community. Estate Swing is one of the options you may come across when shopping around.
While Estate Swing may be an affordable option, is it the best choice for your property? In this article, we'll dive into Estate Swing's gate openers and intercom and its various features. We'll also explore its pricing and pros and cons to help you decide if it's the best entry system for you.
This post covers: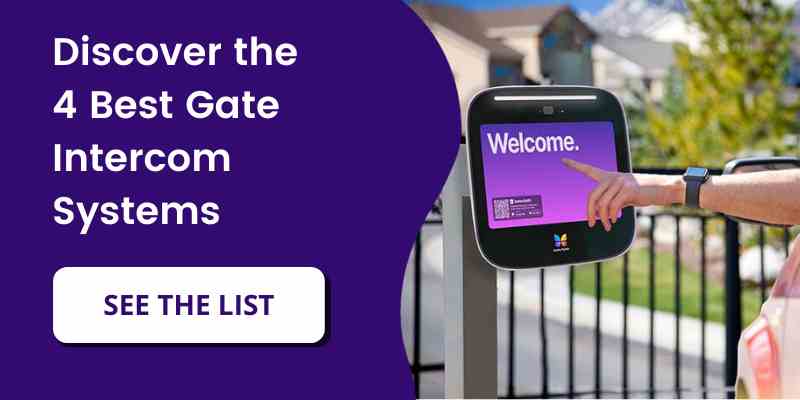 About Estate Swing
Sequoia Brands Inc. is the parent company of Estate Swing, which provides intercoms and gate openers for customers in the USA and around the world. They have an exclusive partnership with suppliers to provide intercoms and automated gate openers for commercial and residential properties.
The company strives to improve the efficiency and usability of their gate openers and intercom systems. In addition, they include a one-year warranty for all accessories. However, this warranty is non-transferable and doesn't include weather damage such as lightning, water damage, fire damage, or mishandling.
Estate Swing claims to use high-quality suppliers and incorporate leading technology into their products. Their products can be found in stores, online, or through local installers.
They sell:
Gates
GSM receivers and intercoms
Remote transmitters
Automatic exit wands
The company ships products worldwide and sells products through Amazon, The Home Depot, Walmart, and Gate Crafters.
See how a ButterflyMX gate intercom system works:
Overview of the Estate Swing gate intercom
The Estate Swing gate intercom is an option to improve security and manage access at single-family and possibly multi-tenant properties. Because their primary focus is on gate openers rather than intercoms, their intercom product may be quite basic and straightforward.
Features
Telephone entry system programmable with up to 1,000 authorized users.
Allows users to open the gate remotely from their cell phones or landline phones.
Keypad buttons for visitors to call tenants.
Compatible with all gate openers, including third-party openers.
They appear to offer a wireless video intercom model through third parties, but details aren't provided on the company's website.
Estate Swing gate intercom pricing
Based on an April 2022 pricing sheet, Estate Swing's gate call box begins at $169 and goes up from there. The wired callbox is $169, while the wired callbox with video is $349.
Once you include the intercom, base station, receiver, gate opener, and other hardware, the price is roughly $1000 before installation.
Pros & cons
Pros:
Relatively affordable.
Due to its minimalist design, the intercom is low cost and could be self-installed at certain properties.
Option to bundle the Estate Swing intercom with other devices like gate openers.
Cons:
Designed primarily for single-family homes.
No built-in camera.
If the company does offer a video intercom option, it appears that video recordings are stored locally, which requires onsite management.
Outdated appearance.
Lacks integrations with other technologies, such as smart locks, property management software, and other access control systems.
No mobile app.
Comparison of Estate Swing intercom with ButterflyMX video intercom
Estate Swing offers a gate intercom with basic features found in virtually every other intercom system. Their system's affordability could be an attractive feature, but ultimately, the intercom may be a poor choice for anyone seeking a comprehensive entry solution for a multi-tenant property.
First, Estate Swing intercoms may not integrate well with other technologies, like access control devices, property management software, and smart locks. This could frustrate users and create extra hassles for property staff. In contrast, ButterflyMX integrates with dozens of third-party technologies to ensure a seamless experience for residents and staff.
Second, Estate Swing doesn't offer a mobile app, which means residents can't easily unlock the door or gate from their phones. While entry system calls can go to a resident's cell phone or landline, they must press 9 on their phone to grant access. There isn't any swipe-to-open functionality like with the ButterflyMX mobile app.
Finally, the company's intercom system is designed primarily for single-family homes, which may leave much to be desired for multi-tenant properties like apartments and office buildings. In contrast, ButterflyMX is designed for all types of properties with multiple users.

Estate Swing vs. ButterflyMX
While Estate Swing may be budget-friendly, that doesn't mean it's the best entry solution for your property. Estate Swing intercoms lack the robust features and technology that modern tenants seek. What's more, property staff may spend more time managing the system since it doesn't operate with cloud-based software for remote management.
ButterflyMX offers a comprehensive entry solution for doors and gates at all kinds of multi-tenant properties. The ButterflyMX video gate intercom includes all the features and functions needed to maintain security while ensuring a great access experience.
ButterflyMX is trusted by residential and commercial properties throughout the US, including industry leaders such as Bozzuto, Greystar, and Lincoln Property Company. With more than 7,000 five-star reviews, ButterflyMX is the clear front runner in intercom technology.
| Feature | ButterflyMX | Estate Swing |
| --- | --- | --- |
| Built-in camera | Yes | No |
| Mobile app | Yes | No |
| Virtual keys | Yes | No |
| Integrations with third-party access control systems | Yes | No |
| Integrations with property management software | Yes | No |
| Voice commands using Alexa and Siri | Yes | No |
| Managed delivery solutions | Yes | No |
| Two-way video calling | Yes | No |
Takeaways
Estate Swing offers a variety of gate access control products including an intercom system.
Their products are primarily designed for single-family homes, including their intercom solution.
Their gate intercom may lack important features like virtual keys, integrations, and delivery management solutions needed at modern multi-tenant properties.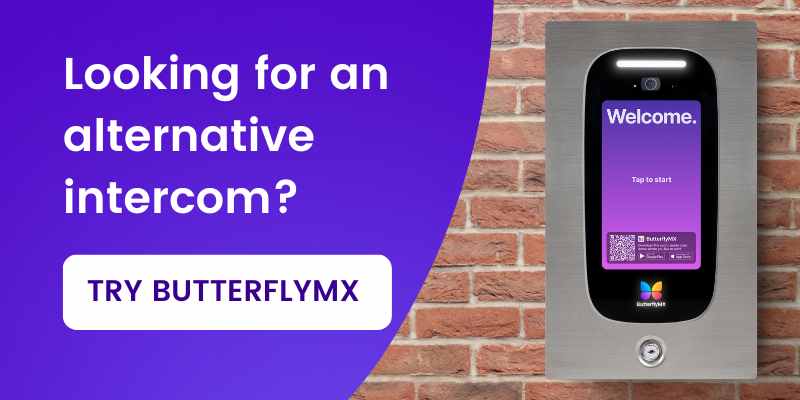 Disclaimer: ButterflyMX provides these blog posts to help our customers and potential customers make the right business decisions for them. Our blog posts are based on the information we have available to us at the time of writing.