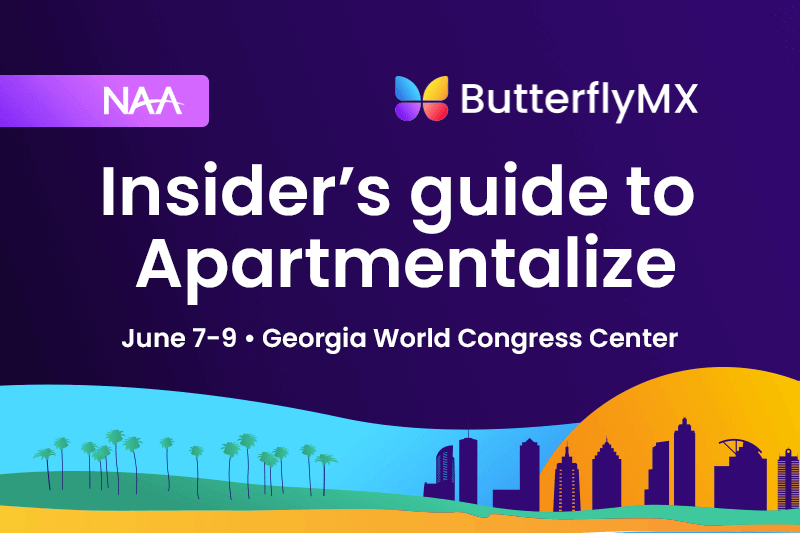 The industry's top event, Apartmentalize, is back for another year of uniting professionals with a shared passion for the rental housing industry.
Apartmentalize provides a fantastic occasion for networking and forging connections, while also exploring creative solutions, addressing challenges, discovering new products, and exchanging insights on the ever-changing rental housing industry.
Held at the Georgia World Congress Center and spanning three days in vibrant Atlanta from June 7-9, this conference is a can't-miss. In preparation for the event, read this guide to discover all that both Atlanta and Apartmentalize have in store for you.
In this post, we cover:
Travel tips
The National Apartment Association picks a trendy, lively city to hold Apartmentalize. And in 2023, Apartmentalize comes to the gateway to the Southeast: Atlanta!
Atlanta is one of the most diverse modern cities in America, with lush green spaces, ample historical sites, and a vibrant cultural scene. Weather in Atlanta in June is warm, averaging from the mid-60s to the high-80s, making it a great summer destination.
When picking the area you stay in, think about how far your hotel of choice is from the conference. Staying within walking distance will save you money on ride-share expenses and will put you in the heart of downtown Atlanta.
To make the most of your time at Apartmentalize, you'll want to be able to get from the conference center to your hotel quickly. Picking the best hotel for your trip can be hard, so NAA put together an official hotel map that highlights the best hotels around Georgia World Congress Center. Keep in mind that Atlanta is a busy tourist destination during the summer, so you should book your stay soon!
Tips for making the most of your time at Apartmentalize
While events like Apartmentalize are exciting and informative, they can also be daunting. To prepare, start by deciding what to wear and bring to the conference.
NAA offers no specific dress code for Apartmentalize, but business casual attire is typically recommended. You'll be walking quite a bit, so pick comfortable shoes. Atlanta humidity can be pretty brutal during the summer, so the conference hall and meeting rooms are likely to be air-conditioned. Bring a light jacket to wear if the air conditioning is too chilly.
In addition to dressing comfortably and appropriately, you'll need something to take notes with. If there's one thing you can be sure of about Apartmentalize, it's that you'll gain heaps of new information, ideas, and inspiration.
This year, more than 400 companies will be exhibiting at Apartmentalize. While that's an endless pool of new products and services to discover, it's also an intimidating one. Before the conference begins, it's a good idea to look over the exhibitor floor plan. to discover what companies you can expect to see. That way, you can pick sessions based on what you're looking to learn from the conference.
3 sessions you shouldn't miss while attending Apartmentalize
If you're looking to boost your knowledge of the industry, Aparmentalize 2023 has you covered with more than 100 education sessions. These sessions offer invaluable opportunities for learning and networking.
In addition to the valuable knowledge you'll gain from attending the sessions, you'll have the chance to network with other industry professionals who share your interests. To help save you some time we've selected one event from each day you won't want to miss!
1. Wednesday, June 7: Every Dollar Counts: Improving Budgeting Strategies with Technology
Day one, you should head to Every Dollar Counts: Improving Budgeting Strategies with Technology located in B207/208 from 1:20 – 2:10 PM.
This session will explore how automation can improve business decisions and competitiveness through live financial and operational intelligence. You'll learn how technology has changed budgeting, forecasting, and reporting processes. Panelists will also offer advice on how to improve your operational efficiencies through data-driven insights.
2. Thursday, June 8: Automate Routines, Humanize Exceptions: Get Tips for Centralization & Automation
Day two, a session you should check out is Automate Routines, Humanize Exceptions: Get Tips for Centralization & Automation, located in B308/309 from 2:15 – 3:15 PM.
During this session, speakers including the Vice President and General Manager of Yardi, Richard Malpica, will dive into the worlds of centralization and automation. The panelists will share the challenges, strategies, and lessons they've learned during this shift into modern property management. The session will also teach you how to track productivity and performance in a work-from-home environment.
3. Friday, June 9: When Life Gives you Lemons: Converting Office Space to Residential
Make the most of the last day of education sessions and attend When Life Gives you Lemons: Converting Office Space to Residential located in B313B/314 from 11:00 – 11:50 AM.
Attend this session to discover how unoccupied office spaces can be converted into housing. Panelists will cover the benefits and pitfalls of converting office properties to residential and teach you to identify which markets will drive the highest profit. The session will also explore the future potential of converting office spaces into residential homes.
These are just some of the many awesome sessions being offered this year. Panels cover an assortment of topics related to the rental housing industry. Take a look at the full schedule to see what sessions catch your eye.
Watch how ButterflyMX works:
Things to do in Atlanta outside of the tradeshow
Apartmentalize will keep you busy most of the day, but there are some incredible attractions in Atlanta that you'll surely want to squeeze into your agenda.
When in Atlanta, it's best to explore the neighborhoods that make the city great. We've compiled a few cool places to consider adding to your plans for this June.
1. World of Coca-Cola
A short 10-minute walk from the Georgia World Congress Center you'll find this museum that highlights the history of the world's most popular soft drink.
World of Coca-Cola is a 20-acre complex with interactive exhibits including a 4-D theater showing the sensory film "In Search of the Secret Formula," the Vault of the Secret Formula where you can create your own unique flavor combinations, and the Scent Discovery experience that puts your sense of smell to the test.
The biggest draw of the museum, however, is the Taste It! Beverage Lounge. There, you'll sip on hundreds of soda flavors from around the world while learning the history of Coca-Cola.
Plan on spending at least two hours at the museum to get the full experience. Additionally, make sure you snag your ticket ahead of time to avoid long lines.
2. Underground Atlanta
Underground Atlanta is a shopping and entertainment district located in Atlanta's Five Points neighborhood. Known as "the city beneath the city," Underground Atlanta is a collection of stores, galleries, and restaurants to explore.
The historic four-block radius represents the newest chapter of downtown Atlanta. Despite being among the oldest continuously inhabited streets in the city, Underground is home to a breadth of new experiences.
While there, check out Future Nightclub for a vibrant nightlife experience, Masquerade for one of three live music venues, and iScream for ice cream rolls and weekly events. Whatever you pick, an afternoon spent at Underground Atlanta is an afternoon well spent!
Underground Atlanta is located a 20-minute walk or a 5-minute drive from the conference center, making it an easy getaway while you're in town.
3. Sweet Auburn District
If you don't mind the walk, the Sweet Auburn District is a 30-minute journey from the Georgia World Congress Center. Located along Auburn Avenue, Sweet Auburn is one of the most famous African American neighborhoods in the United States — and the birthplace of Martin Luther King Jr.
Spend a day exploring every corner of the area, like the APEX Museum, which is dedicated to telling the story of the African Diaspora, with exhibits on Africa, African Women in S.T.E.M., and the story of some of Atlanta's most prolific African American politicians.
And you can't take a trip to the South without trying some soul food! Check out some of the greatest food offered in the American South at the Municipal Market. The warehouse, founded in 1924, features vendors selling fresh produce, fish, and meat. Or, sit down to a delicious dinner at Sweet Auburn Seafood or Mangos.
No matter what you try in the district, you'll have a great time surrounded by gorgeous architecture and stunning murals dedicated to the history of Atlanta.
Conclusion
Thank you for reading our insider's guide to Atlanta and Apartmentalize 2023. If you're attending the event, be sure to stop by booth 2028 between June 7th and 9th to learn more about ButterflyMX and discover why we're relied on by more than 10,000+ multifamily, student housing, gated community, and commercial properties.