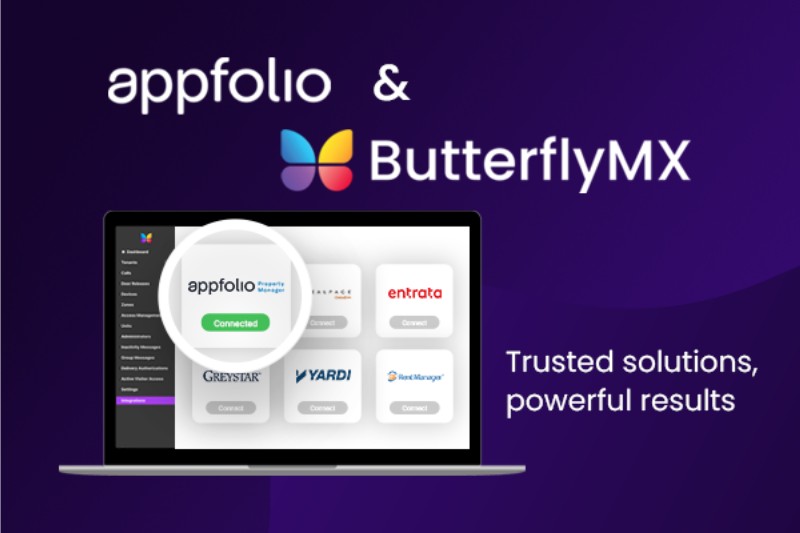 ButterflyMX strives to make property access simple for everyone — and our growing list of integrations helps us achieve this. By partnering with some of the largest names in real estate technology, we are able to simplify access with products and services you already use. Today, we're spotlighting one of our integration partners, AppFolio.
Read on to learn more about AppFolio and our integration with them.
Navigate this post:
About AppFolio
Headquarters: Santa Barbara, California
Year founded: 2006
What they do: Property management system
AppFolio was founded in 2006 with the goal to provide an intuitive, cloud-based property management platform. Since then, AppFolio has grown their team to nearly 1,800 employees and has helped more than 18,000 customers manage more than 7 million residential units across the U.S.
AppFolio features
Communication and customer service
Provide your residents with top-notch customer service by using AppFolio's email and text communication tools and resident portal.
Accounting and reporting
AppFolio's powerful accounting and reporting software helps you to better understand the data that drives your business.
Maintenance and efficiency
Keep your residents safe by streamlining work orders, inspections, and utility management with AppFolio's online maintenance requests and work order management.
Staffing and training
AppFolio's user-friendly interface, workflows, and robust training helps you retain employees and take the stress out of onboarding.
Marketing and leasing
AppFolio's professional website development services, flexible self-showing options, and lead-to-lease process can help you fill vacancies faster and with ease.
Management and growth
With the management and growth feature, you can focus on expanding your portfolio and continue to grow your business. 
Watch how ButterflyMX works with AppFolio:
Integration with ButterflyMX
By using ButterflyMX and AppFolio together, you can easily streamline the property access experience, increase transparency, and improve efficiency.
Benefits of the integration include:
Never worry about creating or handing out keys.

Building access is automatically granted and removed upon move-in/out.

Spend less time updating your databases.

Streamline self-guided tours.
AppFolio & ButterflyMX unite to support self-guided tours and to easily manage access to your properties. You'll be able to focus on closing leases, boosting revenue, and impressing residents while we handle the busy work.
Hear from the AppFolio team
Introduction – who are you and what do you do?
My name is Vera Tsekeris and I'm Head of Strategic Partnerships at AppFolio. I lead the strategy and execution of AppFolio's partner ecosystem with an amazing team of partner development managers and technical onboarding specialists. We develop, implement, and cultivate partnerships by joining forces with innovative proptech companies like ButterflyMX to deliver integrated solutions that enhance the value of our software and the services we deliver to our customers.
Can you tell us more about AppFolio Stack™?
Our customers are using an increasing number of specialized technologies and applications to run their businesses. AppFolio Stack™, our integration marketplace, allows our customers to combine AppFolio Property Manager with other software and technologies so they operate in unison to increase productivity, data accuracy, and reliability.
With AppFolio Stack™, customers can count on certified integrations backed by dedicated support that allow them to run their businesses from a single system of record. Secure and centralized datasets within AppFolio Property Manager offer complete visibility and actionable insights for nimble decision-making.  
What are the biggest challenges you aim to solve for rental housing owners and managers?
Through research conducted in partnership with the National Apartment Association, we've found that the top challenges affecting property managers include operational efficiency, maximizing revenue and profitability, attracting and retaining employees, and implementing effective and seamless integrations. 
We aim to solve these challenges with our customer-centric, individualized approach. Whether a business is looking to improve efficiency, meet profitability goals, or build a high-performing team, our solutions are tailor-made to address their unique needs.
How do you solve those challenges?
Our flexible, centralized platform is built to address these challenges through unparalleled ease of use, enhanced mobility, and seamless integrations. With AppFolio Stack™, users can efficiently integrate best-in-class proptech solutions to boost performance across their major workflows.
Each integration is developed and maintained in close collaboration with our partners, creating stable connections built upon a strong and reliable system architecture. Users can trust that their day-to-day workflows will run seamlessly, reducing manual, time-consuming tasks and creating more space to focus on higher-value work.
Can you tell us why the AppFolio and ButterflyMX integration works well for mutual customers?
Our customers are at the center of everything we do. With this integration, customers increase their staff's productivity and reduce security incidences.
Resident information is automatically updated when new residents move in or out of a property, allowing property managers to focus on other aspects of their business instead of manually updating information across multiple systems. It also helps to ensure that residents are provided access when needed, and that access is revoked after a resident moves out, which helps to keep the property secure.