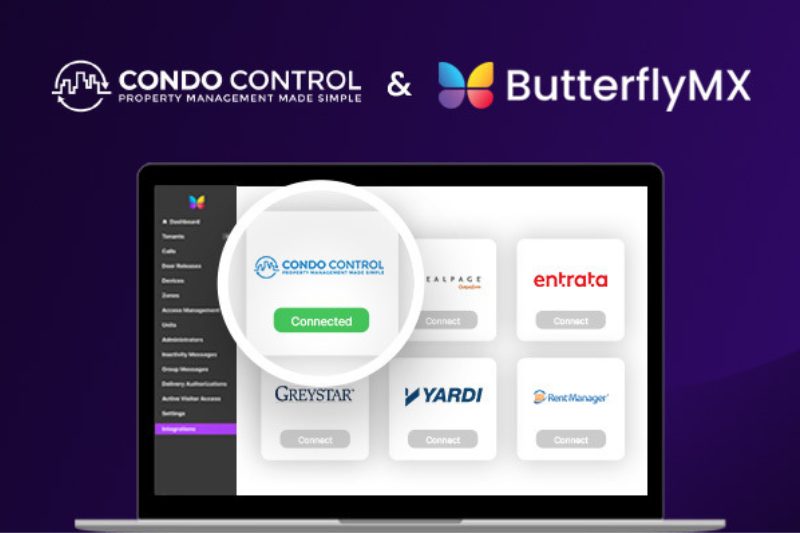 ButterflyMX strives to make property access simple for everyone, and our growing list of integrations helps us achieve this. By partnering with some of the largest names in real estate, we are able to simplify access through products and services you already use. Today, we spotlight Condo Control.
Read on to learn more about Condo Control and our integration with them.
Navigate this post:
About Condo Control
Headquarters: Toronto, Ontario
Year founded: 2008
What they do: Property Management Software
Through volunteering and joining his own building's finance committee and eventually its board of directors, Brian Bosscher — the founder of Condo Control — quickly learned the challenges and roadblocks that property managers face every day. Soon after, he was inspired to create a long-term solution to these problems, and Condo Control was born.
Condo Control has been helping boards, property managers, and residents operate for over 14 years. With solutions for resident communication, record-keeping, maintenance requests, package management, amenity booking, and more, Condo Control's complete property management system is suitable for condo and HOA communities of all different shapes and sizes.
Who they serve
Condos and co-ops: Condo Control's software caters to each specific community's needs and streamlines issues that slow down productivity, like storing and organizing documents.
HOAs: Condo Control believes all HOA members should be able to easily collaborate. Their software allows HOA members to access tools and documents, send messages to the community, view property reports and analytics, and more — from anywhere.
Management companies: Condo Control's main goal is to simplify property management by providing managers with practical and efficient resources. When you manage more than one property, Condo Control allows you to easily switch between communities without having to use multiple logins.
Property management features
Condo Control excels in creating software that is easy to use. Its goal is to help communities resolve the recurring issues that slow them down.
Features include:
Share documents, events, and messages electronically to keep the entire community informed.
Better organization and consistency using digital forms and documents.
Automate package tracking, visitor parking, security patrols, and more.
A mobile app for residents to access everything they need to stay in touch with their community.
Streamline resident access with the ButterflyMX integration.
Training & resources
Condo Control ensures that each community has the resources they need to be successful by providing a variety of training and resources to suit each property's needs.
Templates: Association management templates for newsletters, HOA meetings, violations, and more.
Webinars: The Condo Control community hosts relevant discussions and offers helpful tips.
Articles: Guides are available to help property managers run their communities.
Integration with ButterflyMX
Condo Control and ButterflyMX teamed up to make life easier for property managers and boards.
Benefits of the integration include:
Never worry about creating or handing out keys.
Access is automatically granted and removed upon move-in/out.
Spend less time updating your databases.
By using Condo Control and ButterflyMX together, you'll only have to maintain a single database. Residents added to Condo Control are automatically pushed to ButterflyMX so they can register and begin accessing the property. Spend less time on manual data entry or managing access credentials and more time delighting your residents.