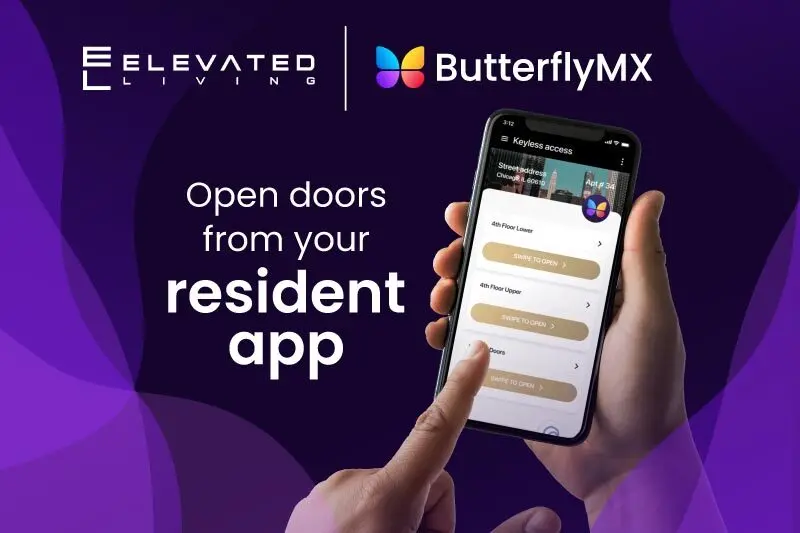 ButterflyMX strives to make property access simple for everyone — and our growing list of integrations helps us achieve this. By partnering with some of the biggest names in real estate, we're able to simplify access with products and services you already use. Today, we're spotlighting one of our integration partners, Elevated Living.
Navigate this post:
About Elevated Living
Headquarters: Chicago, Illinois
Year founded: 2014
What they do: Resident experience app
In 2014, Konrad Koczwara founded Elevated Living with the belief that residents shouldn't have to download a dozen different apps to take advantage of amenities or services offered within their apartment communities.
In communities powered by Elevated Living, residents need just one white-labeled app that combines traditional building operations with modern concierge services. From submitting work orders to signing up for fitness classes to booking a housekeeper, residents can do it all from the app. Elevated Living is their all-in-one technology and services partner.
Elevated Living's popular features
Branded resident app
Elevated Living's white-labeled resident app is a game-changer for communities, attracting more residents and simplifying the move-in and move-out process while automating operations for staff.
This mobile app not only enhances the overall resident experience, but also fosters a strong sense of community by providing a platform for residents to engage with each other while empowering staff to host events without hassle.
Management portal
Manage your building more effectively with the Elevated Living management portal. This tool lets you take charge of everything from amenity bookings, rent payments, maintenance requests, and more.
Watch how ButterflyMX works with Elevated Living:
Integration with ButterflyMX
Elevated Living and ButterflyMX teamed up to bring ButterflyMX's access control solutions into the Elevated Living community app.
Benefits of the integration include:
Unlock doors from the Elevated Living community app
Share temporary property access codes with trusted visitors
The integration between Elevated Living and ButterflyMX brings together the best features of both platforms, seamlessly integrating them into an easy-to-use solution. By combining Elevated Living's innovative community app and ButterflyMX's cutting-edge access technology, this integration offers a comprehensive set of features that cater to the unique needs of luxury multifamily communities.
Hear from the Elevated Living team
Introduce yourself: who are you, and what is your role?
I am Konrad Koczwara, serving as the Chief Executive Officer and Founder of Elevated Living. My primary role entails stewarding our organization's overall business strategy and charting the course for our resident engagement platform's product roadmap. A significant portion of my time is devoted to engaging in dialogues with our customers, aiming to deeply understand the specific challenges they face. Once these problems have been comprehensively identified, my team and I work relentlessly on devising effective solutions. Ultimately, our objective is to provide residents an unparalleled experience after settling into a community powered by Elevated Living.
What is Elevated Living?
Elevated Living stands as an integrated resident engagement and property operations application, purposefully crafted for contemporary apartment communities. We harness the power of cutting-edge technology and blend it with personalized, human-driven hospitality. Our ultimate aim is to significantly enhance the resident experience, redefining what it means to live in modern apartment communities.
What are the biggest challenges you aim to solve for rental housing owners and managers?
One of the most significant challenges currently faced by rental housing owners and management teams is the issue of centralization. This problem is compounded by what is frequently referred to as 'app fatigue' in the real estate sector, which Elevated Living seeks to mitigate.
On a property-specific level, it's not uncommon for the average apartment community to compel residents to navigate through a minimum of five distinct apps, creating a fragmented and often frustrating user experience.
From a broader asset perspective, an illustrative example would be one of our recent collaborations with an asset management group. They revealed that over 200+ integration partners are currently interconnected with their Yardi Voyager across their complete portfolio.
This presents a substantial challenge. There are instances where products, services, and technology platforms have overlapping features. Consequently, ownership groups often find themselves incurring monthly costs for multiple software solutions with redundant functionalities, many times unbeknownst to them. Elevated Living addresses this pain point by providing a centralized solution that streamlines operations and enhances user experience.
How do you solve those challenges?
We approach these challenges by providing an "ecosystem" solution. The objective at Elevated Living is to centralize all essential services that residents may need within a single, white-labeled application. As a "software-first" company, we integrate hardware, lifestyle concierge services, and human-driven hospitality into one streamlined and user-friendly platform.
Among our most utilized modules are: Maintenance Requests, a direct Communication Tool, Package Management Tool, Amenity Management Tool, Parking Management Tool, Visitor Management Tool, a tailored Pet Owner Portal, Resident Interest Groups, Neighborhood Perks Program, Reputation Management, Review Automation, Digital Move-in/out Checklists, Integrated Digital Screens, and our Lifestyle Concierge Program. Our commitment is to offer a seamless living experience by amalgamating a wide array of services into one accessible platform.
Can you tell us why the Elevated Living and ButterflyMX integration works well for mutual customers?
The integration between Elevated Living and ButterflyMX significantly enhances the value proposition for our mutual customers due to the harmonious fusion of our specialized capabilities.
ButterflyMX excels in providing top-tier access control solutions, ensuring security and ease of entry for residents. On the other hand, Elevated Living specializes in delivering white-labeled resident engagement applications that facilitate amenity management, rent payment, and other vital aspects of residential living.
When combined, these capabilities allow us to manage the entire resident experience comprehensively. In communities powered by the Elevated Living and ButterflyMX integration, residents are provided with a single white-labeled "building" app. This integration seamlessly blends access control, amenity management, rent payment, and contemporary concierge services into a single platform.
Whether it's submitting work orders, enrolling in fitness classes, booking a housekeeper, or managing rent payments, our integrated solution ensures residents can navigate all aspects of their living experience within one unified, easy-to-use application.
Therefore, the synergy between Elevated Living and ButterflyMX offers a streamlined, holistic solution for modern living communities, simplifying processes and improving resident engagement.