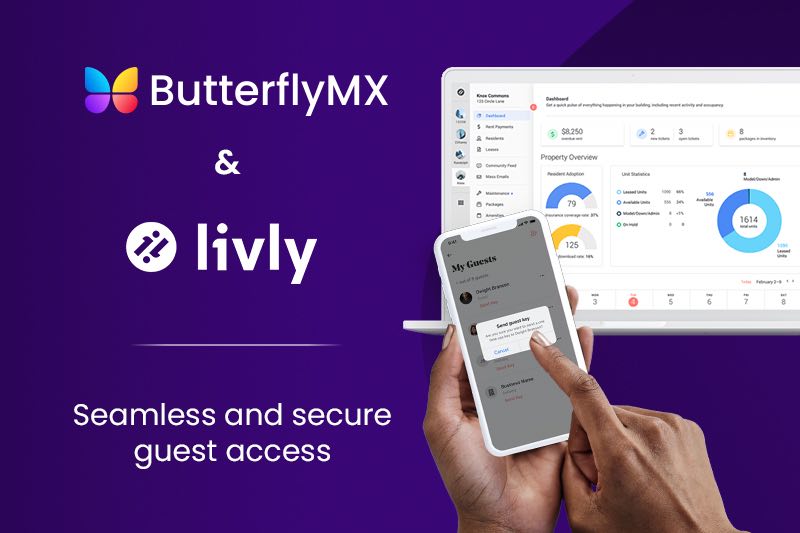 ButterflyMX strives to make property access simple for everyone — and our growing list of integrations helps us achieve this. By partnering with some of the largest names in real estate technology, we are able to simplify property access with the products and services you already use. Today, we're spotlighting one of our integration partners, Livly.
Read on to learn more about Livly and our integration with them.
Navigate this post:
About Livly
Headquarters: Chicago, Illinois
Year founded: 2017
What they do: Property management software
Founded in 2017, Livly's mission is to provide residents and property managers with an elevated experience through its all-in-one app for apartment management, smart access, and resident experiences.
Livly's AI-driven technology and best-in-class customer success team make it easy to drive operational efficiency and generate resident engagement for multifamily properties. Through the Livly apartment app, property managers have all the tools they need to run communities with confidence, from integrated smart access tools to automated onboarding features and engaging resident events.
Livly's property management features
Property Manager Hub
Livly's Property Manager Hub makes it easy for property managers to oversee all aspects of their community from one elegant dashboard, including rent payments, maintenance requests, move-in checklists, welcome emails, mass communications, and more.
Mobile app
The resident mobile app gives residents a one-stop solution to make rent payments, get package alerts, request maintenance, explore upcoming events, and book amenities. Within the app, the community feed is an inclusive place to connect with neighbors, share deals, and stay up-to-date with everything happening at their building.
Amenities
The amenity management tool simplifies the booking process for both residents and property managers. This intuitive tool allows you to set your amenities' capacity limit, provide booking passes, and send booking reminders.
Events
Livly facilitates unique resident events from start to finish so you don't have to stress over a single detail of event planning. Delight your residents with in-person or virtual events, track RSVPs, and set reminders so your residents know what's coming up.
Watch how ButterflyMX works with Livly:
Integration with ButterflyMX
Benefits of the integration include:
Residents can send virtual keys from the Livly app
Time- and date-stamped activity log in the Livly Hub
The ButterflyMX integration with Livly brings the full power of the ButterflyMX system into the Livly resident experience app. Residents are able to register their devices to receive two-way video calls from ButterflyMX video intercoms, remotely open doors, and gates, and send one-time virtual keys to their guests.
ButterflyMX's video intercom takes a time- and date-stamped photo every time someone uses a virtual key. The photo is logged in the Digital Visitor Log within the Livly Hub to maintain property security and can be reviewed by a property admin at any time.
Together, Livly and ButterflyMX offer a solution that boosts resident satisfaction and improves NOI for multifamily developers and operators. The benefits of his solution include increased rent, reduced resident churn, and shorter vacancy time.