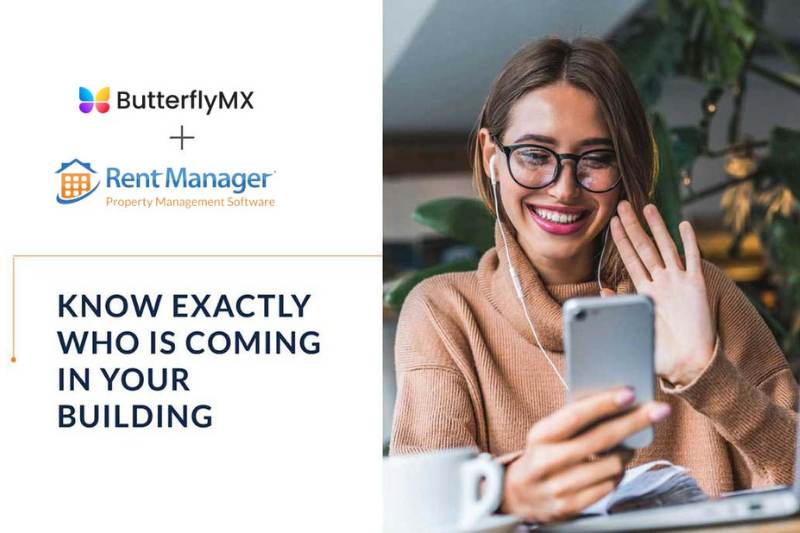 ButterflyMX strives to make property access simple for everyone — and our growing list of integrations helps us achieve this. By partnering with some of the largest names in real estate technology, we are able to simplify access with products and services you already use. Today, we're spotlighting one of our integration partners, Rent Manager.
Read on to learn more about Rent Manager and our integration with them.
Navigate this post:
About Rent Manager
Headquarters: Cincinnati, Ohio
Year founded: 1987
What they do: Property management software
In the 1980s, Rent Manager's President and CEO, Dave Hegemann, had the vision to serve the people of property management and make their lives easier. He wanted the same for his father, who managed his family-owned mixed property at a time when there were no software solutions available to simplify their work.
Dave knew there was a better way than to manage everything manually. After writing the initial code in his teens, Dave developed the first version of a program that would help his father — and ultimately thousands of other property management professionals — do his job faster and more efficiently.
Rent Manager features
The top 5 features include:
1. Accounting
From rent collection, owner payments, bank reconciliations, and more, Rent Manager will streamline your accounting processes.
2. Reporting
Make the most of your financial data and get insights into your finances with 450+ generated reports.
3. Marketing and leasing
Fill your vacancies faster by automatically listing them on your company website and leading ILS sites. Plus, take advantage of Rent Manager's online applications and digital leases with built-in E-sign technology.
4. Business operations
Communicate with tenants and owners via text, email, web chat, and even phone broadcasts while also automating tasks like rent charges, management fees, and late fees.
5. Maintenance
Manage maintenance issues from start to finish while also tracking their progress.
Watch how ButterflyMX works with Rent Manager:
Integration with ButterflyMX
Rent Manager and ButterflyMX teamed up to make life easier for property managers of communities of all sizes.
Benefits of the integration include:
Never worry about creating or handing out keys.
Resident access is automatically granted and revoked upon move-in/out.
Spend less time updating your databases.
By using Rent Manager and ButterflyMX together, you'll only have to maintain a single database. Residents added to Rent Manager are automatically pulled to ButterflyMX so they can register and begin accessing the property. You'll spend less time on manual data entry and managing access credentials and more time delighting your residents.
Hear from the Rent Manager team
What is Rent Manager?
Rent Manager is a powerful property management software that combines all the features you need to run your business into a single integrated solution. Exceptionally customizable and ideal for properties of every size, Rent Manager is key to tracking, and acting upon, property management situations both routine and unusual.
What are the biggest challenges you aim to solve for rental housing owners and managers?
With any size real estate portfolio, we know how challenging it can be to track payments, service issues, marketing efforts, and routine business operations alike. Rent Manager helps you do all this and more, all in one place.
How do you solve those challenges?
We provide our customers with a robust software program that allows them to track finances, run reports, communicate with residents, vendors, and owners, and fill vacancies through marketing efforts. Plus, for any other uses our customers can imagine, our software is fully customizable to their needs.
Can you tell us why the Rent Manager and ButterflyMX integration works well for mutual customers?
The Rent Manager Integrations Program is focused on providing choice and flexibility for our customers through integrations built by the leading solution providers in our industry. Through this program, ButterflyMX has created an integration that keeps resident data synced. This means the property manager can relax and know that all of their residents can easily use the ButterflyMX system to open doors, gates, and elevators with a smartphone and ensure they never miss a visitor or delivery.