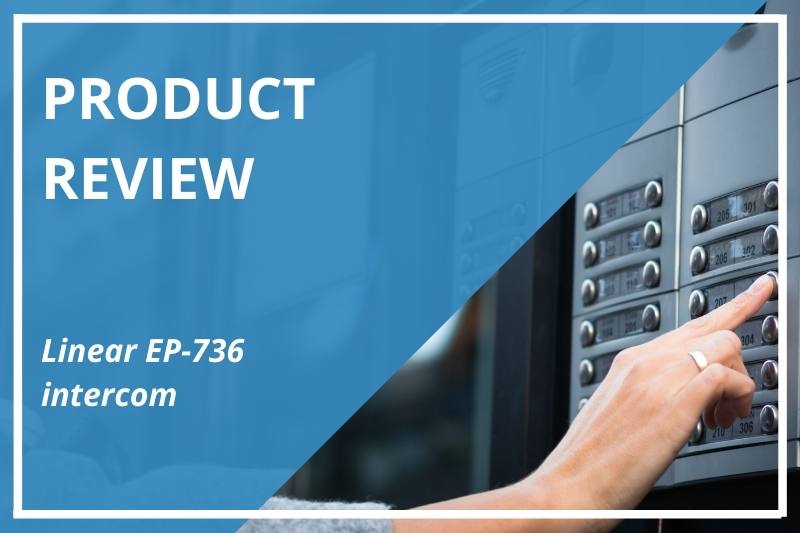 Over the last several years, video intercom systems have replaced traditional apartment buzzers as the entry system of choice for multifamily buildings. If you're interested in upgrading your intercom system, you have a big decision to make.
If you're considering a Linear intercom for your apartment building, read our review of the Linear EP-736 before purchasing anything. We'll provide an overview of the Linear EP-736 and see how it holds up against competitors.
This review will cover: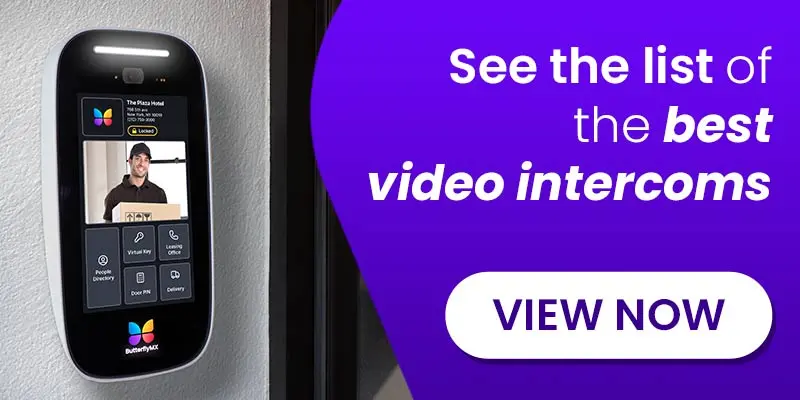 About Linear
Linear is an access control brand owned by Nortek Security & Control, LLC. Headquartered in Carlsbad, California, Nortek Security & Control has been developing security, home automation, and personal safety systems for over 50 years. The Linear brand offers a variety of access control systems and telephone entry systems for the multifamily, commercial, healthcare, and municipal industries.
About the Linear EP-736
The Linear EP-736 Entry Pro intercom is a fairly simple and straightforward telephone entry system that gives residents the ability to communicate with visitors and grant them property access. The system can control up to 36 doors, or you can opt to expand to up to 64 doors.
The Linear EP-736 has the largest screen display out of all the intercoms in Linear's E3 Entry series. It has a color touchscreen display, which further sets it apart from Linear's other intercom systems.
Features
Display: 7" color touchscreen with arrow buttons and a numeric keypad
Mounting options: Can be recessed or surface-mounted
VoIP adapting: Supports most third-party VoIP adapters
Optional RFID reader: If you choose to add the RFID reader, it is mounted inside
Watch how ButterflyMX works:
Pricing
Pricing for Linear intercoms is not readily available online. But recent quotes range from $1,299 to $3,816. You must contact a Linear sales representative or dealer for a quote.
Pros and cons
Pros:
Customizable display lets you add your own text and images
Control up to 36 doors, or purchase a license key to control up to 64 doors
Building managers or owners can add their building's logo to the system
Cons:
No camera
Lacks video calling capabilities
No mobile app for smartphone-based access
The touchscreen is small, making it difficult to search for residents in the directory
The display may seem cluttered to some users without a clean, sleek design
No guest access features like virtual keys

Comparison of Linear EP-736 with ButterflyMX
Both the Linear EP-736 intercom and the ButterflyMX smart video intercom enable property access, but there are differences between these systems in design, features, and functionality.
Though both the Linear EP-736 and ButterflyMX have a touchscreen, the Linear intercom maxes out at a 7" display. Meanwhile, ButterflyMX video intercoms are available in 7" and 11.6". In addition to a touchscreen, Linear's intercom also has arrow buttons and a numeric keypad. These additions are unnecessary and could clutter the display. ButterflyMX's intercom has a sleeker and more modern design.
ButterflyMX also offers two-way video calling, while the Linear EP-736 seems to lack camera and video calling capabilities altogether. Today, most residents prefer to see who is at the door — and ButterflyMX's HD camera gives it a clear advantage.
When it comes to property access options, the Linear EP-736 may limit your multifamily building. Some Linear intercom systems require in-unit hardware and there could be no mobile app for smartphone-based access. The ButterflyMX mobile app is available for both Apple and Android devices and is easy to install and operate. Residents can receive voice and video calls, open the door from their smartphones, and send virtual keys to visitors for easy access.
Another useful feature that ButterflyMX offers but Linear intercoms may lack is a door release log. ButterflyMX's cloud-based system lets property staff view an audit trail of every property access event. Residents can also view a log of all their door release events.
Linear vs. ButterflyMX
The Linear intercom EP-736 is a solution if you want an audio-based intercom system. However, Linear may fall short of offering a comprehensive system for both property managers and residents. If you want a video intercom with smartphone-based property access, choose a competitor like ButterflyMX instead.
| Feature | ButterflyMX | Linear |
| --- | --- | --- |
| Built-in camera | Yes | No |
| Video calling | Yes | No |
| Audit trail | Yes | No |
| Mobile app & smartphone-based access | Yes | No |
| Virtual keys | Yes | No |
| Touchscreen | Yes | Yes |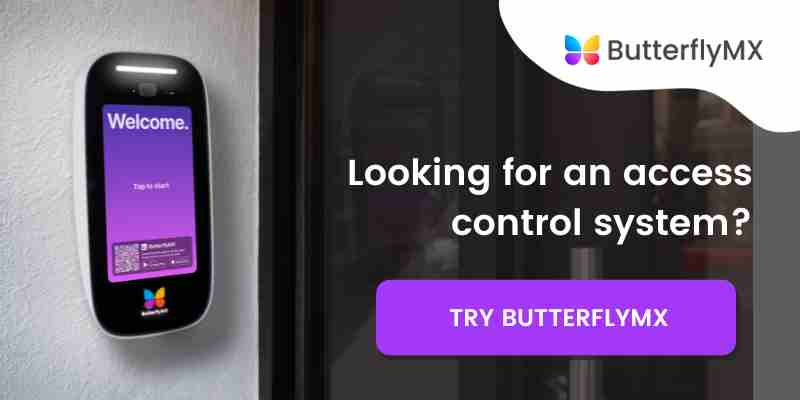 Disclaimer: ButterflyMX provides these blog posts to help our customers and potential customers make the right business decisions for them. Our blog posts are based on the information we have available to us at the time of writing.