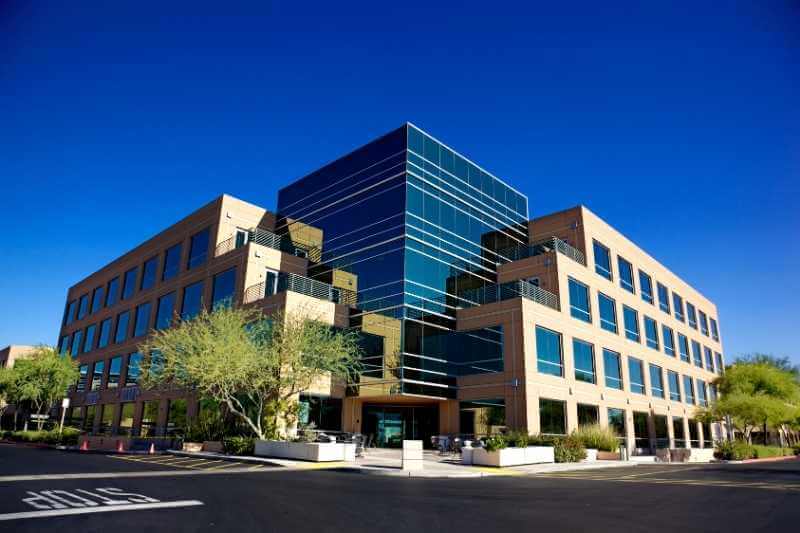 If your commercial building is occupied by multiple tenants, then you need a way to manage access for employees, guests, and deliveries. The best way to manage property access at your commercial building is with a multi-tenant commercial intercom system.
In this post, we explain what exactly a multi-tenant intercom is and what separates it from other types of intercom systems. We also share the top five benefits of investing in a multi-tenant commercial intercom.
This post covers:
What is a multi-tenant commercial intercom?
A multi-tenant commercial intercom is an electronic device that enables two-way communication between tenants inside of a building with visitors outside of a building. The intercom also allows tenants to grant property access to visitors through a door releasing mechanism such as an electronic or magnetic lock. This type of intercom system is specifically designed for commercial and office buildings occupied by multiple tenants.
There are two pieces of hardware necessary for a multi-tenant commercial intercom system to function:
Intercom hardware installed at the entrance, which visitors use to alert tenants of their arrival.
Hardware for tenant use, which could be personal devices (smartphones or tablets) or devices installed in every suite within the building.
Some multi-tenant intercoms also have a built-in camera to enable video calling between tenants and visitors. Multi-tenant video intercoms improve security in commercial buildings because they let tenants see visitors before granting them property access.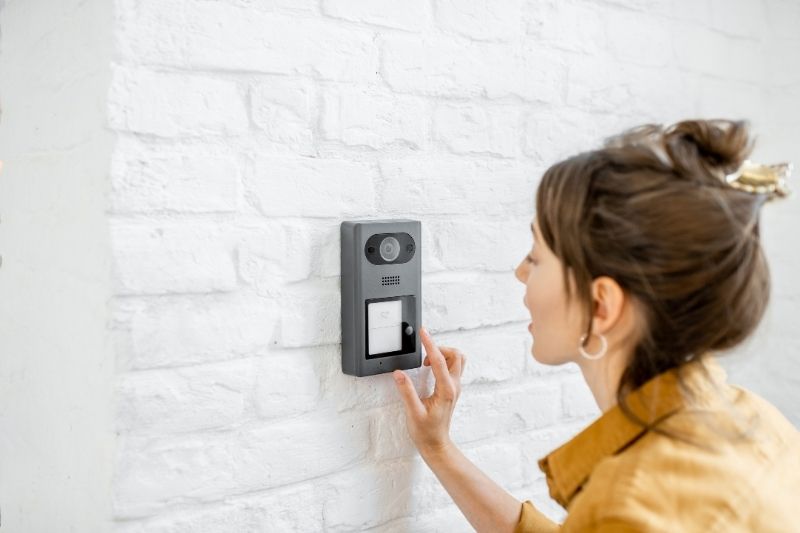 The difference between single-tenant and multi-tenant commercial intercoms
There are two types of commercial intercom systems:
Single-tenant intercoms: for internal communication
A single-tenant intercom is intended for use in a building or small office occupied by only one business or organization. These systems are designed to enable communication within the office and cannot offer property access.
Purchase a single-tenant office intercom system if you:
Don't need a system to remotely grant property access.
Only need a solution to facilitate internal communication.
The intercom enables people within your office to talk to each other from different rooms or parts of the building. With this system, you won't be able to open the door remotely for guests because the intercom doesn't have a door release mechanism.
If your commercial building is occupied by multiple businesses or organizations, choose a multi-tenant intercom system.
Multi-tenant intercoms: for external communication and property access
A multi-tenant commercial intercom is designed for commercial buildings or large offices occupied by multiple businesses or organizations. You can also install a multi-tenant intercom in a mixed-use building (such as a building with retail space on the ground floor and residential apartments upstairs).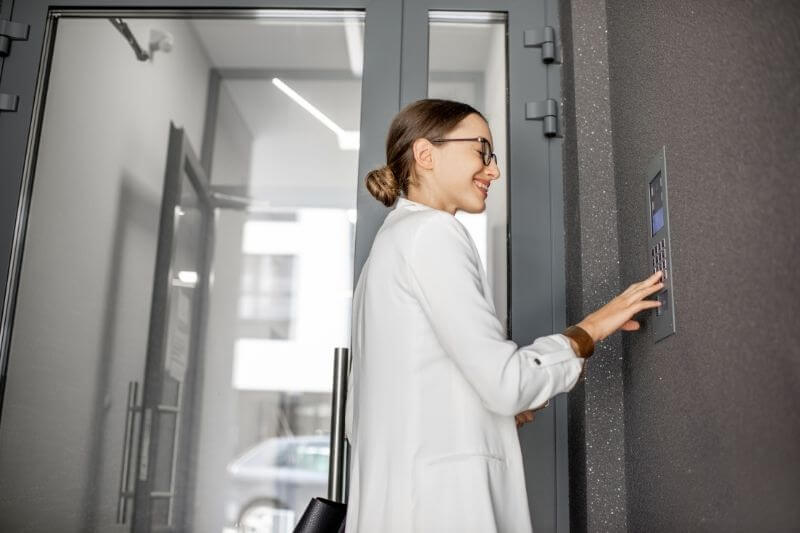 The primary difference between single-tenant and multi-tenant intercom systems is that multi-tenant systems offer property access. Tenants use the intercom to open the front door or gate for guests and couriers (or even themselves). In addition to entryway hardware and devices for tenant use, multi-tenant intercoms require a door release mechanism that unlocks the door upon the tenant's approval.
A multi-tenant commercial intercom system with door release is the ideal system for commercial buildings because it lets tenants communicate with visitors and grant them property access.
Why your building needs a multi-tenant commercial intercom
Whether you develop, own, or manage commercial properties, building access should be a priority. Delivering a great experience for your tenants starts at the front door. That's why you need a robust access control system that includes a multi-tenant commercial intercom. An intercom is a must-have office amenity.
The top five reasons to invest in a multi-tenant intercom system for your commercial building:
1. Improve building security
Building security is paramount for any commercial property. Your commercial building is the workplace for multiple organizations and dozens, hundreds, or potentially thousands of employees. As such, it needs to be accessible by only the right people.
A multi-tenant commercial intercom is a vital tool to control property access. With an intercom at one or multiple entrances, you can keep your building's doors locked, and rest assured that only authorized tenants can enter.
To improve security even further, invest in a commercial video intercom system. A video intercom lets tenants see who is at the door before granting them access. Plus, commercial intercoms with a camera can take a photo every time someone enters the building, providing an audit trail for property staff to review.
2. Provide seamless property access for tenants and visitors
In commercial buildings, people come and go often. Tenants leave for lunch, prospective employees come by for interviews, and business associates visit the building for meetings. That's why you need a seamless way to manage property access.
Tenants, visitors, and building staff want to feel safe in the building — but they still need a simple way to access it. A multi-tenant commercial intercom is a perfect solution to keep your building locked and secure without creating a hassle for employees trying to get to work. Plus, your tenants can easily grant access to visitors from anywhere — they won't have to trek downstairs just to open the door for a guest.
Intercoms simplify property access for tenants and authorized guests with features like:
Virtual keys: Your tenants can send virtual keys to prospective employees and scheduled visitors for easy access. Building staff can also send virtual keys to maintenance workers and service providers.
Video calling: When a visitor arrives at the building, they can search for the tenant they're visiting in the intercom directory. Then they can start a video call to let the tenant know they've arrived.
Door PINs: Every employee in the building can create their own unique PIN code. Door PINs make it easy to get into the building without a key, fob, or key card.
3. Ensure deliveries
Your tenants shop online — a lot. Not only do they order packages for their businesses, but they also ship personal packages to the office to avoid the risk of package theft. And don't forget about food delivery! Your tenants can't work on an empty stomach, and many of them turn to on-demand delivery for lunch.
A surge in online ordering translates to several couriers with dozens of packages arriving at your building's doorstep every day. That's why you need a way to manage delivery and courier property access.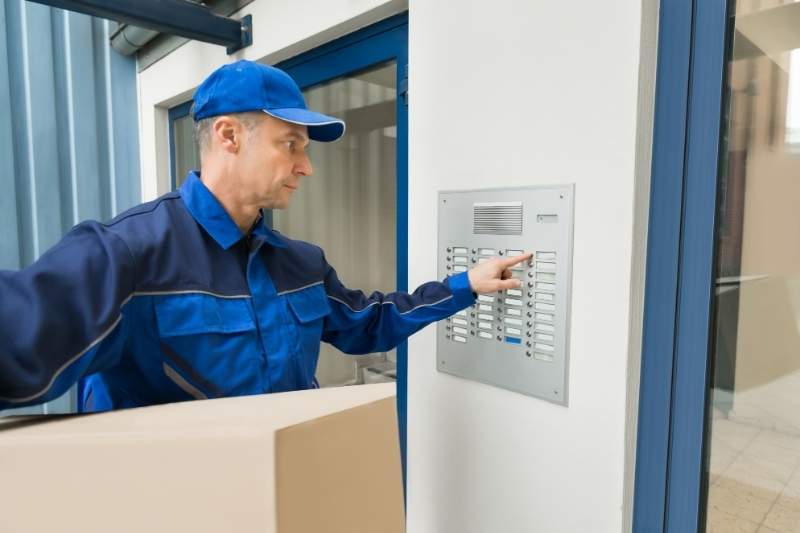 A multi-tenant commercial intercom ensures that couriers can always access the building. When a courier arrives, all they have to do is enter their designated delivery PIN in the intercom. If they don't have a PIN code, they can call the tenant they're delivering to.
Take that a step further by installing elevator controls to get the courier up to the correct floor easily. That way, the courier can get through the front door and access your key-fobbed elevators without making the tenant come down and meet them.
4. Manage access for tenants' incoming and outgoing employees
Employee turnover is an inherent part of running a business. Your commercial tenants will experience turnover throughout the duration of their lease. The right intercom system can help lighten the load associated with granting and revoking property access permissions for their employees.
When your tenant hires a new employee, they can quickly add them to the commercial intercom's directory. When an employee leaves the company, your tenant can delete them from the system, removing their access permissions. The process is as simple as logging into the intercom system's property management dashboard and adding or removing employee information.
Even better: Your tenants can integrate their G-Suite account with the intercom system for automatic updates.
5. Improve the tenant experience
Better building security, delivery management, and simple guest access are all great ways to improve your commercial property. But at the end of the day, nothing is more important than keeping your tenants happy.
When your tenants feel comfortable, safe, and productive in your building, they're more likely to renew their lease. Adding a multi-tenant commercial intercom system is an easy and cost-effective way to improve the tenant experience at your property.
Tenant retention is critical to your bottom line. By keeping existing tenants, you'll improve your NOI while avoiding the hassle and cost of marketing your property to attract new tenants.
The best multi-tenant commercial intercom
Now that you know the benefits of investing in a multi-tenant commercial intercom system, you're probably wondering which one to purchase. We recommend choosing a commercial video intercom.
ButterflyMX lets your tenants open doors and manage access right from their smartphones. As a cloud-based video intercom, ButterflyMX is easy to use from anywhere — you can access the property management dashboard whether you're in the office, working from home, or on the go.
Your tenants will never miss a delivery or a visitor again because ButterflyMX makes access simple. You can send guests a virtual key, assign a delivery PIN to couriers, and enable video calling between tenants and their visitors. Plus, with a sleek touchscreen interface, ButterflyMX makes a bold statement at the front of your building to attract prospective tenants.