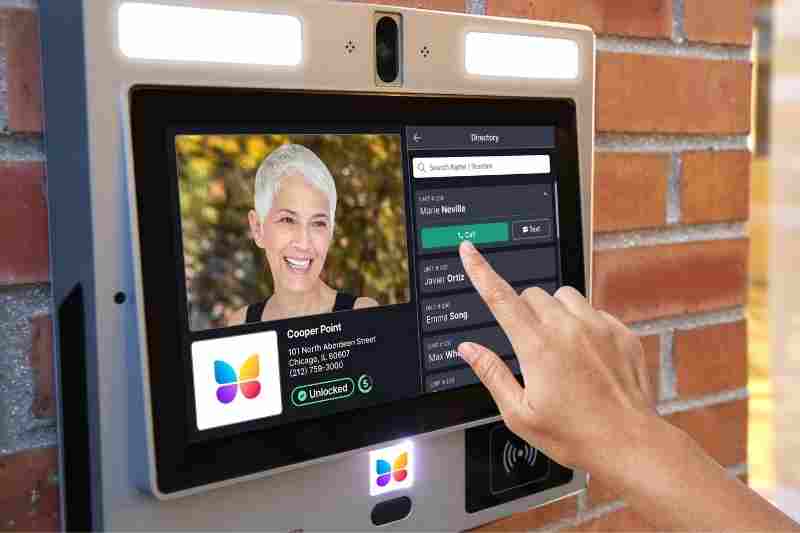 Whether you manage a multifamily or commercial property, you know the importance of effectively controlling access to the building. However, unlike single-family homes, multi-unit buildings have dozens or hundreds of completely different tenants living or working in them. So, how do you control entry into the building? With a multi-tenant video intercom.
Multi-tenant intercoms with video empower tenants to grant property access to guests and enter the property themselves. And the video component allows tenants to visually confirm the identity of the visitor before letting them in.
Read on to learn more about these systems, how they work, the benefits of installing them, and how to choose the right one for your multi-unit building.
In this post, we'll cover:
What is a multi-tenant video intercom system?
A multi-tenant video intercom system is a device that facilitates communication between tenants and visitors and enables tenants to grant property access remotely. Importantly, the video component allows tenants to visually confirm who's requesting access before opening the door or gate. These devices are used in both residential and commercial settings.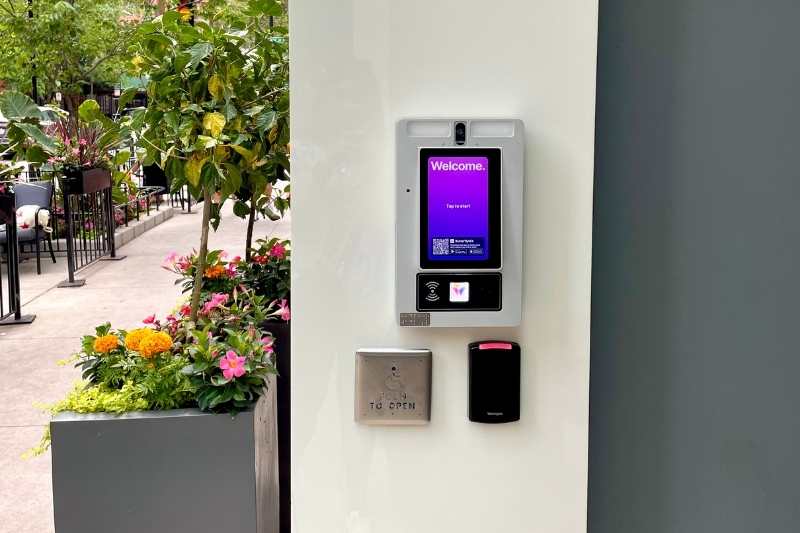 Multi-tenant intercom systems with video have been around for decades, and they're still the most efficient method of granting visitors building access. However, earlier variations of these systems have been door buzzer systems with cameras, which only provided one-way video footage for residents to see visitors.
Today, given the ubiquity of smartphones, some modern video intercom systems come with a mobile app. They may also connect to the internet, integrate with other proptech solutions, and store data on the cloud.
Cost of multi-tenant video intercoms
Building intercom system prices depend on the type of system you install. Generally speaking, the hardware cost ranges from $3,000 to $7,000. However, installation fees fluctuate and vary based on your region. Also, you may have to budget for software costs and monthly service fees.
Types of buildings that use multi-tenant video intercoms
Overall, thousands of multi-tenant buildings use video intercoms. Through and through, they've been proven as the best building entry system for buildings with multiple tenants. There are six main types of multi-tenant buildings with video intercoms.
Six types of multi-tenant buildings that use video intercoms:
Apartment buildings
With nearly 50 million rental units in the United States as of August 2021, video intercom systems for apartments are arguably the most common multi-tenant video intercom systems. Modern apartment video intercoms empower residents to talk with their guests through a mobile app. Also, they're cloud-based, which means you can manage the system remotely. Apartment intercom systems with door release enable residents to open the door for guests remotely.
Student housing
Having a video intercom installed at the entrance of student housing facilitates seamless access for family and friends, ensures smooth deliveries, and, most importantly, keeps students safe. Additionally, cloud-based video intercoms take a photo of every door entry event. That way, administrators can easily catch prohibited activities, such as students throwing massive parties, and take steps to prevent them from happening in the future.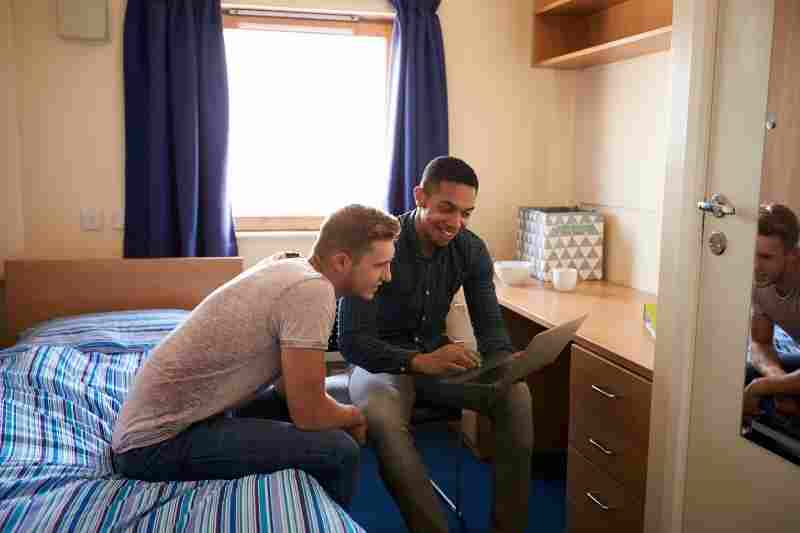 Condominiums & HOAs
The main difference between apartments and condos is ownership. A condo is an apartment unit or townhouse that the resident owns. A condo owner must follow various rules and regulations, so having one less thing to worry about can go a long way. And, with a video intercom at the front entrance, owners can rest assured that their property is secured and safe.
Additionally, multi-tenant video intercoms work well for gated entrances. So, they're a great way to provide HOA gate access control.
Multi-tenant commercial buildings
Today, multi-tenant commercial video intercom systems are commonly used for visitor management. Commercial office visitors range from family and friends, clients, business partners, and job candidates to food and package couriers, all of whom can use the intercom to request access.
Perhaps the best perk is that building administrators can integrate employee rosters with the multi-tenant video intercom. That way, employees immediately gain building access credentials, and they can also open the door for guests.
Gated communities
Gated communities control access to multiple homes or apartment buildings and are enclosed by a gate. Some video intercoms allow gated community residents to open the gate with their cell phones. This helps reduce traffic at the gate during peak hours and prevents unauthorized cars from entering the community, referred to as tailgating.
Mixed-use and industrial buildings
Multiple people come and go at mixed-use and industrial facilities for varying reasons, such as delivery, pick-up service, and maintenance repairs. So, it can be challenging for facility managers to keep track of everyone accessing the property. A multi-tenant video intercom can help prevent trespassing by requiring authenticated credentials and video auditing every entry event.
How multi-tenant video intercoms work
The way multi-tenant door entry systems work varies between systems. However, there are a few key components that all systems share.
Main components of a multi-tenant video intercom:
Video intercom hardware at the entrance. Most modern video intercom systems are wireless, meaning they don't require wiring throughout the building. You just need a connection for power and the internet.
Tenant directory. The visitor searches for the tenant they're visiting on the intercom directory. After they find the tenant's name, they press the corresponding button to call the tenant.
Hardware for tenant use. The tenant then picks up the call either on an in-unit device or their smartphone. Modern video intercoms come with a mobile app that notifies the tenant when they have a visitor.
Door release mechanism. The final component is the door release mechanism that opens the door once the tenant grants the visitor access. Standard door release devices are either electronic or magnetic, and they're activated when the tenant pushes a button on their in-unit device or smartphone.
Watch how ButterflyMX works:
Benefits of multi-tenant video intercoms
As technology continues to permeate and enhance the real estate industry, building entry systems are smarter and more powerful than ever. As such, there are endless benefits of installing a multi-tenant video intercom at your property.
The top five benefits of multi-tenant video intercom systems:
1. Enhanced security
Both residential and commercial tenants deserve to feel safe and secure where they spend most of their time. In fact, security amenities are the top feature tenants seek out when looking for a place to live or work. According to the National Apartment Association, in 2020, 55% of renters would pay more for electronic locks.
With video intercom systems, tenants always know who they're allowing into the property. And as a property manager, you can review all door entry activities on an online dashboard from anywhere. Also, you can authorize or revoke tenants' access credentials at any time.
2. Simple visitor management
From business partners at offices to housekeepers at apartments, commercial and residential tenants welcome dozens of visitors daily. And multi-tenant video intercom systems empower tenants to open the door for their guests remotely.
The intercom also provides a simple yet effective visitor management solution. Tenants can conveniently video chat with visitors at the entrance and open the door for them right from their smartphones. This helps improve security, as tenants always know who they're letting in.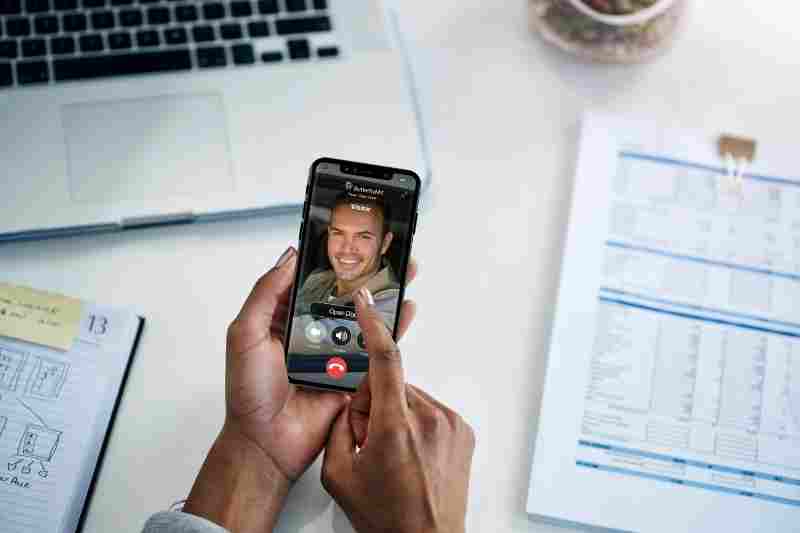 3. Easy, touchless access
Convenience is key right now, and what's more convenient than touchless access? 
A video intercom paired with an automatic door opener is the best way to implement touchless access. Once the tenant swipes or taps to open the door from their smartphone, the intercom activates the automatic door opener. Then, this allows tenants to enter the building without touching anything.
4. Improved resident experience
Improving the resident experience is critical for decreasing the turnover rate and, in turn, increasing the building's NOI. Providing a convenient way to open the door for themselves and guests can significantly contribute to resident satisfaction.
As the work-from-home trend continues to evolve, apartment amenities that maximize day-to-day convenience for residents go a long way. Video intercoms allow residents to let food and package delivery couriers, housekeepers and dog walkers, and friends and family members into their homes without any interruptions to their workdays.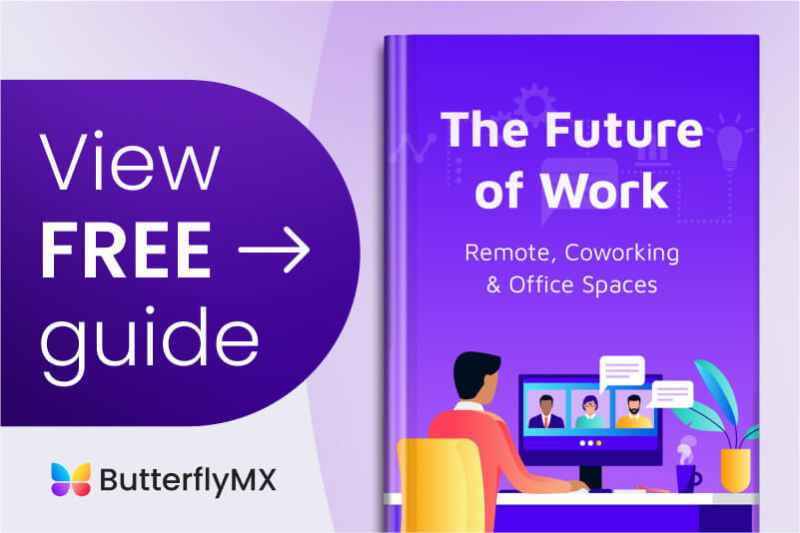 5. Seamless package and food delivery
As online shopping continues to rise, you can expect to see more and more deliveries at your building. Nowadays, people have everything from dinner to furniture delivered to them. And no one likes missing a delivery because the carrier couldn't get inside the building.
Multi-tenant video intercoms are the perfect solution to ensure delivery carrier access. Look for video intercom systems that have features like delivery passes and PINs. That way, delivery couriers can easily access the building to drop off packages, even when the resident isn't home.
Choosing the right system for your property
Whether you manage a multifamily apartment building or a multi-tenant office complex, you know that managing access into and within your property is a top priority. You're on the path to making property access simple by investing in a multi-tenant video intercom system.
However, not all video intercoms were created equal. There are a few considerations to keep in mind when choosing the right system for your property.
Four essential features to seek in your video intercom system:
Robust mobile app: The mobile app should be highly rated and offer rich capabilities and features. Look for a system with an app that has an intuitive interface so residents and staff can use it easily.
Multiple ways to open the door: Sometimes, tenants have their hands full and can't reach for their phones to open the door. That's why the system should offer multiple ways to open the door, including Siri and Alexa voice commands.
IP65 rating: Since your intercom will likely be installed outdoors, it should be able to endure all weather conditions. So, make sure the intercom has an IP65 rating, which means it's waterproof and dust-resistant.
Proptech integrations: Your intercom system should be connected to the Internet of Things, which allows for integrations with existing and future proptech solutions. This will facilitate a complete building automation experience.