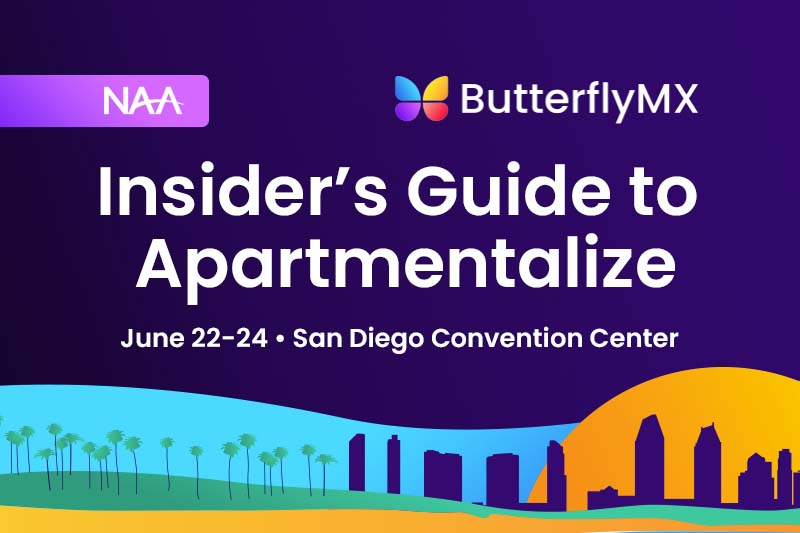 Apartmentalize is the largest rental housing conference in the nation. It's a wonderful opportunity for gathering and connecting, learning about new solutions, discussing concerns, discovering new products, and sharing experiences surrounding the ever-changing landscape that is the rental housing industry. Held at the San Diego Convention Center and spanning three days in beautiful San Diego from June 22-24, this conference is a can't-miss.
In preparation for the event, read this guide to familiarize yourself with everything San Diego and Apartmentalize have to offer.
In this post, we cover:
Travel tips
The National Apartment Association (NAA) selects a vibrant city each year to host this massive event. And 2022 is no exception, with Apartmentalize being held in the coastal city of San Diego. San Diego is a major travel destination due to its year-round warm weather and breathtaking views. In the month of June, temperatures in San Diego average between the mid 60's and low 70's, making it a wonderful time of year to visit.
When choosing where to stay, consider the distance to the conference. You'll want to be able to travel to and from the convention center and your hotel with relative ease. Finding the best place to stay can be a challenge, but luckily the NAA put together an official hotel map indicating the best hotels around the conference center. Hotel occupancy is typically high during the month of June, so schedule your accommodations at least one month in advance!
Tips for making the most of your time at Apartmentalize
Preparing for a long event like Apartmentalize can be difficult if you don't know where to start.
First, start by considering what to wear and what to bring to the show. Although there is no specific dress code for this conference, it is recommended to dress business casual. You'll be walking around quite a bit, so we recommend wearing comfortable shoes. Also, it's a great idea to have a light sweater or jacket with you in case the meeting rooms are chilly.
Beyond dressing comfortably, be sure you have a way to take notes during the conference, as there'll be plenty of new information and ideas you'll want to jot down.
With over 400 companies exhibiting this year at Apartmentalize, there'll be plenty of opportunities to discover new products and services. It can be a bit overwhelming to walk the floor without a plan, so first take a look through the registered exhibitor guide to see which companies will be attending and assess what offerings you're looking for.
Since this event has so much to offer, it's good to make a plan. But you should also remain flexible and keep an open mind for new opportunities that may arise during your time at the conference.
Sessions you shouldn't miss while attending Apartmentalize
Aparmentalize 2022 offers more than 80 different educational sessions — and you'll want to make the most of these opportunities to learn more about the ever-changing multifamily industry. These sessions also give you a chance to network and meet others interested in the same topics. To save you some time, we've highlighted one session from each day of the conference that you won't want to miss.
1. Wednesday, June 22: Shifting Dynamics in Resident Expectations, Connectivity and Technology
On day one, check out 'Shifting Dynamics in Resident Expectations, Connectivity, and Technology', at booth 20A from 2:00 – 3:00. During this session, panelists including the Founder & Co-CEO of Livly, Alex Samoylovich, will discuss the importance of new technologies in attracting and retaining residents. The panelists will also offer advice on how to understand what the modern resident is looking for as they apartment hunt.
2. Thursday, June 23: PropTech for a Touchless Today and Tomorrow: COVID's Lasting Influence
On the second day, another session you can't miss is 'PropTech for a Touchless Today and Tomorrow: COVID's Lasting Influence', which will be located at 6B from 3:00 – 3:45 PM. This session will explore the long-term impacts COVID has had on the rental housing industry. The speakers will share their experiences and the initiatives they have taken to address residents' underlying concerns. The session will also provide insight on what to expect moving forward and what challenges will persist.
3. Friday, June 24: What's In and What's Out: Amenities That Reduce Burden
Friday is the last day of education sessions, so be sure to make the most of it. We recommend attending 'What's in and What's Out: Amenities That Reduce Burden' from 12:15-12:45 at Booth 3431-B. During this session, speakers will discuss amenities that create value while minimizing operational demands. They will cover strategies for implementing amenities that residents want and how to offer them in the most cost-effective way.
We've highlighted just a few of the sessions, so check out the full schedule to find others that interest you.
Watch how ButterflyMX works:
3 things to do in San Diego outside of NAA
Although Apartmentalize will keep you pretty busy, you should definitely try to fit in some sightseeing. You won't have time to experience everything San Diego has to offer, so here are our top 3 suggestions:
1. Gaslamp Quarter
The Gaslamp Quarter has plenty to offer for those looking for a unique district with a fun nightlife to explore. With close to 100 historical buildings in the quarter, this 16-square-block downtown area has something for everyone.
Explore the area's spooky history through ghost tours, enjoy live entertainment, or check out places to dine and shop. The Gaslamp Quarter is a 10-minute walk from the convention center, making it a must-see area while you're in town.
Be sure to check out the Tin Roof Live Music or The Shout! House if you're interested in live music. And if comedy is your thing, you can't miss out on the Mad House Comedy Club. Regardless of the activity, you partake in at the Gaslamp Quarter, it will surely be a fun time.
2. Old Town San Diego State Historic Park
A quick 11-minute drive from the convention center will have you at Old Town San Diego's historic park. This location is one of the most visited state parks in California. It's an attraction that includes a rich history rooted in Mexican culture with plenty of one-of-a-kind retail shops, restaurants, and museums.
The site embodies various aspects of San Diego's early history and is a wonderful place for the family with guided walks and incredible architecture. While at the historic park, check out the Casa de Estudillo – a historical house-turned-museum. Built in 1827 out of adobe, you'll love the beautiful plaza and distinct 19th-century feel. You should also try to see the First Brick Courthouse, the Seeley Stable, and La Casa de Machado y Stewart.
3. Balboa Park
Lastly, If you don't mind the walk, Balboa Park is a brisk 35-minutes away from the convention center. Or, if you rent a car or want to opt for a ride-share, it's just a 9-minute drive.
In this beautiful park, you'll find performing arts venues, great walking trails, splendid gardens, 17 museums, and various other attractions. And of course, we can't forget about the renowned San Diego Zoo. With so much to do at this park, there's something for everyone.
We especially recommend The Japanese Friendship Garden. It sits on 12-acres and has elegant stone arrangements, koi ponds, and gorgeous Sukiya-style buildings and landscapes. This garden is a soothing place to relax and get away from the buzz of the city and the conference. This, of course, is just one of the many places to see while in the park, as you could surely spend all your spare time here!
Conclusion
We hope you found this insider's guide to San Diego and Apartmentalize 2022 useful. Be sure to visit ButterflyMX at booth 421 between June 23rd and 24th to learn more about why we're relied on by more than 8,000+ multifamily, student housing, gated community, and commercial properties.