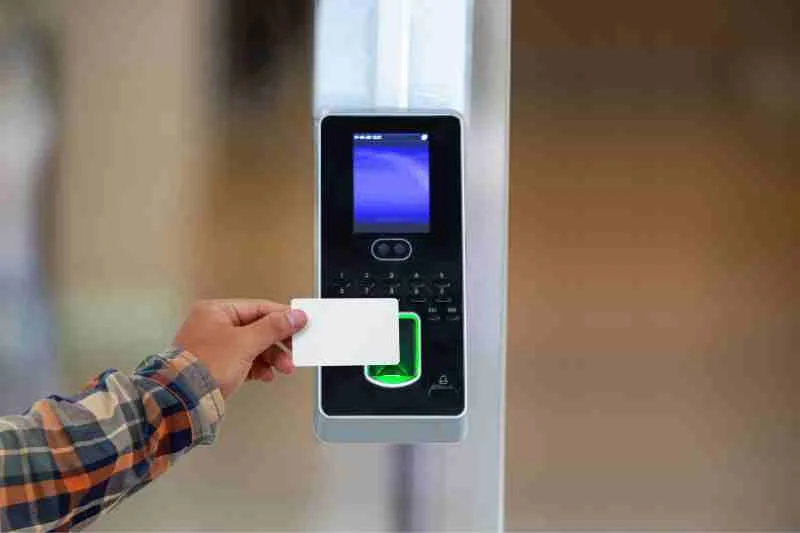 When securing your commercial property, you might want to go beyond the typical mechanical lock and key to keep your doors secure. Instead, consider purchasing number locks for doors, which are easy to use thanks to the commercial keypad door lock. But with so many locks on the market, it can be tough to make the best choice. So, we've put together this buyer's guide.
In this post, we'll provide practical tips on number locks based on your particular needs and budget. Then, we'll cover what features to look for in a lock and offer alternatives.
What this post covers:
What is a number lock for doors?
A number lock for a door is a type of lock that has a keypad so that users can enter a PIN code to unlock the door instead of using a key. With this type of lock, users type in a numeric code, which they either set themselves or receive from building management.
You'll often find number locks in residential buildings and commercial offices.
3 types of number locks for doors
When it comes to electronic door locks with keypads, there's no shortage of options for number locks for doors. Whether you want something simple or complex, you'll find almost everything you need in the list below.
Three types of locks for door security:
Keypad door lock. With this type of digital keypad door lock, tenants use a PIN code on the keypad to unlock doors.
Smart lock. This lock is a smart device that allows access through smartphones, a keypad, or facial recognition technology.
Key card door lock. Some number locks are multifaceted, allowing entry via a PIN, key card, or fob. These are usually found in areas with heavier foot traffic.
How do I choose the right number lock for my door?
Before you can purchase door locks for your building, you need to consider precisely what you need. This way, you can figure out which locks will meet your expectations.
Here's what to consider when buying a number lock for a door:
1. Ease of use & convenience
Perhaps one of the top considerations to make when buying a new lock is ease of use and convenience.
Examples of ease of use include:
Button size
Technological sensitivity
Inclusivity
Display
Customization and management
2. Power source needs
Some locks are battery-operated, but other electric door locks may require wiring. Before you buy, consider which power method is right for your building.
Your power source will depend on:
Wiring availability. If you don't have an electrical power source nearby (or you can't afford to rewire your building), then a battery-operated door lock is best.
Frequency. Next, consider how frequently the lock will be used. If it's in frequent use, then an electrical power source will be more reliable.
Environment. Will your number lock be close to the exterior of your building? If so, a battery-operated lock will withstand temperature changes better than an alternative power source.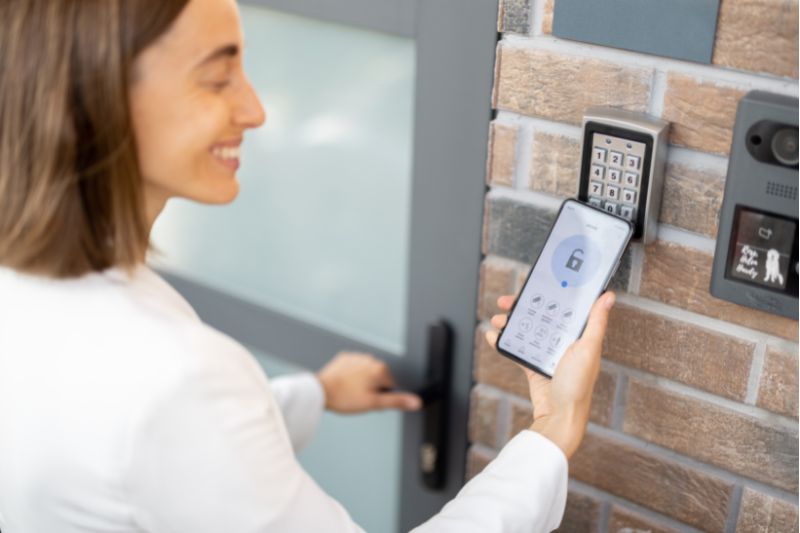 3. Existing hardware compatibility
When installing a lock in an existing door, consider hardware compatibility. For instance, is the door lock you're considering compatible with the type of door strike plate that's currently installed?
You can easily determine if your doors' current locking mechanisms meet requirements by speaking with an installer.
4. Security & safety concerns
Lastly, understanding your security needs will help you decide on the right number lock for the doors in your building.
For instance, if you're looking for a lock to an exterior door, a higher-level security lock will work best. This includes keypads, facial recognition technology, and smart locks.
Learn more about access control:
Should you buy a number lock for a door?
Overall, a number lock for a door in your building isn't going to be the worst solution, especially if your budget is in question. However, there's a more robust solution that won't have you settling and won't break the bank: ButterflyMX.
ButterflyMX products to replace the number lock:
Keypad. You can easily install the ButterflyMX keypad at any door, gate, or amenity space. This allows employees and staff to use their smartphone or PIN to enter with ease.
Smart lock. ButterflyMX integrates with more than 80 smart locks styles and finishes for streamlined access. This is an affordable option that offers flexibility and convenience.
Video intercom. Imagine a device that allows employees and managers to remotely video call and grant entry to visitors. With the ButterflyMX video intercom, access is streamlined with remote access, video calling, and more.
Further benefits of ButterflyMX:
You can keep your existing locks.
Tenants can grant access to visitors remotely.
Managers can remotely manage access from anywhere.
Employees and managers can issue temporary PINs and virtual keys.
ButterflyMX makes it easy to ditch the keys, cards, and fobs.
Takeaways
Finding a number lock for a door that is easy to use and secure is essential.
The three top number lock types are keypads, smart locks, and key card locks.
Four things to consider before buying a number lock include ease of use and convenience, power source needs, existing hardware compatibility, and security concerns.
While number door locks can be useful, ButterflyMX offers products that are safer, easier to use, and more convenient.